The Italian word for butterfly is farfalla, and that's why this pasta, which is shaped like a butterfly or 'bow tie', has its name. While you can use farfalle like any pasta, it's best with a creamy sauce or tomatoes. And, you won't go wrong with this farfalle bean breakfast pasta.
While you might not think of pasta for breakfast, it's actually just perfect! It's like a Mexican breakfast food with the beans, greens, tomatoes and spices, but not the tortilla wrap. You'll be making a creamy sauce with the eggs and cheese, so be sure to save some of the wonderfully salty pasta water for enhancing the creaminess!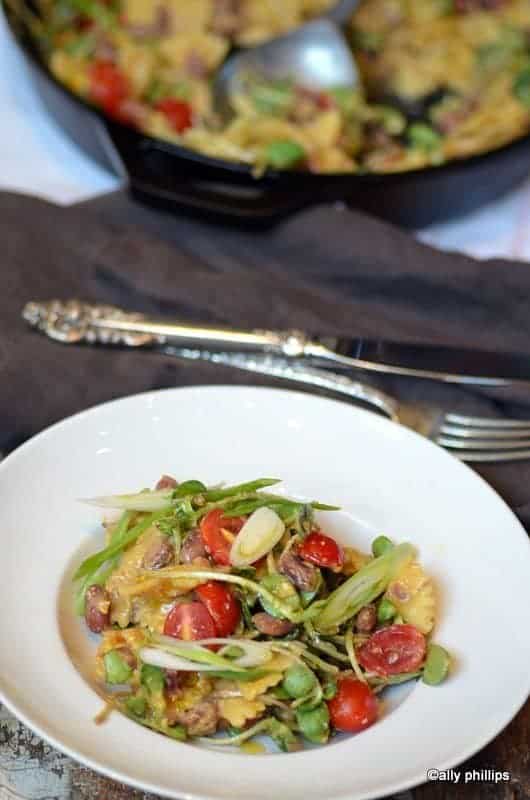 Serves: 4
What you need:
1 ½ cups farfalle pasta (bow tie pasta)
2 tsp. sea salt
2 eggs, beaten
¾ cup parmesan reggiano, grated
½ tsp. red chili flakes
1/2 tsp. pepper
1 tsp. Italian seasoning mixture
2 cups beans, your choice, drained but not rinsed (I used pinto beans.)
1 cup cherry tomatoes, sliced in halves
2 cups greens, arugula, European greens
2 green onions, sliced thinly at an angle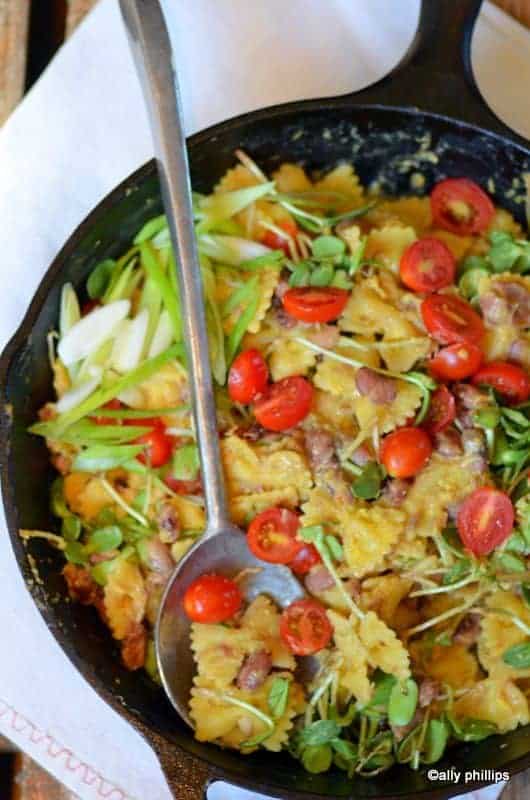 What you do:
Use the packaged pasta cooking directions, but add 2 teaspoons of salt to the water and reduce the cooking by about 2 minutes. Reserve 1 cup of water when draining. Put pasta back in the pot it was cooked in.
Turn heat to low. Very slowly drizzle in the eggs while stirring the pasta continuously. This will slowly cook the eggs but not have them scramble! Add the grated cheese and ½ cup of the reserved water, red chili flakes, pepper, Italian mixture, beans, tomatoes and blend. Cover with a lid and let this mixture cook another about 5-7 minutes. If you want a more creamy mixture, add a little more of the pasta water.
Toss in the greens and serve with green onion garnish. I decided to serve it in the cast iron skillet~your choice!