best ever pasta carbonara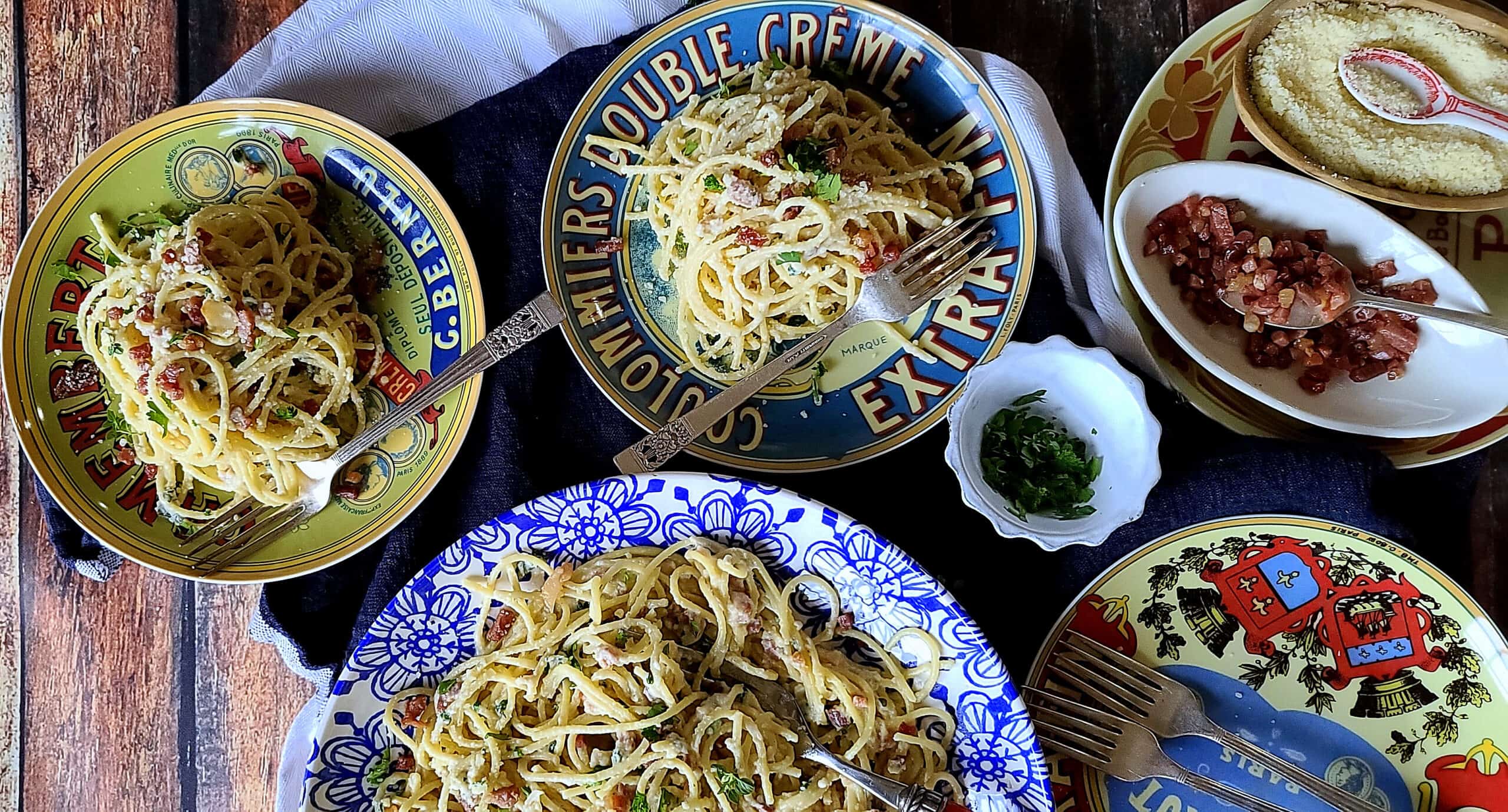 I can say unequivocally that this is the best ever pasta carbonara! And, it's kid approved! So quick and simple to make. It's gourmet dining!
Carbonara Pasta
Easy pasta recipes are a must! And, this carbonara pasta is one of them!
Pasta Carbonara Simple
I love to keep your cooking simple and quick. Knowing you don't have all the time in the world to cook, but you crave homemade, my recipes like this pasta carbonara very simple is just one that your family will love.
Spaghetti Carbonara
Carbonara can be made with most any type of pasta noodle. But, because my two year-old granddaughter loves long noodles and is just so adorable eating them with her hands, I'm doing spaghetti carbonara.
How to Make Pasta Carbonara
There's really not a lot of steps in learning how to make pasta carbonara. It's like breakfast Italian style with eggs and pancetta or bacon!
Best Pasta for Carbonara
If you have an Italian market, check out all the different kinds of pasta. Experiment! There's probably not many that I wouldn't eventually use with this recipe.
Best Carbonara
For me, the best carbonara is the easiest. And, carbonara can have variations and add ons that make it even more glorious.
Pasta Carbonara with Peas
For instance, peas! Throw in some petite frozen peas at the end after your carbonara is all ready. Cover with a lid, and just let those peas steam and get tender. They're also quite gorgeous with the pop of green.
Pasta Carbonara Bacon
If you can't find pancetta, then certainly you can dice up thick cut bacon and use it as a substitute. But, there's a distinctively different smoky taste and even texture with the finely diced pancetta. And, why not go all out Italian.
Pasta Carbonara Sauce
Now the sauce for this pasta carbonara is easy. You want to make sure you reserve about two cups of the salty pasta water that you cooked the noodles in. It's perfect for adding to the sauce. And, if you have leftovers, I recommend you put the pasta in a skillet on low heat with some of the pasta water and just let it very slowly warm. Like lots of pastas, it's better on day two.
Pasta Carbonara with Cream
I want my sauce creamy so I combine both cream and the pasta water in the sauce that I whisk together and then pour on the hot noodles. The noodles then 'cook' the eggs, so all's good.
How to Make Penne Pasta Carbonara
Penne pasta is one of our favorites. We eat it with a lot of my bolognese recipes. Well, that and rigatoni. You basically cook the penne pasta just like you would the spaghetti, according to package directions, then cut back a couple of minutes because it will continue to cook and get tender in the skillet with the sauce.
Recipe Chicken Carbonara
If you want to make this dish a more substantial meal, then chop up chicken and put in with the pasta carbonara. It can be shredded chicken from a rotisserie deli chicken. Or you can cook boneless skinless chicken thighs or breasts and shred the meat. Perfect for having more protein in your dish.
Pasta Carbonara
Besides pasta carbonara, I have quite a few delicious Italian-inspired recipes!
Pasta alla Carbonara with Chives
Italian Serving Dishes
And, of course, I love to find unique Italian and Mediterranean serving dishes for you. We know that food is the entire experience including the dishes, serving pieces, napkins and more! When I shop for you and cruate these collections, you know that I'm thinking about design, color, usability and more. Each of these selections are perfect for so many dishes! xoxo ~ally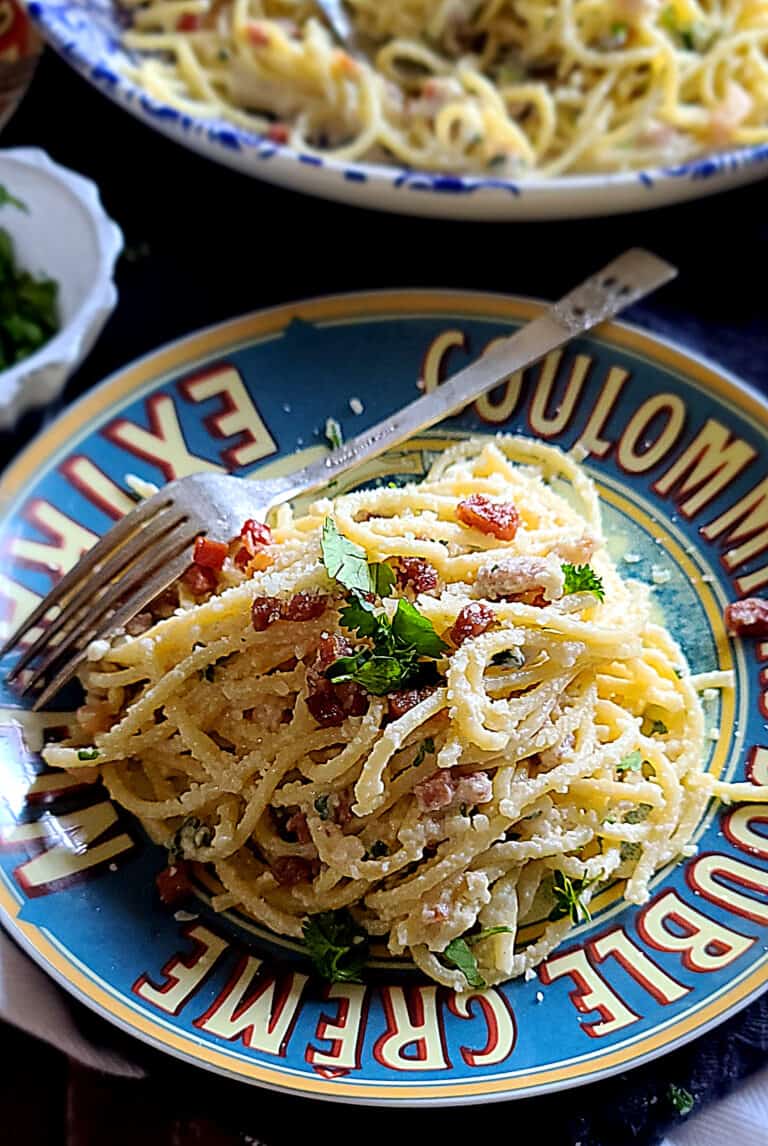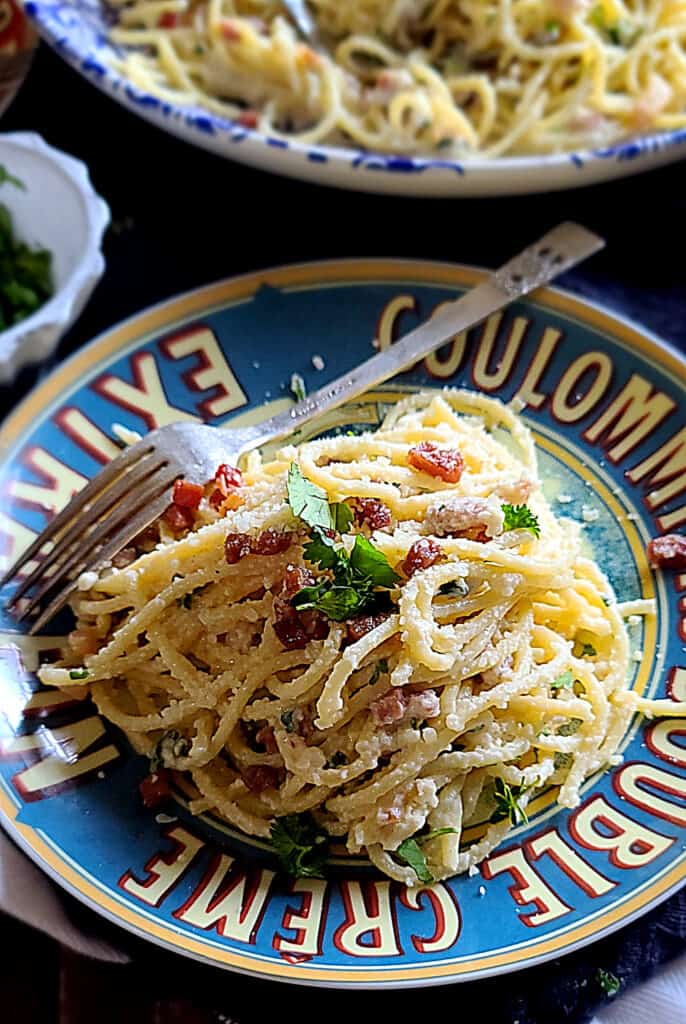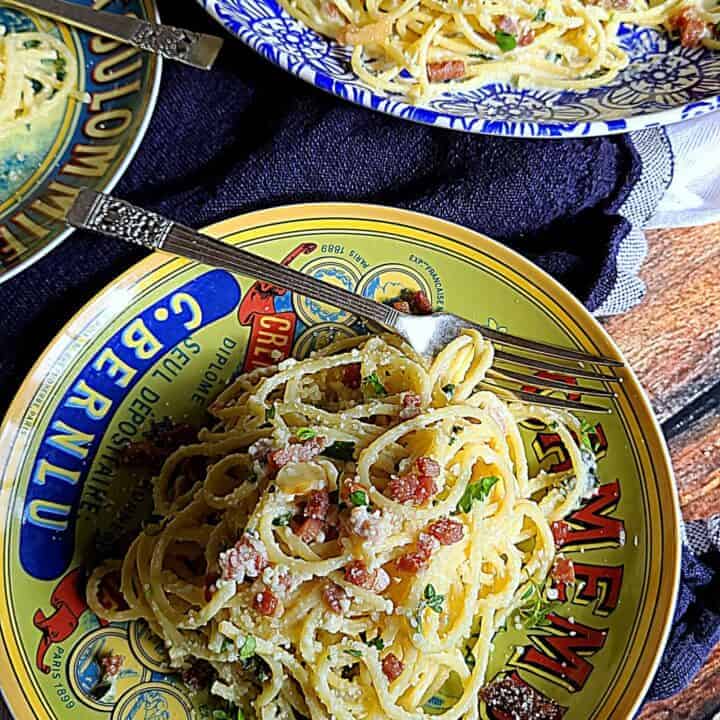 best ever pasta carbonara
Yield:
About 3-4 servings
Ingredients
12 oz. spaghetti, prepare to package directions undercooking about 2 minutes
1 Tbl. salt
8 oz. pancetta, small dice
5 Tbl. extra virgin olive oil, divided
3-4 garlic cloves, smashed and roughly chopped
2 eggs, room temperature
1 cup grated parmesan + more for serving
1/2 cup cream
1/2 cup freshly chopped parsley, thyme and basil leaves
Fresh pepper
Instructions
Prepare the spaghetti according to package directions undercooking about two minutes. Reserve two cups of the salted water after cooking.
Meanwhile, heat a large skillet on medium high heat. Add two tablespoons of olive oil and pancetta and fry. Use a slotted spoon or spatula and remove the pancetta to a bowl.
Reduce heat to medium low. Add the garlic and sauté for a couple of minutes.
Add the drained pasta to the skillet. Drizzle with the remaining olive oil. Turn heat to simmer. Cover.
In a large measuring cup, whisk together the grated cheese and eggs. Slowly pour in the cream and about one half cup of the reserved pasta water.
Add this mixture to the pasta and toss and blend well coating all the noodles.
Add about half the pancetta and the fresh herbs into the skillet with the noodles reserving the remaining pancetta for individual serving/garnish.
Serve immediately.