The Best Turkey Potato Soup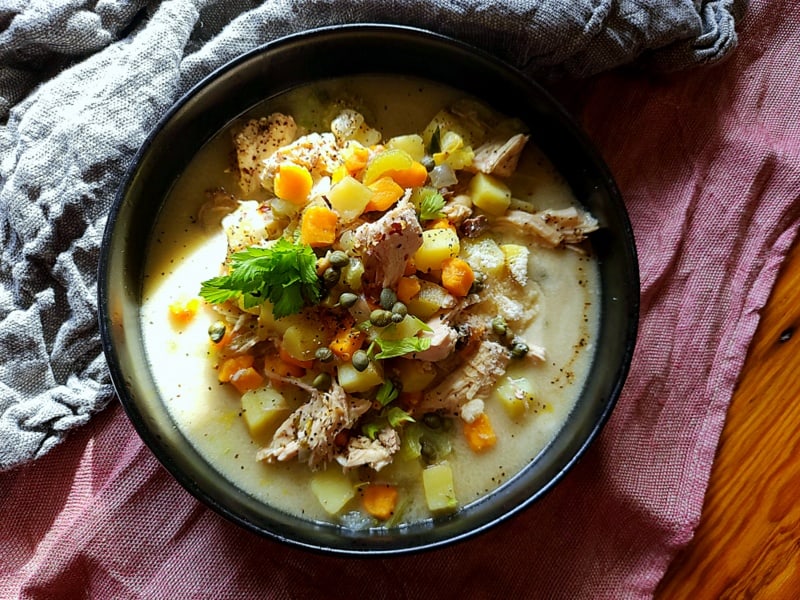 The Best Turkey Potato Soup starts with lots of leftover shredded turkey. Then rich chicken stock, coconut milk and potatoes! To die for! Yum!
Turkey Potato Soup Ideas
Search Google for 'turkey soup' and you'll get all kinds of ideas.
But, nothing's better than this recipe. Flat out delicious!
I was inspired to make it after creating my Tuscan Potato Soup while in Italy.
Leftover Turkey Vegetable Soup
Now, you can add as many vegetables as you want to this turkey soup. But, I love just the focus of potatoes. And, with quite a few leftover Yukon potatoes and a few sweet potatoes from Thanksgiving, I knew I wanted to concentrate this soup on potatoes.
However, if you're hankerin' for more of a vegetable soup, then try this Homemade Turkey Soup! It's scrumptious!
Soups with Leftover Turkey
Soups with leftover turkey are super easy to make.
Rather than do a tomato base with chopped tomatoes or V8 Juice, I decided this soup would have a hint of 'sweet' and be more creamy.
Turkey Soup in the Crockpot
While I made my soup in a Dutch oven on the stove top, you can certainly use a crockpot or slow cooker.
You'll simple adjust your time. The big thing is to let the potatoes get tender. And, when you dice them small like I did for this recipe, they cook pretty fast.
Turkey Soup Recipe with Potatoes
I made a slurry to thicken this soup. But, if you have about a cup of leftover mashed potatoes, you can surely add those to this soup and thicken the broth/stock.
Cream of Turkey Soup with Potatoes
To make the soup a tad bit more creamy, I add one can of UNsweetened coconut milk. It's just a divine flavor. And, it adds more healthy nutrition.
Turkey and Potato Soup
The great thing about this recipe is that you could swap out turkey and use chicken. If you have a deli rotisserie chicken with leftover meat, perfect. If you want to add ground meat, that works, too. I'd just brown the meat separately in a skillet then add to the soup.
This soup freezes well for 6 to 8 weeks. And, it keeps in the refrigerator a few days.
And, if you want to take a peek at some of these soup recipes, they'd work beautifully with your leftover turkey meat. Just make the soup, and throw in the turkey!
classic chicken noodle soup
coconut curry orange blossom chicken soup
asian corn vegetable soup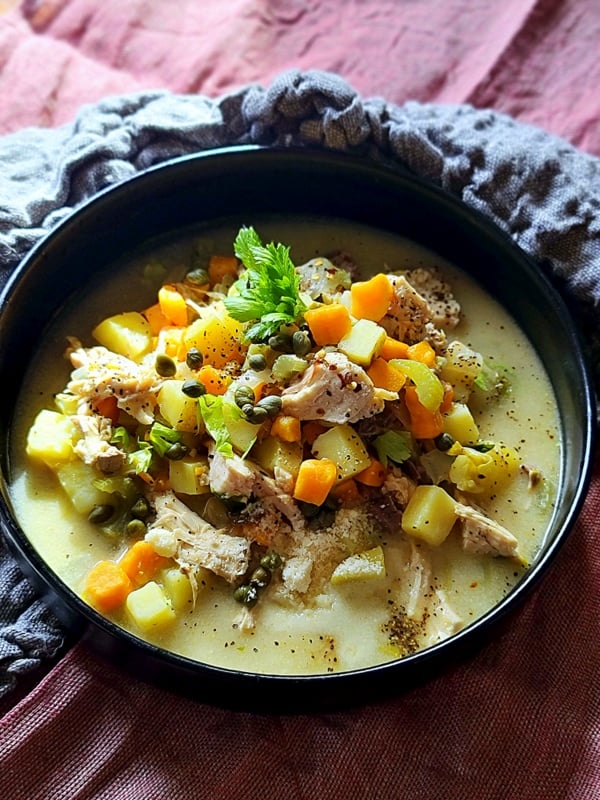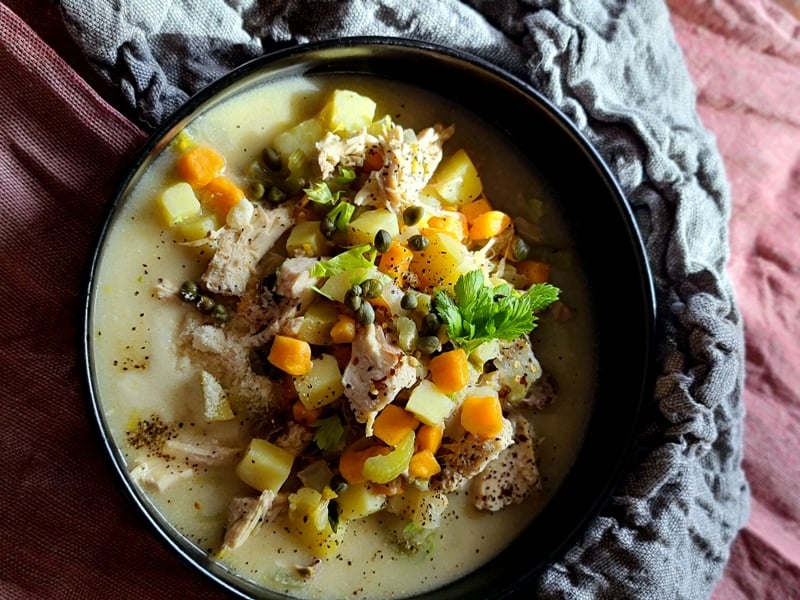 The Best Turkey Potato Soup
Ingredients
3 Tbl. extra virgin olive oil
1 cup sweet onions, diced
1 1/2 cups celery, sliced with leaves
1 tsp. sea salt
2 Tbl. nutritional yeast
16 oz. box Kettle and Fire Chicken broth
2-3 cups of turkey stock, leftover, with chopped gizzards and livers if available, reserve one-half cup to make a slurry
1 can (14.5 oz. ) coconut milk, unsweetened
1/4 cup flour, all purpose
2 cups Yukon gold potatoes, diced
2 cups sweet potatoes, diced
5-6 cups turkey meat, leftover, shredded
1/4 cup capers with some juice
Instructions
In a large Dutch oven over medium heat, add the olive oil, onions and celery. Sauté a few minutes.
Add the salt and nutritional yeast. Then pour in the turkey broth and chicken stock. Use another cup of water to rinse out the box and pour into the pot. Let this broth/stock cook about 15 minutes.
Put the flour in one-half cup of the stock. Use a whisk and blend together well.
Add the potatoes. Blend. Cover and cook on medium high about 15-20 minutes.
Add the turkey, blend, then add the coconut milk. Rinse out the coconut can with about 1/2 cup of water. Add to the soup.
Blend soup well. Drizzle the slurry into the soup and blend well. This will thicken the soup. Cover. Turn heat to medium and cook about 30 minutes until the potatoes are tender. Add the capers. Ready to serve.
Notes
If you have no turkey stock, use two boxes of chicken stock (Kettle & Fire).