slow cooker colorado pot roast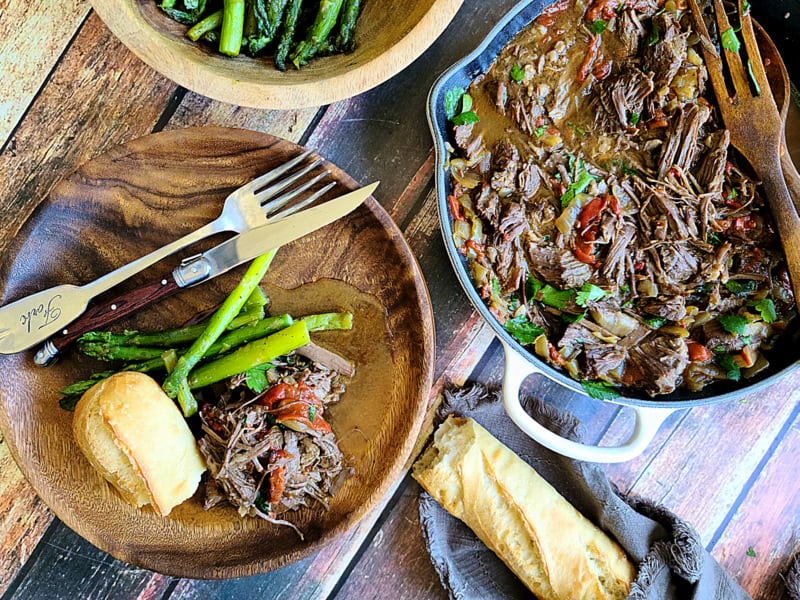 The slow cooker pot roast made easy! Similar to the Mississippi Pot Roast, it's perfect for family meals anytime! Roast in a crock pot is a crowd pleaser!
Now my Colorado Pot Roast has more kick and spice and it's got that tang, too!
Slow Cooker Pot Roast Time
What happens when you don't have time to do the slow cooker with this Colorado Pot Roast? Well, you use your pressure cooking setting on your multi-cooker or iPot and expedite the process! But, for me, well, I'll stick to the old-fashioned Dutch oven and oven cooking it!
The aromas of this slow cooker Colorado pot roast will boll you over when you walk through your door! And, what's the best thing to come home to after a long day's work? Great aromas!
Roast in a Crock Pot
There's nothing easier to prepare for a weeknight family meal than roast in a crock pot. Call your appliance a crock pot, slow cooker, multi-cooker, InstaPot. Whatever the nomenclature, the end results will be the same, a delicious melt-in-you-mouth slow cooker pot roast that's healthy!
Mississippi Pot Roast Recipe
The rage in the pot roast recipe world is the Mississippi pot roast. Yes, mam, it's great. But this Colorado pot roast boasts flavors and ingredients of the West that give you a slow cooker healthy pot roast recipe. And, my All-American Pot Roast has some distinctive flair!
What makes this slow cooker Colorado pot roast so dang delicious is the simple combination of some great ingredients! Then you're going to get some unique flavors and colors with the roasted grilled Piquillo or roasted red peppers, and, please feel free to add more than just the twelve ounces! I mean who doesn't love to get a tasty roasted pepper in every bite!
Piquillo Peppers
Piquillo peppers have a thinner flesh than a red bell pepper. Their color is deep red and the taste is mildly tart and sweet. In my opinion, they have more flavor than roasted red bell peppers. But, if you can't find them, then by all means, use the roasted red bell peppers.
When the piquillo peppers are roasted, they acquire a spicy sweet taste, but not too spicy. If you can't find piquillo peppers, then use the jarred variety of roasted red bell peppers. These vibrant piquillo peppers are perfect for charcuterie, tapas and mezze dishes as well as throwing in chili and soup recipes.
Slow Cooker Recipes Healthy
Now I love a great pot roast, but I want my pot roast to be healthy. I have several pot roast recipes that can be used in your slow cooker, crock pot, or multi-cooker. Here's another that I think you'll like grassfed pale ale beef pot roast and Bourbon Fajita Pork Roast.
I'm not sure about you, but I do a lot of buying on Amazon. It's convenient and saves time. Now, if you click these links for some of the ingredients, I get a very small itsy bitsy few cents as part of the Amazon Affiliate Program. Believe me, the time I invest in linking up these products for you is worth helping you with yet another way to easily make this recipe!
Easy Pot Roast Recipe
I grew up on pot roast in Appalachia. It was a Sunday dinner treat. Mom always bought the chuck roast cut because it was affordable and it cooked up velvety tender and would melt in your mouth. I reckon that's why I do pot roast recipes with different twists. Here are a few!
Blue Plate Special Easy Pot Roast
Bourbon Brown Sugar Chuck Roast
Mississippi Pot Roast Tasty
If you've tasted the Mississippi Pot Roast, yes sirreeebobby, it's tasty. This Colorado Pot Roast is equally so and it's minus the butter. Be sure to have lots of crusty baguette for dipping and sopping because there's a lot of broth to soak up. Another idea with the broth is to put some in a jar and use it for your next pot of vegetable soup!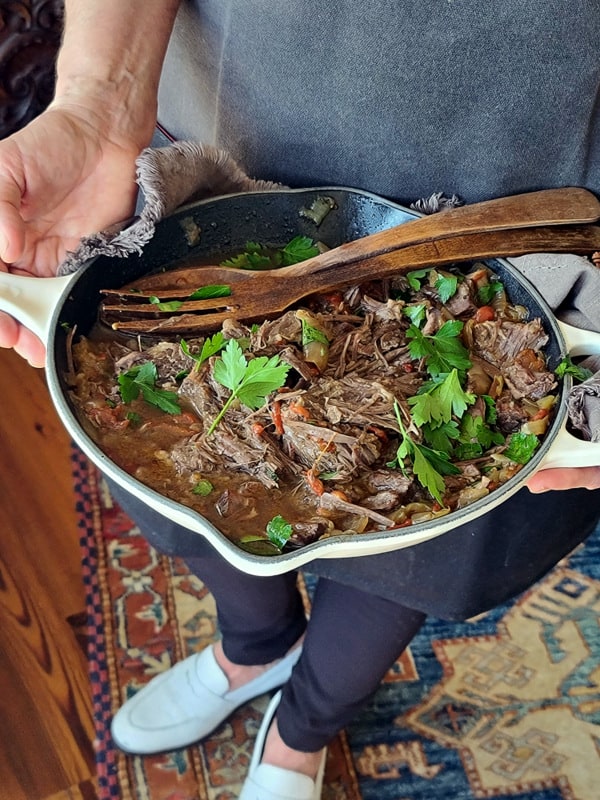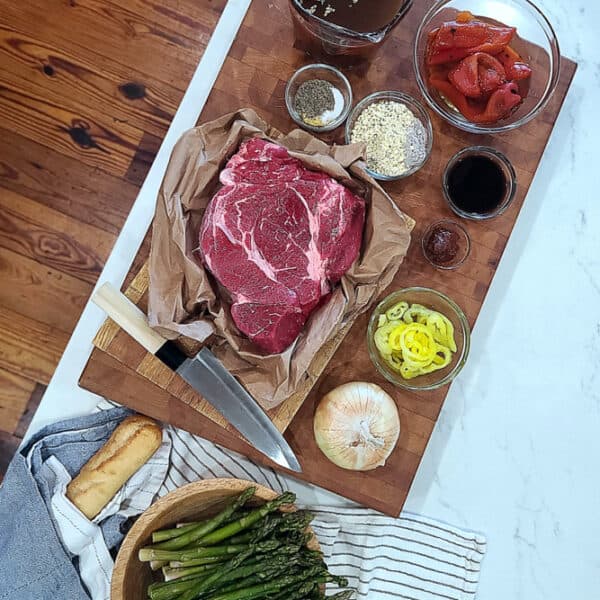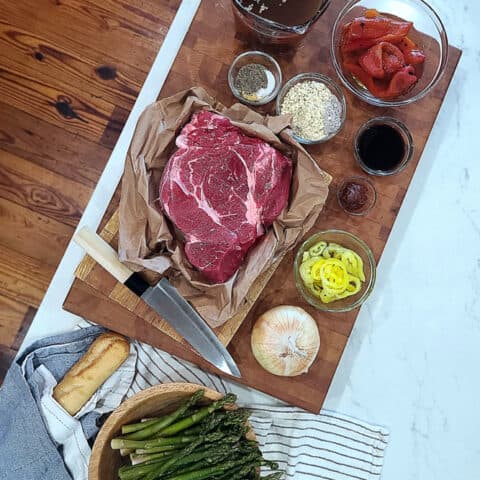 slow cooker colorado pot roast
Yield: 4+ healthy eating folks

The slow cooker Colorado pot roast made easy! Similar to the Mississippi Pot Roast, it's perfect for family meals anytime! Crock pot roast is a crowd pleaser!
Ingredients
3 Tbl. avocado oil or olive oil
2 ½ to 3 lb. beef roast, cut into 2-3 large chunks
1 (32 oz.) beef broth, organic
1 cup pickle juice
¼ cup Worcestershire sauce
1 tsp. sea salt
1 tsp. coarse ground pepper
1 jar (12 oz.) roasted red peppers
1 cup mild banana pepper rings
1 large vidalia onion, cut in half and then in about four wedges
Instructions
Heat a cast iron skillet on high. Add the oil. Pan sear/brown the meat on all sides. Deglaze the skillet with some of the bone broth. Turn off heat.
Select the High setting on your slow cooker for 6 to 8 hours.
Add the beef broth, pickle juice, Worcestershire salt, pepper and blend well. Add the peppers, onions and seared/browned beef.
Cover and let the meat cook. It should be tender enough to shred after about 8 hours.
Let the slow cooker stay on 'Warm' after cooking or turn off and serve.
OPTIONAL: Add vegetables, potatoes, carrots, if desired. Add in after about 4 hours in the slow cooker. If oven cooking add in after about 75 minutes. And, cook until vegetables are al dente tender.
OPTIONAL: If you want to make your broth thicker, make a slurry of arrowroot, 1/4 cup, and 1/2 cup of the broth. Whisk, blend well, and then slowly drizzle into the broth of the pot roast and it will thicken.
Notes
This recipe can also be done in the oven. Set temperature at 400. Cover the Dutch oven tightly. You can put a layer of parchment paper then foil over the Dutch oven, then add the lid. This will make it more 'airtight'. Cook for 75 to 90 minutes then check for tenderness.

The cut of beef you use for this pot roast does make somewhat of a difference in cooking time. Cutting the roast into large chunks helps it cook faster. Best types of beef cuts for this recipe: round tip, chuck roast, round rump, bottom round and eye round roasts. Brisket can also be used, but I prefer the aforementioned as my choices.

You can fast-track the cooking of this pot roast. Use a multi-cooker. Set it at the [Meat] setting (pressure cooking) for 75 minutes.

Roasted Piquillo peppers can be substituted for roasted red peppers. I've done it both ways, and love both!