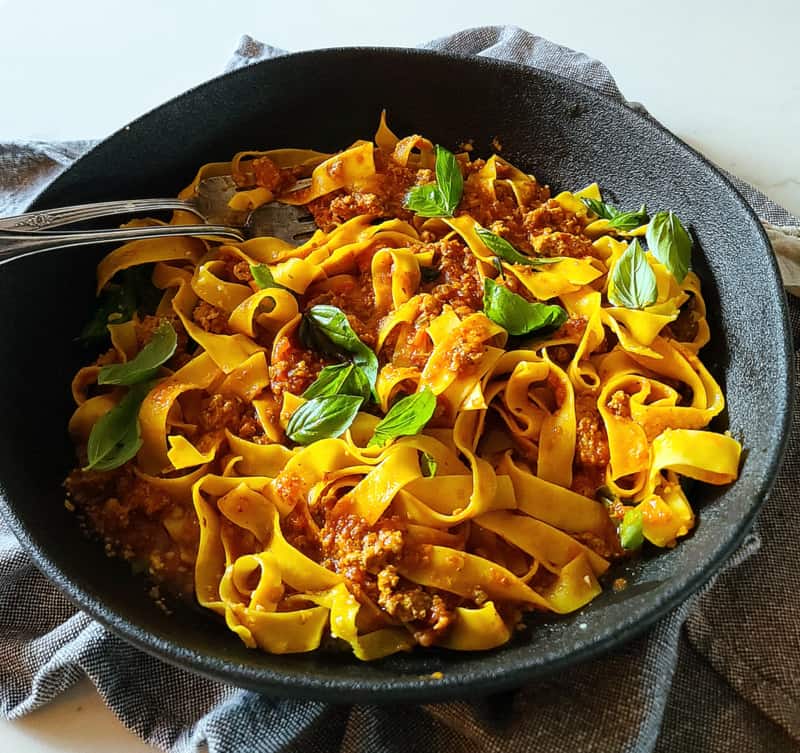 Easy quick pork ragu is weeknight favorite. In no time you'll be spooning this rich, thick, tasty sauce over your favorite pasta noodles!
What is Ragu
Ragu's basically a meat based sauce served over pasta. That's the short and skinny of what's ragu.
Ragu Ingredients
Ragu uses similar ingredients as bolognese. Maybe less tomato sauce. And, it's made with white wine. Ragu is one of those thick meaty sauces.
Ragu Sauce
You may have heard 'bolognese ragu' or vice versa. It's a rich thick meat sauce with milk or cream added. Unlike marinara sauce that's meatless, ragus can have a variety of meats or not. Chunky and filling, it's a hearty meal served over pasta.
Pork Ragu
Now I love pork ragu because pork whether it's ground or sausage has so much flavor. If I use beef or veal, I'll usually throw in some pork, too, because it just adds delicious flavor.
Pork Ragu Sauce
Everyone has their favorite ragu sauce recipe. And, mine is intended to be easy and quick. Yes, for those of you who want to have it on a weeknight, and when you don't have the luxury of letting it cook and simmer all day.
Best Pork Ragu
It's hard to say what the 'best' pork ragu sauce is, but this recipe comes pretty darn close to the best. While my recipe doesn't include milk, it does have a healthy addition of grated parmesan cheese.
Pork Ragu Pasta
Which pasta you should use, of course, is up to you, but here are some thoughts to help you choose.
Tagliatelle
Papparadelle
Fettucini
Rigaton
Penne Pasta
Ground Pork Ragu Recipe
Since I absolutely cherish ragu and/or bolognese, I've created several recipes that all are outstanding on their own. You'll see similarities, but then you'll discern subtle differences among them.
Moroccan Bison Ragu
Easy Pork Ragu
If you make this recipe on the weekend and want to refrigerate for a day or two before serving, like most all sauces and stews, it's going to get better. Flavors will intensify. It will thicken. And, it's perfect for not only pasta but, other ideas like, scoop over rice or put on garlic sourdough thick toast! Let your culinary imagination soar!
After two days I made this amazing lasagna pork ragu!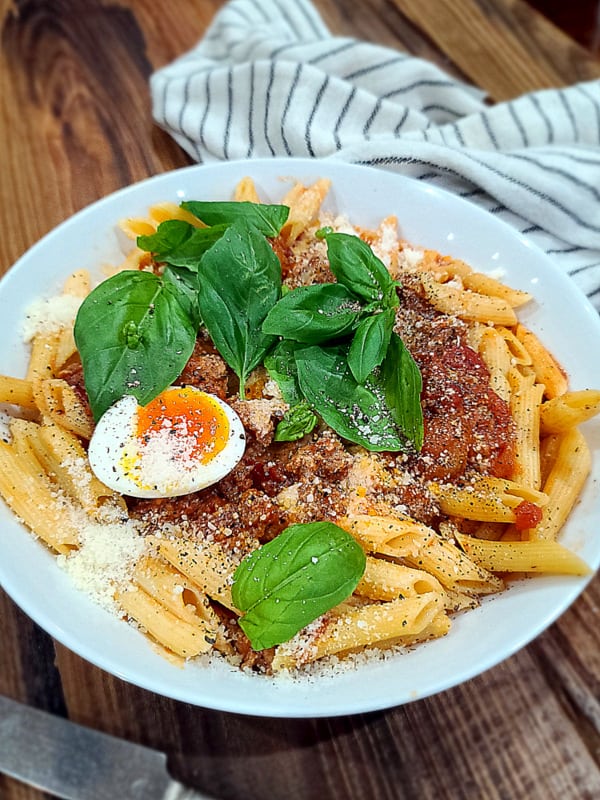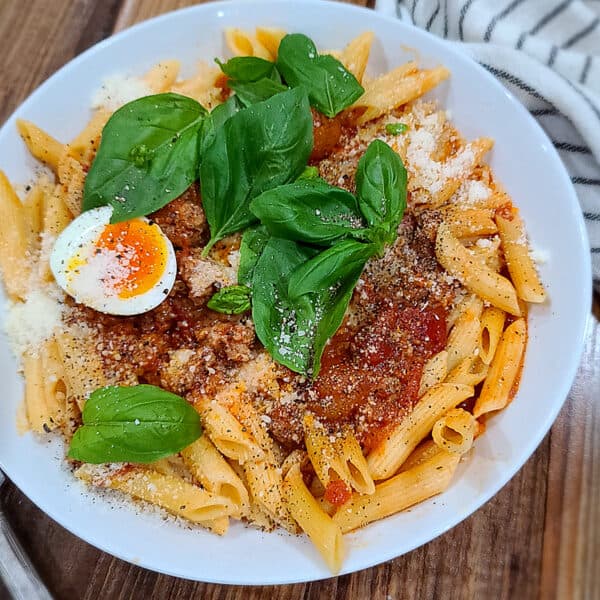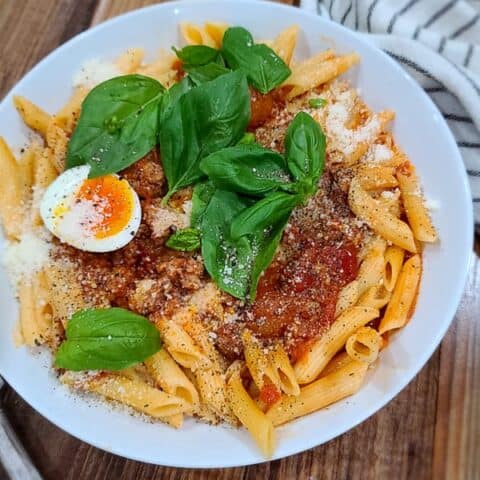 easy quick pork ragu
Ingredients
3 garlic cloves, whole
½ large green pepper, cut into several chunks
½ cup carrot chunks
2 stalks celery with leaves, cut into 4-5 pieces each
1 cup sweet onions, large cuts
¼ + 3 Tbl. extra virgin olive oil, divided
2 Tbl. nutritional yeast
2 Tbl. Italian seasoning
1 tsp. salt
½ tsp. ground nutmeg
½ tsp. red chili flakes
2 lbs. ground pork
1 (24 oz.) jar marinara + 1 cup water
1 (28 oz.) can Italian peeled tomatoes + 1 cup water
1 cup white wine
½ cup parmesan cheese, grated
Instructions
Put the garlic, pepper, carrots, celery, onions and one-fourth cup olive oil in a food process and pulse into a somewhat fine grainy mixture. Put into a large stock pot over medium high heat with the remaining olive oil and sauté about 5 minutes.

Add the ground meat and blend into the mixture. Blend the nutritional yeast, Italian seasoning, salt, nutmeg and red chili flakes in a small cup and add to the mixture. Cook the meat until all is mostly browned.

Add the marinara, Italian tomatoes, water, wine and blend. Try to break up and chop the tomatoes into smaller pieces (if whole Roma tomatoes). Cover with a lid (slightly askew to let steam escape).


Bring to boil on medium high and cook for about thirty minutes stirring occasionally.

Add the parmesan cheese, blend, reduce heat to medium. Cover with the lid (askew) and cook another about twenty minutes. Turn heat to low to keep warm. Stir occasionally unless you're immediately serving.
Notes
If you want to add whole milk (or half and half/half milk + half cream), then swap out one of the cups of water for milk. It will add some additional 'creaminess' to the sauce and calories!

Adding more water or chicken broth can be used instead of the white wine.