Easy Italian Parmesan Collards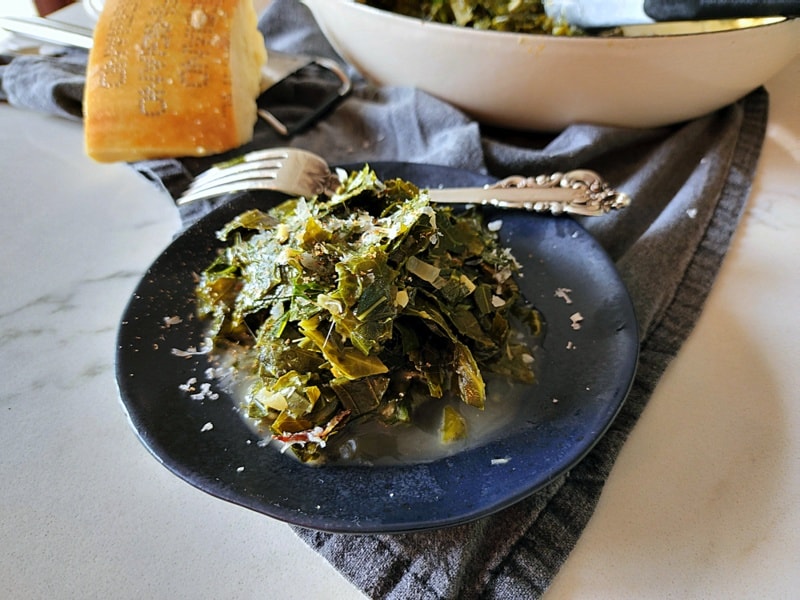 Italian Parmesan Collards go with just about anything! Full of flavor and a superfood that's addictive! Serve it as a Southern specialty!
What are Collard Greens
Collard greens are a Southern delicacy. You always remove the stems before cooking. They're a member of the cabbage family.
Greens are the quintessential nutritional punch in the gut. A good punch in the gut. They're full of chlorophyll and that's good for you. Chlorophyll contains vitamins, minerals and lots of nutrients that keep you healthy.
Collards are great for fiber and they're an excellent source of vitamins A, C E, and K, which fortifies bones.
You're getting a healthy dose of magnesium, potassium, iron and calcium, too, when you eat collard greens.
How to Cook Collard Greens
Collards like other greens are very simple to cook. I love to season mine with bacon drippings or simply add a few slices of bacon when you're cooking to season. Chop your collards. Doesn't have to be perfect cuts.
When you start cooking, it looks like a huge amount of greens, but these greens, like spinach and other greens, cook down. And, then you're wondering did I make enough.
Now you can add minced garlic, diced onions and even tomatoes, but I like 'straight' collards. And, I love to keep the flavor of the collards simple with just the seasoning of fat/pork and the enhanced flavoring of salt.
Southern Collards Recipe
Put them in a large pot. Add the bacon, bacon drippings or olive oil. Season with salt and pepper. Maybe add some red chili flakes. Then depending upon how many greens, a couple of cups of chicken stock.
Yes, you can use water. But the chicken stock, and I'd HIGHLY recommend Kettle and Fire, adds more flavor. Be sure to use my discount code at checkout (ALLYSKITCHEN) and get your 20% off!
You're going to steam and cook the greens until tender. If you want to consider other types of cooking, here're some great ideas.
Remember collards can be steamed, blanched, stewed, sauteed and I even chop them up very finely and put in salads!
Recipes with Collard Greens
I love love collard greens and have several recipes that you might consider. When Captain Dale brings me a 'mess' of fresh collards, you'd better believe I'm in hog heaven.
Now, fresh collards grown locally can be the size of elephant ears. And, they're super tender and deep vibrant green. All I do is de-stem them!
You can also use butternut squash with your collard greens in a soup. Oh, big yum on this recipe!
Collard Greens and Potatoes Italian Style
This recipe for collards and potatoes is awesome. Yes, we're also adding ground Italian sweet sausage that just puts this 'soup' over the top!
I intentionally did not want this 'soup' super brothy, but if you do, simple add more beef stock!
Creamed Greens
By adding the parmesan you'll get more of a 'creamy' texture. But if you want even more cream, then simply add about one-half cup of heavy cream.
Here's another idea for greens. If you're making my Croatian Blitva, you could substitute collard greens! Blitva is the national side dish of Croatia.
Cream Collard Greens
You can use this same recipe for other types of greens, spinach, kale, mustard greens, turnip greens, chard.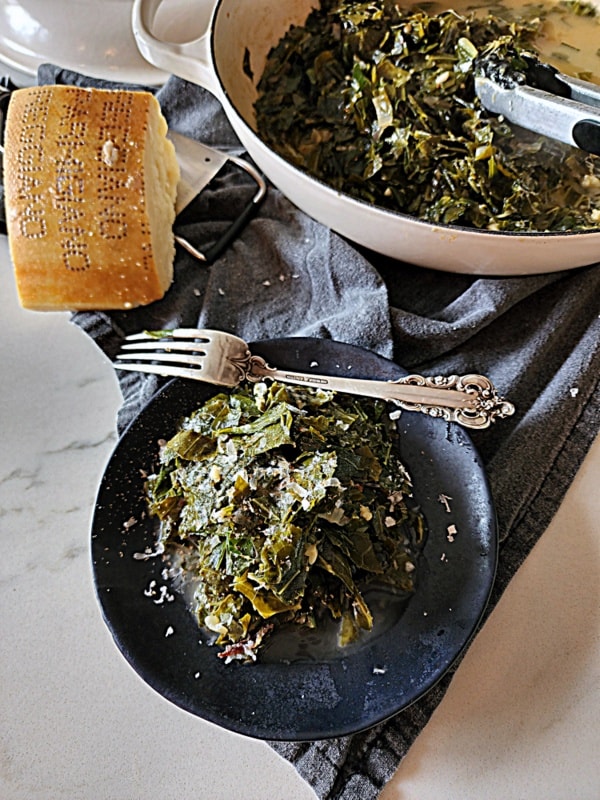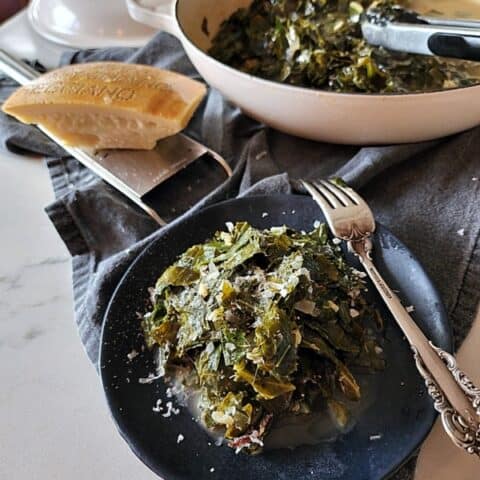 Easy Italian Parmesan Collards
Ingredients
1/4 cup bacon drippings, can substitute ghee, butter, avocado oil
3 Tbl. garlic, finely minced
1/4 cup sweet onions, finely minced
2 cups chicken bone broth
1/4 cup nutritional yeast
Sea salt and pepper to taste
1 tsp. red chili flakes
10-12 cups of fresh collard greens, somewhat finely chopped, packed
3/4 cup freshly grated parmesan, plus more for serving
Instructions
In a large stock pot over medium heat, put the drippings. Add the garlic and onions and sauté about 3 minutes until soft, translucent and the fragrances come through.
Add the bone broth and blend well. Add the nutritional yeast, salt/pepper to taste, and red chili flakes (optional).
Add the collard greens. Using tongs toss and blend into the liquid mixture. Cover. Let the collards cook (tossing occasionally) for about 30 minutes. They'll wilt down to about half or less the volume.
Add in the parmesan. Toss with the tongs. Cover. Turn off heat. Let the collards steep in the pot for about 15 minutes before serving.
Notes
Bacon drippings will add much more flavor to the collards than any other kind of oil.