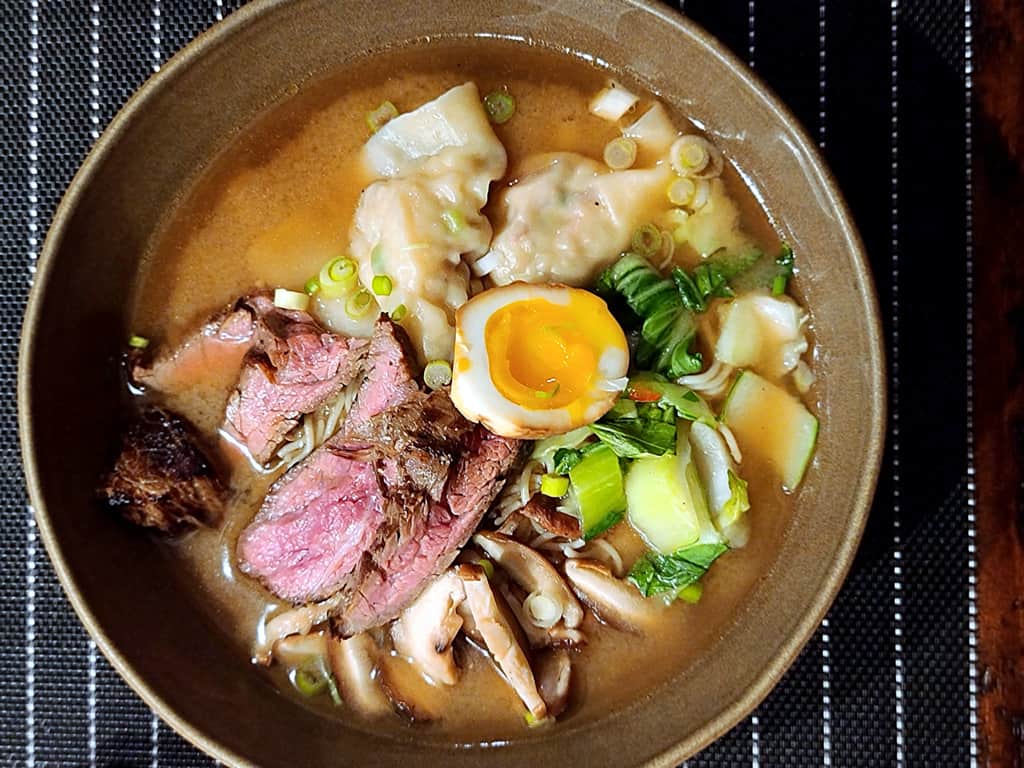 Shoyu eggs are a simple easy way to add more layers of flavors to your noodle bowls and Asian dishes! And, they're perfect for snacking! Yum!
Shoyu Eggs
Call them soy eggs. Soy sauce eggs. Shoyu eggs. Pickled eggs. Anyway you name it, they're absolutely delicious!
Shoyu Eggs Recipe
This recipe is from my girlfriend, Candice. We met in 2018 in Singapore. Instantly, we hit it off. Although I can be her mother age wise, we share the same passion for food, global cuisines, traveling and just living life audaciously! In Singapore, she's known as the Gluttonous Temptress!
Candice has been to the U.S. to visit us now three times in about four years. That's because she's always on a plane going somewhere to do private chef work. And, each time she comes, we spend a huge amount of our time in the kitchen. Imagine that!
We cooked together for ten days, non-stop! And, you might want to try some of her other recipes like these fabulous pork shrimp rolls!
View this post on Instagram
Quick Soy Sauce Eggs
So the recipe that I'm sharing is the one that she uses in making shoyu eggs.
Yes, it's quick and easy.
You'll refrigerate for at least two hours before serving and up to twenty-four hours. You'll want to use the eggs within about 72 hours, otherwise they'll start to get rubbery and hard.
I'd be surprised if four to six eggs last longer than 48 hours.
Marinated Eggs
These are basically marinated eggs in a soy sauce mixture. If you want to use low sodium soy sauce, no problem.
They'll bask in the liquid mixture preferably overnight and the yolk will become creamier and the flavors will permeate into the egg.
Shoyu Soft Boiled Eggs
These shoyu soft boiled eggs are good on soups, noodle bowls, salads and more.
I love using soft boiled eggs on Asian-inspired soups as well as regular soups. And, if you're not really skilled in the art of soft boiled eggs, then check out my video!
Shoyu Pickled Eggs
Soft boiled eggs work beautiful as a topping on noodle bowls. Take a look at my bokchoy shrimp soup and udon noodle breakfast bowl. The egg is like the icing on the cake. It adds another layer of flavor with its creaminess!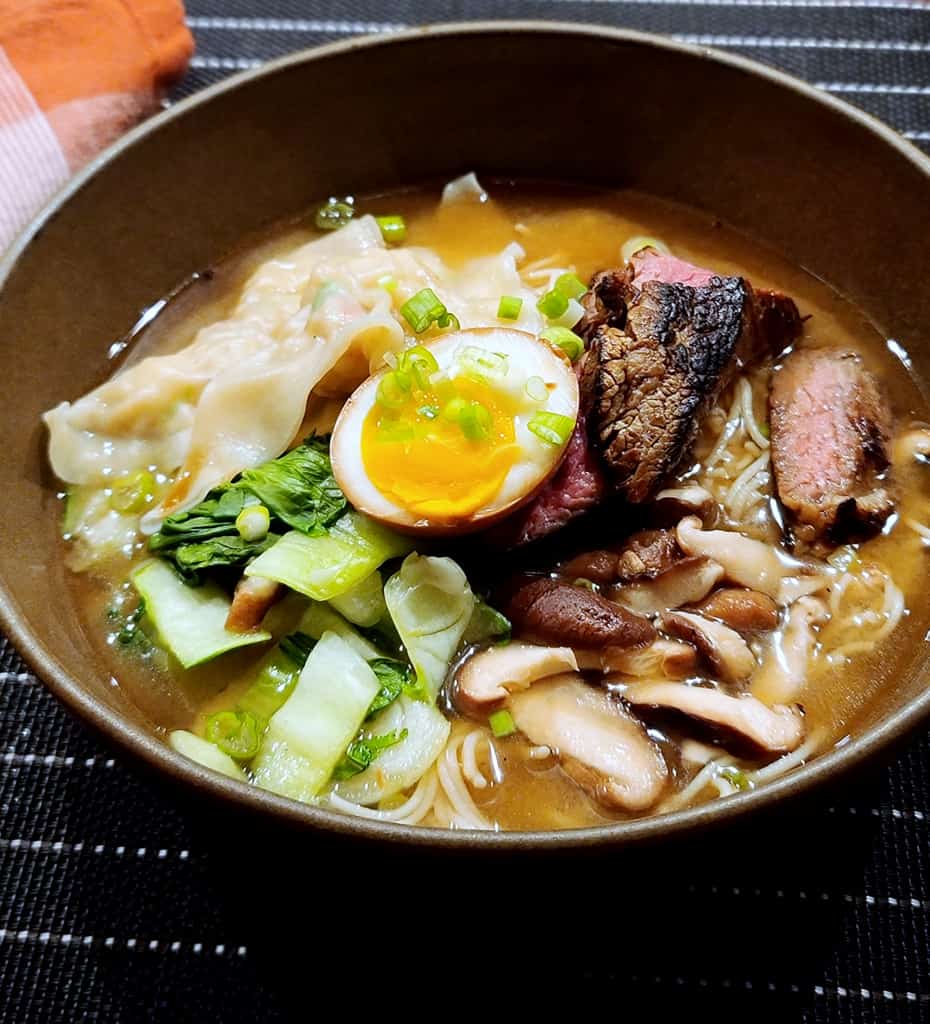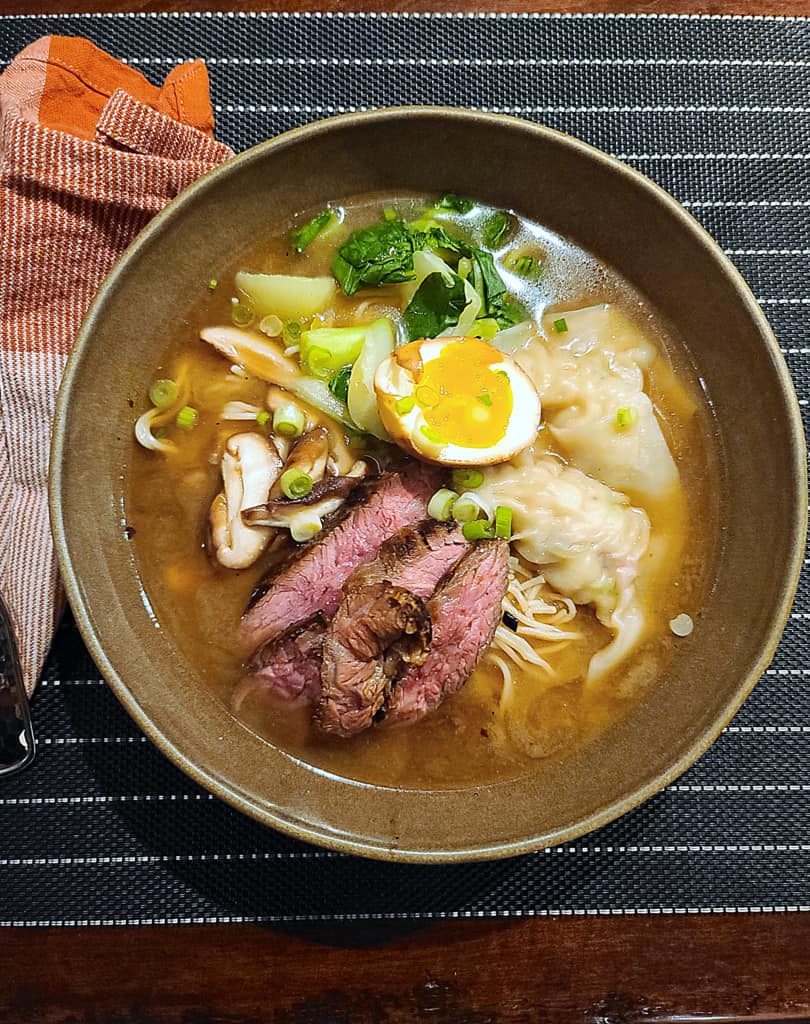 Easy Shoyu Eggs
Ingredients
4 eggs, soft boiled, peeled, no cracks in the eggs
1/3 cup warm water
1 Tbl. sugar
2 Tbl. rice vinegar
½ cup soy sauce
3-4 thin slices of fresh ginger, optional
Instructions
In a small/medium bowl, blend the water, sugar, rice vinegar and soy sauce.
Submerge the eggs in this mixture.
To keep the eggs submerged, put about a small square (about 8" x 8") paper towel on top the liquid.
This will keep the eggs from popping up. Refrigerate for about 2 hours or preferably overnight.
Slice and serve atop a noodle bowl.
Notes
You can certainly used 'hard' boiled eggs also with this recipe.
The marinade can be stored in the refrigerator and re-used two or three times.
You can also place the marinade in a shallow deep jar (with lid) and place the eggs in the mixture.