fall harvest butternut squash & collards soup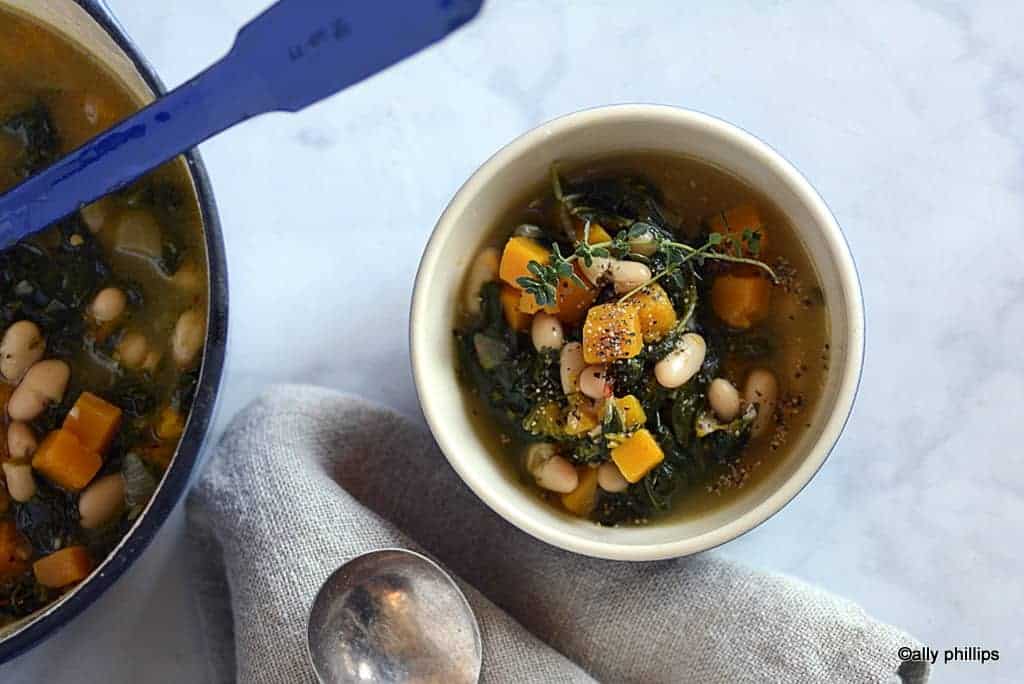 This butternut squash and collards soup combines two of my favorite fall vegetables. Sweet squash and super tender collards!
Autumn Squash Soup
Autumn means comfort foods. And, what's more comforting than soups and stews! This Autumn squash soup is sure to please.
Soup with Butternut Squash Chunks
Sometimes butternut squash soups are creamy. But, I love texture. And, nothing's more delicious and beautiful than soup with butternut squash chunks. These are small diced pieces. You can sometimes find cut up butternut squash in your product section of the grocery store. If so, save yourself a little time, buy that and dice up the chunks.
Yellow Squash Soup
You could do this recipe with a yellow squash, too. Just cut the squash into small diced bites and substitute for the butternut squash. It probably won't have the 'hint' of sweet, but it surely will be beautiful!
Quick Butternut Squash Soup
Now this one quick butternut squash soup. Basically you're creating your seasonings with the bacon drippings and onions and garlic. Then you're seasoning the squash and collards. When you get really fresh tender collards and chop them into small pieces they cook to a tender texture in no time.
Healthy Butternut Squash Soup
Without adding a lot of cream and butter, this healthy butternut squash soup certainly has lots of great vitamins and minerals. Then you're adding those creamy beans. Yes, it's a meal!
Seasonal cooking is always the smartest and best strategy for the kitchen and feeding your family. Seasonal cooking means using those fruits and vegetables that are 'in season'. Yes, they're plentiful, which means they're usually less expensive and tastier because they're grown during the peak time of the year for harvesting. And, this fall harvest butternut squash and collards soup is a perfect example of a seasonal recipe! For a full list of Fall's fruits and vegetables, click here!
Nutrition in Butternut Squash Soup
I'm not sure about all the nutrition in this butternut squash soup, but I'd venture to say that it's full of good stuff for you. If you want to elevate the nutrition as well as the flavor, add two tablespoons of nutritional yeast to the broth and let it simmer into the soup.
And, the collards, well, they're full of good vitamins and minerals. I cook a lot of collards and squash, so you might want to check out these recipes:
Curried Squash Soup
There are lots of variations that you can do with this recipe. For instance, if you want more of a curried squash soup, then simply add two teaspoons of curry spice mixture when you add the salt and pepper.
It's really hard for me to pick which season I love best. Kinda like asking me which of my youngens do I love best. They're all perfect. And, when it's the time of year for each season to shine, I'm in love with what's grown and what I can cook with. But I sure do love squash season!
Butternut Squash Soup with Ginger
A hint of ginger and this becomes more of a butternut squash soup with ginger. You can use freshly grated ginger or ginger paste. I love this ginger puree or paste. I'll find it in the refrigerated grocery produce section. It's usually in a small about 2 ounce tube. And, again, it saves time. About two teaspoons of ginger would give the soup a vibrant fresh flavor.
Butternut Squash Soup Topping Ideas
This fall harvest butternut squash and collards soup combines two of my favorite fall vegetables. There's a sweetness to the squash and those collards are as tender as velvet. I love the colors of these two vegetables, too. The rich orange hues of the squash against the deep almost ebony green of the collards lets both shine and not compete. And, I love offering an array of soup topping ideas. Here are some of my favorites:
Creme Fraiche
Sour Cream
Tortilla Chips
Fresh Salsa
Hot Sauces
Grated Cheese
Homemade biscuit
Grilled garlic toast slice
The addition of the cannellini beans gives a creamy texture that complements and rounds out this soup. Then add in some fresh thyme, and you're gonna feel like you're dining at the farmer's table out in the country. Have plenty of crusty hot bread or maybe some cornbread. Dipping that tasty broth is worth every bite!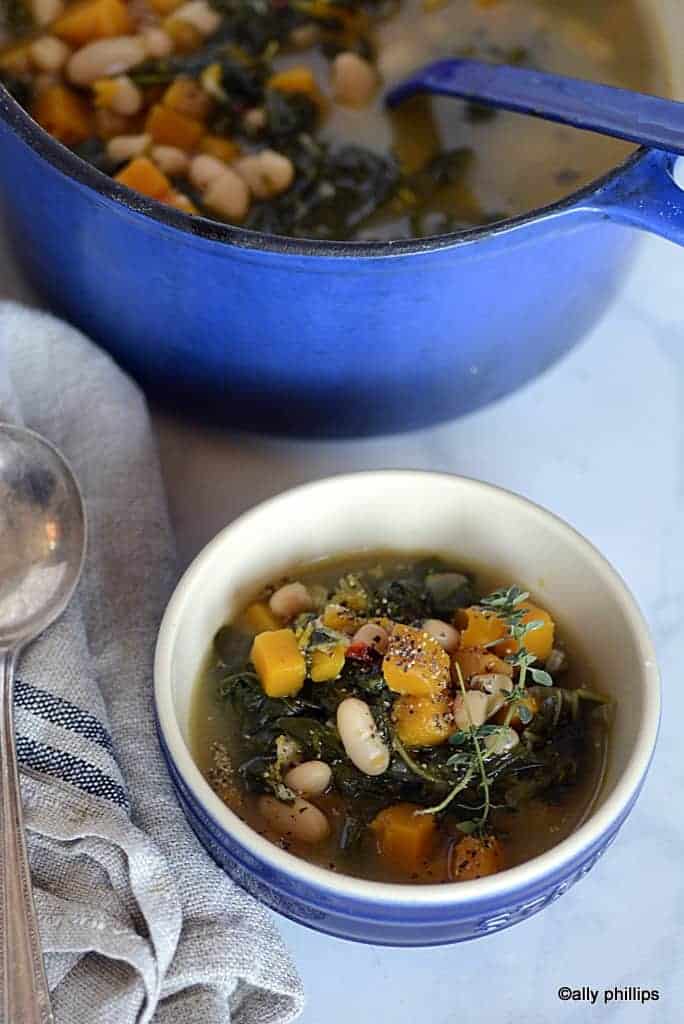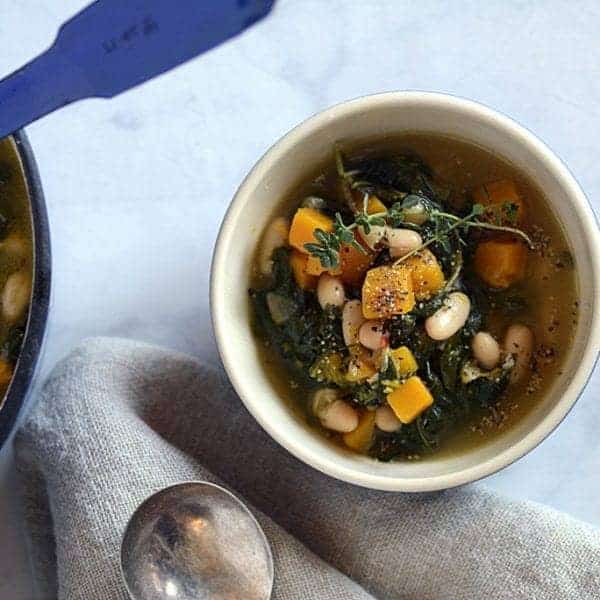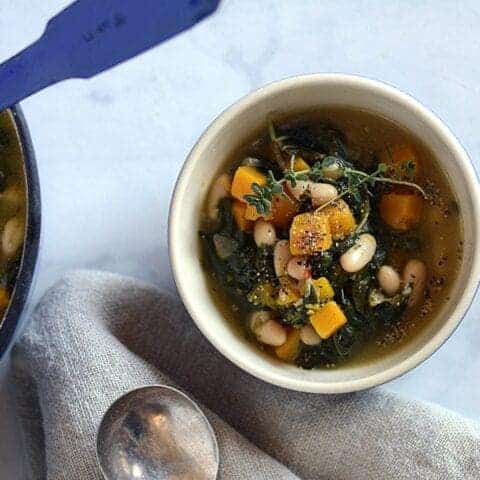 fall harvest butternut squash & collards soup
This butternut squash and collards soup combines two of my favorite fall vegetables. Sweet squash and super tender collards!
Ingredients
3 Tbl. oil, olive oil, canola oil, coconut oil
¾ cup sweet onions, diced
1 Tbl. garlic, minced
1 ½ cups butternut squash, diced
6 cups collard greens, chopped
32 oz. vegetable stock
1 ½ tsp. sea salt
1 tsp. coarse ground pepper
½ tsp. red chili flakes
1 (14.5 oz.) can cannellini beans, drained
2 Tbl. fresh thyme
Instructions
In a heavy large pot over medium heat, put the oil and onions. Sauté for 2 minutes. Add the garlic and cook another about 2 minutes.

Add the butternut squash and collard greens. Use tongs to toss and blend everything together. Increase heat to medium high. Slowly add in all the vegetable stock, salt, pepper and chili flakes.

Blend well. Cover with a lid. Bring to a simmering boil for about 20 minutes. Reduce heat to medium low and cook another 20 minutes.

Add the beans and thyme. Blend and cook another 20 minutes.
Notes
You can now find the butternut squash in the produce section of your grocer already diced! Save yourself some time!

I love broth. But, sometimes I want something more creamy in my soup. To get this 'creamy' brotheee texture, make a slurry of 1 tablespoon of flour and 1/4 cup of chicken broth. Blend well together and drizzle in during step 2. Your broth will be a tad bit creamier!