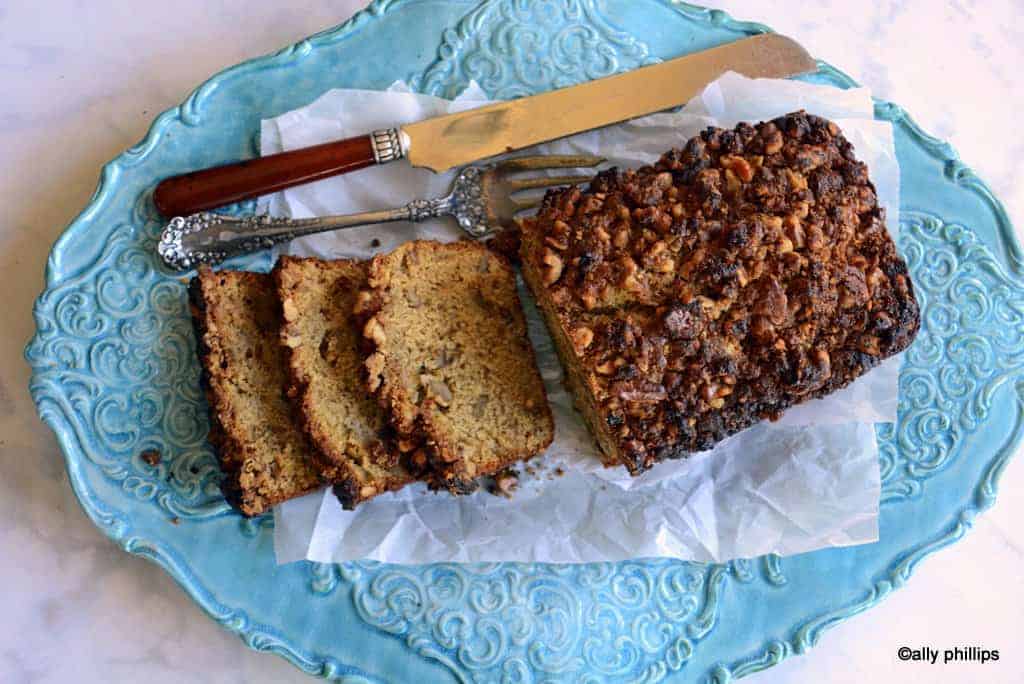 The Perfect Banana Bread
Now this recipe is special, real special. And, I consider it the perfect banana bread.
It is the creation of my dear cupcake goddess who's blog 'Something About Cupcakes' is a resounding success and hit on Facebook. Her cupcakes aren't just rogue cupcakes like I would make. Beverley's cupcakes and other baked goods are masterpieces. They're truly works of art. They're little cups of love that you want just to look at, turn and rotate, and wonder in your mind, how in the world does she do it!
Banana Nut Bread Recipe
Since I love banana bread, and she does, too, we decided to make each others' banana nut bread recipes. Beverley tried my 'Chunky Banana Bread' and, of course, I tried her traditional, tried and true, proven 'English banana bread'. The only thing that I added to Beverley's awesome recipe is the topping, which is optional. I was in the mood for a little crunch, and figured this was an easy way to get it to happen.
I call it English 'banana bread' because my luv, Beverley, lives in England and while we've never met in person, I feel like I know this wonderful girl very well. We've developed a strong and loving relationship over the years on Facebook talking to each other almost every single day. Always admiring each others' work, we share in the everyday happenings of life, children, travels and just living. Food has a way of bringing people together regardless of whether you're neighbors or not. Our virtual world of family connects us through mutual passions and interests!
Banana Bread Topping
To crunch or not to crunch. Should you do a banana bread topping. That is your choice with this amazingly easy and tasty English banana bread! When I say crunch, I'm talking about the topping that is optional that you can put on top when baking. It's a simple step that uses a little more butter, brown sugar and chopped walnuts, all ingredients in the batter.
Ultimate Moist Banana Bread
Yes, this is the ultimate moist banana bread. On day two it became even more moist. Totally easy to make and with just standard ingredients you'll make this your go to banana bread recipe like I have!
If you've not tried the nut and seed bread, completely FLOURLESS, then you must! It's quite the recipe, and so simple!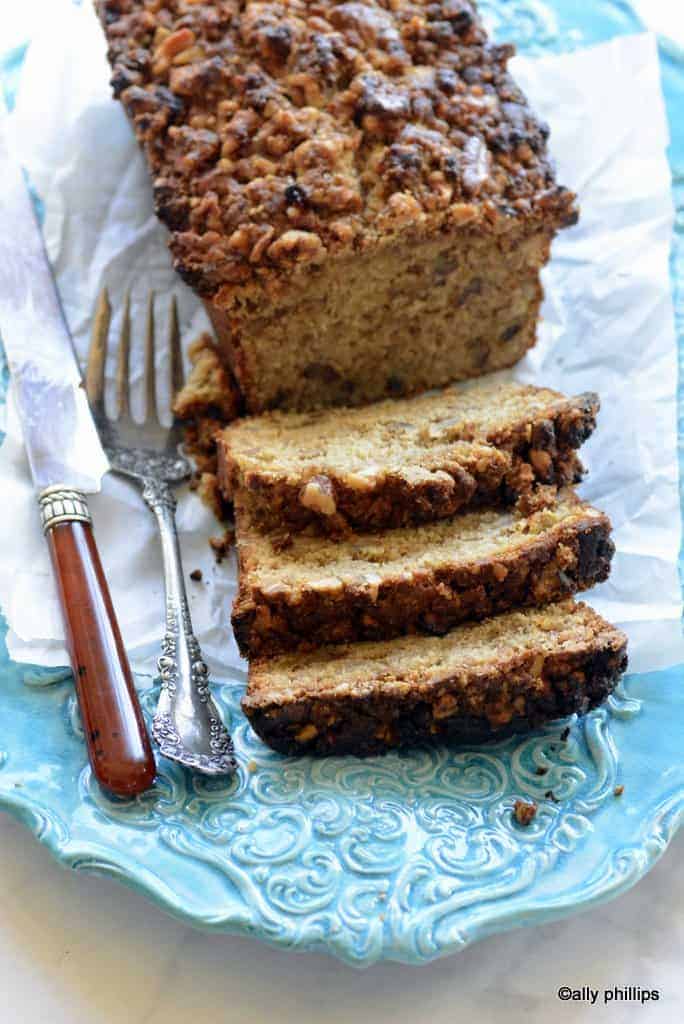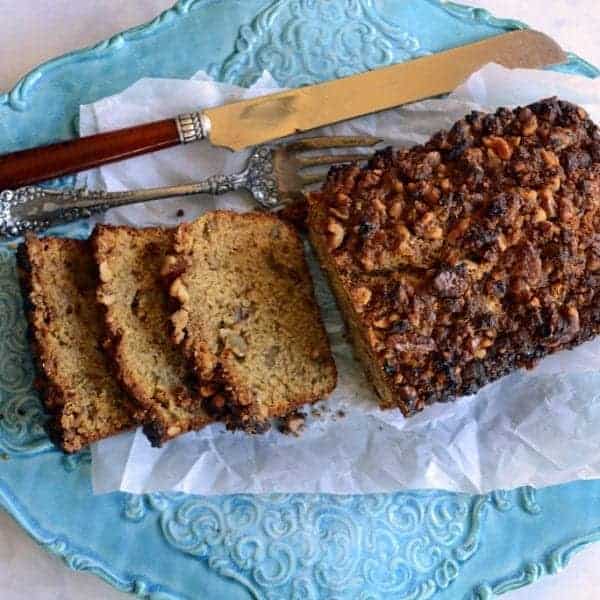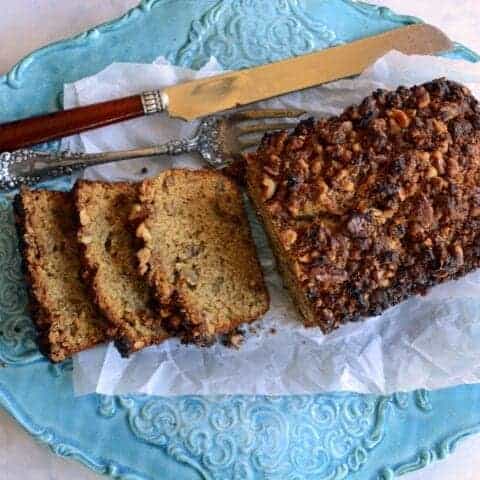 english banana bread
Yes, this English banana bread is the ultimate moist banana bread! It's crazy simple and easy to make. Be sure to double the recipe for one to share!
Ingredients
Preheat oven to 350
3 large ripe bananas, mashed
1 1/4 cups all-purpose flour, can substitute 1:1 GF flour
1 Tbl. baking powder
1/2 tsp. salt
1/2 cup coconut sugar, can substitute light brown sugar
2 eggs, beaten
4 Tbl. melted butter, unsalted
1 cup walnuts, roughly chopped
TOPPING (optional)
2 Tbl. Butter, unsalted
1 tsp. coconut sugar, can substitute Light brown sugar
½ cup walnuts, chopped well
Instructions
Sift the flour, baking powder and salt into a bowl, and grease and lightly flour a baking bread pan about 21x9x7cm.
Put the sugar, eggs and melted butter in a large bowl and use an electric mixer to whisk them until pale and slightly increased in volume. Fold in the mashed bananas and the dry ingredients until you can see no more flour, then fold in the walnuts.
Spoon into the baking pan. Add the topping if desired. Place a double foil 'tent' loosely on top. Bake in a preheated 350 oven for about an hour until a skewer inserted into the middle comes out clean. Tent can be removed in the last about 5 minutes of baking.
Cool in the pan for 10 minutes before turning out on to a rack to cool completely.
TOPPING: In a small skillet over medium heat, melt the butter. Add the sugar and blend in well. Add the walnuts and blend in cooking about a minute. Spoon on to the top of the batter.
Notes
This banana bread becomes even more moist on day two. Be sure to cover tightly. The 'resting' is good for it!