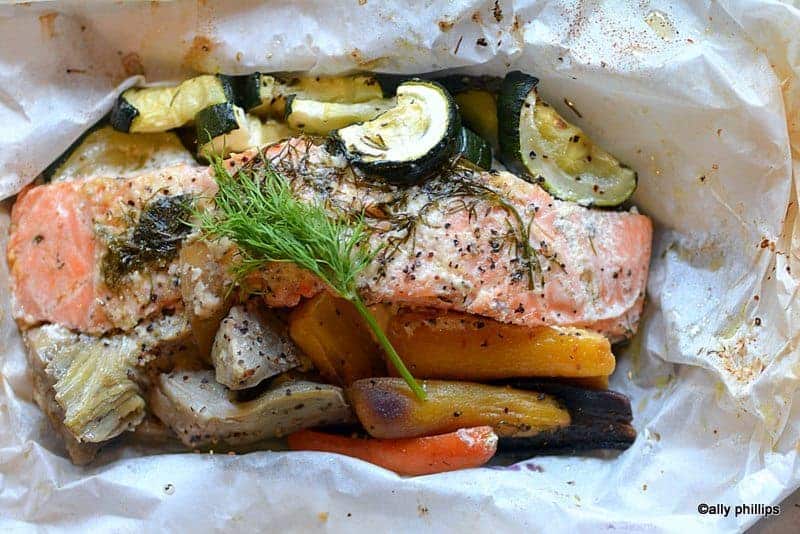 There are so many things I love about this recipe for roasted salmon pouches. Let me count the ways! Easy. Healthy. Simple. Elegant. Boholicious!
The salmon is super moist. The vegetables are infused with the flavors of all the characters. You can serve in the pouch. Just put it on a plate. Or you can remove from the pouch and plate. I love the inclusion of steamed artichokes. And, these from Melissa's Produce make the completion of the recipe even more convenient because they've done all the hard work.
You can assemble all the pouches in advance for a dinner party. Then when it's time to eat, just put them in the oven, and you appear to be a wizard in your own universe! What comes out is just stupendous to eat and even more gorgeous to dig your eyes into!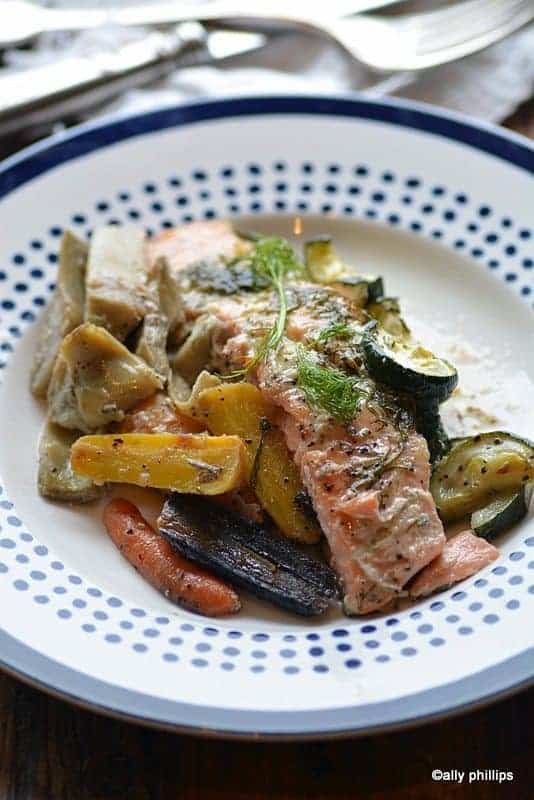 Serves: 4
Preheat oven to 400
What you need:
4 (18-20" length) sheets of parchment paper
Cooking spray
4 (6 oz.) pieces salmon, scored in crisscross pattern about ¼" deep
½ tsp. sea salt, divided
1 Tbl. Organic mayonnaise
1 Tbl. Bleu cheese, crumbles
2 Tbl. Fresh dill, chopped + more for garnish
6 tsp. extra virgin olive oil, divided
2 cups mini carrots, microwaved on high for 2 minutes to tenderize slightly
2 cups zucchini, cut into bite-size pieces
1 (6 oz. box) Melissa's Produce Steamed Artichoke Hearts
½ tsp. coarse ground pepper
1 lemon, juice for garnish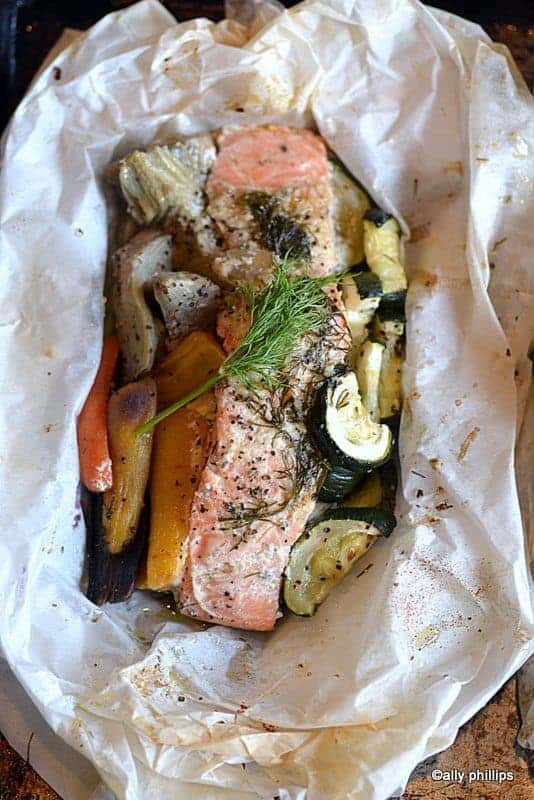 What you do:
In a small bowl, combine ¼ teaspoon salt, mayonnaise, bleu cheese, dill and 2 teaspoons of olive oil and blend together into a paste.
Put equal amounts of the seasoning paste on the tops of the scored salmon and gently massage into the meat.
Place each piece in the center of a piece of parchment paper. Put equal amounts of the carrots, zucchini and artichokes in each. Sprinkle with the remaining salt. Drizzle one teaspoon of olive oil on the veggies/salmon in each pouch.
Wrap/fold the paper into a package 'pouch'. Place in a baking dish or pan. Bake in a preheated 400 oven about 20 minutes. Remove, let cool about 5 minutes. Open each pouch, sprinkle with pepper, some lemon juice and fresh dill.