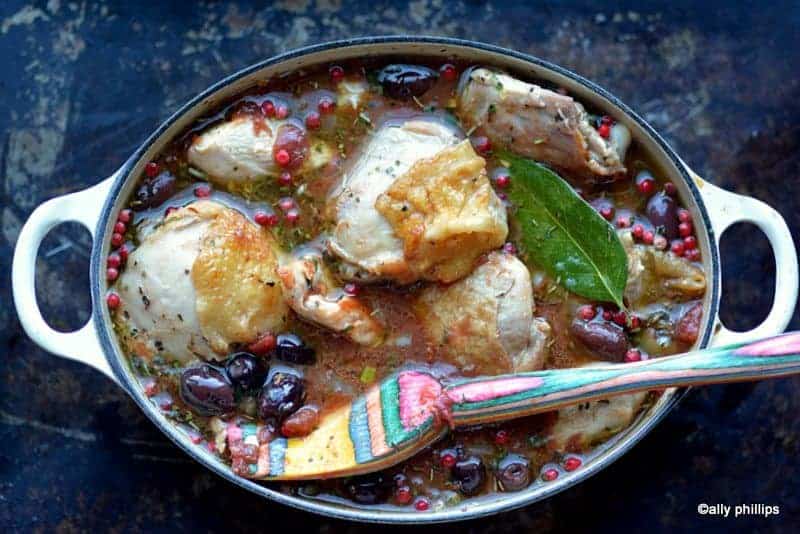 Chicken Puttanesca Stew was the most delicious dinner. Easy to make, and ready in just 30 minutes. Full of flavor and so good!
Chicken Puttanesca Stew
Think Adele. Yes, this chicken puttanesca stew is the kind of recipe that you fix for your family and friends and they think you're a rock star. Get ready to walk the red carpet. Have people ask you what you're wearing. Hey, even hang out with Blake and the gang on 'The Voice' just because YOU are a culinary singing artist!
Puttanesca Recipe
Puttanesca pasta is a spicy, spicy Italian dish that was invented in the middle of the 20th century. The dish has several variations, but the spicy sauce of pepper or garlic remains unchanged. Serve it your favorite pasta for an easy pantry-friendly dinner.
Easy Chicken Puttanesca
Chicken puttanesca cooks very quickly and turns out to be surprisingly tasty. The preparation is not very difficult, but incredibly tasty and unusual !!!! Nobody will remain indifferent from such a treat! Looking for more delicious and healthy recipes? Try my more delicious recipe such as Slow Cooker Beef Tomatoes Olive Stew and wine sauce lemon chicken capers & olives.
Pasta Puttanesca With Chicken
Serving this luscious rich dish with or without pasta works. As it's scooped into a simple white bowl, yes, let the vibrancy of the colors, the depth of the gravy, the fork-tenderness of the chicken and the saltiness of the olives and capers shine. It's not only good. It's simply one of those comfort food recipes that you'll PIN, save, remake and love again and again.
How To Make Easy Chicken Puttanesca Stew
I sure hope I haven't overrated this dish. It was served at a small intimate dinner party that included adventurous palates, two who were 6 and 7 years old. They gave it their thumbs up! If you're looking for other quick, easy and flavorful dishes, don't miss this Vanilla Bean Sweet Butter, rustic hearty best stew recipe, and pork chop stew.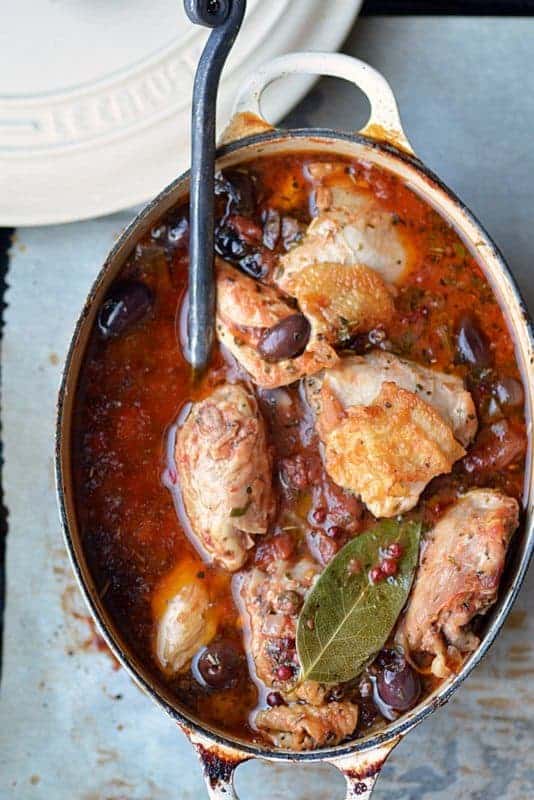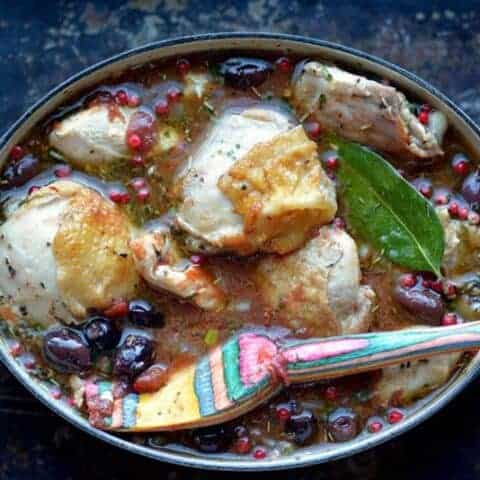 Chicken Puttanesca Stew
Chicken Puttanesca Stew was the most delicious dinner. Easy to make, and ready in just 30 minutes. Full of flavor and so good!
Ingredients
Preheat oven to 400
2 ½ to 3 lbs, chicken, (6-8) thighs, skin on, bone in and (2)boneless/skinlesschicken breasts, cut into three small pieces each
3 Tbl. extra virgin olive oil
1 cup sweet onions, diced
3 Tbl. garlic, diced
3 Tbl. anchovy paste
1 (28 oz.) can tomatoes, diced + 1 cup water
½ tsp. red chili flakes
1 Tbl. peppercorns
1 Tbl. Italian seasoning (dried) mixture
1 Tbl. basil, dried
¼ cup capers, drained
½ cup black olives, pitted, whole or sliced in halves
½ cup green olives, whole or sliced in halves
2-3 bay leaves
Instructions
In a large Dutch oven pot, put the oil and turn heat to medium high. When hot, add the chicken and brown on both sides. (This will take about 15-20 minutes.)

Remove the chicken to a dish.

Reduce heat to medium and add the onions, garlic and paste. Blend and cook about 3 minutes.

Add the tomatoes, chili flakes, peppercorns, Italian seasoning, basil, capers, black and green olives, bay leaves and blend together.

Put the chicken back in the pot. Cover tightly and roast in a preheated 400 oven about 50-60 minutes.

Remove and serve. Garnish with fresh basil and freshly grated cheese.