Cooking is more than just, well, 'cooking'.  Cooking is an engaging and healthy way to learn about world history.  Can you imagine how much more exciting you high school world history classes would have been if every day the lecture had been through the eyes of food!   Cooking is also a way to travel the world without leaving your kitchen, not that I wouldn't want to board a plane and be there for real as my nomad soul so desires~~sometimes it just doesn't happen.  While I've had the great opportunities to travel to four continents in my lifetime, I've never been the Africa or the Middle East, well, for now at least~~those are bucket list items.  I think some of the allure is in my genetics because my grandfather's genetics can be traced back to Turkey.  For now, however, my travels there are through the foods, especially the spices.  One of my favorite spices is 'Ras el Hanout'~~which means 'head of the shop' in Arabic~~here's what Wikopedia has to say~~
Ras el hanout or Rass el hanout (Arabic: رأس الحانوت raʾs al-ḥānūt [rɑʔs ælħɑːnuːt]) is a blend of spices from Morocco but also used in other countries in North Africa. The name is Arabic for "head of the shop" and implies a mixture of the best spices the seller has to offer. Ras el hanout is used in many savory dishes, sometimes rubbed on meat or stirred into rice.
There is no definitive combination of spices that makes up ras el hanout. Each shop, company, or person may have their own blend. The mixture may consist of over a dozen spices. Commonly used ingredients include cardamom, clove, cinnamon, ground chili peppers, coriander, cumin,nutmeg, peppercorn, and turmeric. Some spices may be particular to the region, such as ash berries, chufa, grains of paradise, orris root, monk's pepper, cubebs, or dried rosebud. Ingredients may be toasted before being ground and mixed together.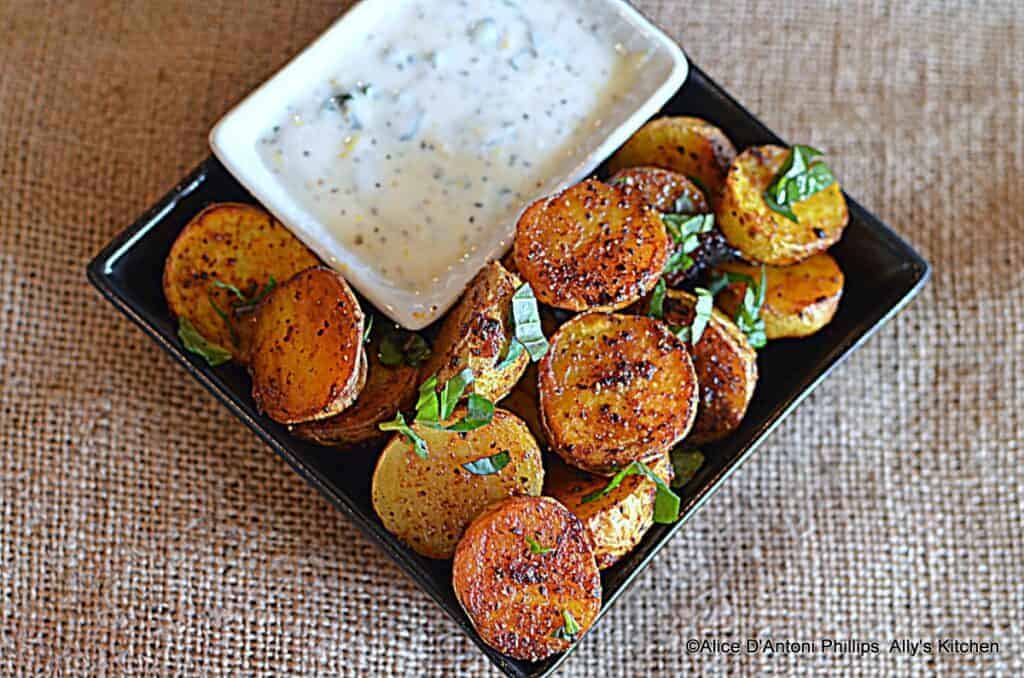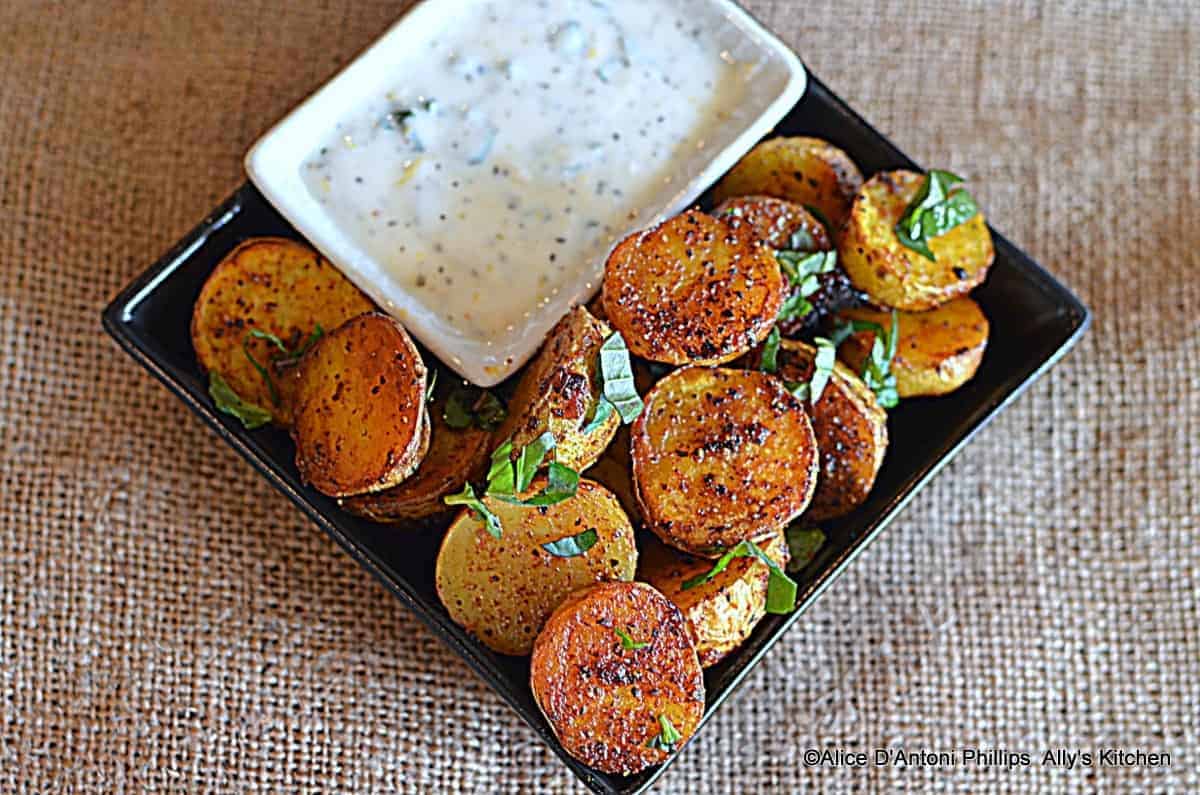 Ras el Hanout Roasted Baby Gold Potatoes with Labneh Sauce
Ingredients
Preheat oven to 425
3 cups potatoes (I used baby gold yukon potatoes cut in halves.)
2 tsp. ras el hanout, dry mixture
1/2 red chili flakes
1  1/2  tsp. sea salt (divided)
2 tsp. coarse ground pepper (divided)
4 Tbl. extra virgin olive oil
Labneh Sauce~~
1 cup plain Greek yogurt
Juice/Zest 1 large lemon
3 Tbl. chopped fresh mint (divided)
Instructions
Put potatoes in a bowl and add ras el hanout, red chili flakes,  1 tsp salt, 1 tsp pepper and olive oil.  Toss and blend.  Spread out on a parchment-paper lined cookie sheet.  
Bake in a preheated 425 oven for about 17-20 minutes.  Remove and garnish with 1 tablespoon of chopped mint.
Labneh Sauce:  Combine the yogurt, 1/2 teaspoon of salt, 1 teaspoon of pepper and the juice/zest of the lemon and blend.  Refrigerate while potatoes are cooking.  Serve with potatoes.
https://allyskitchen.com/ras-el-hanout-roasted-baby-gold-potatoes-with-labneh-sauce/
©ally's kitchen intellectual property