Nothing makes me happier than a good pumpkin 'pie'~~I've been know to eat an entire pie over the course of 2-3 days!  This 'Pumpkin Pineapple Ginger Tart' puts a new twist on an old favorite. The crust has a sweet ginger flavor and some subtle crunch in it.
The addition of the Dole pineapple chunks add to the moistness and the creaminess~~it's like having a support actor who makes the lead actor even better! Then the spices, cinnamon, allspice and nutmeg, just make the pumpkin pop with even more flavor.
This tart is not only chic and beautiful, but it slices perfectly, gives just the right amount of filling with crust, and can be adorned with much more than just whipped cream or ice cream~~I used some fruity balsamic glaze that was killer!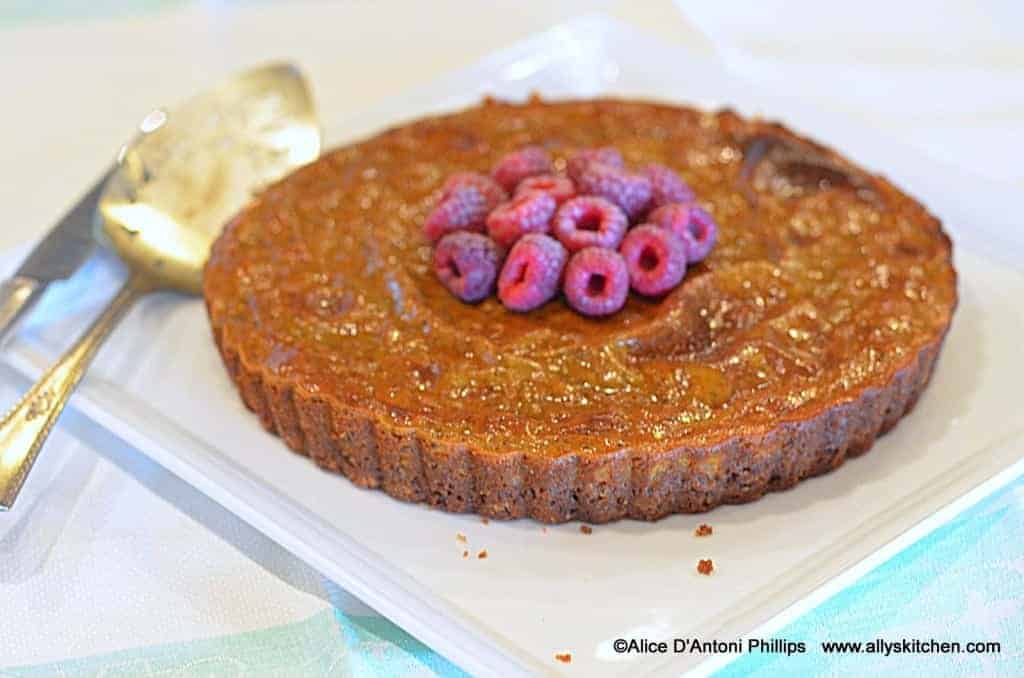 pumpkin pineapple ginger tart
Ingredients
Preheat oven to 325
2 cups gingersnap cookies crushed in food processor
4 Tbl. butter, melted & salted
1 (15 oz.) can pumpkin puree
3/4 can (14 oz. can) of sweetened condensed milk
1/2 cup Dole Sunshine drained pineapple chunks
3 egg yolks
1/4 tsp. sea salt
1 tsp ground cinnamon
1/2 tsp. allspice
1/2 tsp. ground nutmeg
1 tsp. vanilla
Instructions
Mix the ground gingersnaps and butter and pat into a tart baking pan (about 9" round).  
Put the pumpkin puree, sweetened condensed milk, and pineapple chunks in the food processor and pulse until the pineapple chunks are blended in.  
Pour into a mixing bowl and add the egg yolks, salt, cinnamon, allspice, nutmeg and vanilla and blend.
Pour into the pan with the crust.  Bake in a preheated 325 oven about 45 minutes or until a toothpick comes basically clean from the center.  
Let cool. Serve with fresh raspberries~~I also used fruit balsamic glaze, which gave a fabulous twist!
https://allyskitchen.com/pumpkin-pineapple-ginger-tart/
©ally's kitchen intellectual property