No Dairy Chocolate Coffee Shake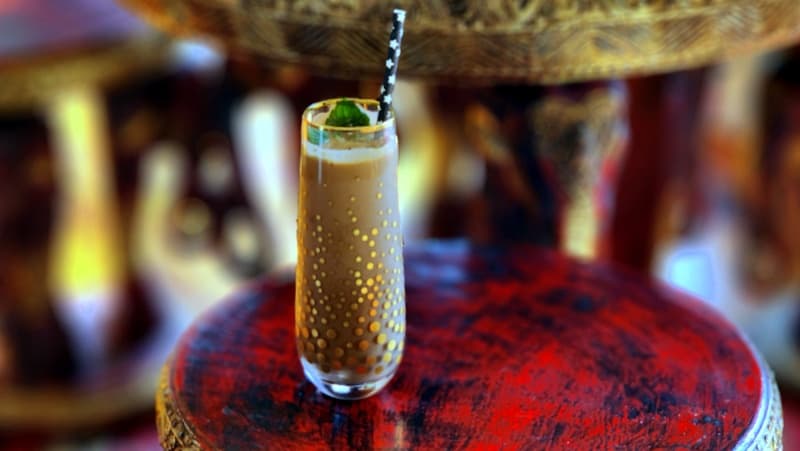 You'll never miss the dairy or sugar! This No Dairy Chocolate Coffee Shake using plant-based milk and a protein supplement is nutrient dense!
DISCLOSURE: There are products noted in this recipe that offer me a small commission on sales. I believe in these products, use them and bring them to you because they're the best. And, yes, the small commissions that I derive do help offset the costs of doing business in Ally's Kitchen. Thank you soooooooooo much! xoxx
Healthy Milkshake
A health milkshake? Sounds like an oxymoron, right!
But, this chocolate 'milkshake' is exactly that.
One of the ingredients that I'm using to boost nutrients is Bone Broth Protein Powder Supplement. Now I keep a few bags of this in my pantry at all time because it's so versatile.
It's a sneaky way to up your game with nutrients in your recipes! Add to soups, stews, sauces, gravies and more. And, this link gives you an automatic 15% off at checkout. Great Deal!
Plant Based Milkshake
Another factor that makes this shake healthier?
Kiki Milk. Yes, it's a plant-based milk and it comes in chocolate and original, which I use in cooking as a substitute for dairy. You're using one of the healthiest plant-based milks on the planet. Yes, it's good. I make these shakes for my grandkids. They're my real test of whether a recipe is yummy!
Just remember for the kiddos, OMIT the coffee. Just add more Kiki Milk and coconut milk.
Dairy Free Chocolate Milkshake Recipe
You can make this dairy free chocolate milkshake for one or several. Kiki Milk comes in 32 ounce containers and is perfect for this shake!
Another thing about it is that you can make a batch and refrigerate what you don't use. Just shake shake shake it well when you're ready to serve.
If you're a coffee drinker like use, you usually have some leftover coffee from the morning. This is a perfect way to use it and have an afternoon delight!
How to Make a Chocolate Milkshake
You can make this chocolate milkshake in a blender, but sometimes I just don't want to pull it out, get it messy, then have to wash and dry it.
So, I use a milk frother! Yep, this little gizmo is perfect and all you do is swish and rinse. Here's the link to mine! It's not expensive and I use it all the time. Like being my own barrister at home.
Kiki Chocolate Milk
The Kiki chocolate milk is perfect for this shake. It adds the 'sweetness' that's gonna make it appealing to children. Again, MINUS the coffee. And, the coconut milk adds that extra tad of creaminess, like ice cream, without added sugars. I'm using UNsweetened. Believe me, you don't miss the added sugar.
Protein Chocolate Shake
Now this shake is nutrient dense.
One scoop of the Bone Broth Protein Powder Supplement gives you 15grams of protein and 15grams of collagen! Again, my link gives you 15% automatically off your order at checkout. It behooves you to check it out and read why it's so great as a staple in your pantry. You can also freeze and/or refrigerate.
Chocolate Coffee Shake Recipe
You don't have to add the coffee if you prefer not to.
Another option is to add an instant coffee if you don't have leftover coffee. And, if you want more kick, try an instant espresso like this! Oh, yes, it's a game changer! Pure Italian magic!
Dairy Free Milkshake Recipe
Now I'm not dairy-free. But, there are occasions that I want to shift from dairy to non-dairy without the loss of taste.
In this case, I get the taste, plus I'm getting a nutrient dense dairy free 'milk'.
Coconut Smoothie
The coconut milk in this shake really does provide that creamy flavor of 'ice cream'
An option for serving is to make coconut milk ice cubes as well as Kiki Milk ice cubes and have choices.
I just use a small flexible ice cube tray. Check it out here! Several options for you to consider.
Healthy Chocolate Shake
It's almost a crazy thought to say, I'm serving a healthy chocolate shake.
But, there's no doubt that by swapping out ingredients, and using high-quality substitutions that are now available helps you achieve this goal.
Healthy Chocolate Shake without Banana
I opted not to use a banana. But, if you want to do so for your kiddos, that's a delicious way to add more natural sugar.
It can be a ripened and frozen banana or unfrozen. You'll certainly need to pull out the blender for this one because the small frother just doesn't have the horsepower to make a shake/smoothie.
Spiked Chocolate and Coffee Milkshake
Finally, yes, this can become an adult milkshake for anytime, but especially the holidays.
It's a simple matter of adding your favorite 'spike' to it like Kahlua, Baileys, Coffee Patron or your preferred after-dinner sip. Lots of versatility.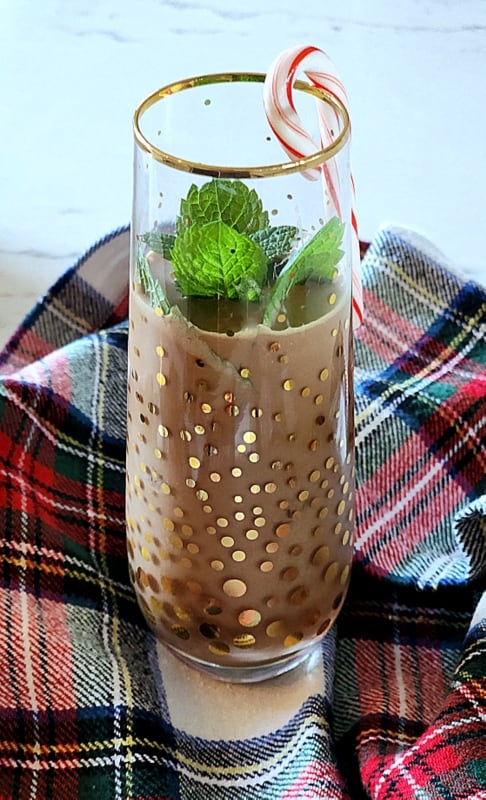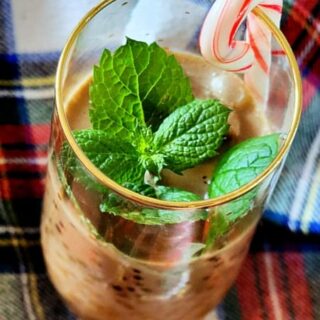 No Dairy Chocolate Coffee Shake
Ingredients
3/4 cup Kiki Chocolate Milk, plant-based 'milk', see notes below
1/2 cup coffee, leftover, room temperature
1/2 cup coconut milk, unsweetened
1 Tbl. cacao powder
1 scoop protein powder, see Notes Below for the best
Kiki Ice Cubes, can substitute regular cubes
GARNISH:
Fresh mint sprig
Small candy cane
Freshly grated nutmeg
Instructions
In a large 3-4 cup measuring cup, can use a large jar with a lid, combine the Kiki milk, coffee, coconut milk, cacao powder, and protein powder. Stir blend. Then use a milk frother to blend together the ingredients.
Put the ice cubes in a glass. Pour mixture over the cubes. Garnish with fresh mint and a small candy cane, optional.