old bay cod veggie skewers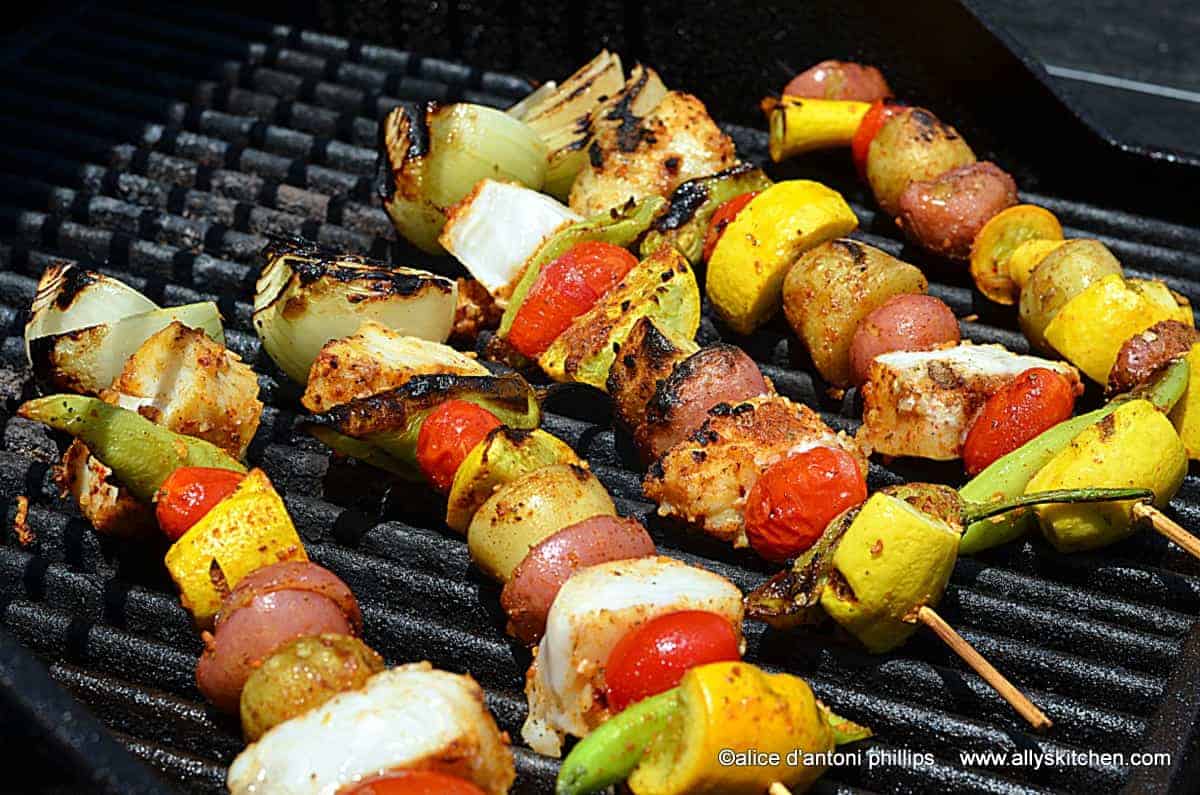 For me one way to pack some great flavor in meats and veggies without loading up on butter and oil is to use spices! And, if you've jumped on my magic carpet travels over the past couple of years, you know that I love spice blends from around the world! In fact, in my new cookbook, 'Ally's Kitchen~A Passport for Adventurous Palates'~I'll have many new spice blends that will make you think you've transported yourself to the continent or country where I found them!
One spice blend that's close to home and is used in the South, as well as all over the United States, is 'Old Bay' seasoning.  Their guarded secret blend of 18 spices and herbs dates back 75 years. It's full of flavor and can make even the most bland and boring food taste great! We use Old Bay on seafood as well as veggies…it's also great mixed in with some olive oil and used as a dipping oil!  The Old Bay tag line's so true 'Battle bland food, arm yourself with Old Bay'!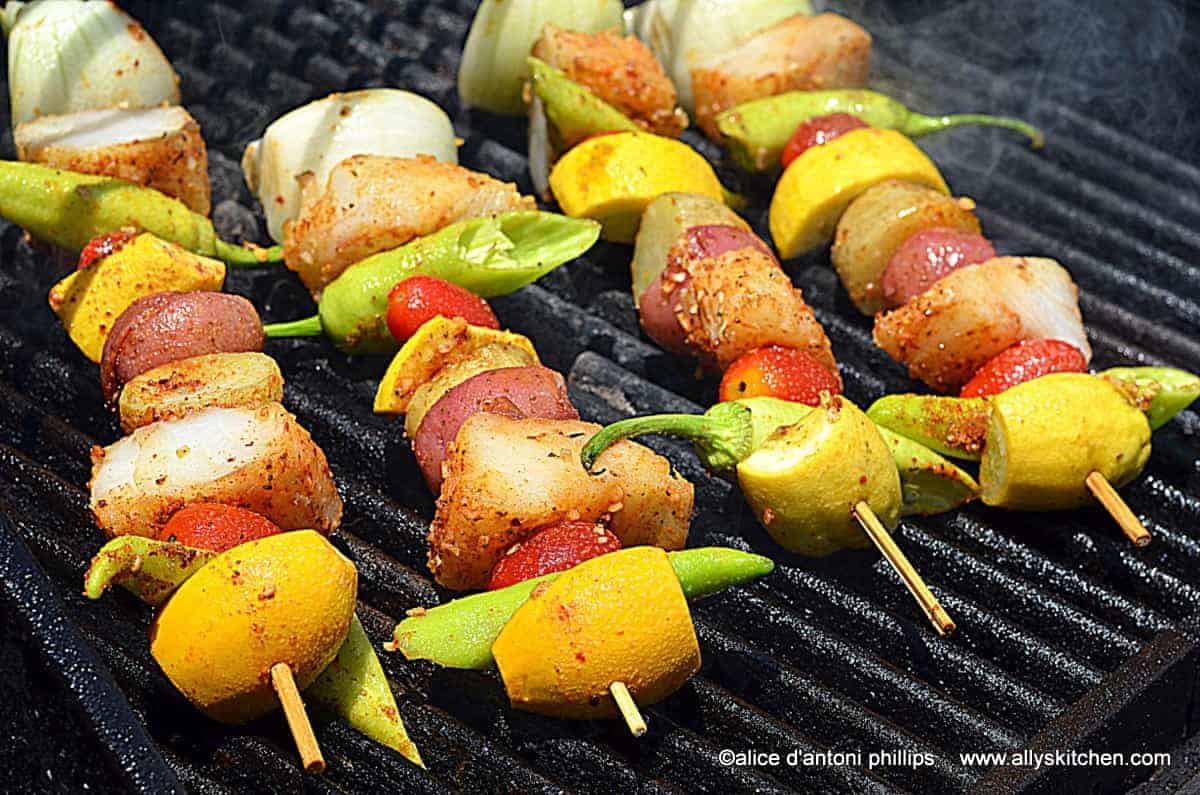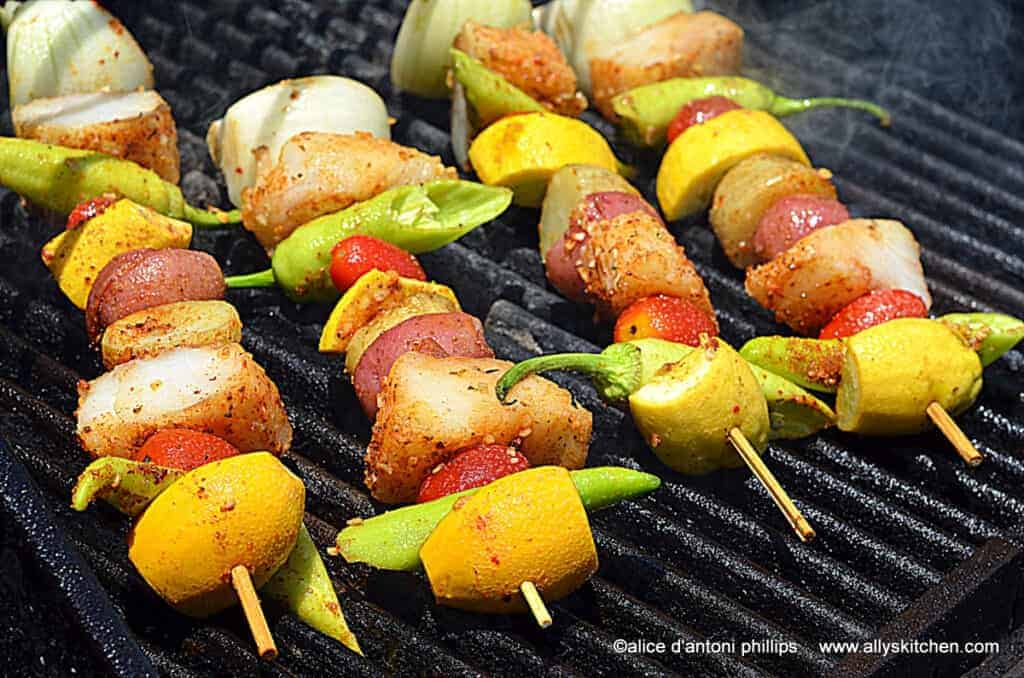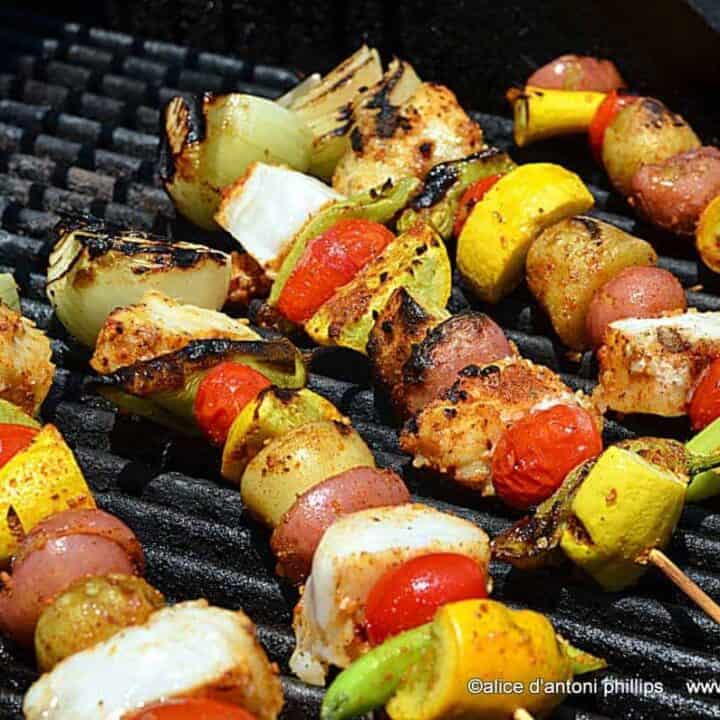 ~old bay cod veggie skewers~
Ingredients
1 Tbl. + 1 tsp. Old Bay seasoning
1 tsp. onion flakes
½ tsp. red chili flakes
½ tsp. sea salt
¾ to 1 lb. cod filets cut into 8 large chunks
4 small red potatoes (cut in halves)
4 small white potatoes (cut in halves)
4 banana peppers sliced diagonally (leave that stem on!)
2 small squash cut into 8 chunks
8 cherry tomatoes
1 medium sized sweet onion cut into quarters
Canola cooking spray
4 cups fresh baby arugula
Vinaigrette (your favorite)
Instructions
Put the potatoes in a bowl, cover and microwave on high for 2 ½ minutes. Remove, toss gently and let cool. Mix together in a small bowl the old bay, onion flakes, chili flakes and sea salt.
Put the veggies (not the onion), cod and potatoes on a parchment-paper lined cookie sheet. Coat with cooking spray. Sprinkle on the spice mixture. Turn and coat all sides of the fish and veggies.
Use 10" skewers and thread on 2 pieces of cod and veggies (in equal numbers and in any pattern you like)—finish with the onion quarter at the pointed tip of the skewer. Coat again with cooking spray.
Preheat your grill to 400-450 (you want it hot). Place the skewers on the grill and cook (cover down) about 3-4 minutes on one side then gently turn to the other side and cook another 3-4 minutes.