Oatmeal cookies seem so Americana to me! I remember growing up and Mom making them sometimes. I think I love the chewy brown sugary taste with a crunch of nuts. But, when you add raisins, and bourbon drenched at that, you have a burst of sweetness that tingles your palate in the most unexpected way!
These are grown up cookies, for sure. They let us re-visit our childhoods with just a hint of being grown up and quasi-adults. Soaking the raisins for hours, or even overnight, is quite acceptable, and if you want put them on a low simmer on the stove just to plump them a tad then let them bask in their bourbon glory for a while! Magic munchies
~peace & happiness~ xo ~ally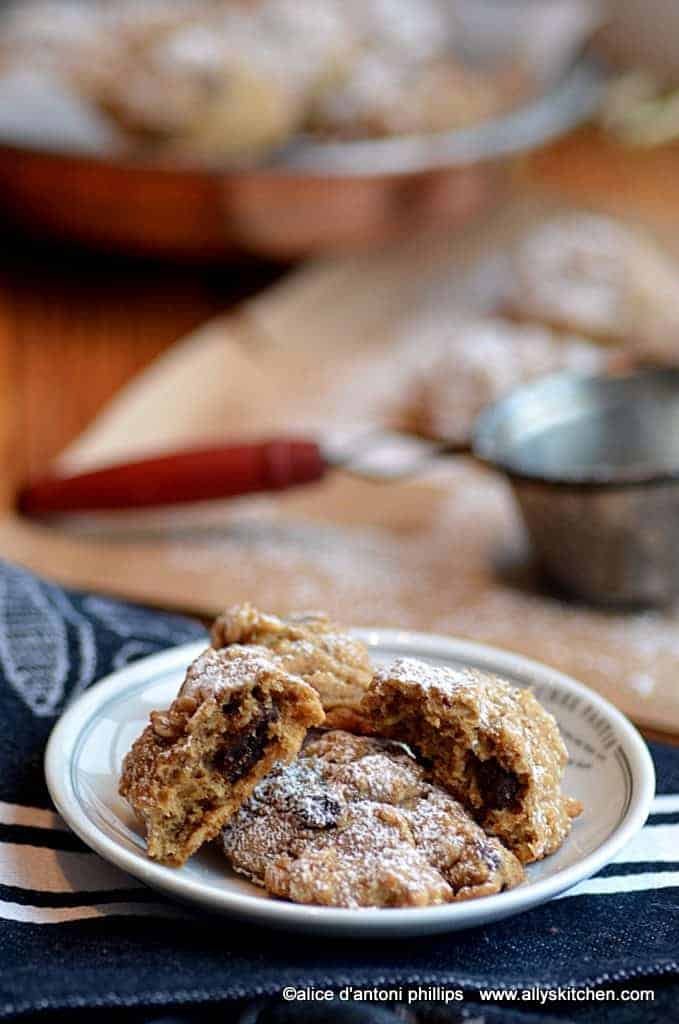 bourbon drenched oatmeal cookies
Ingredients
Preheat oven to 350
1 cup Dole raisins
2 Tbl. bourbon or whiskey
1 ½ cups rice flour
1 tsp. baking powder
½ tsp. baking soda
¼ tsp. sea salt
1 tsp. ground cinnamon
½ tsp. ground cloves
½ tsp. ground nutmeg
2 ½ cups oatmeal (not fast cook)
12 Tbl. Salted butter, soft and at room temperature
1 cup brown sugar
3 eggs, beaten
2 Tsp. vanilla
¼ cup half and half (or milk)
1 cup chopped walnuts
Powdered sugar for dusting (optional)
Instructions
Put the raisins in a small bowl and toss in the whiskey. Let them sit and soak while you move on to making the cookie batter.
In a large mixing bowl. Combine the flour, baking powder, baking soda, salt, cinnamon, cloves, nutmeg and oatmeal. Toss and blend with your hands. Set aside.
In another large mixing bowl, put the butter and brown sugar and whip (medium speed) using a hand mixer about 2 minutes. Add the eggs one at a time and continue whipping adding the vanilla and half and half.
Work into the wet mixture the dry ingredients about one-third at a time. Blend in the raisins and nuts. Your batter with be thick.
Using a small spring scoop, put dollops of batter on a parchment paper lined cookie sheet; leave about 1 ½ inches between the cookies—they should not run and spread out much at all.
Bake in a preheated 350 oven about 10-12 minutes. Remove and let them cool on a rack. Ready to eat and great warm! Store in a covered container!
https://allyskitchen.com/bourbon-drenched-oatmeal-cookies/
©ally's kitchen intellectual property