You're gonna not believe that this slow cooker lamb chili stew has an ingredient in it that you'd probably never thinking of adding! But, what this one little ingredient does is round out the entire flavor profile of this chili! Now, this lamb chili stew is probably award-winning, at least on my table and with my family and friends!
This lamb chili stew is a combination of both chili and stew. It's heartier and packed with more vegetables. And, this makes it even more robust and filling. The degree of heat and spice in chili is totally up to you. While the surprise ingredient helps tone down some of the 'heat' if you want more spice, then by all means add something like red chili flakes to ramp up the heat.
Now, I'm a total lover of pasture raised lamb. And, this ground lamb pairs perfectly with a little ground Italian sausage that gives additional flavor. This recipe requires nothing more than gathering your ingredients and putting them all in the slow cooker. Just go about your day accomplishing all your 'to do' list and come home to absolutely intoxicating aromas!  xoxo ~ally
Here's another great recipe with ground lamb! I mean I traveled much of Morocco tasting kefta, and here's my rendition of the best!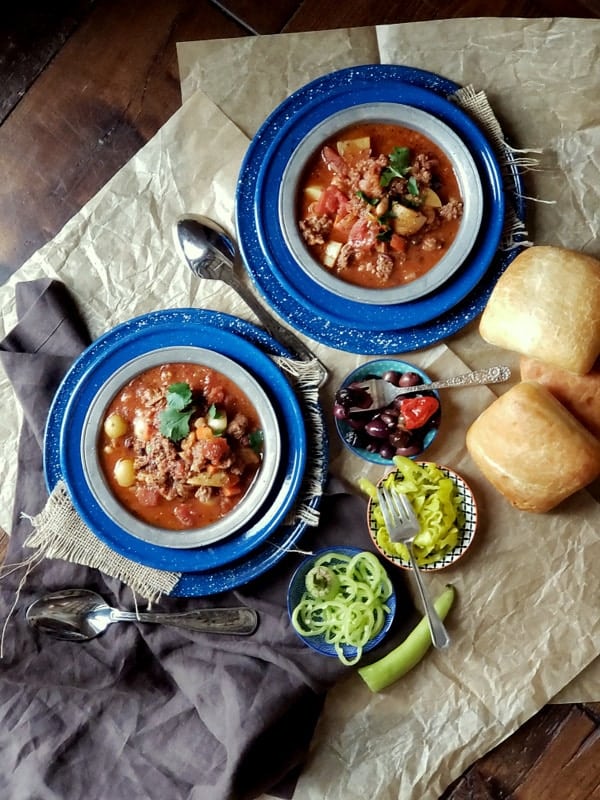 slow cooker lamb chili stew
Ingredients
1 lb. ground lamb, crumbled
½ lb. ground Italian sausage, crumbled
2 (14.5 oz.) cans chopped tomatoes
1 (6 oz.) can tomato paste + 1 cup water
3 (14.5 oz.) cans beans, your choice, somewhat drained
1 ½ cups carrots, medium dice
3 cups fingerling potatoes, medium dice
1 ½ cups mandarin oranges, with juice
1 (1.2 oz.) pouch Onion Soup Mix
1 (1.25 oz.) chili seasoning mix, spice/heat level to your liking
3 Tbl. Braggs Nutritional Yeast
Salt and Pepper to taste
Fresh cilantro for garnish
Instructions
Crumble the lamb and sausage well. Put in the slow cooker. Add the chopped tomatoes, tomato paste (water), beans, carrots, potatoes and mandarin oranges.
In a small bowl mix together the onion soup mix, chili seasoning, and nutritional yeast. Add to the ingredients. Blend and stir. Cover the slow cooker with a lid. Turn to high for six hours.
Notes
This lamb chili stew is better on day two!
You can freeze this chili stew.
https://allyskitchen.com/slow-cooker-lamb-chili-stew/
©ally's kitchen intellectual property