Weekend Coconut Oatmeal Pecan Southern Cake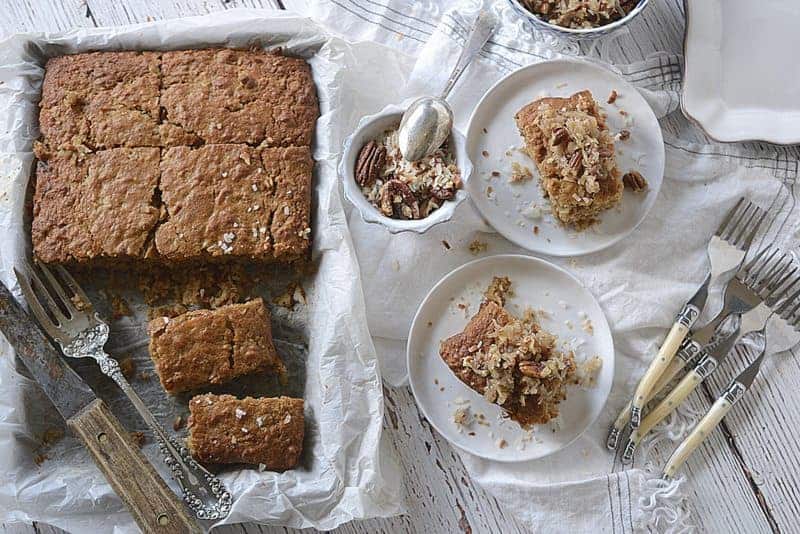 Wanna taste truly Southern fare? Well, this coconut oatmeal pecan southern cake is your ticket! Straight from the archives of delicious!
Oatmeal cake breakfast
Cake for breakfast sounds quite unconventional, but have you ever given it a shot to oatmeal cakes? I bet you haven't. This cake offers you enough protein and fiber to get you through your hyper morning sessions and along with the goodness of omega fatty acids from the walnuts. It makes you feel satiated and no hassle for making breakfast in the morning when you're running late to work. You could grab a slice with you and have it on the go! For quick and easy preparation, you could make Spiced Pumpkin Pecan Oatmeal Bars, with rolled oats honey, pecans or walnuts, and pumpkin flavor, like a granola bar but low-calorie version.
Amish Oatmeal Cake Recipe
What's so great about the Amish cooking? The Amish are du jour for their authentic recipes and techniques that are perfected and improvised by themselves. They make everything from scratch, which makes their recipe so good. Undoubtedly, if you get a chance to get your hands on one of Amish's Oatmeal cake recipes, don't hesitate, prepare the recipe; it will turn out cake-tactically!
Baked Oatmeal Cake
If you're not a big fan of eating the gooey oatmeal for breakfast, you can try out the baked oatmeal recipe. Eventually, the preparation time for baking an oatmeal cake is more than just having a bowl of porridge. But it's worth every minute. Plus, you could switch to having a healthier breakfast over cereals or pancakes with syrup. To conserve your time, you could make this cake on a Sunday, so you can toss it in your microwave to heat it and have it along with your cup of coffee! You can also have it on a lazy Sunday morning alongside Southern Pecan PoundCake Waffles with Bourbon Smoky Pecans & Peaches, which will go great with a baked oatmeal cake. Also, having a baked oatmeal cake is a way to transition towards a wholesome breakfast that keeps you full longer.
Lazy Day Oatmeal Cake
There's no specific rule to have an oatmeal cake for morning breakfast! I mean, we make our own rules, so why not bake a delicious oatmeal cake on the weekend? You can invite your neighbors for an evening time snack and tea, grab a slice of oatmeal cake, have a hearty conversation, or enjoy the cake all by yourself with your favorite book or series! You can make this oatmeal cake with some pecans and peaches for a fruity and nutty flavor. I assure you would devour the whole cake, and you will have zero regrets eating it all by yourself!
Moist Oatmeal Cake
You want to mix things up and have some fun baking a different oatmeal cake with a twist? Don't worry; we got you covered! Are you looking for a dense, moist oatmeal cake? Then you have almost hundreds of ways to make a simple oatmeal cake taste very exciting and healthier. You can add some bananas, oat flour, and dark chocolate chunks to your cake batter and make soft, fluffy oatmeal banana cakes! You'll go wild over this cake. Oats are high in fiber content, which helps in reducing LDL cholesterol, whereas dark chocolate contains antioxidants that help lower blood pressure. Treat yourself to a great recipe that is good for your health, and it would be an excellent alternative for a real chocolate lover's cake, so don't hold back; dig in and enjoy!
Old-Fashioned Oatmeal Cake
Are you inclined towards a more conventional recipe? If yes, then you can always go for the old-fashioned oatmeal cake. Many tasty recipes are becoming popular on Instagram and tik tok. But an actual old-fashioned recipe takes us back to the time our grandma used to prepare. They're simple, delicious, and just irreplaceable! So try out an oatmeal cake with rolled oats and not quick oats. Although it will take a long time to prepare, it will take you back to your childhood days! If you are looking for something fancy, you can make a chocolate cream cheese sheet cake with bourbon brown sugar pecans, the ingredients include oat flour, cream cheese, and chocolate cake mix, and top it off with some pecans and walnuts for extra crunch!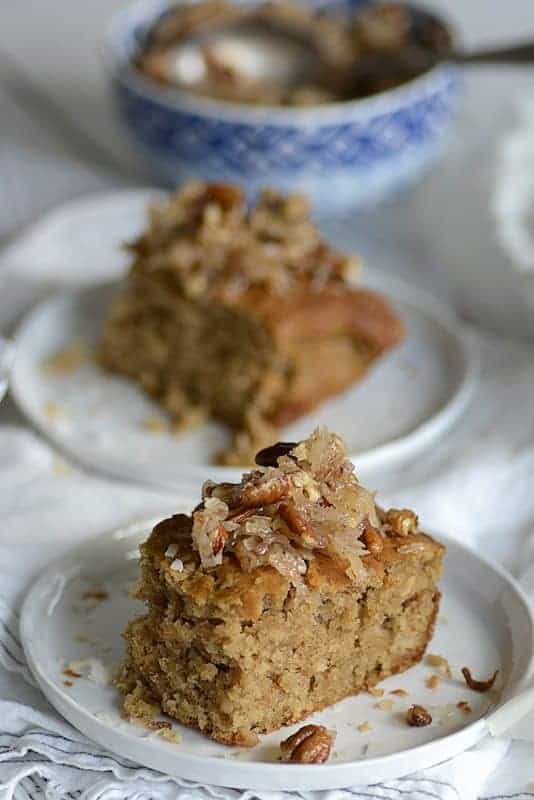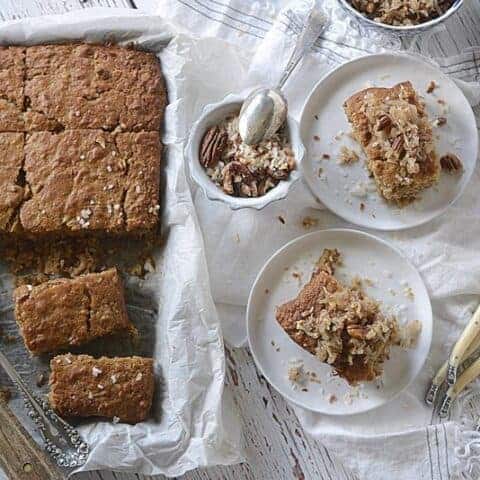 weekend oatmeal pecan southern cake
Wanna taste truly Southern fare? Well, this coconut oatmeal pecan southern cake is your ticket! Straight from the archives of delicious!
Ingredients
Preheat oven to 350
FOR THE CAKE:
1 cup rolled oats
¾ cup boiling water
½ cup milk
½ tsp. salt
8 Tbl. butter, room temperature, unsalted
¾ cup packed light brown sugar
2 tsp. vanilla extract
2 large eggs
½ cup shredded sweetened coconut
1 ¼ cups all-purpose flour
1 tsp. baking soda
1 tsp. cinnamon
1 ½ tsp. baking powder
FOR THE TOPPING:
6 Tbl. butter, room temperature, unsalted
¾ cup packed light brown sugar
3 Tbl. milk
2 cups shredded sweetened coconut, somewhat toasted
1 cup pecans or walnuts, chopped
Instructions
Combine oats, boiling water, and milk; let sit 20 minutes. Adjust oven rack to upper and lower middle position and preheat to 350 degrees. Grease,or spray with baking spray, a 9 x 9 -inch pan.

Add salt, butter, sugar, and vanilla to oat mixture and stir to combine. Stir in eggs and coconut. Add flour, baking soda, and cinnamon to bowl, then stir until completely combined. Pour into prepared pan and bake on middle rack until just set, about 30-40 minutes, or until a toothpick inserted in the middle comes out clean.

While cake is baking, mix topping in same unwashed bowl: toss butter, brown sugar, milk, coconut, and nuts to form moist crumbs.

As soon as cake is baked, remove from oven and spread topping over the top. Return pan to oven and increase heat to broil. Briefly heat until topping melts and coconut is lightly toasted, about 1 minute. Transfer pan to wire rack to cool.
Notes
To toast the coconut, put it on a parchment paper covered cookie sheet Put it in the 350 oven for a few minutes. Just watch it until some of the flakes start turning a golden brown.

Remove and let it cool.