The world of cyberspace is filled with great amazing home cooks worldwide! There's no shortage out there for any type of dish regardless of ethnicity. That's the origination of this great oatmeal cake recipe! As you well know, food and cooking are certainly one of the most popular things posted on Facebook and other social media platforms. At least from my vantage point, it's food food food. And, I've got some truly talented and amazing foodie peeps that make my mouth water every day looking at their luscious creations.
Where I Got this Oatmeal Cake Recipe
That's how I got this oatmeal cake recipe. From one of my favorite peeps. Mary had posted this recipe in The Boho Tribe, a private group on Facebook made up of our foodie family. In this quiet and special space, we support each other, we applaud each other, we share each other and we all learn from each other. Sounds like you might wanna drink the kool aid, right? No kidding, it's made up of a cross section of folks, women and some men, from around the globe. Every week we offer a sharing post. And, on this particular week, Mary, whose blog is All Things Cooking with Mary and Friends, shared this cake that I just fell in love with. And, I had to make!
Now, I didn't tweak it very much from her original recipe. I did reduce the amount of brown sugar because we're not fans of really sweet cakes, just enough to give us that hint of sweetness. And, I toasted the coconut to bring out some flavors plus add some subtle crunch. Otherwise, this recipe is Miss Mary's, and I must say it was devoured by us and there was enough to share with my neighbors who had it with their morning coffee.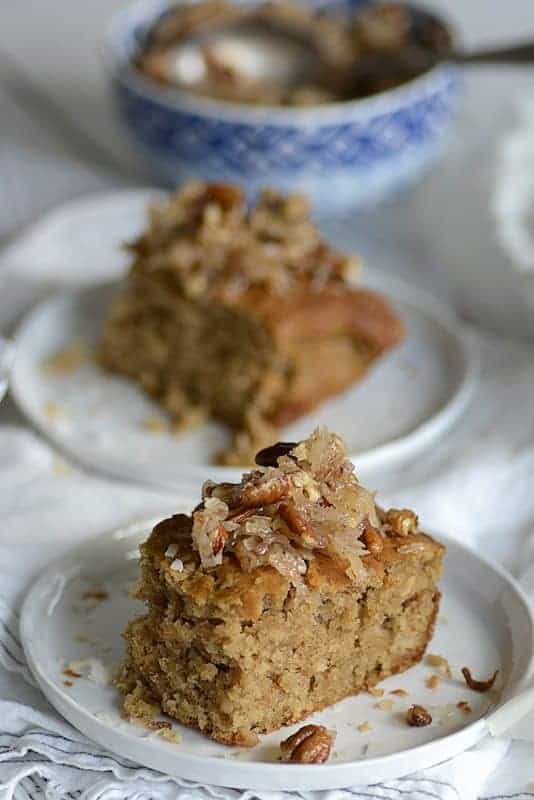 weekend oatmeal pecan southern cake
Ingredients
Preheat oven to 350
FOR THE CAKE:
1 cup rolled oats
¾ cup boiling water
½ cup milk
½ tsp. salt
8 Tbl. butter, room temperature, unsalted
¾ cup packed light brown sugar
2 tsp. vanilla extract
2 large eggs
½ cup shredded sweetened coconut
1 ¼ cups all-purpose flour
1 tsp. baking soda
1 tsp. cinnamon
1 ½ tsp. baking powder
FOR THE TOPPING:
6 Tbl. butter, room temperature, unsalted
¾ cup packed light brown sugar
3 Tbl. milk
2 cups shredded sweetened coconut, somewhat toasted
1 cup pecans or walnuts, chopped
Instructions
Combine oats, boiling water, and milk; let sit 20 minutes. Adjust oven rack to upper and lower middle position and preheat to 350 degrees. Grease,or spray with baking spray, a 9 x 9 -inch pan.
Add salt, butter, sugar, and vanilla to oat mixture and stir to combine. Stir in eggs and coconut. Add flour, baking soda, and cinnamon to bowl, then stir until completely combined. Pour into prepared pan and bake on middle rack until just set, about 30-40 minutes, or until a toothpick inserted in the middle comes out clean.
While cake is baking, mix topping in same unwashed bowl: toss butter, brown sugar, milk, coconut, and nuts to form moist crumbs.
As soon as cake is baked, remove from oven and spread topping over the top. Return pan to oven and increase heat to broil. Briefly heat until topping melts and coconut is lightly toasted, about 1 minute. Transfer pan to wire rack to cool.
Notes
To toast the coconut, put it on a parchment paper covered cookie sheet Put it in the 350 oven for a few minutes. Just watch it until some of the flakes start turning a golden brown.
Remove and let it cool.
https://allyskitchen.com/oatmeal-pecan-southern-cake/
©ally's kitchen intellectual property