Making this lasagna is easy…all you need to make it 'boho' is to have made the 'Bohoemian Bolognese'!  And, since when you make this fabulous sauce you have enough for a battalion, you'll see that not only can you do lasagna but other things~~pizza, sandwiches, topppings for roasted veggies, even a chili twist and more!
This lasagna is really best the second day…that is if you have any left over!  Remember, bohemian means you use what veggies you love, you layer to your liking, if you want black olives, have at it, if you want green olives, go for it!  You'll see from these pictures that I've done it a few ways including melting cherry mozzarella on top.   It all comes together with the bolognese sauce!
Makes: 8×8 baking dish
Preheat oven to 375
What you need:
12 baking lasagna (requires no boiling)
6 cups bolognese sauce
1 1/2 cups chopped veggie(s) (your choice~~broccolini, cherry tomatoes, squash, zucchini, etc.)
2 cups European greens
1/2 cup chopped fresh basil
1/2 cup chopped lives (optional)
3 cups shredded cheese (Italian blend, Mexican blend or mozzarella)
1/2 cup freshly grated parmesan reggiano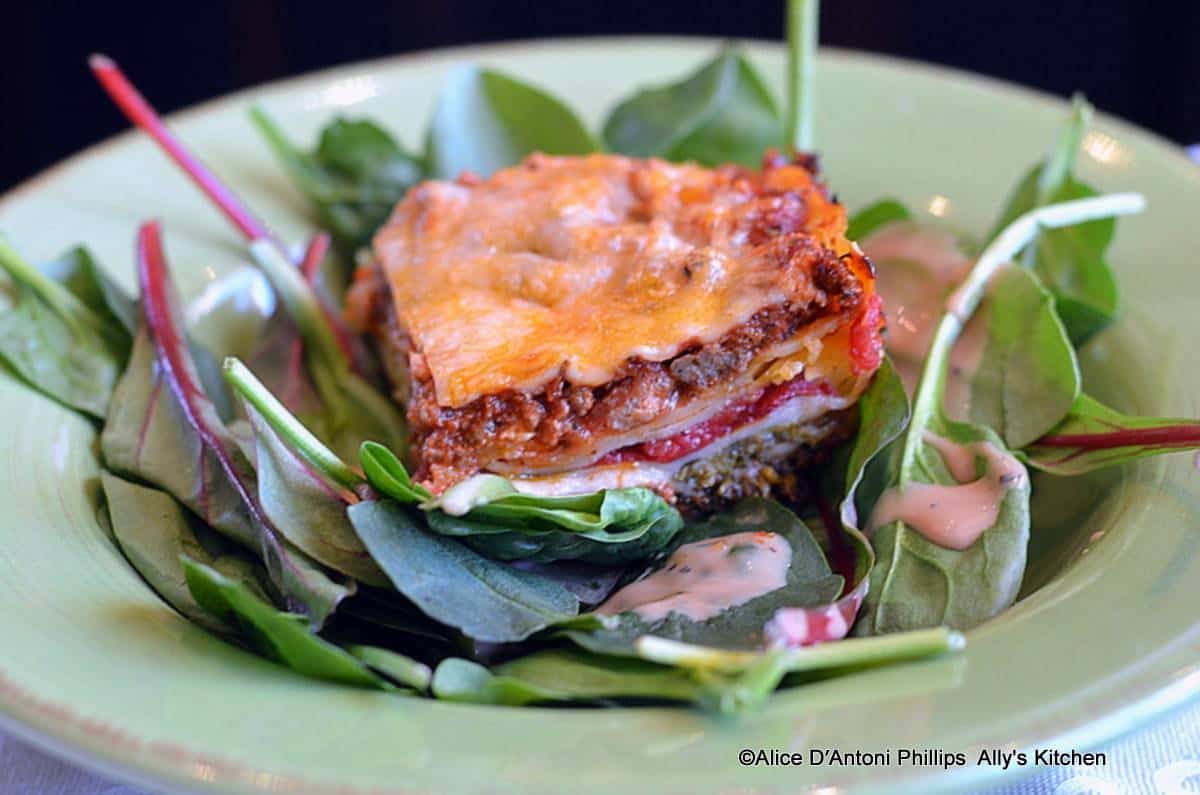 What you do:
Coat baking dish with cooking spray.  Begin layering starting with a layer of noodles (about 3), then 2 cups bolognese, more noodles, the chopped veggies and a cup of bolognese and a cup of shredded cheese, more noodles, bolognese, greens, cheese, then last of the noodles, fresh basil, olives and remaining bolognese.
Cover with doubled foil and bake in preheated 375 oven for about 45 minutes.  Remove foil and sprinkle on top the grated cheese.  Let cool about 20-30 minutes before serving.
©Alice D'Antoni Phillips   Ally's Kitchen