Bloody Mary's are staples at weekend brunches and even when my hubby, Ben, goes fishing! Nothing like making a tall spicy Bloody Mary to take along in the john boat when trolling for flounder. Now my thinking is why not extend these awesome Bloody Mary flavors to chicken wings.
I mean chicken wings that have all the flavors and tastes of that sippy drink! Check it out. I'm not gonna go on and on about this recipe, cuz I know you're just interested in the recipe. So have at it. Bloody Mary Chicken Wings!
But, first! Another kicker good recipe for your next hootin' gathering…pork sloppy joes!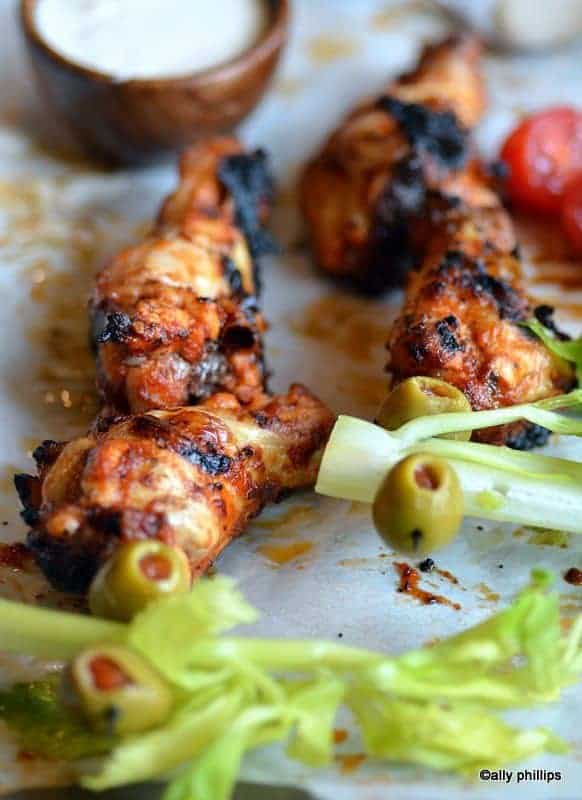 Ingredients
Preheat grill to 450 to 500 degrees
4 Tbl. Concentrated tomato paste
2 tsp. lemon pepper
1 tsp. garlic granules
½ tsp. hot paprika
½ tsp. red chili flakes
2 Tbl. Vodka (can substitute apple juice)
2 Tbl. Honey + more for garnish drizzling
1 Tbl. Canola oil
1 Tbl. Apple cider vinegar
8 wings (I used drumettes)
8 pre soaked 10" skewers
Cooking Spray
GARNISH
16 green olives
8 celery stalks (with leaves, about 3" length)
Instructions
In a medium size mixing bowl, combine the tomato paste, lemon pepper, garlic, paprika, chili flakes, vodka, honey and oil and blend well into a thick mixture.
Skewer two wings on each stick. Leave about 2" at the top for garnish after cooked. Use a pastry brush to slather the seasoning paste on the wings. Liberally coat both sides with cooking spray.Put on a hot grill.
Cover and grill on each side about 7-9 minutes.Remove, cover with foil, let them rest 5 minutes. Then add to the top of each skewer two olives and a celery piece. Give the wings a quick drizzle of honey.Wings vary in size.
If you have very large fat ones or are using the entire wing (I used the drumettes.) then adjust heat accordingly.These wings can be also cooked in a preheated 400 oven for about 18-20 minutes. You won't get the charring marks, which I love, but you'll have crispy wonderful wings that will make your soar!
https://allyskitchen.com/bloody-mary-wings/
©ally's kitchen intellectual property