temrika meslalla (garlic beef with green olives)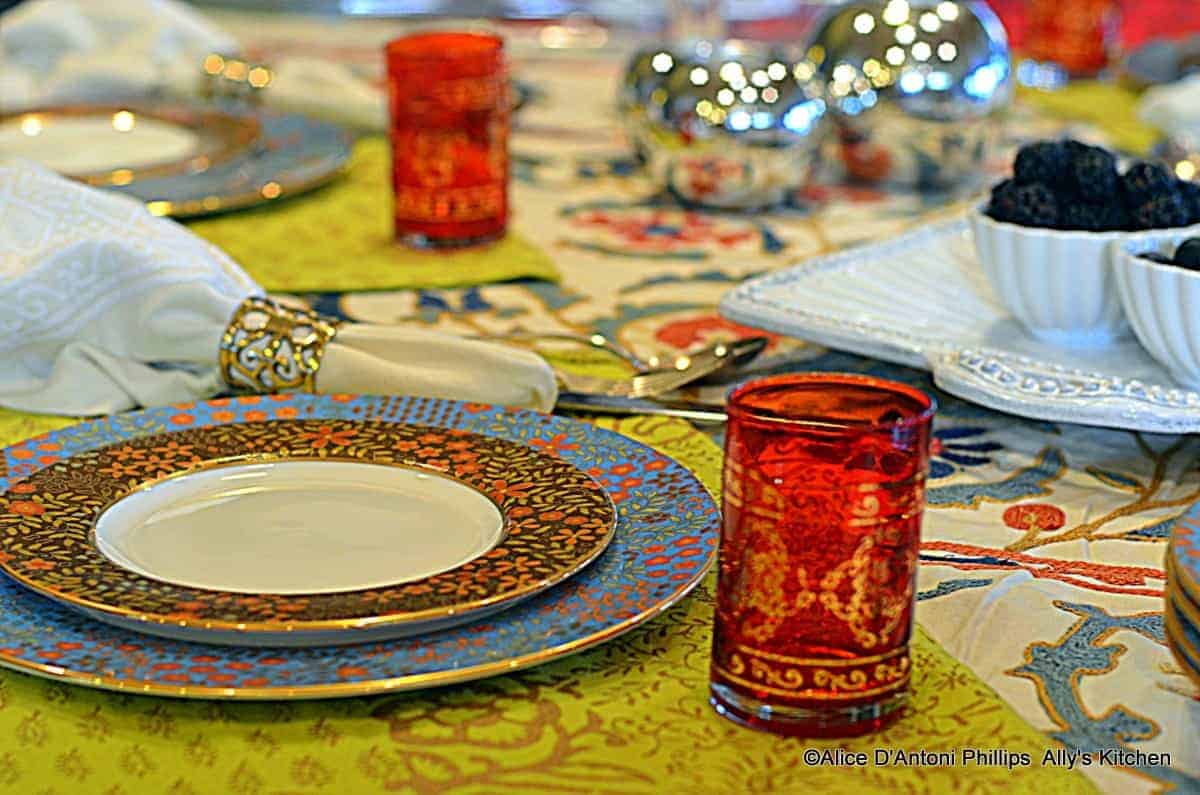 My heart gravitates to certain cookbooks~~those that are ethnic, those that have a rustic peasant allure to them, those that incorporate non-typical ingredients including spices and herbs, those that take me out of my culinary comfort zone, those that expose me to a global table and those that have gorgeous photography of dishes in traditional cultural settings.  Two of my favorite are 'Plenty' and 'Jeresalum' by Yotam Ottolenghi.  I've just added another to my 'love books' and that's 'Cooking at the Kasbah' (Recipes from my Moroccan Kitchen) from Kitty Morse.  This recipe is from her cookbook~~however, I have, as usual for me, 'boho'd' it making it my own~~I've added the smoked paprika and harissa spices, tossed the beef in flour, I used regular green olives because I didn't have cracked green olives, included a splash of red wine, and have not reduced the sauce after cooking because the flour made for a thicker sauce after cooking.
This was served to two of our good friends at dinner~~now these friends are truly Southerners, so I was slightly skeptical that they would take a hankerin' to not only the different array of flavors, like lemon and beef and whole garlic heads, but also the different spices.  I served this with forbidden or black rice with chiffonade green onions.  I must say they could not get enough of it~~went back for seconds and thirds, and Fran even said it was the best dish she'd ever had!  Wow!  I was thrilled!  To say the least, they're now Temrika Meslalla lovers like Ben and me!  It was a glorious evening of food, wine, great conversation, laughs, and a table setting that took us halfway 'round the world to Morocco!
I posted pictures of this dish on my FB page, and one of my very dearest and most treasured foodie friends, who's Algerian, shared with me her fabulous words~~
Beautiful dish and I would love to have some " khobz eddar" ( home made bread) to eat this lovely braised meat, Temrika in Arabic is from the verb " temrek" which means make a sauce, Meslalla (or mchermel depending on area) in Arabic is a variety of olives that have been home preserved, usually olives are crushed with a stone and then washed, placed in jar with water that should be refreshed twice a day for three days, and then refreshed every two days until olives have softened, when olives are soft, lemon juice and olive oil, salt, cumin, paprika, crushed garlic, coriander and parsley finely chopped are added to the olives to marinate/ preserved, usually these olives are used in tagines or braised meat stews, now where is the bread so I can taste this yummy dish?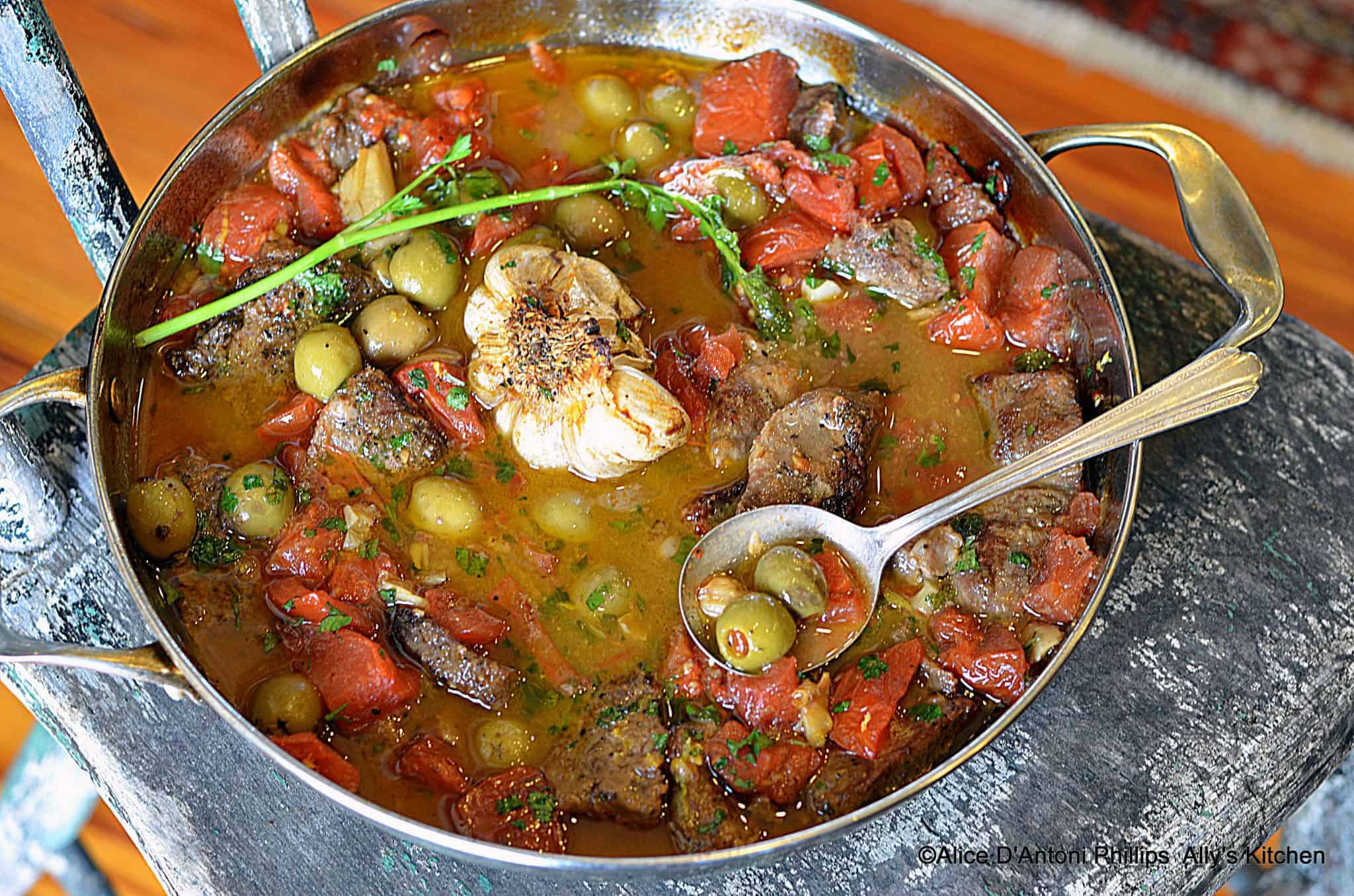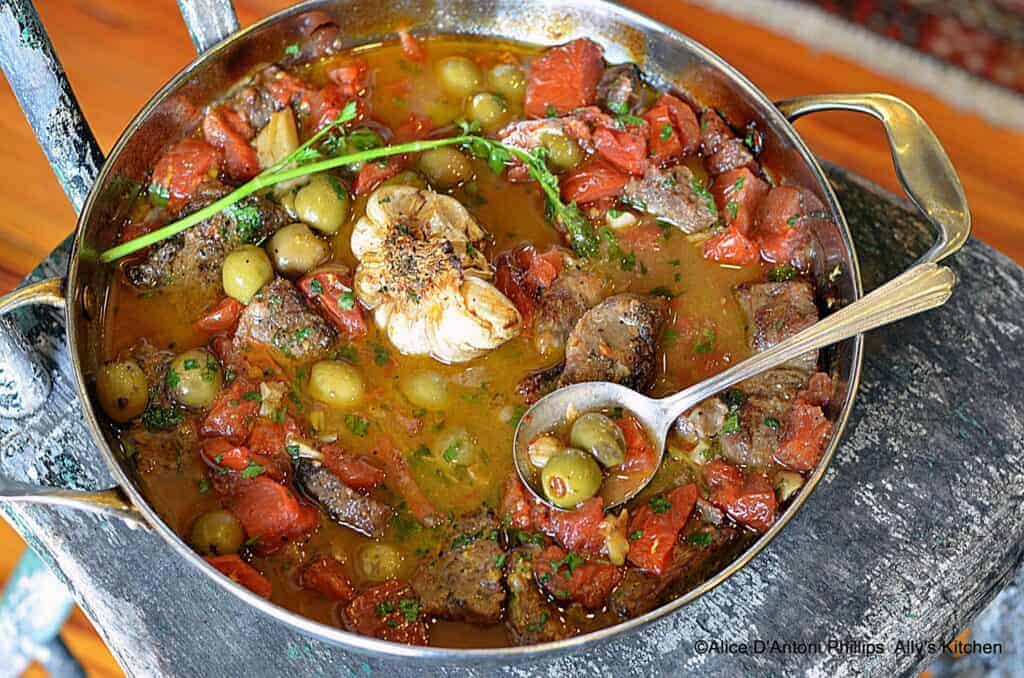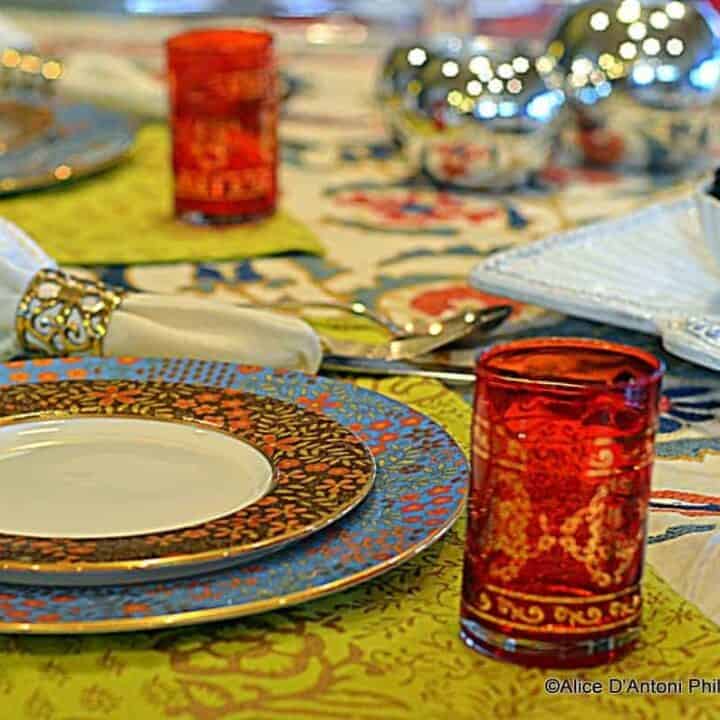 temrika meslalla (garlic beef with green olives)
Ingredients
Preheat oven to 350
1/4 cup olive oil
2 lbs beef  cut in medium-large chunks (I used NYstrip, which I sliced into strips on a bias. You can use beef chuck.)
1/4 cup flour (I used rice flour.)
1/2 tsp. sea salt
1 tsp. coarse ground pepper
1 Tbl. cumin
1  Tbl. smoked paprika
1/2 Tbl. harissa
1/4 cup red wine (can substitute water or beef broth)
5 cups large chunk chopped tomatoes (about 2 lbs of tomatoes/mixing regular chunks and cherry tomatoes works, too. The tomatoes provide liquid.)
1 cup green olives, with some juice
4 whole medium-sized garlic heads with papery outer skins removed
1/2 lemon juice/zest
1/3 cup chopped flat leaf parsley
Instructions
In a large heavy skillet (Dutch oven or enameled casserole) over medium high heat, put olive oil. Salt and pepper the meat then coat in the flour.
Put meat in the skillet and brown cooking about 5 minutes. Sprinkle on cumin, paprika and harissa and toss/coat the beef. Add wine to deglaze the skillet. Turn off heat.
Add tomatoes, olives and nestle the garlic heads in with the mixture. Cover tightly (so liquids from tomates don't cook out/you can place a piece of doubled foil on the skillet then the lid to make it airtight) and put in preheated 350 oven for about 60-75 minutes.
Remove and zest the lemon on the beef. Squeeze the juice all around. Toss and blend. Garnish with parsley. Serve right from the hot skillet. Have plenty of crusty hot bread for dipping in the sauce/'gravy'!