taste of home magazine calls me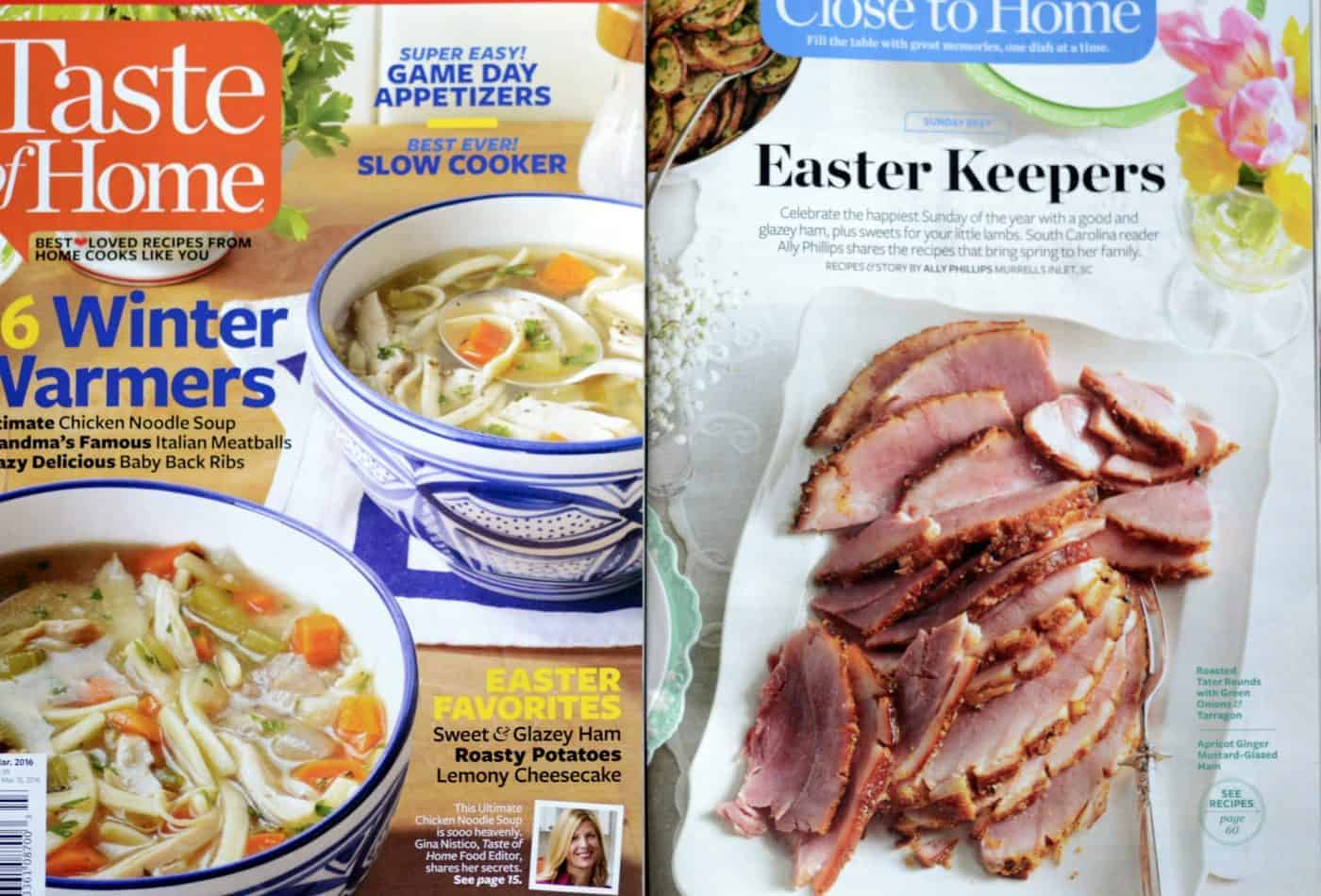 When you get an unexpected call from Taste of Home magazine asking about your recipes, then you realize what you're creating is really good!
And, if you're looking for some great Easter dinner recipes that have been professionally vetted in the Taste of Home's kitchen, well, here you go:
Jump right to the RECIPE for my Apricot Ginger Mustard Glazed Ham!
Jump right to the RECIPE for my Champagne Honey Kale Currant & Almond Salad!
Jump right to the RECIPE for my Scookies!
Taste of Home Recipes
In the Spring of 2015, Ben and I took a fabulous trip to the Napa Valley. One of our most memorable visits was a personal invitation to explore Continuum Estate, a boutique winery owned by the two of legendary Robert Mondavi's adult children. How in the world do you get an invite like that?
Well, it's a long story, but the short version is that Ben and I were sitting at a bar in Colorado in the Fall of 2015 having dinner. Yes, the bar is our favorite place to perch ourselves because we never know who make walk into our life as they 'belly up to the bar' for a drink and/or some eats.
Taste of Home Magazine
Sit tight because the Taste of Home food magazine connection is coming.
Cooking Magazine
At the bar, we struck up a delightful conversation, as we always do, with a beautiful young woman sitting next to us. We even talked about cooking magazines. She introduced herself only as Carissa. Our talk covered several subjects then came to wine. She obviously knew a lot about wine. She was calling on the restaurant where we were dining. A sales rep we figured.
How cool we both were thinking. I could just read Ben's mind. As the evening drew to a close, we exchanged business cards. Carissa told us if we were ever in the Napa Valley to please give her a call, she'd love to see us.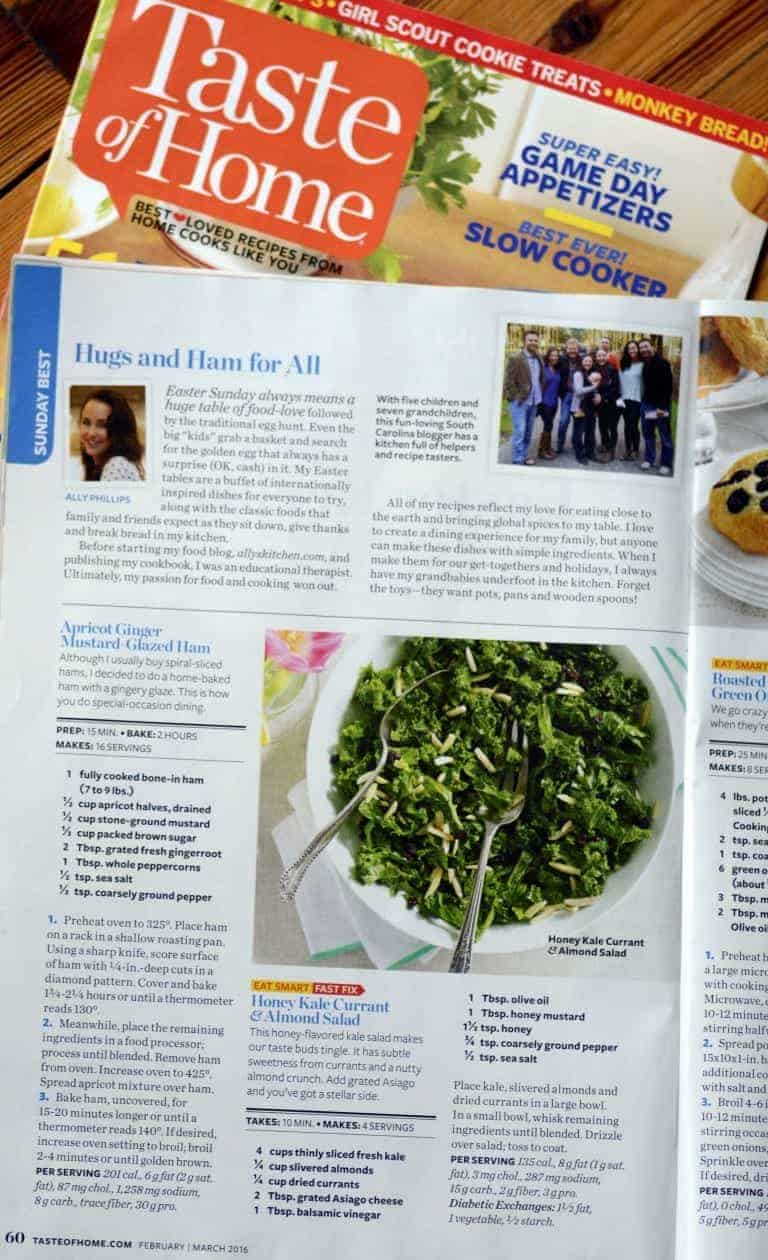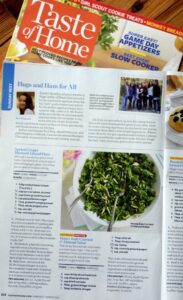 Easy Recipes Tasty
When we got into the car, I pulled out the card as we were driving home. I read her name. Carissa Mondavi. Yes, this most unassuming woman, who was only 'Carissa' when she introduced herself, was the granddaughter of the legendary Robert Mondavi. You can only imagine the magical visit that we had at Continuum Estate that following Spring.
Meeting her father, Tim and his sister, Marcia, the managing partners, was an unexpected honor. Dressed ruggedly in jeans, flannel shirts, sweaters and boots, there was nothing pretentious about them. Just normal people who were genuinely happy to meet us and have us at their vineyard. You would have thought we were the 'famous' ones.
Magazine Cooking
Exceptionally gracious and attentive, they invited us into their world, only Ben and me, where we explored their magnificent facilities and sipped wine for hours afterwards. Sitting at the long vintage farm table, it was exquisitely, yet most naturally, covered with plates of different cheeses, olives from their trees, Italian bread sticks, fresh fruits, and, of course, several glasses for each of us to taste and sip wine.
The table, perched at the highest point on the property and overlooking the vineyards and valley was simply angelic on this balmy sunny May day. It was just Carissa, Ben and me, like we had been at the bar months ago in Colorado. Yes, this layout was the epitome of magazine cooking!
Taste of Home Reviews
Now you would think that this experience would be the highlight of our Napa Valley trip. And, it was, well until something totally unrelated to wine happened.. Yes, it's what I call another 'God Wink'. The next day while sipping wine at the Keever Vineyards, I picked up my cell phone messages.
There was a call from a James from Taste of Home magazine. Yes, I thought it was probably a solicitation call, maybe a special for food bloggers on subscriptions. Thank goodness I called back!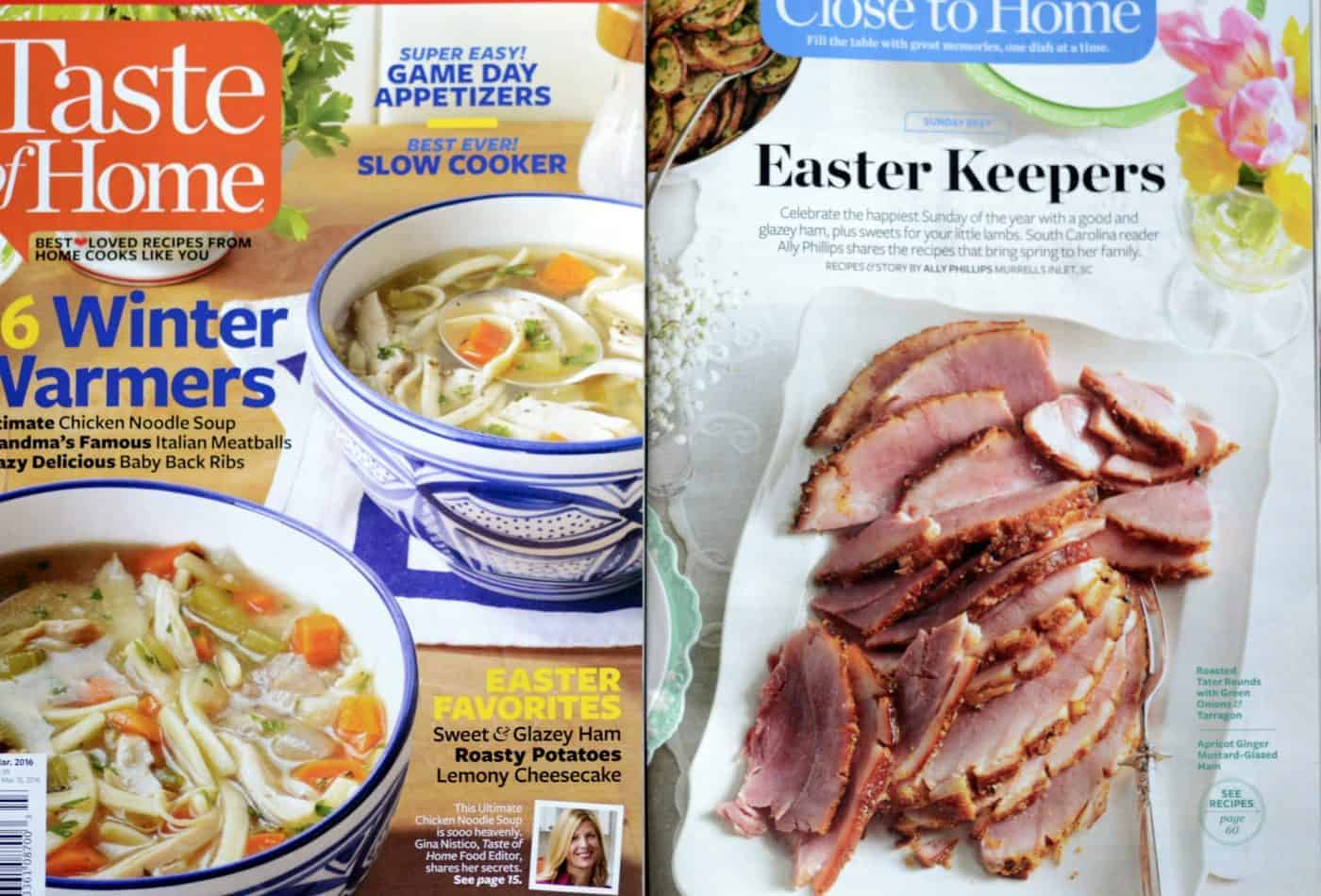 Easter Ham
James, an associate editor, introduced himself and said he'd 'fallen down a rabbit hole' when he stumbled upon my website. The magazine was planning the Easter 2016 (FEB/MARCH) edition and they wanted to feature me and some of my recipes for the 'Easter Keepers' three-page spread! I mean what are the odds of something like that happening! And, Easter ham is on the menu.
I felt like the foodie gods had descended upon me and were possibly punking me! But, not so. After nearly an hour of conversation with James telling me how impressed he was with my recipes and especially the ham and several others, I knew this wasn't a prank, but for real.
Ham for Easter
Never in my wildest dreams would I have imagined something this fantastic would happen for me and Ally's Kitchen. With Easter around the corner, you might want to pick up a copy of the magazine.
I'd love for your kitchen to be another 'test kitchen' for one of my recipes that was featured, 'Apricot Ginger Mustard Glazed Ham,'Honey Kale Currant & Almonds Salad', Buttermilk Blueberry Scookies' or 'Roasted Tater Round with Green Onions & Tarragon'!
Boneless Ham Recipes
Imagine the folks who will see my ham recipe in this magazine. While I used a bone-in, you could certainly use my recipe on a boneless ham, too.
What I love about this magazine is that the recipes are created by home cooks, like me. Each year they receive about 11,000 ideas and recipes, and, of that about 1,600 are chosen to go to their test kitchen then featured in their magazine, blog, cookbooks and on the web.
Reaching 11.5 million people, the Taste of Home Fact Sheet indicates that it is the #1 food and entertainment magazine in the world. You never knows what rounds the next corner of life. Keep doing what you passionately love, putting your heart, mind and soul into it, and God winks spring up all around you!
Best Easter Ham Recipe
So here are the recipes featured in this issue of Taste of Home magazine. Enjoy. They're timeless!
Jump right to the RECIPE for my Apricot Ginger Mustard Glazed Ham!
Jump right to the RECIPE for my Champagne Honey Kale Currant & Almond Salad!
Jump right to the RECIPE for my Scookies!