The Best Salted Almond Cookies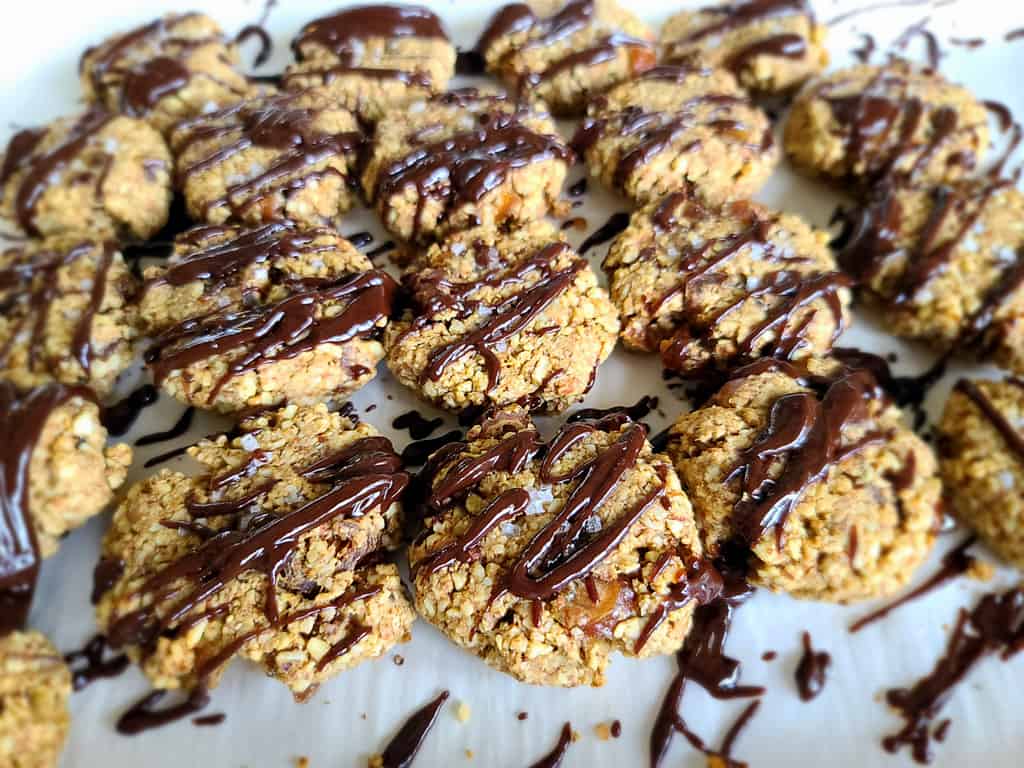 Salted Almond Cookies are absolutely THE best! Sea salt flakes give pops of flavor. And, the hints of chocolate on the almond nuts is divine!
Ground Almond Cookies
When you bite into this almond cookie, you'll know you're eating something pretty healthy.
And, I call them Picasso cookies, too, because of my electively crazy splattering of chocolate ganache as the finishing touch.
This is not my first creation with the splattering. You must check out my Chocolate Splatter Bundt Cake!
Ground Almond Cookies Recipe
Perfect with a cup of coffee or tea, the cookies aren't too sweet. Hey, if you want sweetness, then add more coconut sugar.
Easy Ground Almond Cookies
For me, the sweet level was perfect. With the drizzle of the chocolate ganache, it's an exquisitely delicious cookie!
Almond Cookies Gluten Free
And, for all my gluten free fans, yes, this cookie is gluten free! Very similar to my Persian Walnut cookie, both are perfect for those who don't do gluten!
Ground Almond Recipes
For the recipe, it's best to get raw whole almonds and grind them into a fine grainy mixture in your food processor. You can get the large cost-efficient bags at Costco. Same with the walnuts. I always have both kinds in my freezer.
And, that's where I keep them to ensure more freshness!
Flourless Almond Cookies
It's really hard to believe that there's not a lick of flour, gluten free or gluten, in this cookie. But, it works perfectly. The cookies bake at a low temperature and come out rather 'ugly' looking. But, once you splatter on the chocolate ganache, well, let's just call them the Cinderella Cookie!
Date and Ground Almond Cookies
Adding to the sweetness and the flavor are dates. Oh, yes, dates are superbly fabulous for baking or just snacking. And, don't forget the flakes of sea salt. Yes, this is what makes the overall flavor of the cookie, each and every bite, just pop!
These cookies will keep for several days. I just put mine on a pedestal with a cake cover. As I watched them 'disappear' over the next few days, I knew that there were no complaints from my food seekers!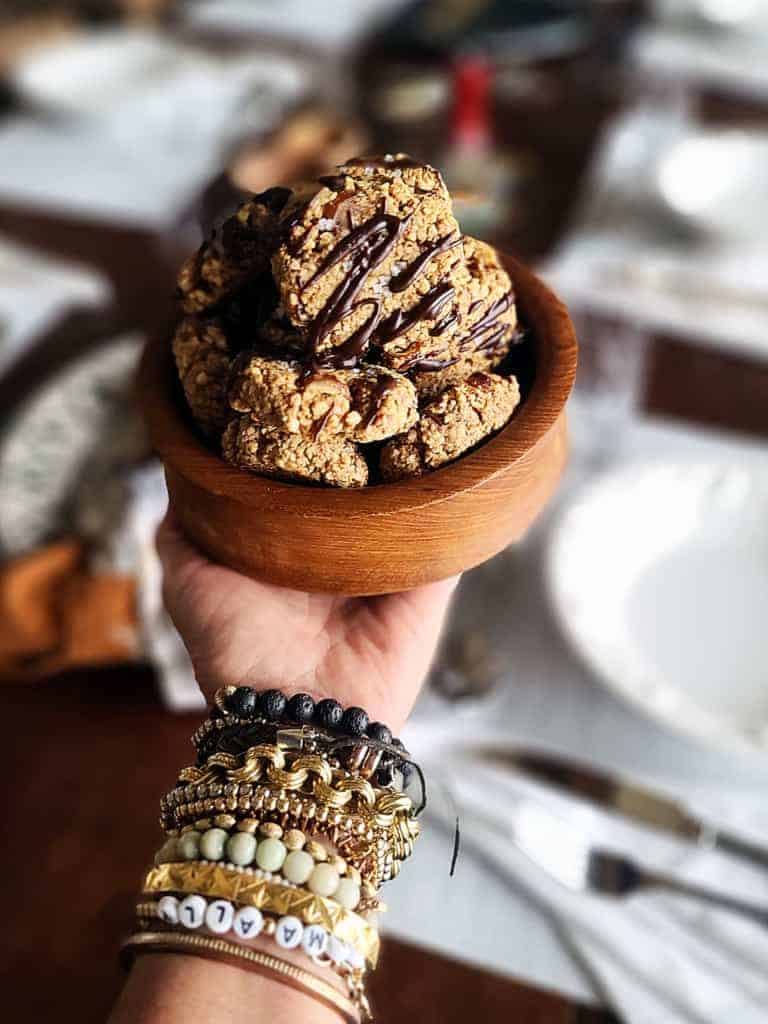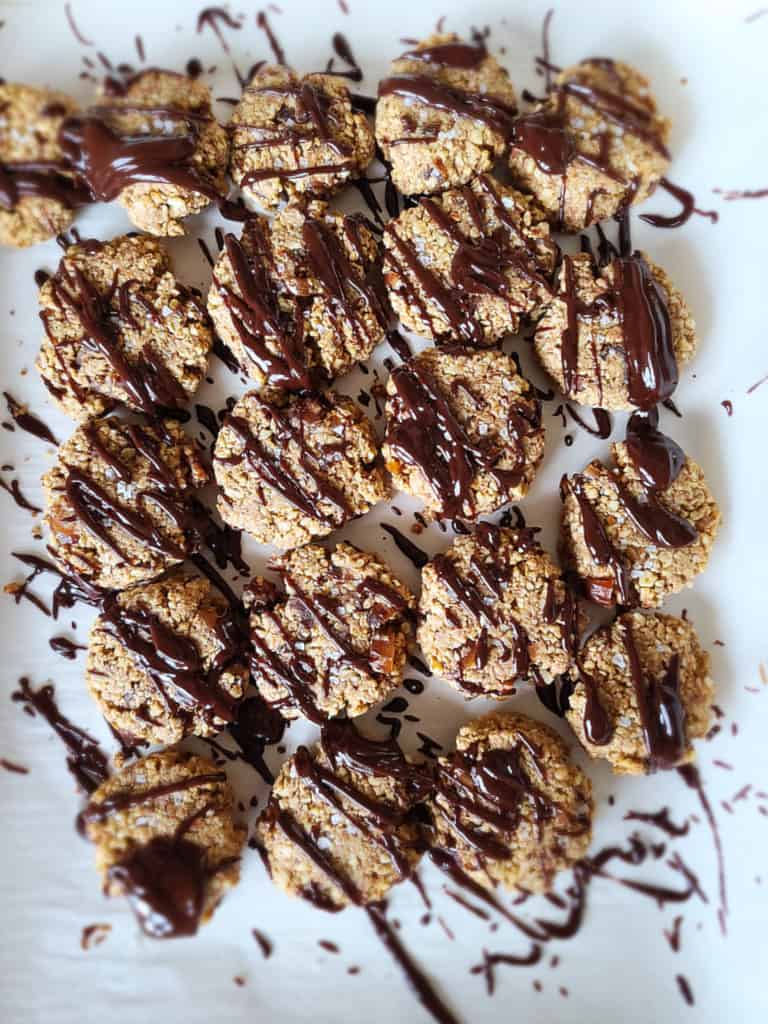 The Best Salted Almond Cookies
Yield:
About 18 to 20 cookies
Ingredients
Preheat oven to 300
4 egg yolks + 1 whole egg
1 tsp. vanilla
2 tsp. cinnamon
1 tsp. cardamom
1/8 tsp. sea salt
1/4 cup coconut sugar
3 cups almonds, finely ground
½ cup dates, small dice
Sea Salt Crystals, tops of flattened cookies
CHOCOLATE GANACHE:
1 cup cacao chocolate chips
½ cup heavy cream
½ tsp. butter, salted
Instructions
Preheat oven to 300. Line two cookie sheets with parchment paper. In a large mixing bowl, put the egg yolks and egg, vanilla, cinnamon, cardamom and salt.
Use a hand mixer on low to medium to blend for about 60 seconds. Add the sugar and blend again with the hand mixer for about 45 seconds. Add the ground almonds in one cup at a time.
The mixture will begin to get thick. Finally, add in the diced dates and incorporate using our hands. Take about two tablespoons of the mixture and roll into balls. Put on the cookie sheet (about 1 ½ to 2 inches apart).
Use a plastic measure cup (or metal measuring cup covered with plastic wrap so as not to stick) and gently 'smoosh' the ball into a 'disc'. Put sea salt crystals on top of each disc. Don't be stingy with the crystals! Gently pat into the cookie.
Bake in a preheated 300-degree oven for about 18-22 minutes. Remove to a cooling rack and completely cool.
CHOCOLATE GANACHE: Put the chocolate chips in a microwavable 2-cup measuring cup. Add the cream. Cover with a microwavable plate to serve as a lid. Microwave on high for 60 seconds. Remove and use a whisk to blend the mixture. Return to the microwave for another 20 to 30 seconds (cover with lid).
Remove and whisk and blend adding the butter. Use the whisk to splatter the ganache on the cooled cookies.



Notes
As you roll the cookies, your hands will get sticky. Just put a little water in your palm, rub and this will help with the rolling stickiness.
If you love shredded coconut (sweetened) like I do, then add about 1/2 cup to your batter before baking. Yum!
If the chocolate ganache sets and isn't like thick 'paint', then return to microwave for about 15 to 20 seconds.

Leftover chocolate ganache can be stored in the refrigerator and used for ice cream!