The Healthy Cereal Party Mix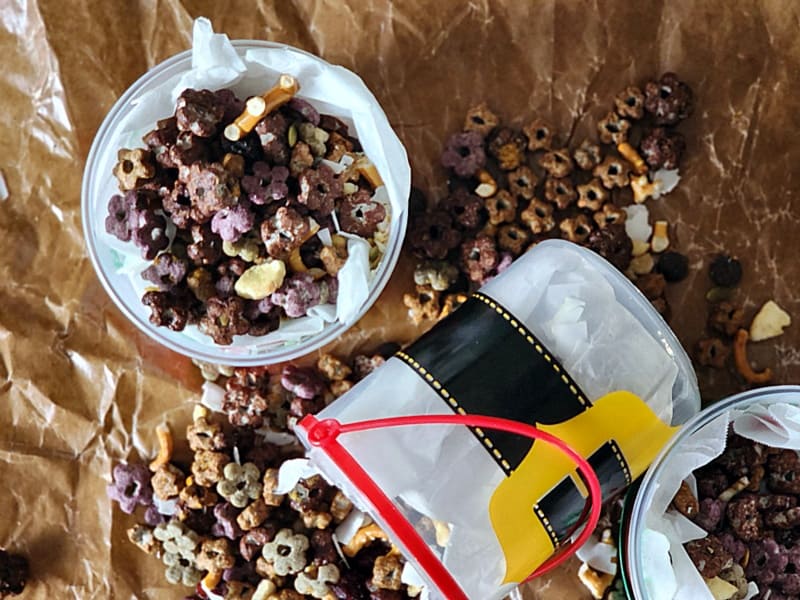 Cereal Party Mix that's actually can be somewhat healthy? Yes! You have it right here. It's perfect for little/big kiddos, grandkids. No weird ingredients. Snack away!
Snack Mix
Snack mixes are staples in our world of food today.
Growing up, I never really knew what a snack mix was until about the late 1950s when the Chex party mix became the rage. Actually the recipe was published in 1953, but not until later did it make its way to our Appalachian mountains.
Healthy Snack Mix
So many of the dried cereals on the cereal aisle in groceries stores simply aren't healthy. They're packed with ingredients that have words you can't pronounce and many contain preservatives that simply aren't good for us.
Healthy Cereal Trail Mix
I think my Dead Sea Granola is one example of a super healthy cereal 'trail mix' or granola.
If you haven't joined the thousands who've made it, take a look. You won't be disappointed.
Party Mix Recipe
I believe a party mix should be festive, fun and delicious. Plus, most importantly, it should err on the side of healthy ingredients.
Cereal Mix Snack
That's precisely what my cereal mix snack is. And, since I've created it for my grandchildren, you best believe I'm using the best ingredients available to me and our budget.
Best Snack Mixes
The thing about snack mixes is that you start with your cereal mix. I'm using Seven Sundays cereals because they don't have weird ingredients. It's plant based. Organic. No fillers, gums and yucky things.
Healthiest Cereal
Then to this cereal mix of four of their cereals, cacao, mixed berry, maple sea salt and cinnamon, I'm adding an array of other yummy bites.
You can create your own mixture. I decided on banana chips, dried cranberries, pumpkin seeds, Hu Chocolate Chips, and pretzels. I crushed the banana chips and pretzels somewhat so they'd be easier for little fingers to pick up and smaller bite sizes to eat.
Easy Snack Mixes
There's nothing difficult about this snack mix.
The small amount of time baking the cereal, five minutes, with the seasoning ingredients infuses this mixture into the cereal and just creates a whole new dimension of flavors.
Healthy Cereal for Toddlers
Toddlers love to carry around their little cereal cups with dried cereal in it.
Why not give them a treat on occasion with this kind of cereal mix.
Cereal Snack Mix Sweet
I've added a couple of 'sweet' components. The chocolate chips. I'm using Hu Kitchen chocolate chips. They're the healthy version of chocolate. Four ingredients, that's it. I'm willing to pay extra for that health benefit.
These chocolate chips are sweetened with dates and made with no weird ingredients. No added sugar, no taste trade-offs.
Cereal Trail Mix
With the addition of the dried cranberries and the crushed banana chips, this party mix is kind of like a trail mix.
I chose pumpkin seeds because they're smaller and easier for little fingers to pick up. Plus, they're seeds, not nuts.
Cereal Mix Recipe
I sure hope you try this cereal mix recipe.
It's gonna be a winner for anyone regardless of age or stage of life.
Just make a lot because it will go fast!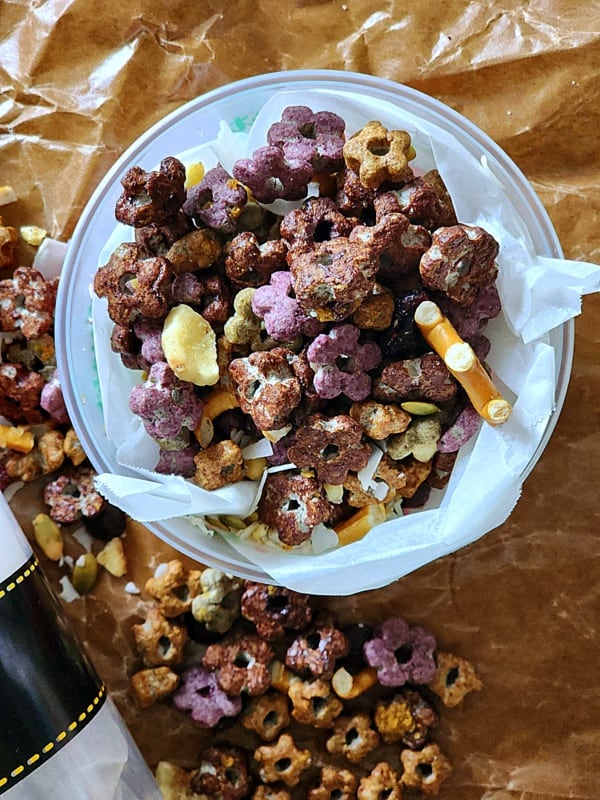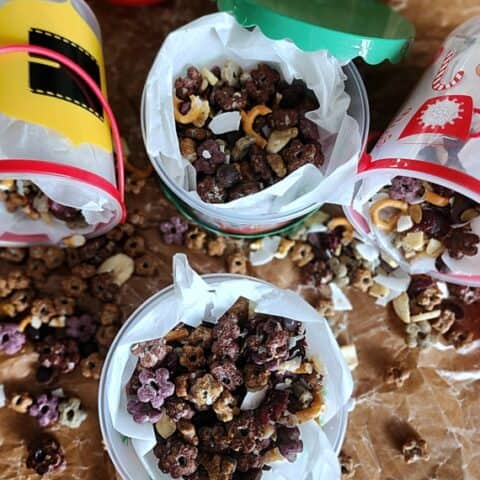 The Healthy Cereal Party Mix
Yield:
Makes: About 6 cups
Ingredients
Preheat oven to 350
2 Tbl. coconut oil, liquid form
1/2 tsp. coconut aminos
1/2 tsp. garlic granules
1/2 tsp. onion powder
1 Tbl. nutritional yeast
4 cups cereal, variety mix
2 cups other mix ingredients, dried cranberries, nuts, seeds, pretzels, banana chips, dried fruits, etc.
Instructions
Put the cereal in a large mixing bowl.
Combine in a small bowls the coconut oil, coconut amino, garlic and onion powder and nutritional yeast. Blend well.
Put on the cereal and toss and blend coating the cereal. Put the cereal on a parchment paper lined cookie sheet. Bake in a preheated 350 oven 5 minutes.
Remove and cool completely. Put the cereal mix and other mix ingredients together in a large mixing bowl and blend and toss.
Store in an airtight container or ziplock bags.
Notes
If making for toddlers and children, be sure to chop add in ingredients into small bite size pieces, pretzels, nuts, dried fruits, etc.
If making for big people, leave these add in ingredients as is or whole. Looks really pretty.
The add ingredients must be chosen per your liking and nutritional restrictions.