Tagines are vessels of beauty and history, And, you know, there's no better way to explore ancient history than through food. The tagine (this one is from Le Souk) has a rich and long story. And, I've written a post on this for the International Housewares Association's new website 'Inspired Homes'.
Now back to this tagine of beef and vegetables. First of all, it's totally boholicous…the meat melts in your mouth, the veggies have a hint of al dente, and the broth is something you'll want to sop up with some serious bread nearby!
Of course, if you can't find Harissa and/or Ras el Hanout locally, then look no further than my cookbook (Amazon and Barnes & Noble online). I've got recipes for both. Believe me, you can make it yourself, it's much less expensive, you have fresh flavors and much more of it! Plus, you can customize to your liking.  So, worth the little bit of extra effort!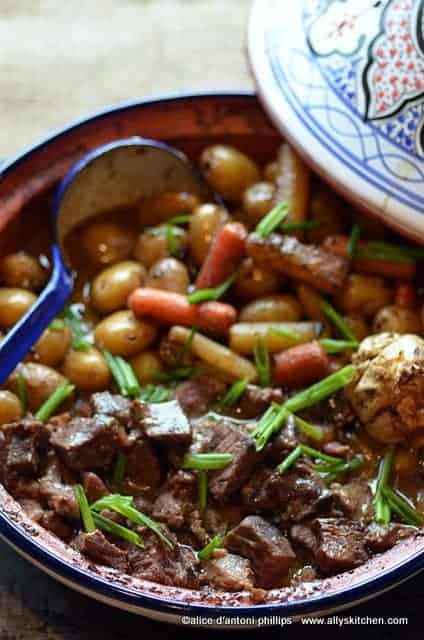 tagine of beef and vegetables
Ingredients
Serves: 6
Start cooking in an UNpreheated 300 degree oven
3 lbs. beef, cut into cubes (I used chuck roast and boneless short ribs)
1 Tbl. Ras el hanout
1 tsp. harissa
1 tsp. cumin
1 ½ tsp. sea salt
1 tsp. white pepper
3 Tbl. Extra virgin olive oil
3 cups baby potatoes
2 cups whole baby carrots
1 cup water
2 cups vegetable broth
12 oz. organic cream of mushroom soup (I used Pacific brand.)
Bouquet of fresh herbs (I used thyme, oregano, flat parsley, basil.)
Garlic bulb (outer paper skin peeled off)
Chives (garnish)
Instructions
Put the cubed beef in a mixing bowl. Combine the ras el hanout, harissa, cumin, salt and pepper in a bowl. Add the olive oil and blend together. Pour over the cubed beef and toss and turn.
Pour into the tagine base and push to one third of the area. Add the potatoes to another third and the carrots to the final third of the base. Rinse the mixing bowl with the water. Pour into the base.
Mix the broth and cream of mushroom soup together and pour over the beef/veggies. Nestle the herbs and garlic bulb into the mixture.
Place the tagine on to a cookie sheet. Put in an Unheated 300 degree oven. Cook for about 4 ½ to 5 hours.
Remove from oven, use tongs to discard the herb bouquet and garnish with fresh chives. The garlic bulb will be tender and can be eaten!
Notes
If you use a more tender cut of beef like ribeye or New York strip, then reduce the cooking time. Check after about 2 to 2 ½ hours on beef cube tenderness.
https://allyskitchen.com/tagine-of-beef-and-vegetables/
©ally's kitchen intellectual property