The method of stewing meat is a very old cooking technique. Stewing meat requires patience and time because you want the meat exceptional tender. Traditionally, stews have been made with less expensive, tougher cuts of beef. Hence, time breaks down those fibers becoming tenderized and easier to chew and enjoy. This tomato garlic basil bone marrow beef stew can be done in a slow cooker or in the oven. I chose the slow cooker. Sometimes, the best gauge of when the meat's ready, is checking it's tenderness with a fork. If it can be shredded with a fork, then, by golly, it's tender!
Sometimes beef stew needs to be just a few star ingredients to be perfect. And, there's nothing more tastefully combined together than beef, garlic, tomatoes and herbs like basil and parsley. Now what really gives this stew flavor is the addition of beef marrow bones. Plus, it adds a huge layer of healthiness. Just go to your butcher and ask for some bones; you can also sometimes find beef shanks with good size bones in them. I'll trim most of the meat off, cut into bite size pieces, then toss the bone with the remaining meat/fat on it into the stew.
Like most gravies, stews, soups, roasts and sauces, this dish gets better the next day, so you might want to make it a day in advance of serving. Also, freeze in containers what you don't use and serve it on a rainy day. It's perfect with pasta, with large roasted potatoes on the side, or just as a soup dish with lots of crusty hot rustic bread for dipping! And, you know something else I'd do? Add green olives to my serving! Here's to a dose of good eats! xoxo ~peace~ ally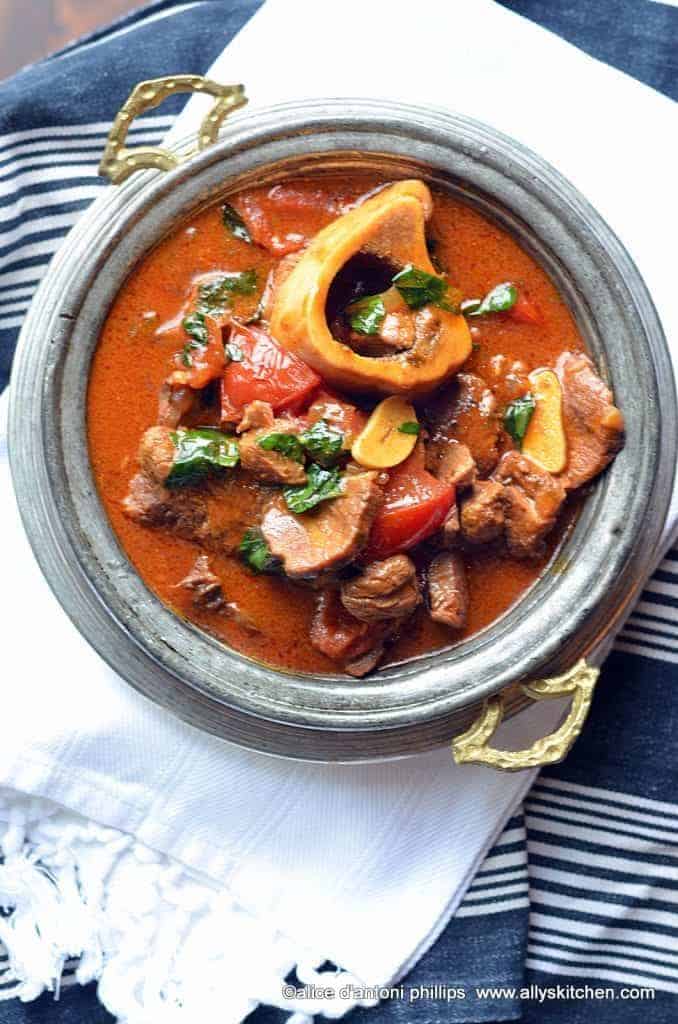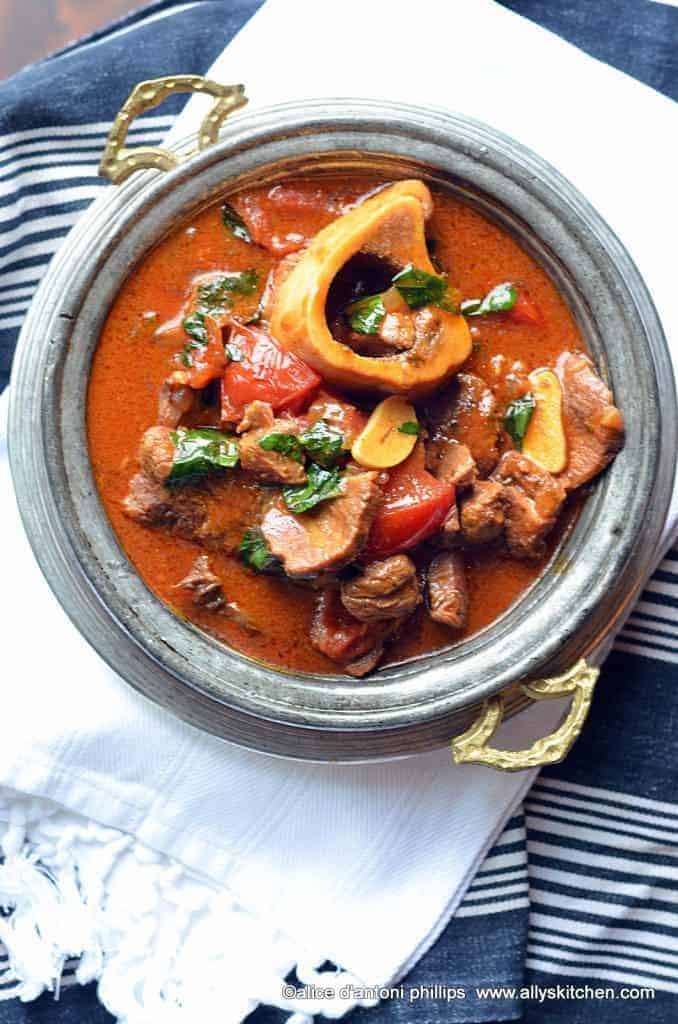 tomato garlic basil bone marrow beef stew
Ingredients
Slow Cooker
4 Tbl. oil (canola or olive oil)
2 to 2 1/2 lbs. beef stew
1 cup red wine
2 beef marrow bones (small to medium size or one large)
8 large garlic cloves, cut into thin slices
2 tsp. sea salt
1 tsp. red chili flakes
3 cups beef broth
1 (26 oz.) can whole tomatoes (with juice)
1 (24 oz.) jar pre-made marinara sauce (a good brand)
1 1/2 cups fresh basil chopped, divided
1 1/2 cups fresh flat parsley, divided
3 heaping Tbl. corn starch + 1/4 cup water
Garnish: Freshly grated parmesean reggiano
Instructions
Put the oil in a large heavy (cast iron) skillet over medium high heat. Add the meat and brown on all sides. Turn down heat to medium and deglaze the skillet with the wine simmering about 5 minutes.
Put this meat mixture into the slow cooker and add the beef marrow bones, garlic, salt, red chili flakes, oil, red wine, broth, and tomatoes. Cook on high setting for 2.5 hours. Add the marinara, half the basil and parsley and cook on high for another hour.
Reduce heat to low, combine the corn starch and water and drizzle into the slow cooker. The sauce will thicken. Cook another 45 minutes to an hour.
When ready to serve, add the remaining basil and parsley. You want the herbs to stay a brilliant green when serving. Serve with a healthy grating of parmesean reggiano. And, if I'm there, please have olives!!
Notes
This stew gets better on day two!
https://allyskitchen.com/tomato-garlic-basil-bone-marrow-beef-stew/
©ally's kitchen intellectual property