the art of grandmothering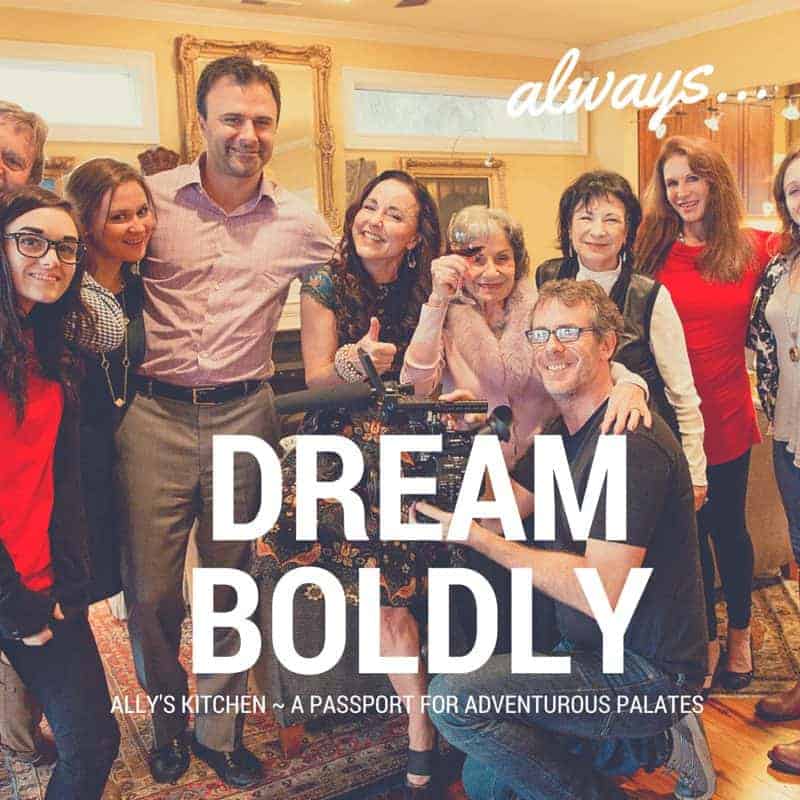 I grew up during a time when grandchildren were to be seen not heard. And, this was no more evident than when we had big family gatheringss at my grandmother Alice's home, which was right around the corner within a stone's throw of our home~~looking back I think my Mom was even more of saint living that close to Grandma who was full of piss n' vinegar and very expectant of attention from her flock of children. She was not a cuddly, encouraging or supportive MIL to Mom~raising eleven youngens of her own, including my Dad who was a twin, during a time when there were very vew conveniences and life was hard, meant that she was not going to raise her grandkids regardless of whether they lived nearby or far away. It was a silent, albeit clear, message that Grandma was the Queen~one who was held in reverence and set on a pedestal. I remember Mom once telling the story of a Valentine's Day…Dad had come home in the late day, of course, empty-handed not bringing Mom even a stem. And, what did Mom say, "Ira, you know it's Valentine's Day, did you get your Mother a card?" Oh, yes, you could risk being sent to rear of the pecking order line of favorite children with a faux paus such as this! At not even 5 feet tall with weekly blue-grey hair coloring from the 'beauty parlor', Grandma could whip you into shape real fast with her eyes peering over her wire-rimmed spectacles. And, she minced no words. There was no such thing as being politically correct. She gave you her untempered version of the how she saw things.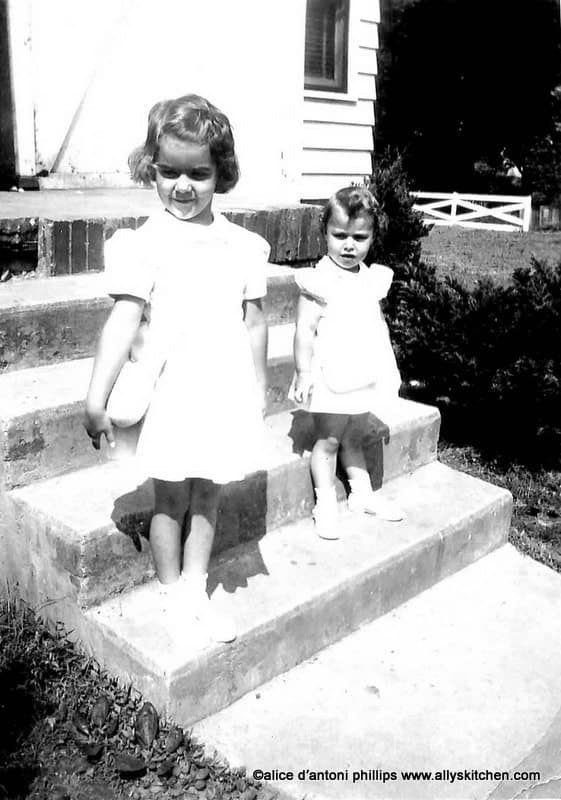 At Christmas, the entire extended family gathered at Grandma's house for Christmas Day lunch and the opening of gifts. Most all of the 11 children and their children knew this ritual and came. Everyone gathered in the living room which was stacked full of gifts. When these gifts were doled out, most were at the feet of the Grandma, the Queen. We kids sat on the steps going up to the second floor~we'd peer around, stretch out necks watching as all would ooohhh and aaaahhhh over the opening of gifts starting with the adults and ending with the Queen Bee, Grandma. As we clutched our one gift, we knew better than to tear into it before given permission~I remember my most favorite gift one year. It was a doll in a case with a latch. It opened up and on one side was a beautiful doll, which had that exquisite new doll scent, dressed in a plaid coat with a velvet collar. And, on the other side, yet another outfit on a teeny hanger! Oh, my lawsy, it was THE most charming thing I'd ever seen!
Probably unlike most of all the other grands, I did spend time with Grandma in the kitchen as a child…of course, I would just sit, look, observe and listen as she chattered on and on about things like local gossip as she pushed and kneaded dough on the metal kitchen table, watch as she hosed down the large front porch with its painted grey wooden chipped floor (and, anyone who would walk by would get a quick spray as she laughed watching them skeedattle!) or as she twisted and pushed clothing through the wringer washer that was in the musty dark basement, she'd catch me up on what Elizabeth Taylor, the movie star, was up to in Hollywood.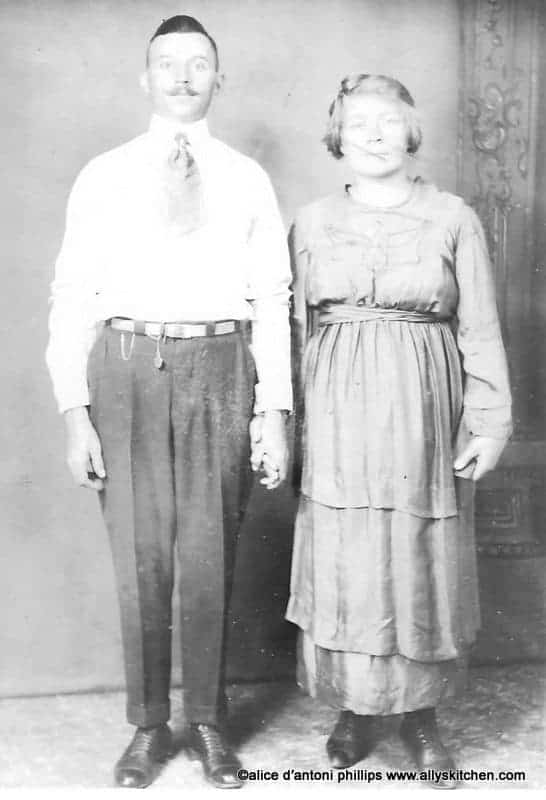 As a grandmother, my Mom was somewhat different than Grandma Cook, however, she embraced some of her beliefs. Alas, I didn't get to know my Croatian grandparents well because they passed away when I was younger than five, and they lived in Kenosah, Wisconsin, a far distance from West Virginia~ nonetheless, I don't believe they would have been the doting kind. Mom made it quite clear to me (and my siblings) that she'd raised her kids and she wasn't going to, and didn't want to, raise my kids. Oh, yes, I'm sure had there been dire and mitigating circumstances, she would have altered her life entirely, but Mom had dreams and wanted to live her dreams even if it was simply being a flea-market entrepreneur selling her yard-sale wares.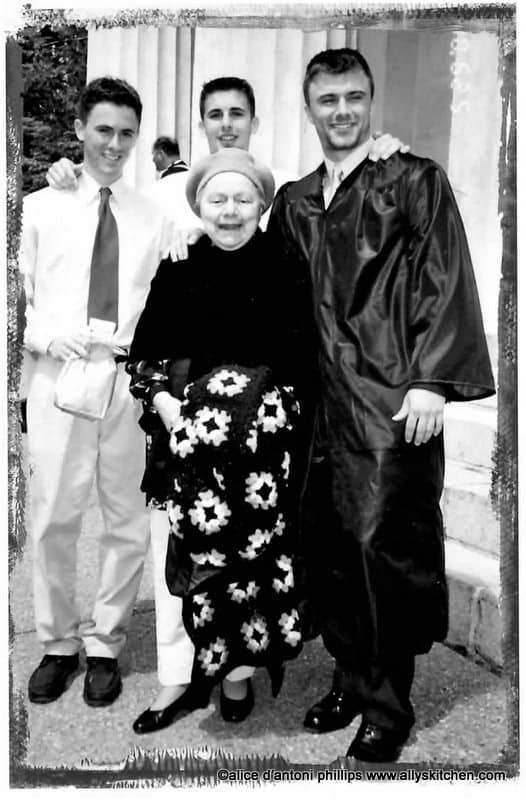 Mom also was much more 'playful' and spontaneous with my boys as their treasured Nana. She gave my three boys so many things, like a love of being free and adventurous. She introduced them to a love of nature with exploration on the banks of her small lake~whether they were feeding the ducks, planting corkscrew tree saplings or Mom was lugging big rocks to build her own 'seawall' of sorts, she engaged with them in a way that my Grandma didn't. And, at Christmas time, we gathered in our living room, not Mom's house, to watch the boys squeal and rip open gifts from Santa…then sometime later we adults would share and open our gifts as the kids were knee deep in what Santa had brought. And, there'd always be a big dinner, lots of food and family that came as the day progressed.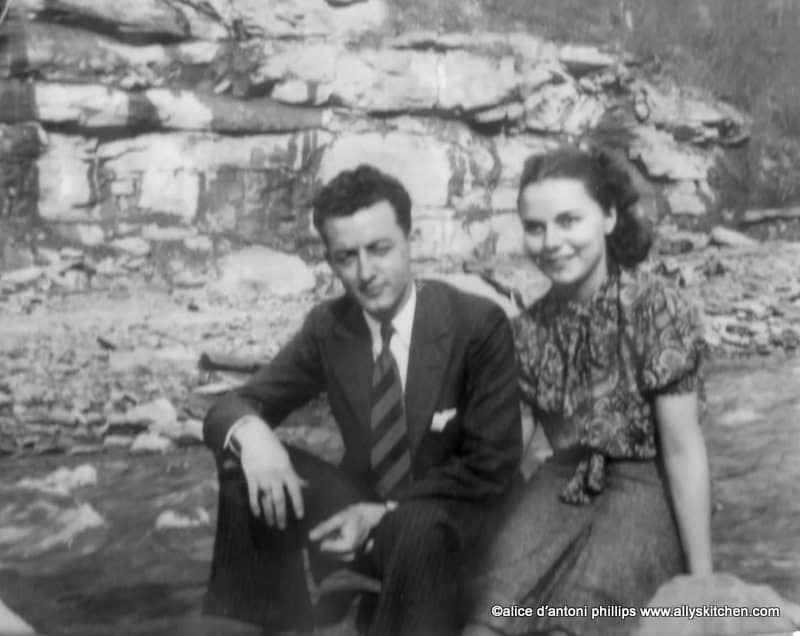 Now, I'm a grandmother myself. It's come full circle. And what kind am I? I mean there are so many different 'types' and each is perfect in its own way. Yes, there's the ol' fashioned Aunt Bee type a tad bit set in her ways, the trendy and sporty granny, some as young as in their 40s and early 50s and still going strong with their lives, the daily gran who's there helping out in every way from chauffeuring to cooking and, of course, living nearby or under the same roof, maybe an eccentric grandmother kind of like in 'Meet the Fockers', that grandma who's still a kid herself, the glam gran who's sure to work the grands into her schedule, think 'Two and a Half Men' and other variations of this ever-important role in a child's life. But, like Mom and my Grandma Cook, I am of the ilk that I've raised my kids, sacrificed, put life on hold to make theirs better, worked hard to give them more than I had, and I don't want to raise grandkids.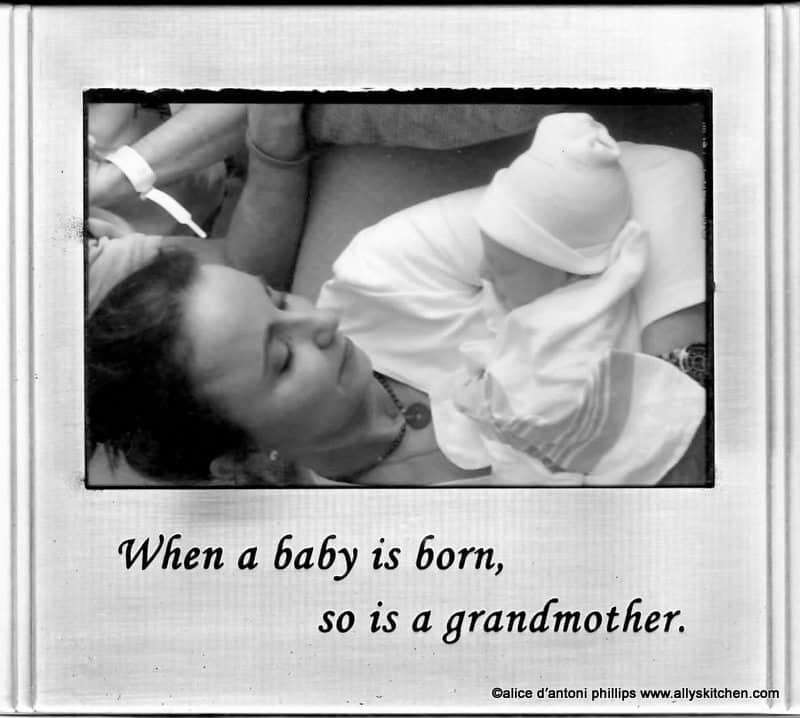 I suppose I'm a mixture of all of these grandmothers in some ways. Mama Ally as I'm called has a reinvented life. Dreams have no expiration date. And, although my life is very busy with 'me' things, I want to make lasting and poignant memories with my grands. From the first 'batch' (now ages 18 to 24) where we did sweet 13 trips, being there as they learned to ski and embrace an outdoor lifestlye, spending some holidays and big family events together over the years, and watching from afar as they progressed beautifully through school and college, there's now a second wave of grands that are, yes, under the age of 4! Because of closer proximity in living, I'm able to do more one-on-one things with them like cooking, going to the park, playing in the yard and more when they come to stay with Pop and me. I'll drive a couple of hours and fetch them for a long weekend~not a regular thing, only when it's working for us around our busy lives and with them and their busy lives. And, there's SKYPE, Facetime, cell phone pixs and quick videos! This is giving me and many other grandmamas a chance to see the birthday parties, the first days of school, that first step and more. As a parent and now a grandma, we all probablyhave the same goal in mind…to do our best and let the chips fall where they may.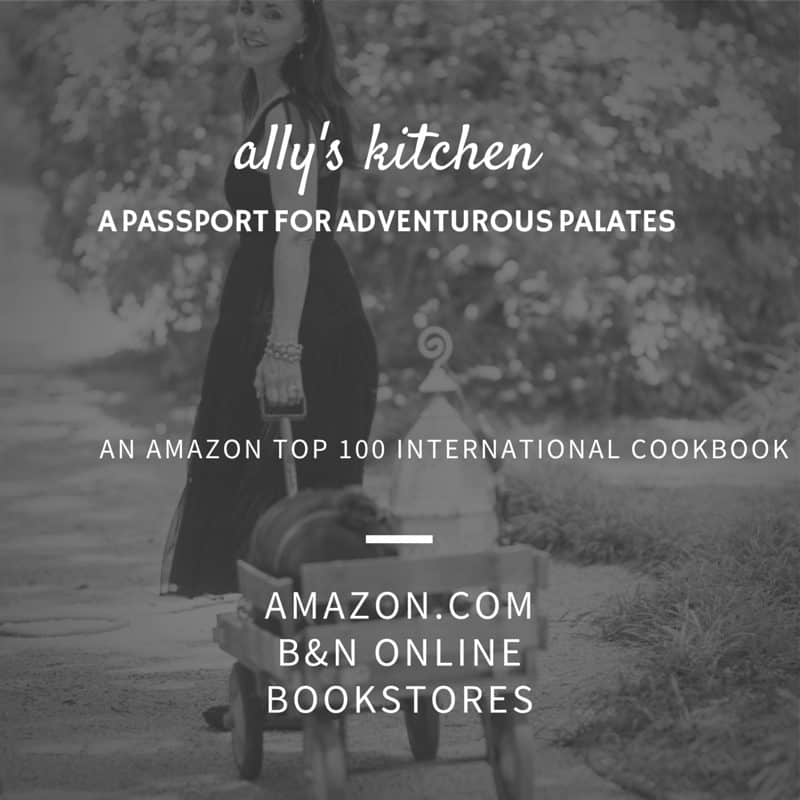 Yes, maybe I'm a tad bit selfish in liking and loving my selfie in this role of being a grandma. I believe my legacy for my grandchildren and great grandchildren, God willin', will be that Mama Ally blazed those last chapters of life. She showed us that you never stop believing in yourself. And, she forever and always lived the belief that you should dream boldly even til that last breath. And, lastly, Mama Ally always had, yes, one more project!
We are a beautiful Boho Tribe of grandmothers and like tastebuds, we're all different in an enchanting and endeary way~share your grandmothering stories, your love, your wisdom…because of this, we're all better~and, we're all learning together…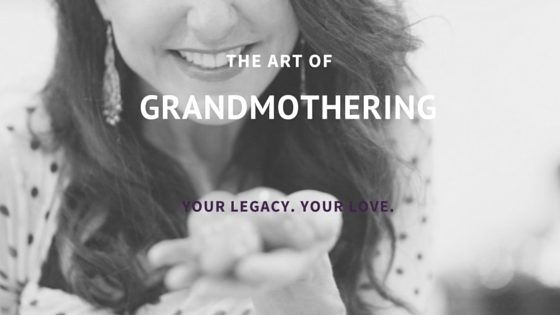 ~peace, love & namaste~ ally