bacon dripping collard greens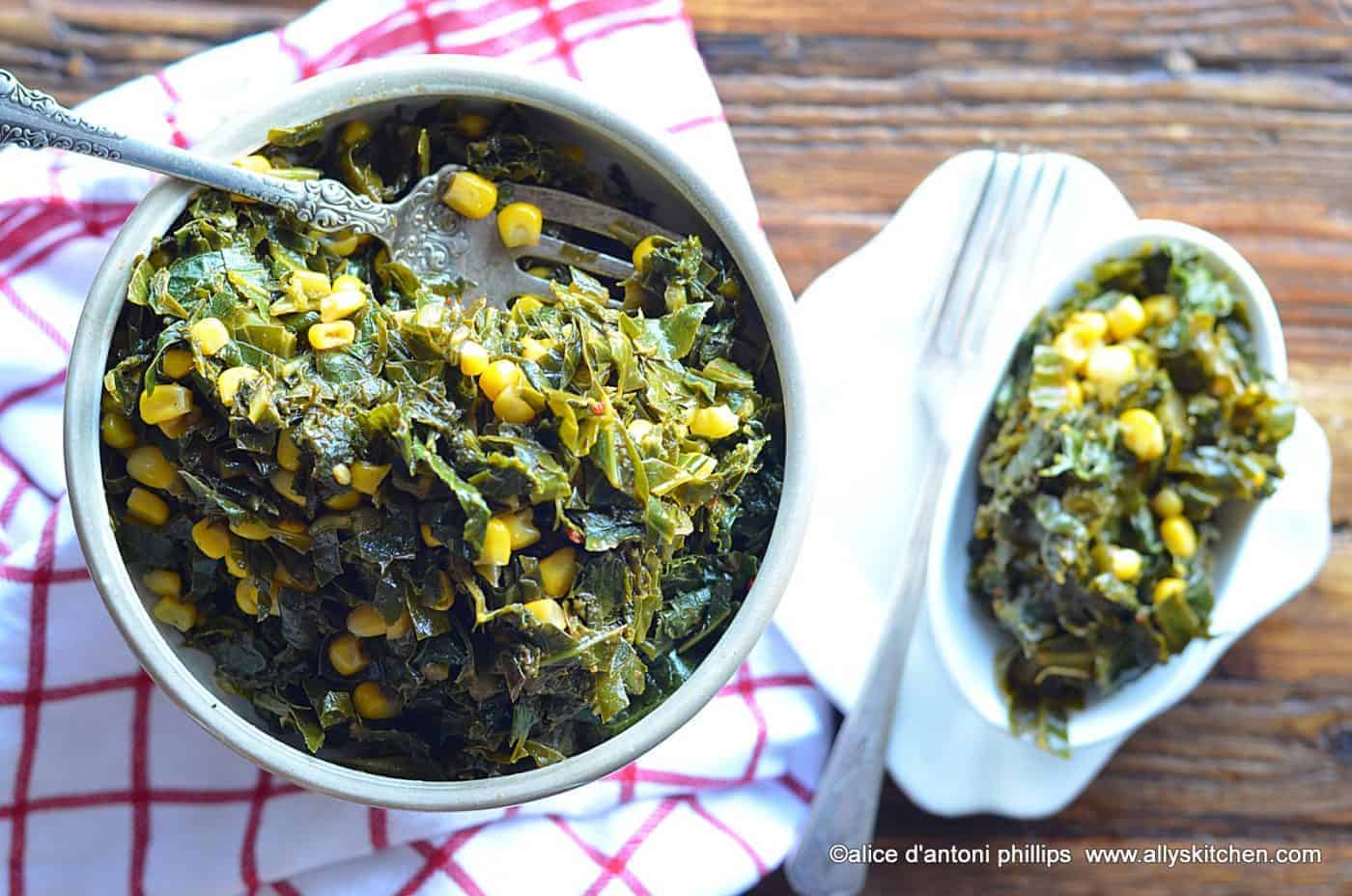 In my humble opinion, nothin' beats a good pot of collard greens…well, unless it's a great pot of collards with extra flavor added with just a few ingredients.  Using the Dole tomato soup added a richness to these collards, and you'd never know they were in there~~it's just like you'll be saying, 'wow, what's happening with these collards.  Then, of course, the corn is a treat that gives an extra texture, flavor and look.
Actually, these collards are quite elegant looking when plated, and when served with something like chicken or a pork chop, fried or baked, you'll feel like you've hit pay dirt.  Of course, I've been known to just fix this pot and it IS the dinner…yep, I can't get enough of collards.
A roasted bird would be perfect to serve with these collard greens! And, I'm going to show you how to get three meals out of one bird!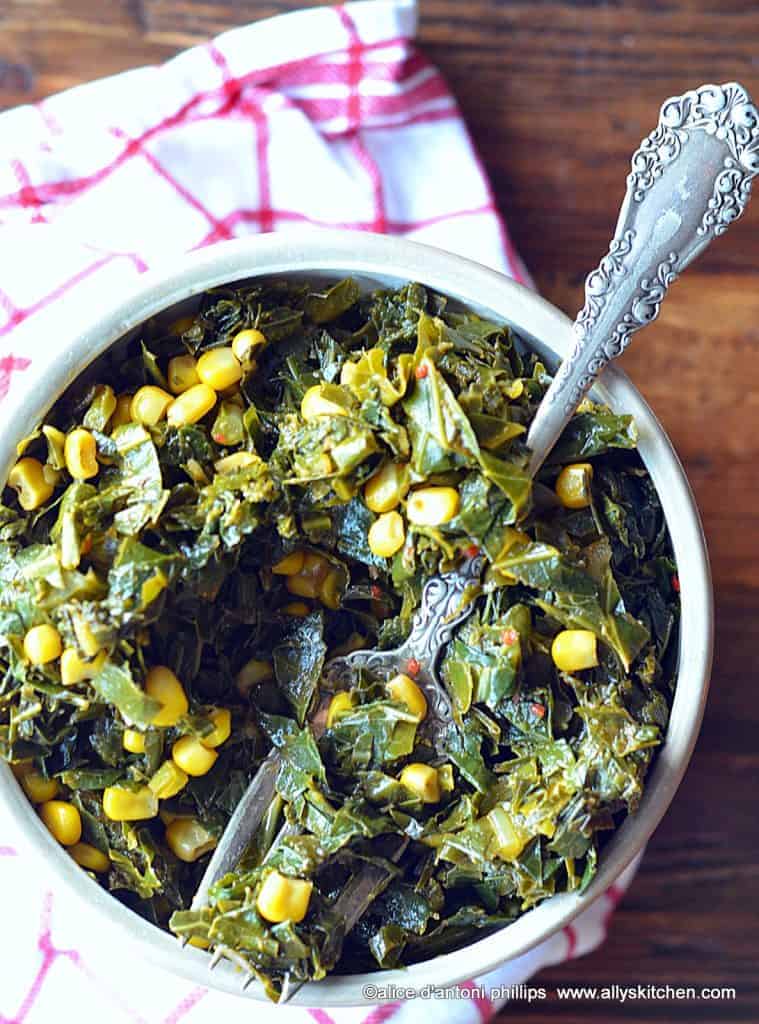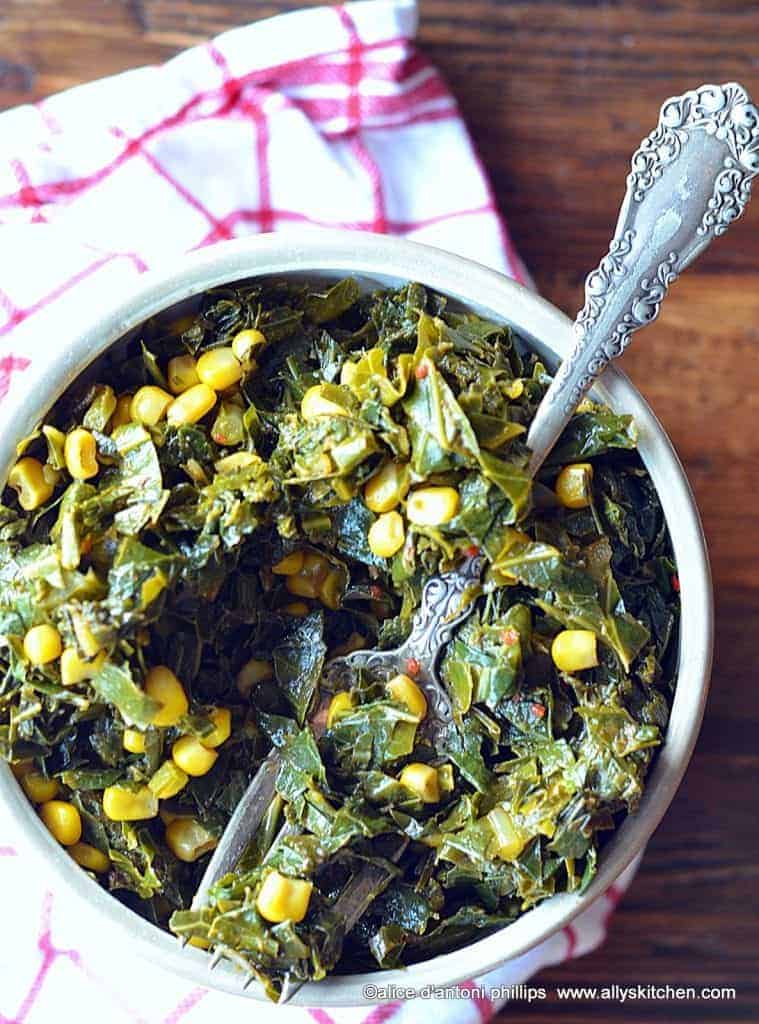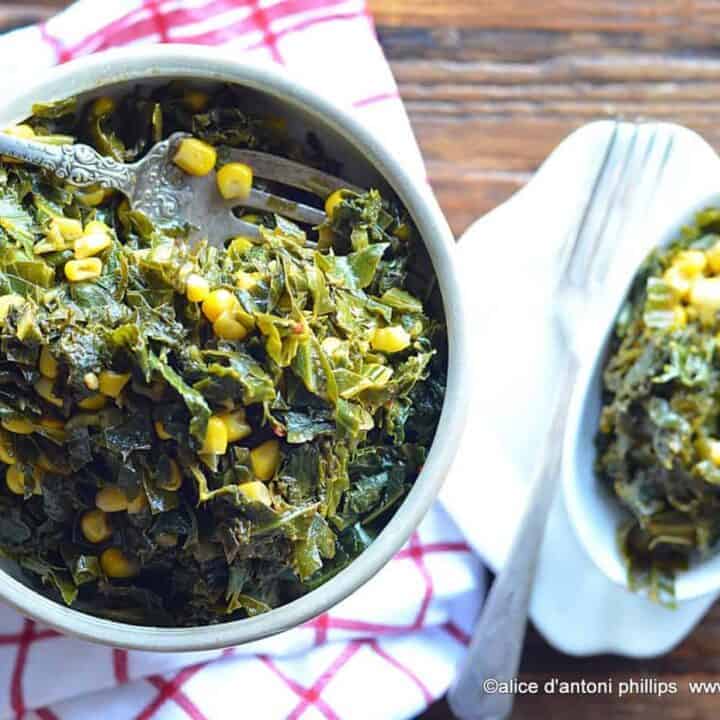 southern bacon dripping collards & corn
Yield: 6-8 really hungry folks
Ingredients
2 bunches collards, stems removed and chopped
1 ½ tsp sea salt
1 tsp. onion powder
1 tsp. granulated garlic
1 tsp. red chili flakes
1/3 cup beef broth
2/3 cup Spicy V8 Juice
2 cups corn, frozen kernels
Instructions
In a large pot, over medium heat put the bacon drippings. Add in the greens and using tongs, toss well coating with the drippings.
Combine the salt, onion powder, garlic, and chili flakes in a small bowl, blend and then sprinkle on the greens and toss well.
Cover and cook on medium high about 15 minutes tossing a couple of times.
Add the broth and soup and toss into the greens. Reduce the heat to medium low and cook another 35-45 minutes tossing with tongs several times.
Add the corn, reduce to simmer, and let it cook another 15-20 minutes. Keep warm until ready to serve.
Notes
Save some time and buy the pre-chopped collard greens or a combination of greens like collards, kale, chard and turnips.

If you prefer to omit the corn, no problem. Still as good as ever!