Most of ya'll know that one of my favorite foods is beans. Most any kind of bean out there. Well, there is one bean that I just don't care for and that's black eyed peas. Go figure, it's so Southern, and being a Southern belle, I should think these things are the cat's meow, but nada for me.  But these azuki beans. Well, right up my alley!
Most all other beans just make my heart sing. Now this one, the adzuki bean, has an earthy, nutty taste and a tad on the sweet side making them mighty tasty.  And, like most beans, they're just down right GOOD for you in so many ways!  Now you can get them canned like most beans, but there's no comparison in flavor and taste and cooking from the dry beans!
The azuki bean (from the Japanese アズキ(小豆) (azuki?)), also known as adzuki or aduki, is an annual vine, Vigna angularis, widely grown throughout East Asia and the Himalayas for its small (approximately 5 mm) bean.
Now, there's absolutely no reason you can't make this recipe. Just order the beans from Amazon! I have the links below to options. Here's another of my fave beans, not your typical 'run of the bean' variety!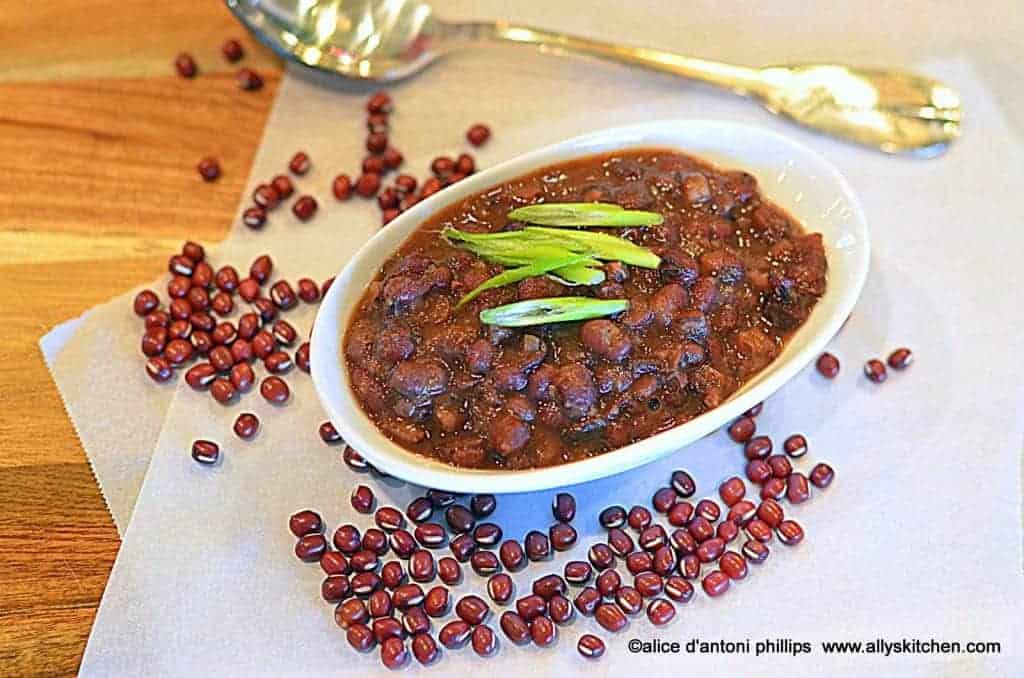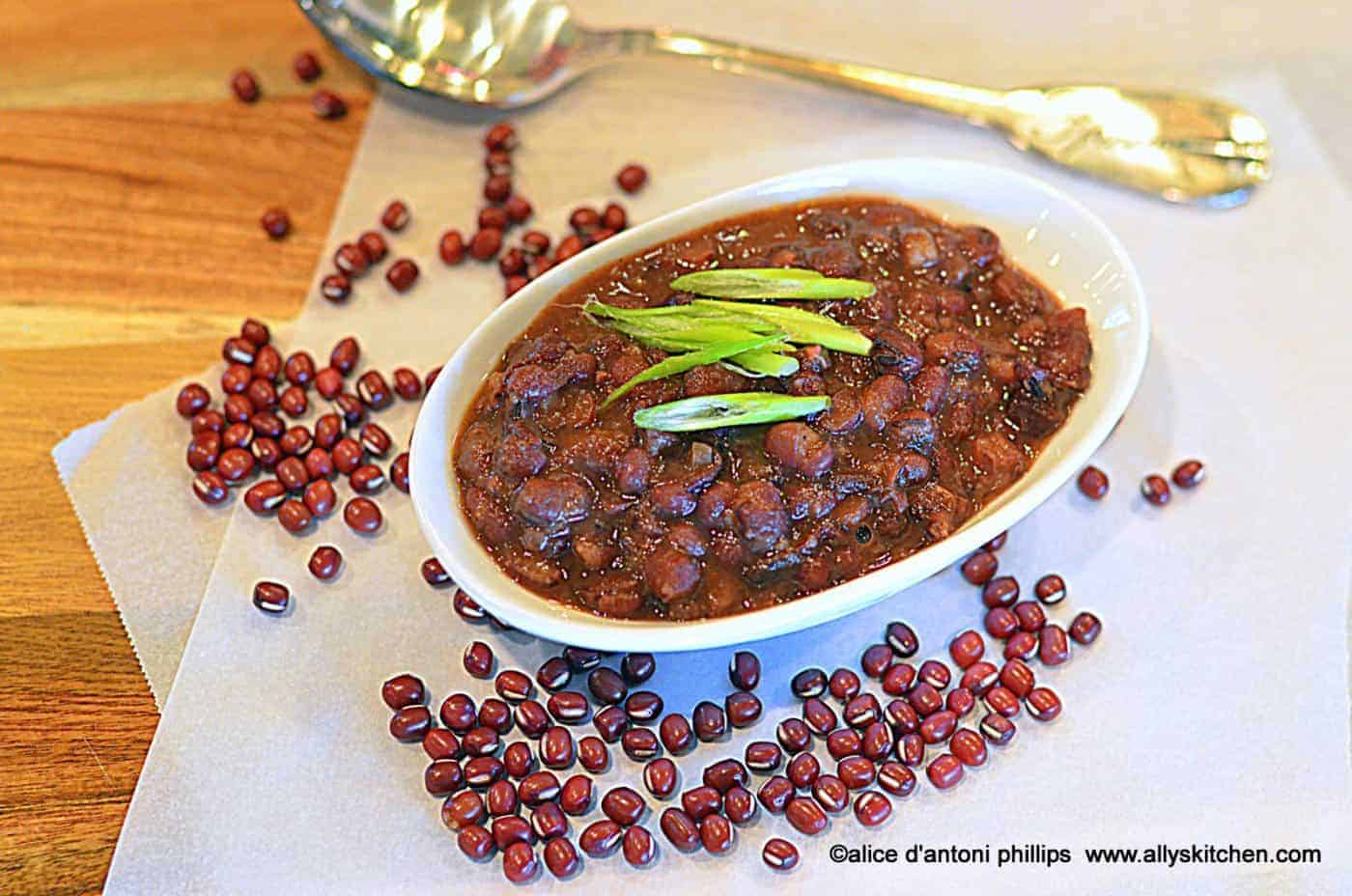 spiced & seasoned azuki beans
Ingredients
3 Tbl. extra virgin olive oil
2 cups dry azuki beans
1 ham hock
8+ cups water
2 tsp granulated garlic
4 bay leaves
1 tbl dried minced onions
2 tsp. sea salt
2 tsp. cumin
1 tsp. smoked hot paprika
½ can condensed cream of mushroom soup
1/4 cup chopped flat parsley
1/4 cup sliced green onions 
Instructions
In a deep skillet over high heat, put the olive oil, beans, ham hock and cover the beans with about 3 inches of water.
Bring to a roaring boil cooking about 30 minutes and adding water as needed (keep about 2" of water covering the beans).  Add the garlic, bay leaves, onions, salt, cumin and paprika.
Reduce heat to medium, cover with a lid slightly askew (to let steam escape) and cook another hour adding water as needed.
Reduce heat to low, blend in the mushroom soup and simmer until the beans are tender (this could be another about hour plus) letting the liquid thicken some and boil down just covering the beans.
Blend in the parsley and green onions right before serving.
Notes
You can substitute vegetable broth or chicken stock for water or do half and half.
https://allyskitchen.com/spiced-seasoned-azuki-beans/
©ally's kitchen intellectual property