quick healthy chicken parmesan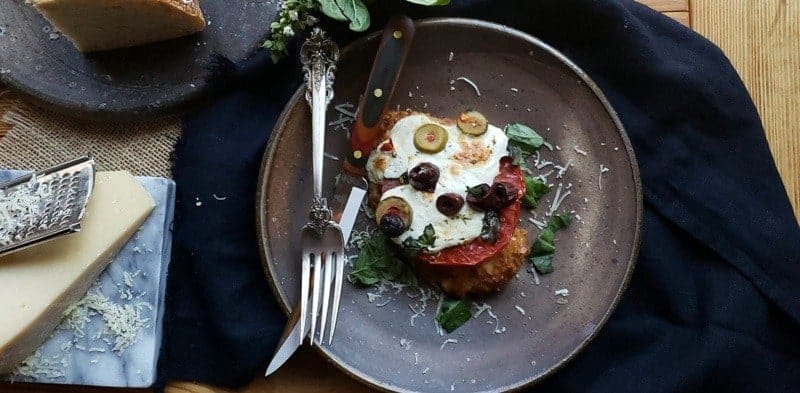 Chicken paremsan the healthy version. Yep, let me share with you why. And, not to mention, quick and easy to prepare! Now you're probably very familiar with traditional chicken parmesan, if not, here's a little history.
We're going to be be using fresh tomatoes, and, if you can find and swing heirlooms, then splurge. Otherwise, if tomatoes are out of season, I've found the tastiest ones are the Roma tomato variety. Then we're adding fresh basil. I mean who doesn't love that. And, there's a glorious olive oil drizzle. Plus, always lots of mozzarella!
Flash frying in hot oil gives the crunch that is just so wonderful on chicken. Then it's baked to finish it off. This dish makes a really pretty dinner party entree. And, if there's any leftover, just put it between two slices of bread or on a crusty bun and you have a yummy chicken parm sandwich!
I have a lot of chicken recipes, yeah, I'm a chicken lover, and this dill pickle chicken is really fine and delicious!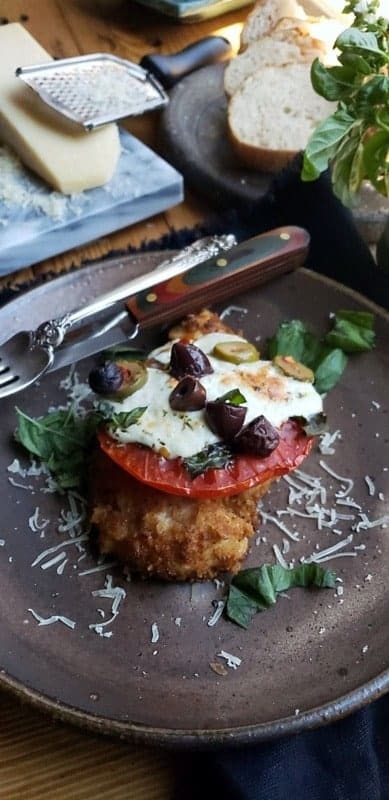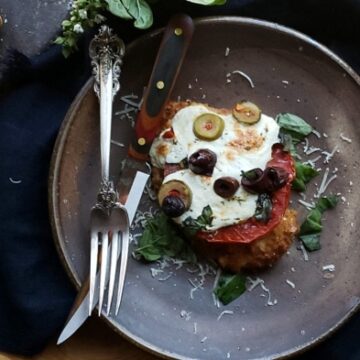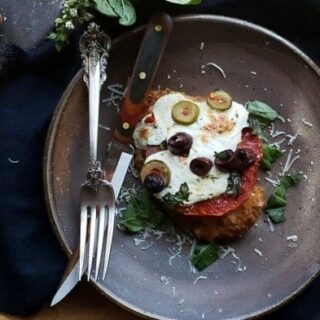 quick healthy chicken parmesan
Yield: Feeds 4 to 6 folks depending upon how hungry they are!
Ingredients
Preheat oven to 375 then turn to broil
4 chicken breasts, boneless, skinless, butterflied and sliced in halves yielding eight thin breasts
1 cup panko crumbs
1 cup French fried onions, crushed in food processor
1 cup buttermilk
1 egg
3 tsp. Italian seasoning, divided
1 tsp. coarse ground pepper
2/3 cup extra virgin olive oil, divided
6 large tomatoes, each sliced in 3-4 slices
12 oz. mozzarella, sliced
½ cup fresh basil leaves, packed
1 tsp. red chili flakes
1 tsp. sea salt
¾ cup olives, black and green with pimento, sliced in halves and thirds (optional)
Instructions
In a small bowl, whisk together one-third cup olive oil, one teaspoon Italian seasoning, salt, and red chili flakes. Set aside.
Combine the panko and crushed fried onions in a pie plate. Put the buttermilk in another pie plate. Whisk in the egg, two teaspoons of Italian seasoning and pepper.
Put 3-4 chicken breasts in the buttermilk mixture. Toss and coat well. Shake off one piece at a time and coat with the bread crumb mixture. Place on a parchment paper covered cookie sheet. Repeat with the remaining chicken breasts.
Put a large cast iron skillet (10-12" diameter) on medium high heat. Let it get hot. Add one-third cup of the olive oil. Let it get hot. Add two to three chicken breasts and fry on each side to a golden brown, about two minutes per side.
Remove to a clean parchment paper covered cookie sheet. Continue until all the chicken breasts are browned.
Place equal numbers of tomato slices on the chicken breasts. Lay on fresh basil leaves then the mozzarella on top of the leaves. Drizzle the olive oil/Italian seasoning mixture (in first step) on all the chicken.
Loosely cover the cooking pan with doubled foil. Bake for about 22-24 minutes. Remove foil. Turn oven to broil for about 2-3 minutes to brown the cheese. Remove, replace foil and serve immediately.
Notes
Optional: Top with olives.