Ginger Teriyaki Onion Medley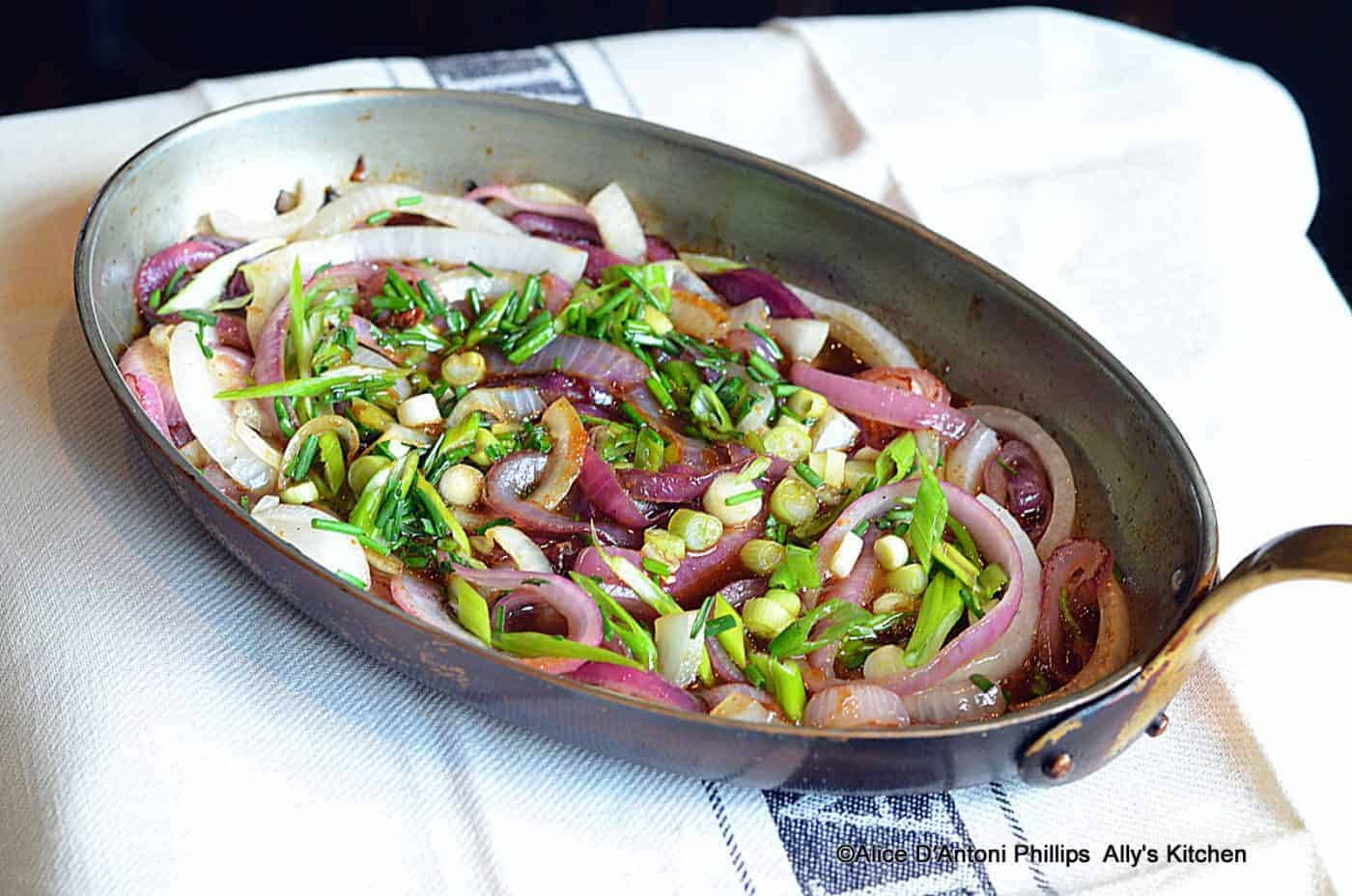 Onions are a cool veggie! And, I simply adore most all varieties of onions including wild ones like 'ramps'~~growing up in West Virginia, we had ramps sprout in our yards during their short growing season, and we'd pull them, so Mom could cook with them. Now, of course, ramps are really chic and sexxxy and are served by many posh restaurants~~who'd evvvahhh thought! When I use onions as a real side dish veggie, like this 'Ginger Teriyaki Onion Medley' I like to keep them on the crunchy side rather than cooking them forever and letting them morph into something soft and 'creamy'. So, this medley of onions included the purple, for color, vidalias, for sweetness, green onions for some color and crunch, and chives because they're just cute and prissy and always make a dish better, I think! Here's the Widipedia take on the culinary aspects of onions!
Onions are often chopped and used as an ingredient in various hearty warm dishes, and may also be used as a main ingredient in their own right, for example in French onion soup or onion chutney. They are very versatile and can be baked, boiled, braised, fried, roasted, sautéed or eaten raw in salads.[18] Onions are also used as a thickening agent for curries providing bulk. Onions pickled in vinegar are eaten as a snack. These are often served as a side serving in pubs and fish and chip shops throughout the United Kingdom and Australia, often served with cheese and/or ale in the United Kingdom. In North America, sliced onions are battered and deep fried and served as onion rings.[19]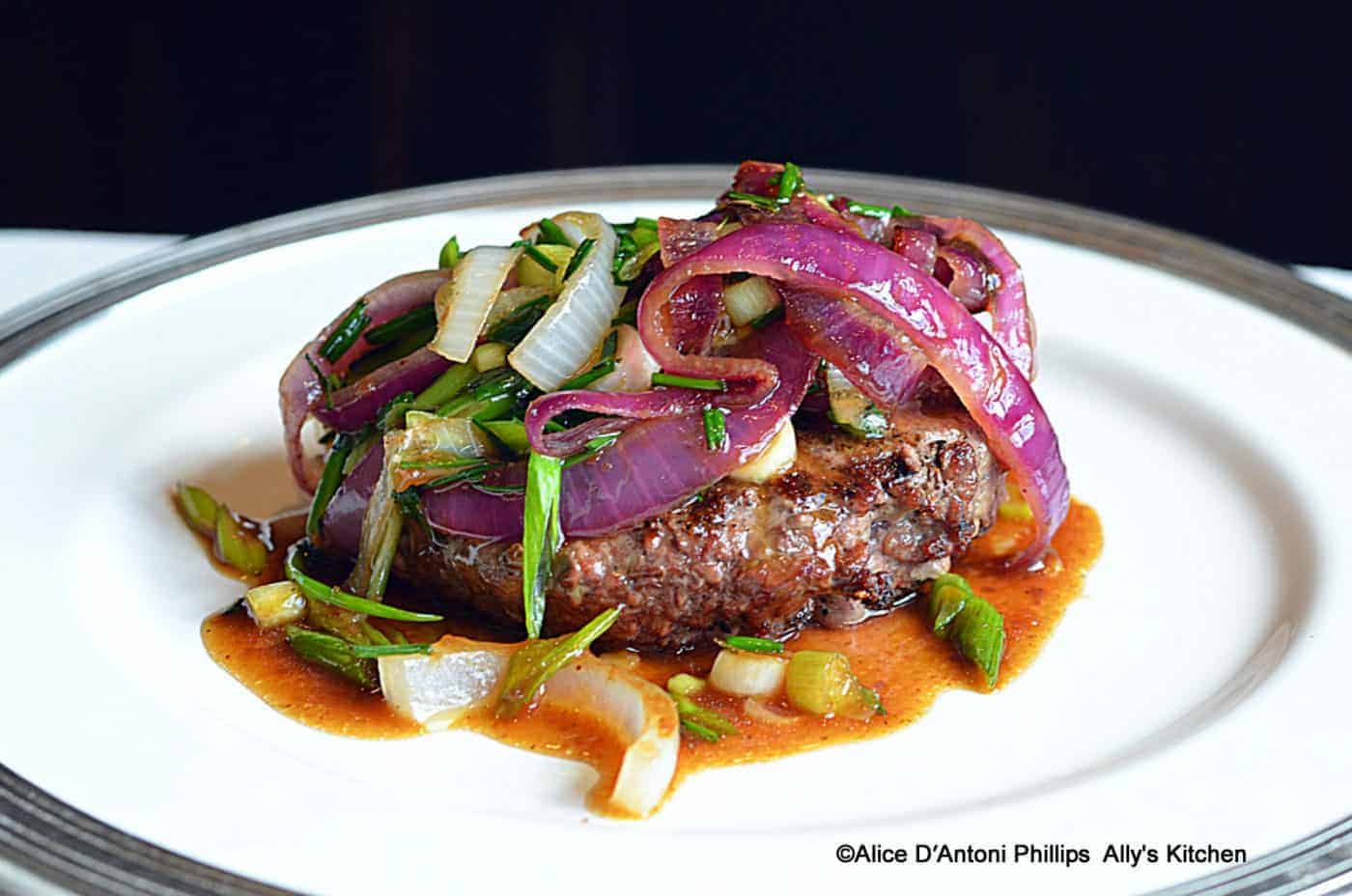 Serves: 4
What you need:
3 tbl butter
1 large purple onion sliced into thin rings
½ large white sweet onions sliced into thin rings
¼ tsp sea salt
½ tsp pepper
1 (4.2 oz) package of Simply Asia 'Ginger Teriyaki Sitr-Fry Sauce' (Can't find the Simple Asia sauce? No worries~~Combine in a small saucepan and blend together 1 Tbl. grated fresh ginger, 1 tsp. lemon zest, 1/2 cup beef broth, 1/4 cup teriyaki sauce, 3 Tbl. honey, 3 Tbl. soy sauce, 1 tsp. pepper. Bring to boil cooking about 5 minutes, reduce heat to medium and cook another 10 minutes. )
½ cup green onions sliced (tops also)
¼ cup fresh chives chopped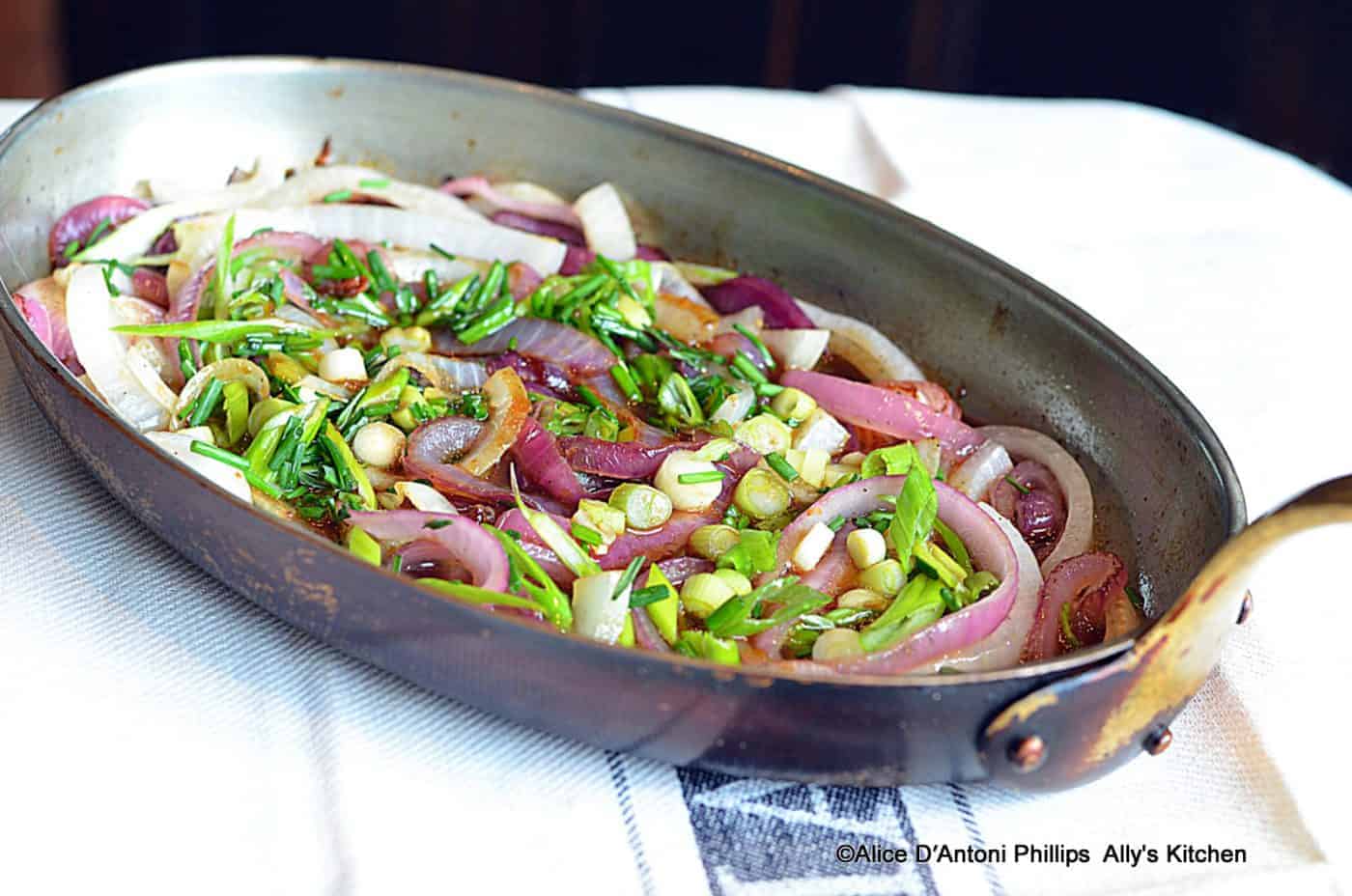 What you do:
In a heavy skillet melt the butter over medium high heat. Add the purple and white onions and sauté for about 10 minutes caramelizing. Reduce heat to medium, add salt/pepper and cook another 10 minutes tossing as needed. Add the teriyaki sauce and blend. Reduce heat to simmer and add the green onions and chives and blend.
Ready to serve!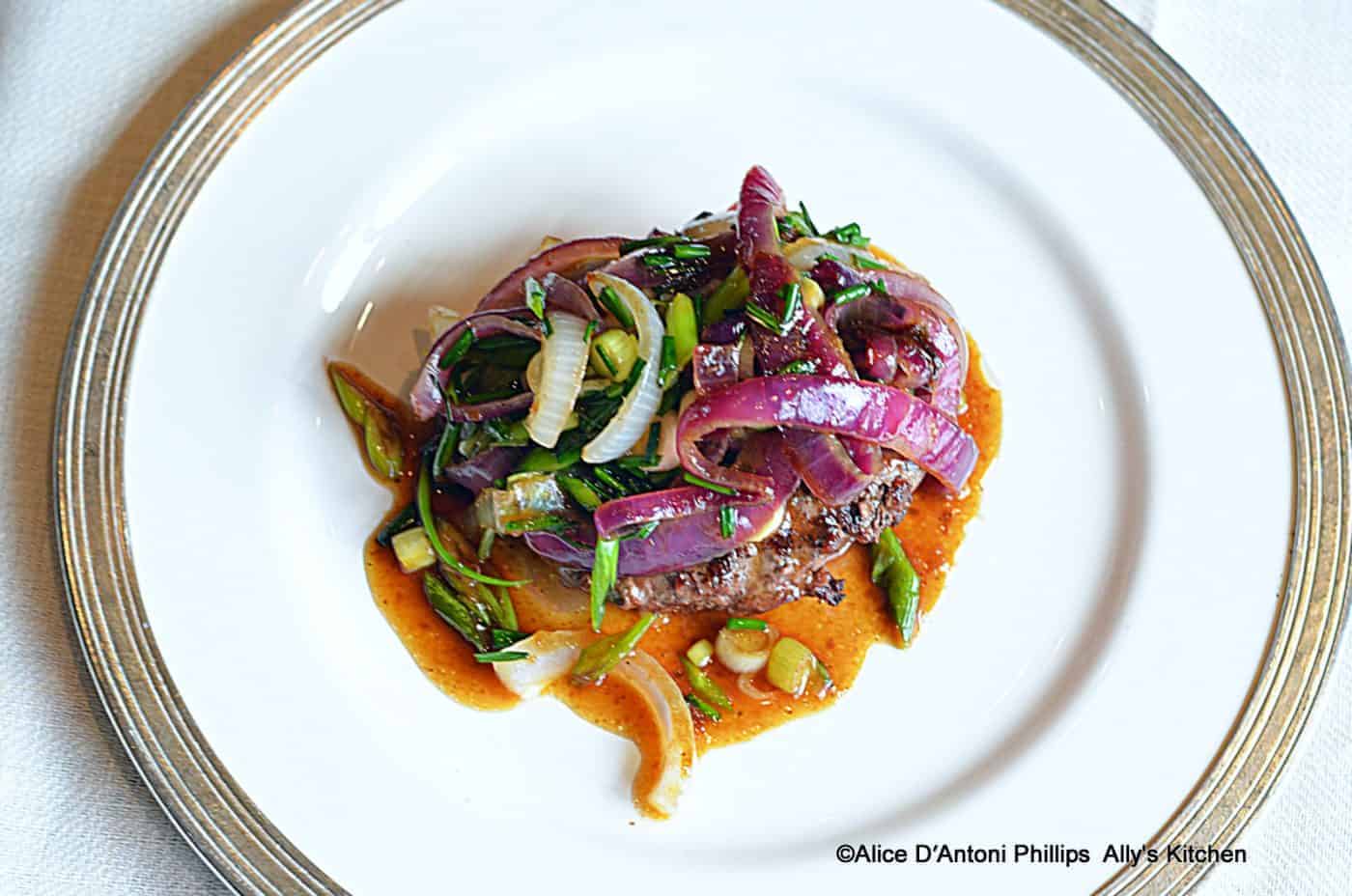 ©Alice D'Antoni Phillips www.allyskitchen.com