free spirited bohemian camping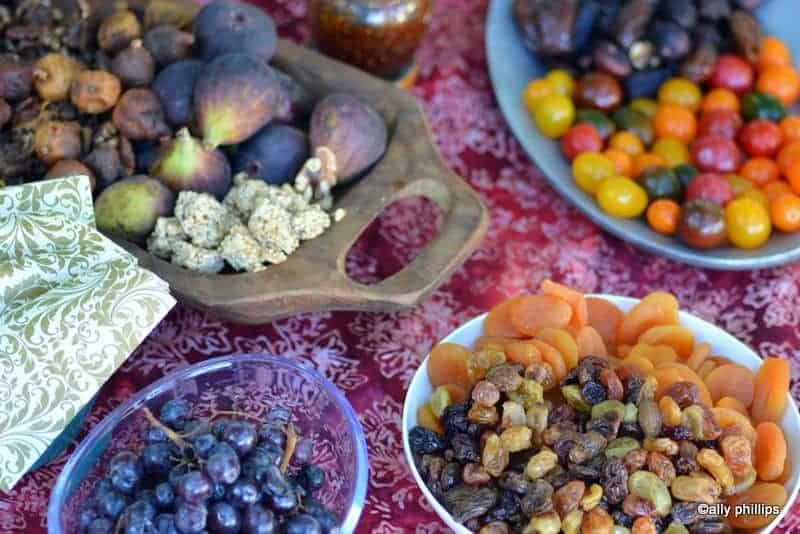 As I've gotten more time under my belt with this thing called living and life, I've come to realize that sometimes there could be just this one chance. That sometimes opportunities just might not come along again.  Rather than contemplate or hedge on a deciding, ask yourself, if not now, when? When I was first approached by the creators of 'Food.Fire.Feasts.' about being one of their 8 food blogger hosts, I was happy to be included and didn't think twice before saying 'count us in'!  It's the kind of thing a free spirited bohemian gal wants to do. Yes, my hubby, Ben, and I love to camp. We've done our fair share of it from primitive to car camping. We don't see it as work because the payoff is well worth it. But don't get me wrong. It's definitely a lot of work, organizing, getting ready, planning and then when you return home unloading, cleaning, and schlepping everything back to its place.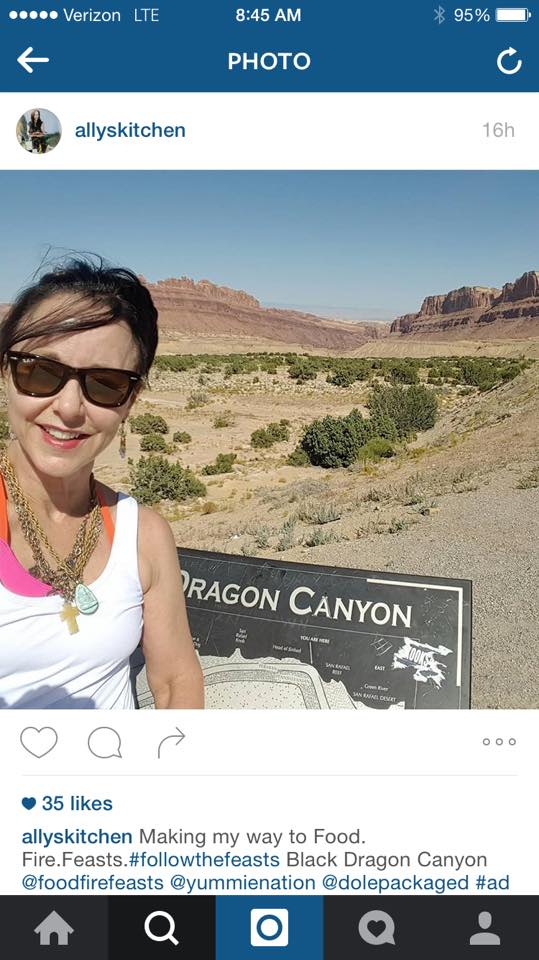 I also know very well that some experiences are so moving and captivating that it's very difficult to really explain them. It's obvious. And, it happens when I sit at my computer to get my fingers moving on the keyboard to start sharing about what I've done, and I'm kind of immobilized. It's not a writer's block kind of thing. It's more than that. It's traveling into my head and my heart digging for those expressive and best words, about something that's almost intangible, yet, definitely tangible? How do I describe emotions that are untouchable not visible, yet sensations that can be felt and seen, yes, in the moment. But, those moments have passed.
I like experiences that hold the unknown for me. As I get older, I know that these opportunities cross my path less and less. They're intriguing. They're exhilarating. Whatever unfolds usually leaves me thinking how darn lucky I am!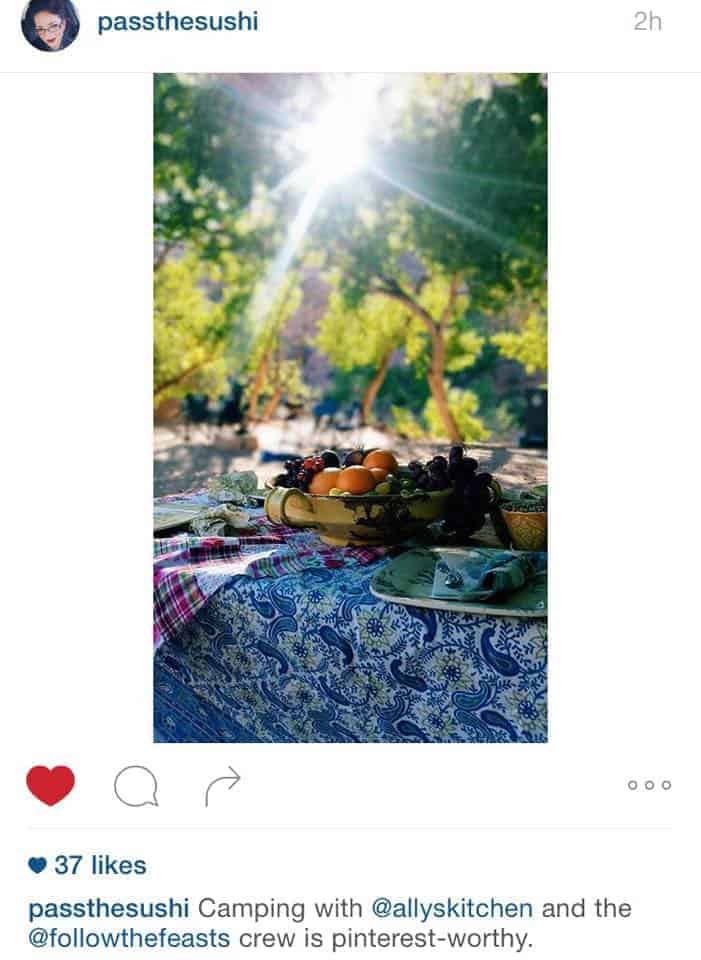 Like when I was a guest of "Taste of Israel Meet. Eat. Explore" in 2013, I went to Israel for four days. I knew no one. I'd never flown to that area of the world. And, I went alone, but I left the Middle East with an entourage of new young hip friends. We'd all shared our 'food DNA' and I immediately knew that the experience was in my Top 10 'most amazing ever-life-experiences'. Another Top 10 at the young age of nearly 60 was hiking the Grand Canyon from the North Rim to the South Rim. Packing in with a sleeping bag and provisions, camping in the base of the canyon, then hiking out and hardly able to lift my legs into the van that would take us back to our car at the North Rim, I could barely talk. All I could do was feel what I'd done. It was a feeling like none other.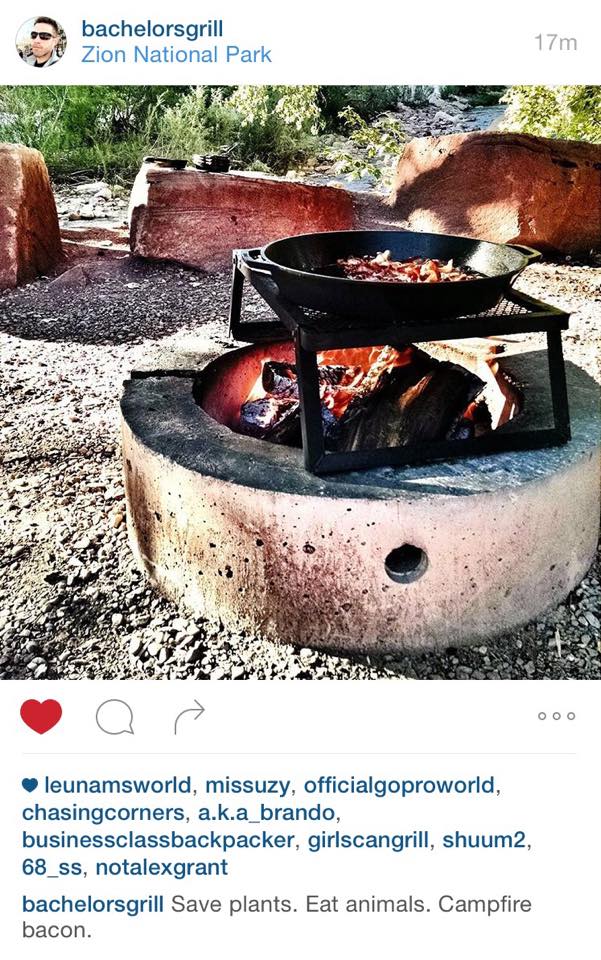 Food.Fire.Feasts. was similar. While I had 'some' idea of what might happen on this camping trip, I really had no idea! We eight bloggers arrived at different times on the first day. All of us were like-minded, foodie addicted, social media crazy bloggers. Most of us only knew each other from our cyberspace connections. What unraveled over the next 4 days was close to a fairy-tale. Nothing was rehearsed. Nothing was scripted. It was simply all of us coming together. However, behind this aura of spontaneity and impulse, I knew that everything had been masterfully organized and planned by the creators of the event, Christie and Billie. Yes, such an oxymoron. Freedom. No rules. Yet clearly there was order, structure and expectations.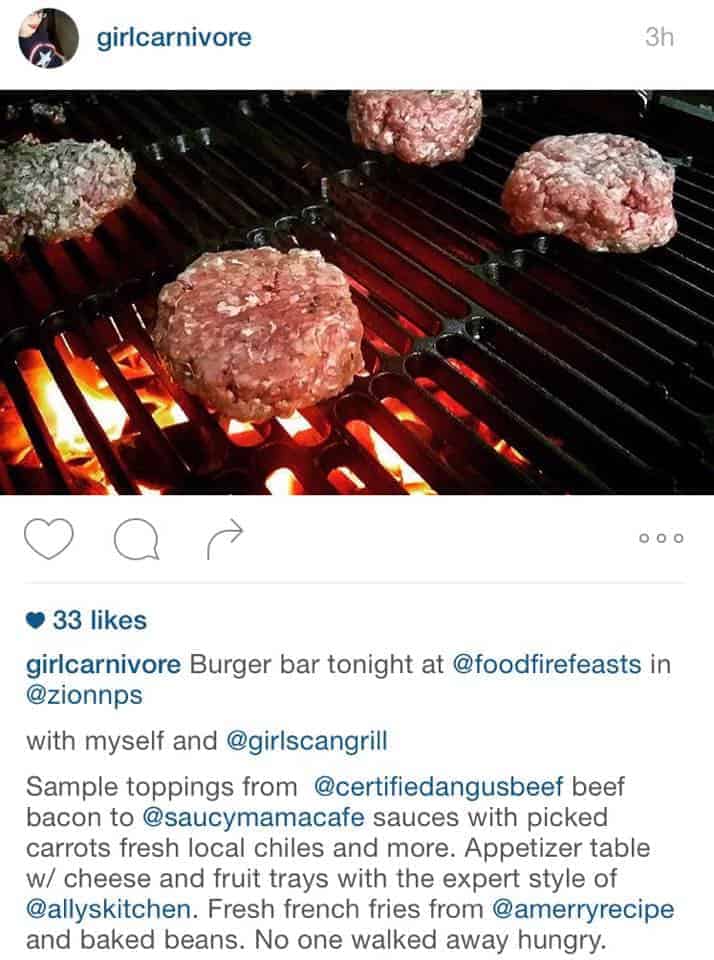 Some brought family. We ended up with 14 campers and two 4-legged pups who occupied a good chunk of the camp ground situated right on the Virgin River at Zion National Park in Utah. Tents of all sizes sprung up. Two RVs were packed and filled. Each hauling food, grills, equipment, and supplies for the days that lay ahead. Yes, we had a small 'city' that emerged—our collective group, our tribe, was different than the typical 'campers' and everyone in the campground who sauntered by heading to the river knew it.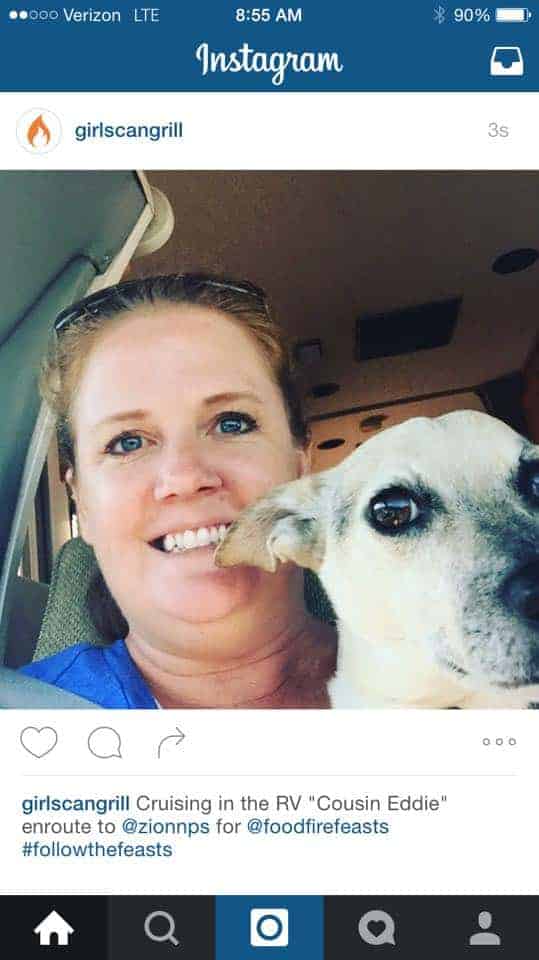 Immediately, they were captivated by the magic of our communal living—from the sparkling twinkle lights hung in the trees, tables of food supplies, multiple grills and open fire pits bursting with flames to the picnic tables. Each night there was a new design and layout and each was fit for a Medieval Court or wrangler cowboys and cowgirls to occupy. The tablescapes definitely had that chic hippie flair reminiscent of designs and colors of the 1960s. Near the tables and next to a firepit was the "Jackarena" as it was named. Sassy black exquisite and comfortable Jack Daniels outdoor chairs complete with electronic connections for iPhones, Androids, headsets and umbrellas to temper the hot day's sun. This place was available 24/7 for groupie conversations, rest, and relaxation and commiserating.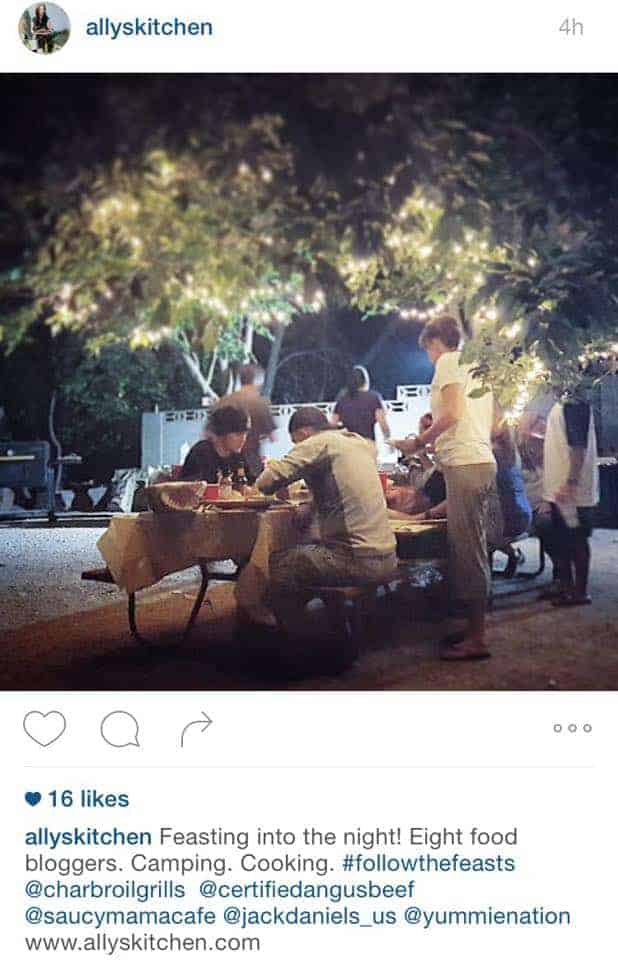 Then there was the Middle Eastern designed ground cover setting serving as our 'circle of trust'. Large enough to comfortably have up to ten people, it was the 'magic carpet' for the tribe. Decorated with bursts of eclectic colors and designs were overlapping blankets, pillows, throws, and large pieces of fabric. In the center was a collection of varied foods—dried and fresh fruits, nuts, cheese, breads, meats, for nibbling. No utensils. All to be consumed with only one's hands. It was abundantly evident that something extraordinary was happening. Passersby could feel the joie de vivre and all the great juju energy that was dissipating throughout the atmosphere.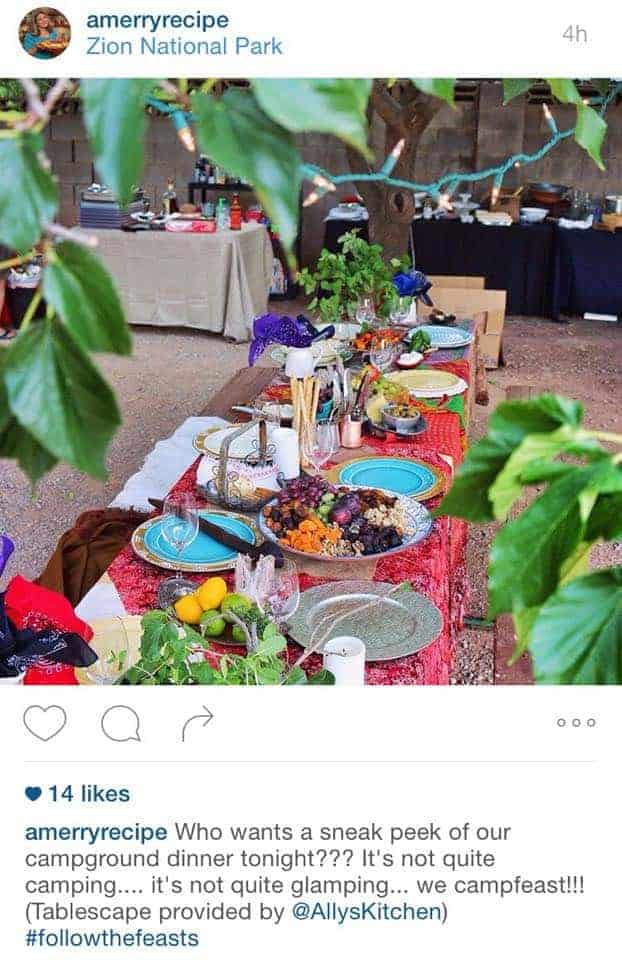 Topping all of this was the location. Zion National Park in Utah. So cleverly captured by David Olson, a fellow foodie camper, with his GoPro—you can almost smell the air and feel the oven warm temperatures. A place of reverence. Spiritual connections. Ethereal landscape. Mesmerizing sunrises and sunsets. The massive glowing ebony skies at night with twinkling stars that you felt like you could reach up and grab. Yes, I felt like I'd been transported back to a carefree and important time in my life—the 60s that so uniquely defined my 'bohemian bold' mindset and lifestyle. Yes, this was an era that transformed American history and our culture forever. Seeing, feeling and being part of it again for these four days of 'Food.Fire.Feasts.' was an unforeseen gift—bewitching and beguiling. We arrived as foodie friends. We departed as foodie family.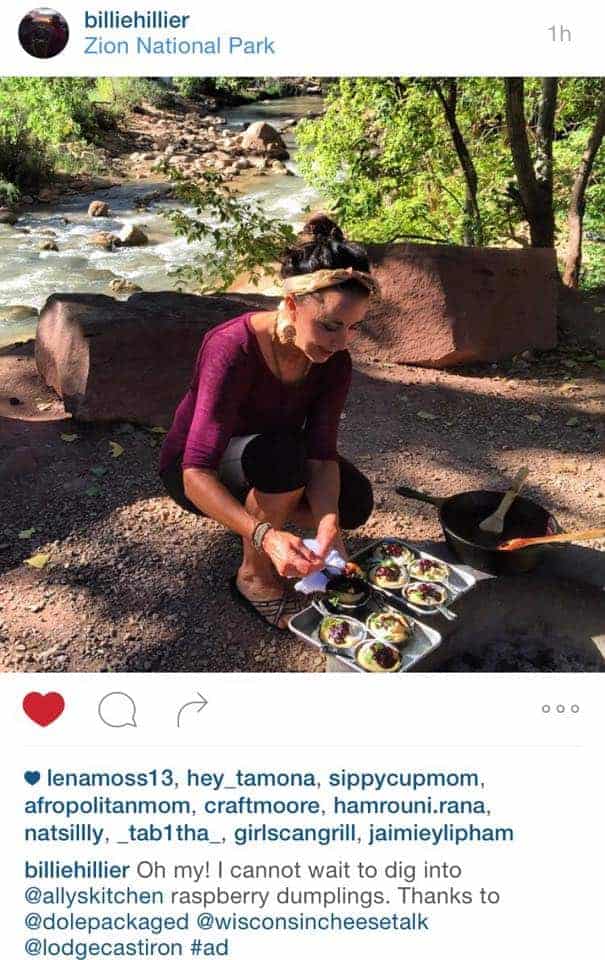 I've got you a lookbook gallery below ~just a few more shots of the nearly 600 photos I took in 4 days! Enjoy and always remember, if not now, when?
xoxo ~peace & namaste~ ally
[nggallery id=48]