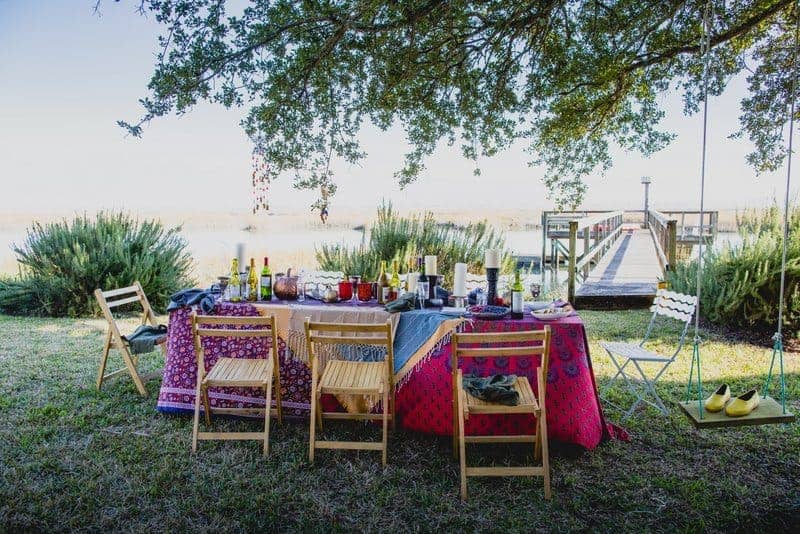 Al-fresco. Such a pretty word. It's Italian and means 'cool air'. Sounds pretty fancy and maybe prissy, but once you embrace the word in your vocabulary, know the joy it brings then you'll have no hesitation in inviting your friends and family to an 'al fresco' affair.
Basically, it's eating in the great outdoors. And, al fresco dining typically has two features. It's casual. And, it's a party-like atmosphere. Now that you know that, then you're probably thinking, hummmm, well, that's like a cookout, a picnic, a BBQ, sitting around a campfire, a garden party or hanging out on your patio, lanai, condo deck with your friends, family, some tasty eats and refreshing libations. And, you know what, you're right!
So, let's start gearing up for eating in the great outdoors when the weather gods are on our side and want us to get out of our long winter's nap. It's time to take living to the outside. It's time to open up the world of sunshine, warm breezes, blazing gorgeous sunsets, and all the delicious Mother Nature hues, textures, aromas, no seeums, bugs, ants and more. Here are some ideas for making your eating in the great outdoors just outlandish and outstanding!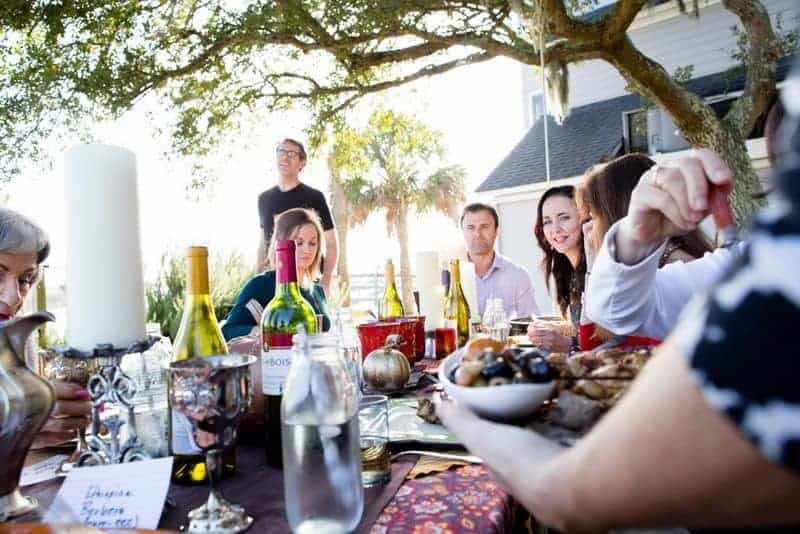 Basics & Bugs
You'll want great seating. This could be a table and chairs. A low table with pillows, Asian style. Maybe even a large rug or blanket thrown on the ground.
Your choice will be in large part determined by the number of people you'll be having. Usually my best numbers are either small, like four, or larger like 8 to 12 people. I love using a long rectangular shaped folding table covered with beautiful pieces of tapestry (tablecloths) and mismatched chairs. Then all the food is lined down the center of the table and makes a gorgeous 'centerpiece'!
If you're throwing a blanket or rugs on the ground, then make sure it's large enough to comfortably seat everyone as well as the food you'll be serving. Food's usually best placed in the center. And, you can always have a serving table nearby for food. Everyone fills their plates. Then they come sit Indian style!
Depending upon the nature of your environment and the bug world, plan on helping ward them off. Citronella candles. Citrus peels are perfect for keeping the 'no seeums' away. The strong bitter oils in those peels just scare them away! So for a few days leading up to your dining, save those peels! Here's some other tricks!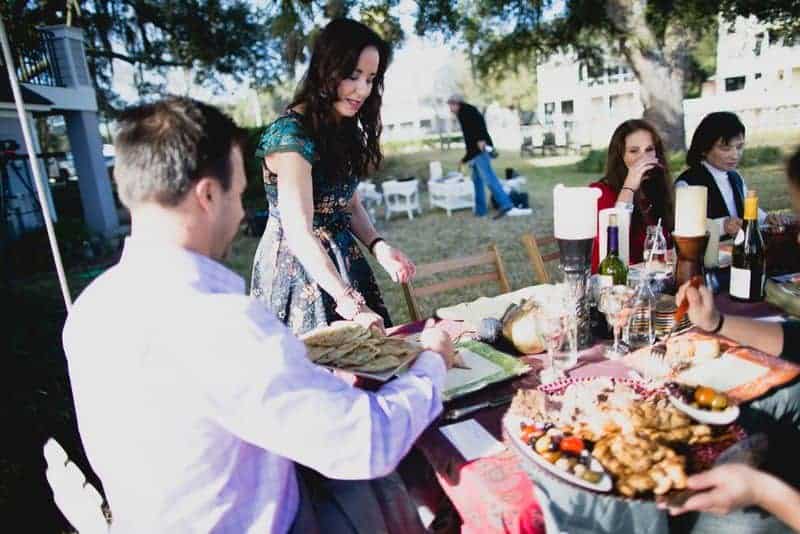 Games & Giggles
Of course, any type of gathering of people with good food and libations means conversation. But, sometimes it's really fun to incorporate some fun games. Nothing like 'survivor' of course. It's all in great fun, around the table or maybe the campfire!
You could ask each guest to come with a fun game in mind. Put all the ideas in a fishbowl, then draw out a couple to play. Make it easy. Something that doesn't require any equipment. And, something that ignites more conversation. There's always things like Charades. (Have things like paper and pens ready for writing.) Check out Amazon's top grown up board games.
You can make up your own games. When we go camping, we have a kind of 'campfire confessions'. It's really simple and fun. We all sit around the fire and with each person's turn, they start with 'I'll bet you didn't know that I …' And, they share something.  Like "I'll be you didn't know that I … was once a clown in the Barnum & Bailey circus." The others get to ask one question related to this person's 'confession'. With a small group, you can go around several times! You can even put a twist to it, and after the questions, everyone votes as to whether this 'confession' is truth or fiction!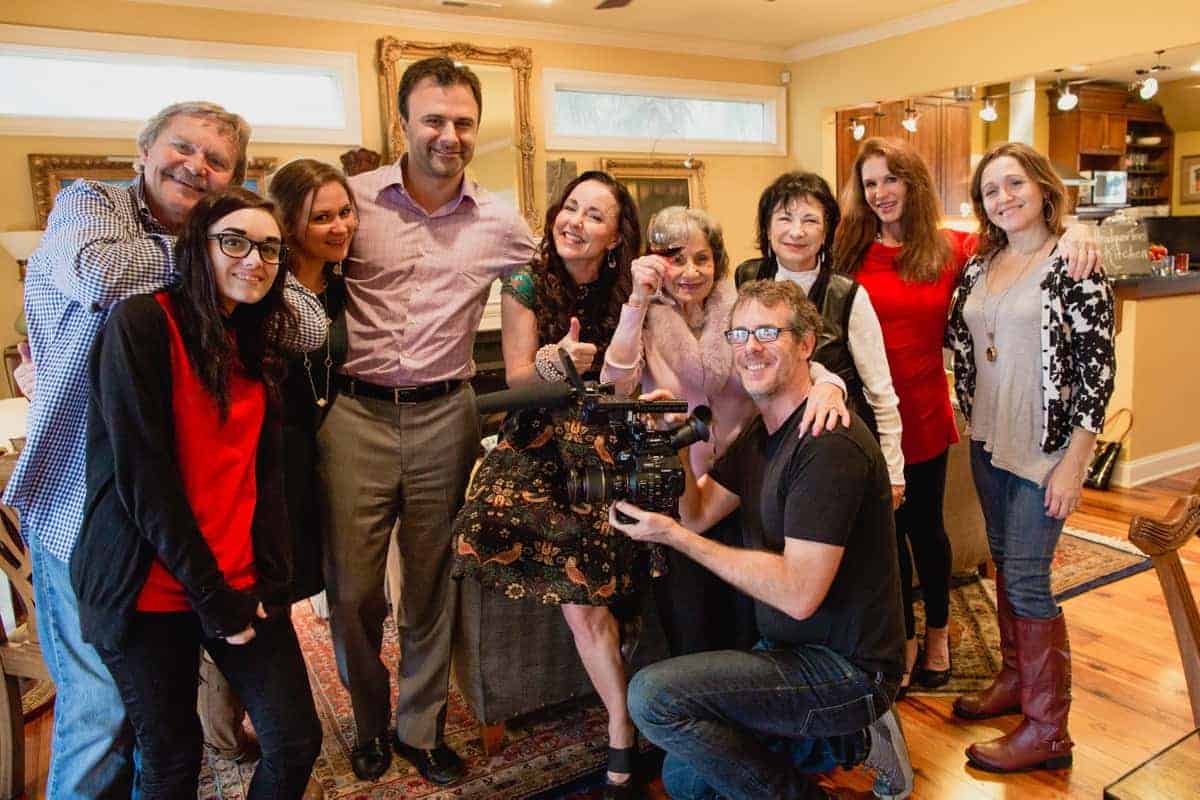 Decor & Design
Oh, ambiance. that's so much of what shapes the mood. Since this is casual, you want to make sure you use things that you might not worry about getting accidentally broken possibly.
Flowers. Fresh. You have to have them. It just screams to your guests, I care. I love you. I want to pamper you and make you feel special!
Linens, napkins, tapestries. I always use cloth. UNLESS I'm having a messy meal like finger lickin' BBQ with sauces that drip and stain. And, regardless of whether it's two or 12, I go with cloth. It's another expression of making your guests feel special.
You might want to incorporate a theme. I love to have 'mezze' al fresco dining. Mezze is simply small plates. Another name could be tapas. Themes can range from comfort food, French country, Italian to redneck, bar or dives and diner food. Once you decide that eats you build your theme around that.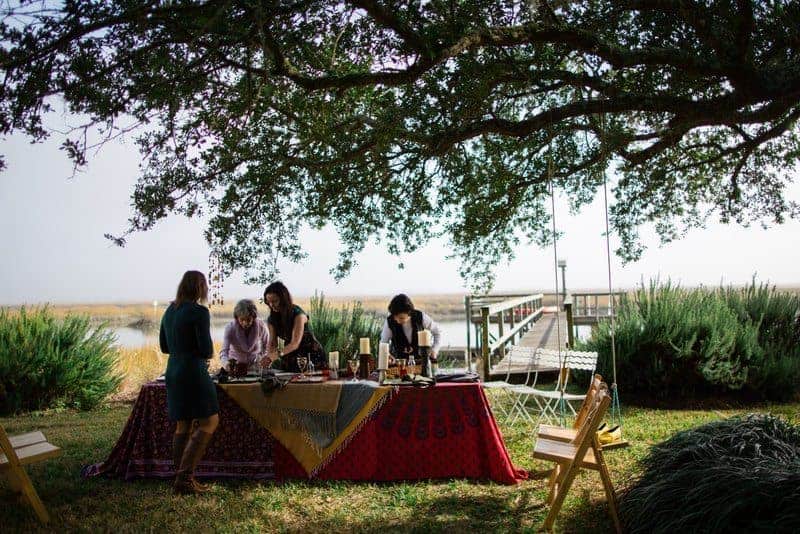 Candles & Lighting
No outdoor dining is complete without attention to lighting. Usually, you go well into the evening as darkness sets in. From tiki torches, real candles, battery operated candles to twinkle lights strung overhead, make sure you give consideration to the lighting. Even if it's simply dimming the porch light or throwing a translucent scarf over it to filter the light and create more mood, think of what you want to happen once the sun sets and the dark of the evening arrives.
You might have a small fire pit you want to light or a heat lamp to turn on (the large standing ones). Just plan for any eventuality as the night wears on.
On that same note, the temperatures might be dropping, so have nearby some large wraps, scarves, light blankets for the chill that could come!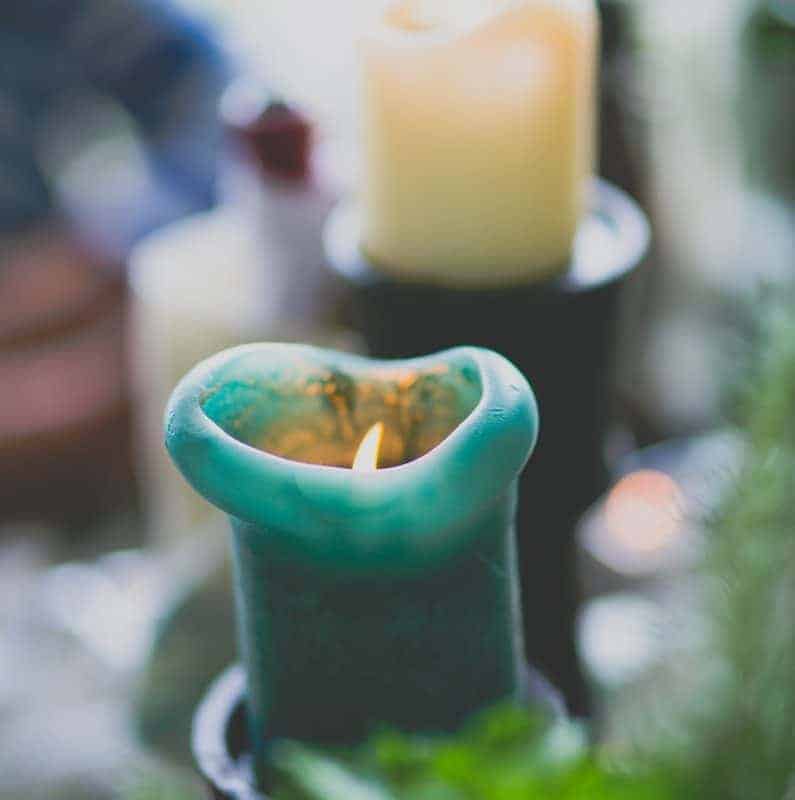 Nibbles & Sips
Outdoor dining is all about the food. And, the food is the star. It's going to evoke the 'ooohhhhs and aaahhhhs' as your guests arrive. Make it easy. Prepare dishes ahead that you might just heat up or serve at room temperature. Have everyone bring something that fits into your theme for the soiree. Guests love to walk in full handed bearing gifts of food. Again, it makes it easier for you.
The same with your sips. Usually a separate table/place for drinks works best. And, keep it simple. Wine. Beer. Bottled water. Chilled. Wines breathing. If you want to have a signature cocktail, then keep it at one. And, make it one that can be easily prepared in a pitcher rather than individually created. Have your array of drink trimmings nearby, lemons, limes, and what might go with your signature cocktail.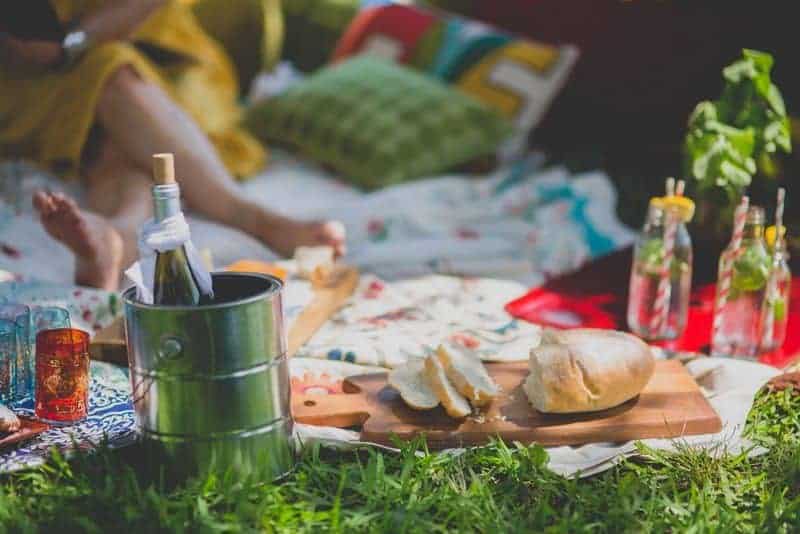 Eating in the great outdoors is full technicolor entertainment. It's casual. It's relaxed. No foo foo. No pretenses. It's communal. Sharing. Conversation. And, the only reason for a cell phone is to take photos of the food!  It's the kind of dining that is meant to nurture the spirit and soul. Life is always better because life really does happen around the table.
Soft background music optional.