No bean chili that's as easy as this recipe makes you want to make it today! And, something really cool about this simple recipe is that if you change your mind and want to add beans to this chili and make it a more traditional bean chili, then you can. You just might need to add one or two more cans of chopped tomatoes. This is what I love about cooking, finding ways to stretch basic recipes and make them different with just a few tweaks!
Now, you're gonna find one unusual ingredient in this recipe, so don't be shocked. By adding it, you get something quite special and different from the run of the mill! This no bean chili is uber versatile! These are the kinds of recipes I love. Ones that I can morph from one into another.
We all love easy recipes, and here's one for upside down peach pie mounds. Wait til you try it! So yummmmm! xoxo ~ally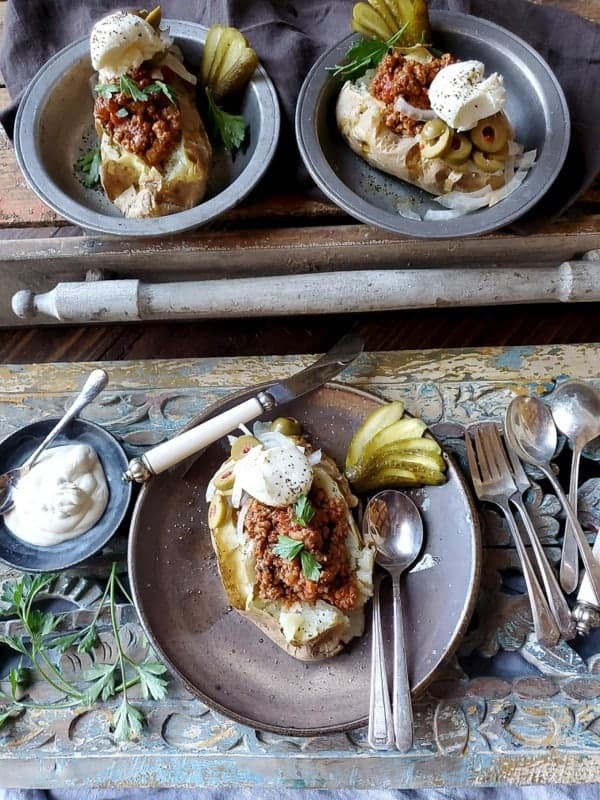 carne asada anything chili
Ingredients
¼ cup oil, canola or vegetable
1 cup sweet onions, fine dice
1 lb. Italian sausage, crumbled
1 lb. Grassfed Beef, crumbled
1 Tbl. carne asada seasoning mixture, other similar Latin spice mixtures will work
1 tsp. ground cumin
1 (6 oz.) can tomato paste + 1 can water
1 can (10 oz.) Rotel Tomatoes & Chilies
1 cup kosher dill pickle juice
GARNISHES: Kosher Dill PIckles, Olives, Sweet Thinly Sliced Onions, Coarse ground pepper, Drizzle of Extra Virgin Olive Oil, Flat Parsley, Dollop of Ricotta and/or Sour Cream
Instructions
In a large deep cast iron skillet over medium high heat, put the oil and onions. Sauté until tender and translucent, about three to five minutes. Careful not to burn.
Add the meat and brown. Then add in the carne asada and cumin and blend well.
Add the tomato paste and blend into the meat then add the water and blend. Add the tomatoes and chilies and pickle juice stirring well.
Reduce heat to medium, cover and let the chili simmer boil about twenty minutes. Mixture can sit on the cooling blaze until ready to serve.
Refrigerate and/or freeze after usage.
Notes
This chili base can be morphed into other things. Here are some ideas:
1. Add a jar of really good marinara sauce and you'll have a great meaty sauce.
2. Add beans and more canned tomato sauce and diced tomatoes for a bean chili.
3. Use this chili as the meat in lasagna.
4. This chili is great for nachos, tacos, wraps and more.
5. Grill chicken, melt cheese on top and add a healthy dollop of the chili and you have a great meal.
https://allyskitchen.com/easy-no-bean-chili/
©ally's kitchen intellectual property