Best Chicken Feet Bone Broth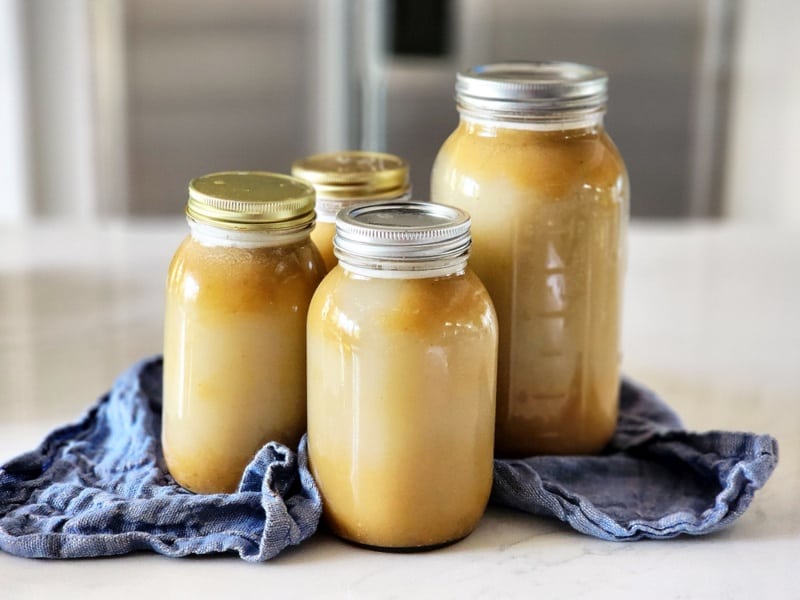 They're pretty ugly,. They' full of collagen & nutrients. Chicken Feet Bone Broth is my magic elixir of youthfulness, joint care & more!
Chicken Bone Broth Benefits
First of all, maybe if I outline some of the benefits of bone broth, and especially this chicken feet bone broth, you'll be more inclined to make it.
Loaded with collagen, it helps nails, sink and hair.
Helps with skin elasticity.
Great for joint health because of the chondroitin and glucosamine.
Can help with blood sugar levels.
Good for your gut and digestive issues.
Helps hydrate you!
Best Chicken Bone Broth
Now if you don't want to spend the time making your own bone broth, then there are alternatives.
Yes, invest in buying the best bone broth on the market. Bone broth that is made from grass-fed and pasture raised animals. Bone broth that's cooked for 14+ hours. Bone broth that's nutrient dense and good for you.
Click here to check out Kettle and Fire Bone Broth. If you order, use my discount code, ALLYSKITCHEN, at checkout and save 20%. I keep my pantry stocked with this bone broth, too. Yes, there are times that I just don't have the time to make my own bone broth!
Making Chicken Bone Broth on Stove Top
I prefer to make my bone broth on the stove top. Yes, the old fashioned way I'll start early in the morning and let it simmer boil all day, 10+ hours. Then typicaly I'll let it cool, refrigerate and the next day begin the straining and finishing process to freezer.
Yes, I prefer to freeze it. Sometimes I'll put some in canning jars knowing I'll use it in a couple of weeks in sipping and in cooking. However, if I have an ample supply, I'll just freezer.
Bone Broth Slow Cooker
With a slow cooker, use the low setting.
Add your ingredients and let it cook for about 18 to 24 hours.
Cool, strain and finish for storing.
Chicken Bone Broth InstaPot
You can certainly use an InstaPot or Multi-Cooker like the Cuckoo, which is my favorite!
You'll put your ingredients in and use low pressure for four hours. Then once that time's up, reset for another 4 hours.
You can also leave it overnight (about 8-10 hours) on warm and then cool, strain and finish the next morning.
Chicken Bone Broth Recipe Stove Top
I like the stove top method.
Rinse and clean the chicken feet. If you're using other parts, neck, gizzards, livers, backbone, yes, clean and add them, too.
Put in your large pot based upon the amount of chicken feet/bones you have. Cover about with water leaving about 3-4″ from the top of the pot. Add your aromatics and herbs. Cover with a lid. Turn heat to medium high. Let it come to a simmering boil. Put the lid askew, reduce heat to medium.
This mixture is going to simmer boil for hours, and, yes, you must keep water nearby to add as it reduces and evaporates.
For me, having it in the kitchen on the stove top is really the old-fashioned way. If I need to run out and do things, I can reduce the heat to low, cover and let it continue to slowly cook.
Chicken Feet Bone Broth Benefits
Chicken feet are known to have great collagen reserves! Imagine that! In the feet of those chickens, and your chicken feet MUST be pasture-raised (otherwise you're not getting a real chicken with all the nutritional benefits, I think).
Chicken feet, yes, those gnarly ugly looking little four pronged 'feet' are super rich in collagen and they are a fabulous source of hyaluronic acid and chondroitin sulfate!
It's like having a magic elixir. A fountain of youth.
And, talk about helping with things like osteoarthritis and your joints.
Now don't expect miracles and things overnight. I've been sipping and cooking with bone broth for decades, and I ascribe a lot of my very good health to it.
Making Bone Broth with Chicken Feet
Making bone broth with chicken feet isn't complicated. It just takes time and patience. I usually make a pot that yields about 16+ cups and that will last maybe a week or ten days. Why? Well, not only do we sip bone broth, but I cook with it regularly.
That's why I also keep a big stash of Kettle and Fire in my pantry. Honestly, no way can I keep up with making enough for what just we two people use!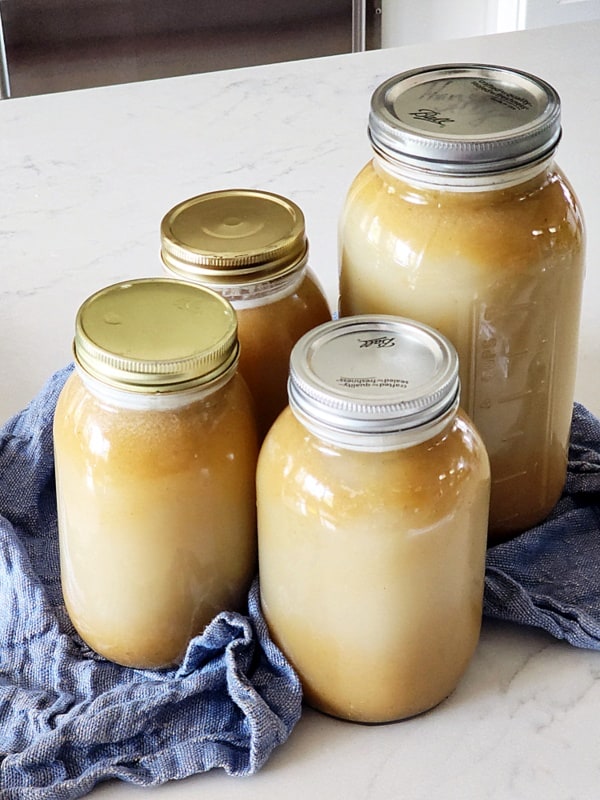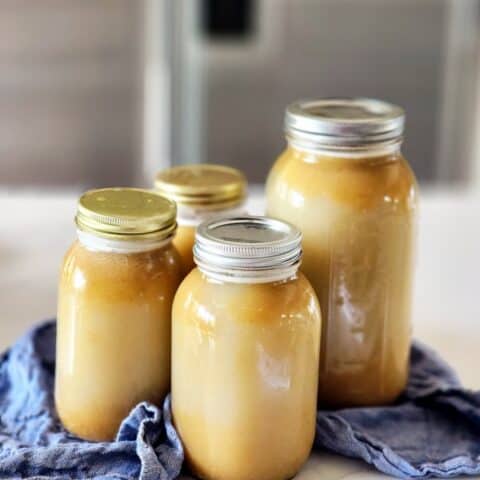 Best Chicken Feet Bone Broth
Ingredients
1 1/2 to 2 lbs. chicken feet, pasture-raised, toe nails trimmed off, washed and rinsed, you can add other carcass chicken bones, necks, wing tips
1 bundle of fresh herbs with stems, rosemary, thyme, basil, parsey, oregano, tied with cooking twine
1/2 sweet onion, large, cut in big chunks
2 Tbl. apple cider vinegar
Instructions
In a large stock pot over medium high heat, put the chicken feet, herb bundle, onions and apple cider vinegar.
Add water to about 3 inches from the top. Cover and let the water come to a boil. Cook for about 30 minutes at this roaring boil (lid askew).
Reduce heat to medium, cover, continue to add water and cook for another 8+ hours checking to see when water needs to be added.
When finished, remove the bones, skin, etc. with a 'spider' spoon or slotted spoon.
Let the bone broth cool somewhat then use a mesh strainer and strain twice removing other small things.
Cool and either put in canning jars and refrigerate or into freezer bags to freezer.
Notes
The broth will keep refrigerated for about 7 days.
If you want to make beef bone broth, the procedure is basically the same. Just use a combination of gbones like knuckle, oxtail, short rib, neck and anything you can beg from your butcher!
Best to use grass-fed beef bones.
The knuckle and neckk bones are packed with collagen!
Freezing the broth will keep for up to about 3 months.