red beans and shredded lamb steak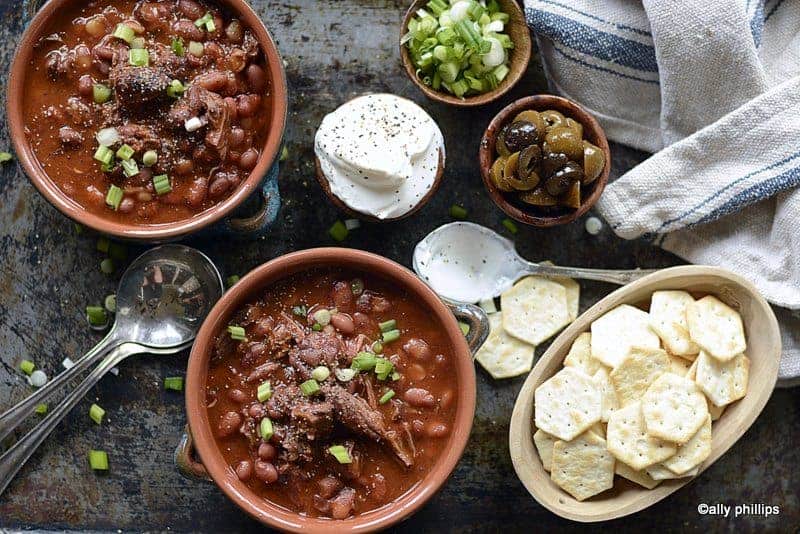 Red beans and shredded lamb steak is a meal in a bowl! And, wait until you see what we boost nutrition with in this recipe! Wowzee!
Healthy Meats
Lamb is one of those healthy meats. If you're looking for a flavorful alternative to other red meats, then try pasture-raised lamb. Lamb that are raised in pastures have proven better taste and nutritional quality of the meat.
v8 Juice
I love cooking with V8 juice! It's perfect for packing in more flavor and nutrients. Of course, tomato juice is in V8 juice, but it's more than that. You've got carrots, celery, beets, parsley, lettuce, watercress and spinach. I mean V8 juice was the world's very first smoothie! All of these ingredients create a truly unique flavor. And, these flavors ooze into this red beans and shredded lamb steak recipe!
Lamb Cuts
Lamb cuts are similar to beef and pork cuts. You've got the shoulder cut. Shoulders are hard-working parts of the lamb, so this cut of meat is full of flavor. Conversely, because the shoulder part works so hard, it's tougher, so this cut is best for stewing and slow cooking. It takes time to get tender.
Lamb chops and rack of lamb are really popular. They're more expensive than other cuts. And, you're guaranteed tender delicious meat.
Loin chops are like baby T-bone steaks. This cut of lamb comes from the waist of the lamb. Lamb steak like I used in this recipe is perfect for cooking with the beans and then when done, you simply shred the meat into the beans.
Other cuts of lamb include, rum, leg, shank and neck.
Lamb Steaks Recipe
Lamb steaks are typically thin cuts. They're tender and delicious and can be pan seared for about two minutes on each side for a rare to medium rare finish. If you're not in the mood for a whole leg of lamb, then check out lamb steak. And, this recipe is one that's perfect for those steaks.
Now I'm a bean lover. Any kind of bean. They don't last long around our house especially with a good cake of crispy thin cornbread. These red beans and shredded lamb steak are no exception. I think cooking the meat right in the beans not only adds flavor but it infuses the meat with the subtle nuance flavors of the beans. I've used beef shanks, pork shanks, bone in pork chops, different cuts of steak and veal and now I'm using lamb steak.
How to Cook Leeks
If you've never cooked with leeks or tried them, you're in for a treat! Leeks look like big green onions. And, their taste is similar to an onion, but it's a much more subtle mild and delicate flavor.
You can use both the white and green parts in your cooking. I slice them thinly. And, use the green stalk only if they're pliable and tender. Sometimes the green stalks can become 'leathery' and tough.
Clean leeks is really important. Peel off a few outer layers and keep washing them under running water. Leeks tend to have dirt hidden between the layers of the stalks. You want to make sure they're really clean before you start slicing.
How to Cook Red Beans
Cooking red beans is basically very similar, almost the same, as cooking any hearty type of bean, pinto, anasazi, lima, navy, great northern. Most beans are going to cook stovetop in about one to three hours. You have to be patient when cooking beans. And, you must check your beans more often to see if you need to add liquid. Yes, you can do beans in a slow cooker or pressure cooker, but I've not found a way to get the broth into a gravy like texture. Only cooking beans stovetop do this for me.
Small red beans are just down right amazingly flavorful. They're pretty, plus when you season them well and let them cook over several hours you get this rich thick mahogany gravy that's just lusciously delicious! And, this recipe for red beans and shredded lamb steak is one that will make want that second and third bowl!
Using a nice cut of meat in the beans stretches the treat from maybe serving one or two people to serving six to eight with the beans as the superstar protein. Instead of cornbread with this pot of red beans I decided to do baked French baguettes. And, I also offered some small gorgonzola crackers which gave a real unique twist to each bite. I cooked a risotto with fresh grated carrots and diced zucchini and squash. It was creamy and a fabulous side. Everything was scooped into large bistro bowls. And, everyone went back for seconds!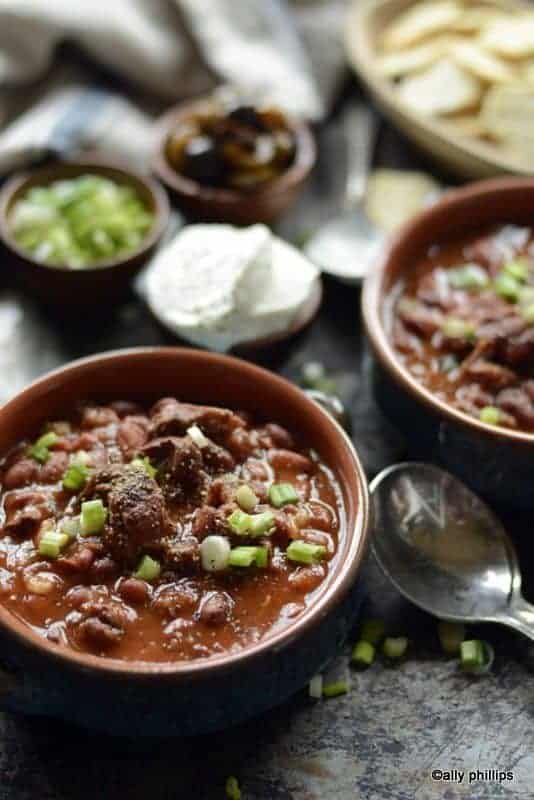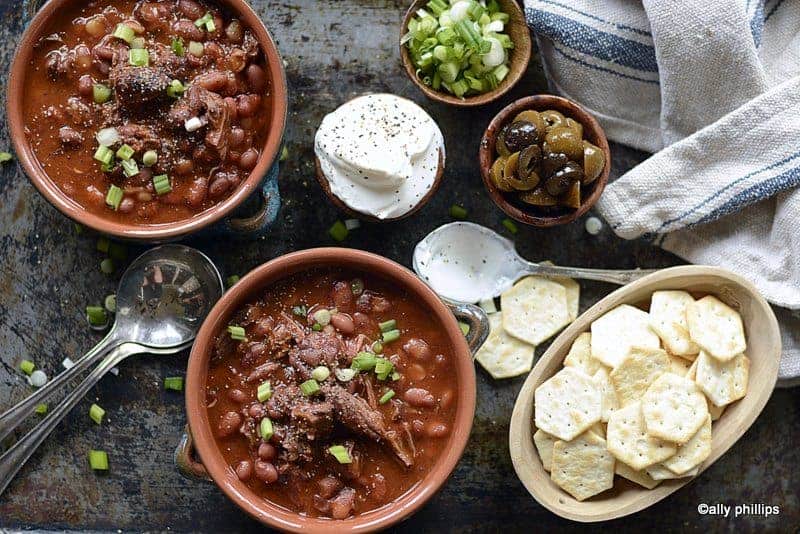 red beans and shredded lamb steak
Red beans and shredded lamb steak is a meal in a bowl! And, wait until you see what we boost nutrition with in this recipe! Wowzee!
Ingredients
Cooking spray
1 cup leeks, sliced thinly
½ cup sweet onions, diced
2 Tbl. garlic, minced
6+ cups water
2 tsp. sea salt
2 tsp. coarse ground pepper
1 lb. small dry red beans
1 ½ lb. lamb steak, bone in
2 cups V8 spicy juice
Instructions
Coat the bottom of a heavy large pot (with lid) with cooking spray. Turn to medium heat, add the leeks, onions, garlic and more cooking spray. Sauté about 3-4 minutes.

Add the water, salt, pepper, beans and steak. Increase heat to high and bring to a boil for about 15 minutes. Reduce heat to medium (with a simmering boil). Put the lid slightly askew to let steam escape and cook about 45 to 60 minutes. Add more water to cover the beans (about 2-3"). Continue cooking another 45 minutes (lid askew).

Add the V8 juice. Cover and cook another about 60 minutes until the beans are tender. (You may need to add more water.) Remove the tender steak and shred. Return the meat to the pot. Turn heat to simmer, cover and keep warm until ready to serve.
Notes
The beans should be tender in about 3 hours.

It's important to keep them covered about 2-3 inches w/liquid (water and the V8 juice) as they cook.

The broth will thicken a lot. It will be like a gravy. The meat will be super tender making it easy to shred.

We love green onions as a garnish.

Serve with a squeeze of lime juice and sour cream. Chopped olives are great, too!