Small red beans are just down right amazingly flavorful. They're pretty, plus when you season them well and let them cook over several hours you get this rich thick mahogany gravy that's just lusciously delicious! And, this recipe for red beans and shredded lamb steak is one that will make want that second and third bowl!
Now I'm a bean lover. Any kind of bean. They don't last long around our house especially with a good cake of crispy thin cornbread. These red beans and shredded lamb steak are no exception. I think cooking the meat right in the beans not only adds flavor but it infuses the meat with the subtle nuance flavors of the beans. I've used beef shanks, pork shanks, bone in pork chops, different cuts of steak and veal and now I'm using lamb steak.
Using a nice cut of meat in the beans stretches the treat from maybe serving one or two people to serving six to eight with the beans as the superstar protein. Instead of cornbread with this pot of red beans I decided to do baked French baguettes. And, I also offered some small gorgonzola crackers which gave a real unique twist to each bite. I cooked a risotto with fresh grated carrots and diced zucchini and squash. It was creamy and a fabulous side. Everything was scooped into large bistro bowls. And, everyone went back for seconds!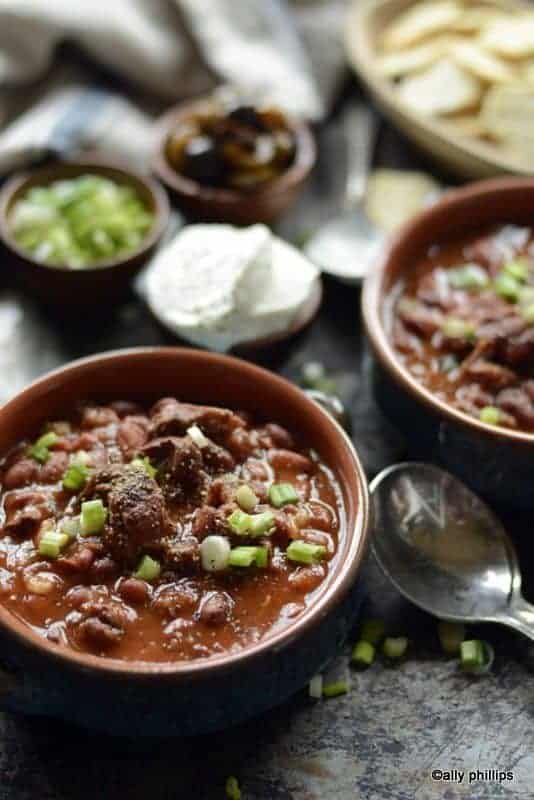 red beans and shredded lamb steak
Ingredients
Cooking spray
1 cup leeks, sliced thinly
½ cup sweet onions, diced
2 Tbl. garlic, minced
6+ cups water
2 tsp. sea salt
2 tsp. coarse ground pepper
1 lb. small dry red beans
1 ½ lb. lamb steak, bone in
2 cups V8 spicy juice
Instructions
Coat the bottom of a heavy large pot (with lid) with cooking spray. Turn to medium heat, add the leeks, onions, garlic and more cooking spray. Sauté about 3-4 minutes.
Add the water, salt, pepper, beans and steak. Increase heat to high and bring to a boil for about 15 minutes. Reduce heat to medium (with a simmering boil). Put the lid slightly askew to let steam escape and cook about 45 to 60 minutes. Add more water to cover the beans (about 2-3"). Continue cooking another 45 minutes (lid askew).
Add the V8 juice. Cover and cook another about 60 minutes until the beans are tender. (You may need to add more water.) Remove the tender steak and shred. Return the meat to the pot. Turn heat to simmer, cover and keep warm until ready to serve.
Notes
The beans should be tender in about 3 hours.
It's important to keep them covered about 2-3 inches w/liquid (water and the V8 juice) as they cook.
The broth will thicken a lot. It will be like a gravy. The meat will be super tender making it easy to shred.
We love green onions as a garnish.
Serve with a squeeze of lime juice and sour cream. Chopped olives are great, too!
https://allyskitchen.com/red-beans-and-shredded-lamb-steak/
©ally's kitchen intellectual property