Southern Pecan PoundCake Waffles with Bourbon Smoky Pecans & Peaches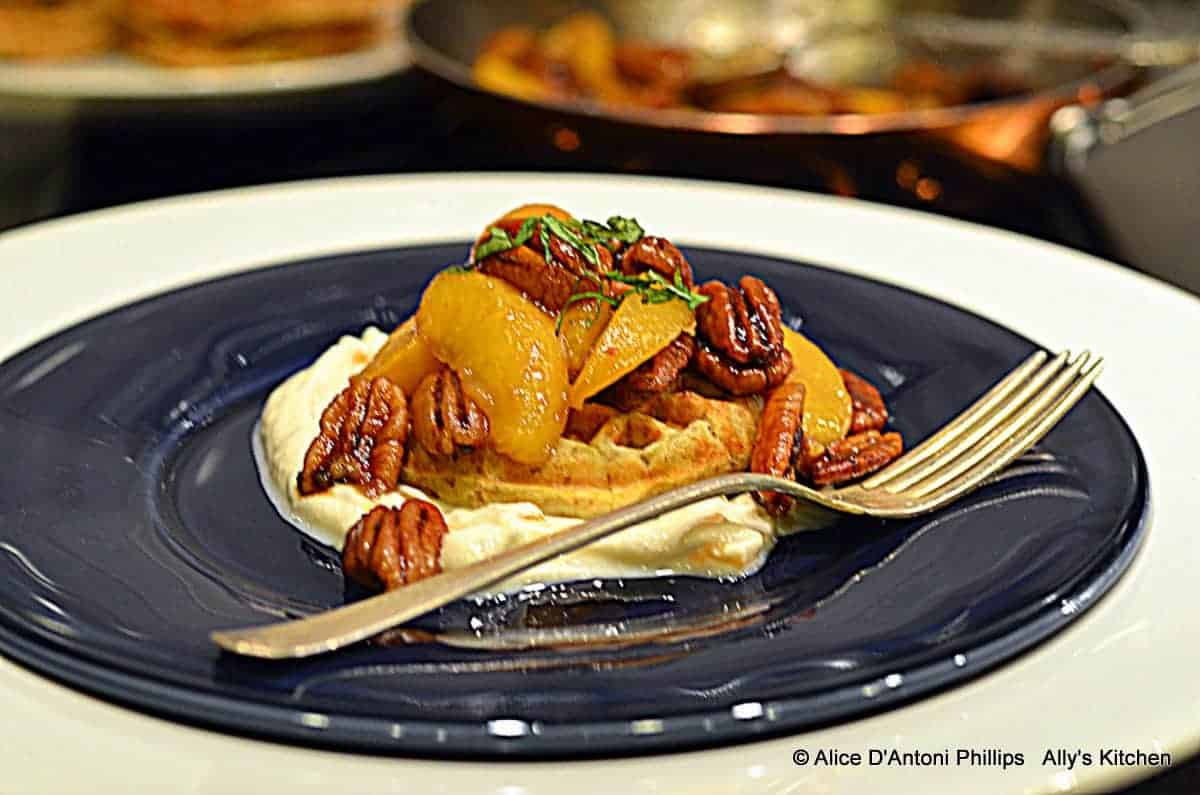 The 'greatest food' elements that define this dessert are three ingredients that are smokin' hot Southern loves—poundcake, pecans, and peaches!  Whether you say 'peeeeecan' or 'peahhcahhhn' you'll know that your poundcake waffle is full of the Southern favorite~~you'll bite into the smoky pecans and juicy bourbon butter and brown sugar peaches, and it'll be apparent why these lip smackin' elements truly are the greatest foods you've ever masticated! 
Whether you're a old transplanted South Carolinian like me, a recent transplant to the South, or just a visitor passin' through and who wants to experience our great legacy of food, nothing speaks Southern like poundcake, pecans, and peaches! This recipe has it all wrapped into one fine waffle and toppings!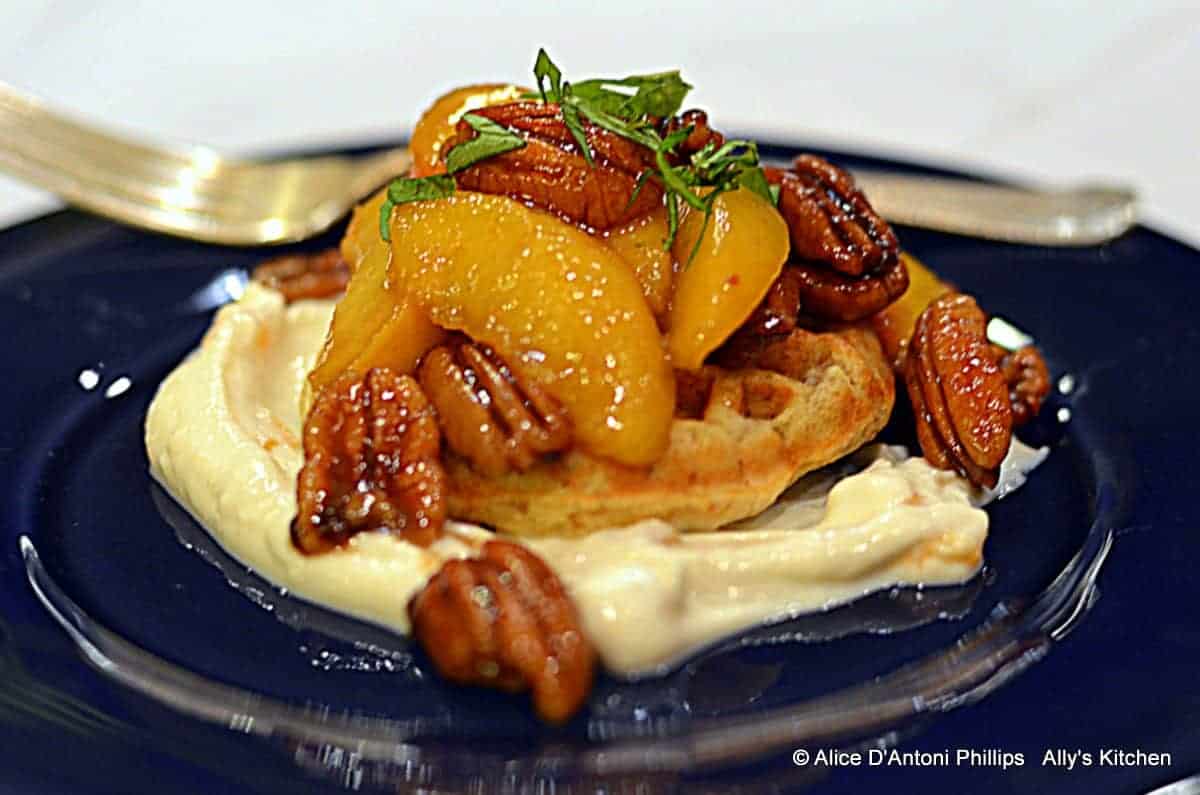 Serves: 6
What you need:
Waffles:
½ cup self-rising flour
½ cup ground up store-bought poundcake (put in food processor and make into a crumbly fine mixture) ~~ IF you don't have the poundcake, yellow cake (no icing) would work or simply use 1/2 cup more flour)
½ cup ground pecans (put in food processor)
2 tablespoons dark brown sugar
1 beaten egg
1 teaspoon vanilla
¾ cup heavy cream
Cooking Spray
(3 )6oz containers Greek peach yogurt
¼ cup fresh mint leaves chiffonade sliced for garnish
Bourbon Pecans with Peaches:
4 tablespoons salted butter
1 ½ cups whole pecans
3 tablespoons dark brown sugar
4 tablespoons bourbon
4 cups frozen peaches that have been thawed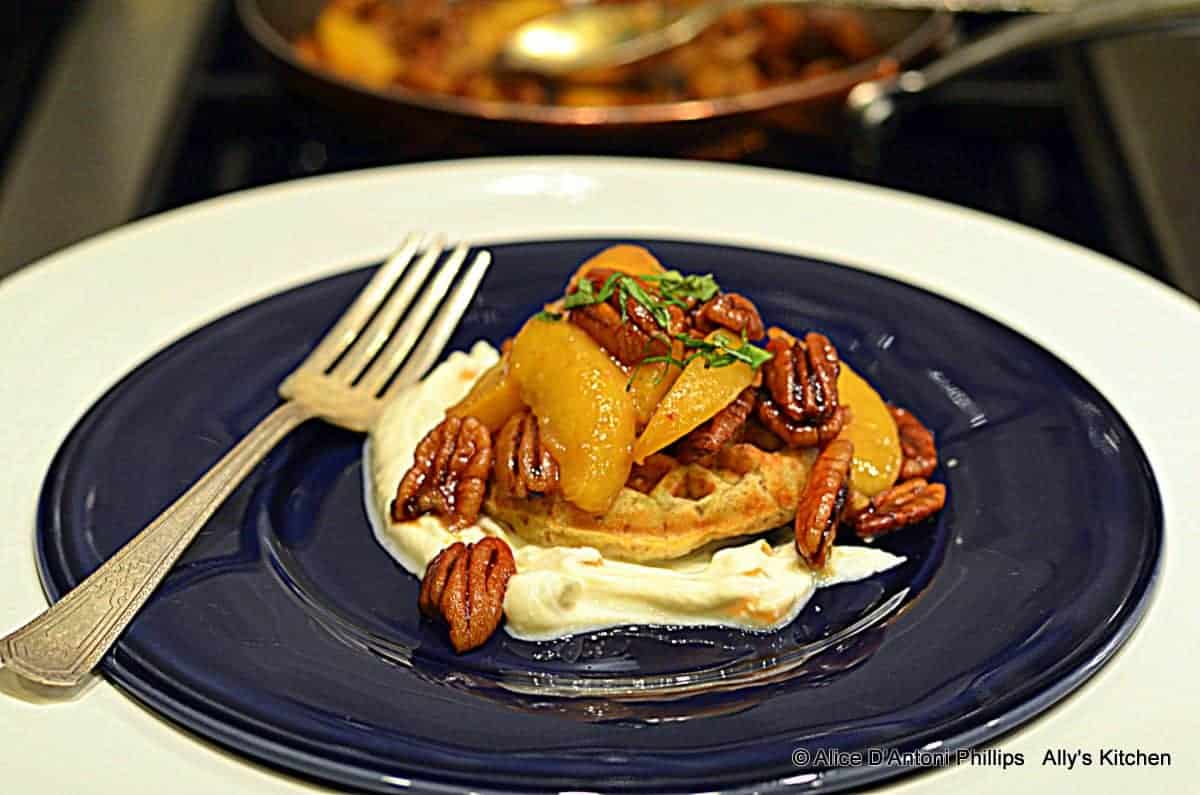 What you do:
Waffles:
 Combine the flour, poundcake, pecans, and brown sugar in a mixing bowl.  Blend well.
In another bowl, combine the egg, vanilla and cream and blend. Pour into dry ingredients and blend well into a batter.
Coat a waffle skillet with 3" openings with cooking spray.  Turn heat to medium and let it get hot.  Put about 2+ tbl of batter into each opening and spread out.  Cook for about 2-3 minutes or until the edges begin to firm up.  Gently flip onto the other side and cook another 2-3 minutes.  When done, remove and put on a plate. Continue with the remaining batter.
Bourbon Pecans with Peaches:
 In a skillet over medium heat on the grill, melt the butter.  Put the pecans in.  Toss and coat with the butter.  Close cover and let pecans 'smoke' for about 2-3 minutes turning the nuts with a spatula a couple of times. Combine the brown sugar and bourbon in a cup and blend.  Slowly drizzle into the nuts and coat all well.  Reduce heat to low and continue cooking about 3 minutes.  Turn off grill.
Add thawed peaches to nut/bourbon mixture. Toss and blend.  Close cover to grill and let this mixture sit for about 5 minutes.  Toss well before serving.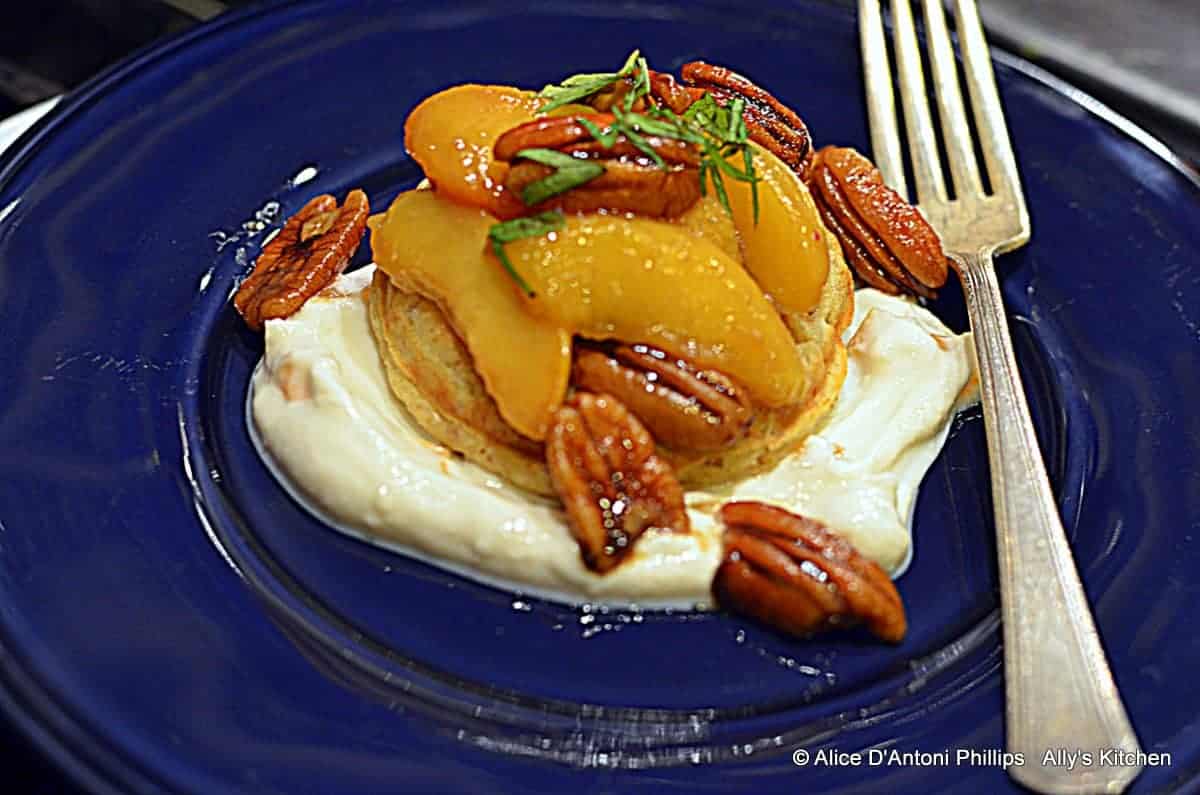 Assembly:
Dollop on a serving plate about 3 ounces of the Greek peach yogurt.  Make a swish design.  Place the waffle in the middle of the swish.  Top with a generous scoop of the bourbon pecans with peaches.  Garnish with fresh chiffonade mint.


©Alice D'Antoni Phillips Ally's Kitchen