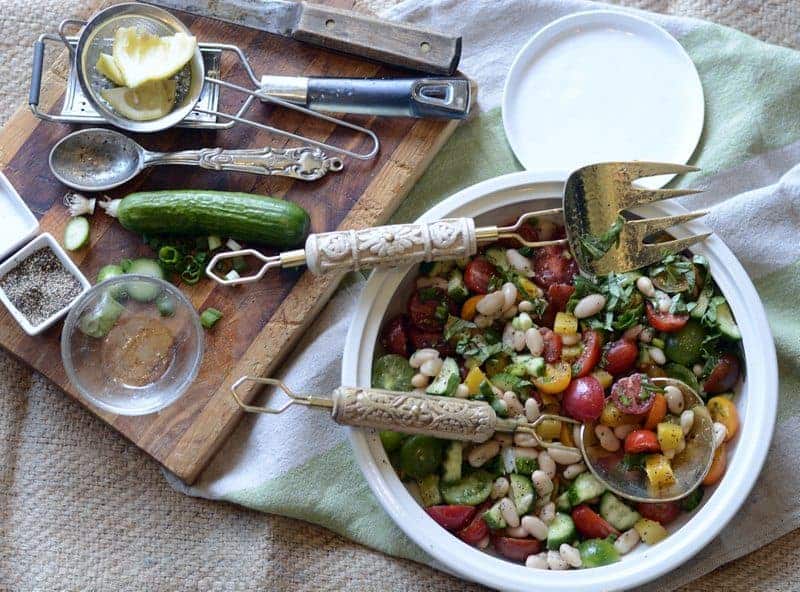 Taste the flavors of Italy. Taste the happiness of sunshine! You have 'italian sunshine salad'. Yes, together these two iconic things come together into one amazingly easy and scrumptious salad! I totally believe that with food you can sculpt your perception of so many things, even weather.
This is the kind of salad that can double as a meal. Just add some hot crusty bread, and, yes, a nice glass of wine, and you're all set. Another big bonus of this recipe? It's quick. It's easy. And, it's no cook. If you want to add a piece of grilled meat or seafood, you certainly have the time to do so with the 'italian sunshine salad'.
The savory ingredients, tomatoes, cukes, green onions, come together with the bite size diced sweet fresh peach bites. Then all these ingredients join with the creamy cannelini beans that are tender mild and the perfect protein.
I love these fruit cups from Dole Sunshine. They're already the perfect diced size for salads, plus the plastic cups they come in are never thrown away. No sireeee bobbbeee, I save them. Rinse them out and they become handy containers for so many things like putting in dry cherrios cereal for my little grandsons!
Salads that bring out "sunshine" in the dead of winter when the weather outside might not have the warm sunshine beams are what help get through those months of shorter colder days. Food has an amazing influence on mood as well. Sometimes just eating something that we know is really good for us can elevate mood. Web MD talks about how this happens. And, they give eight suggestions for incorporating this into you diet. For instance, don't banish carbs, just choose 'smart' carbs and beans are smart carbs. Get more Omega 3 fats in your diet. Don't skimp on Vitamin D. And, remember to eat foods that are rich in selenium. Take a little time to put some sunshine in your life and lilt in your step with this salad!
Thanks to Dole Sunshine for partnering with me for this post! All the opinions and creativity are solely my own. For a full disclosure, click here!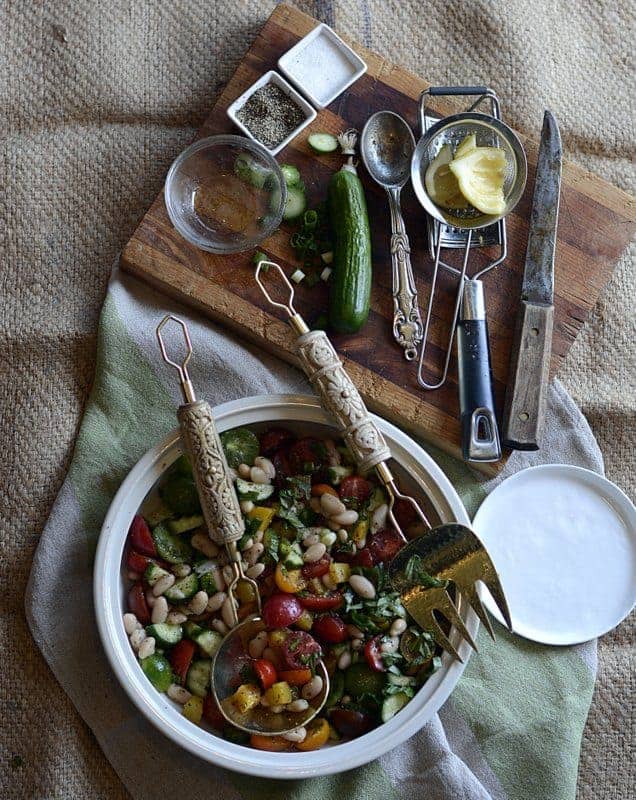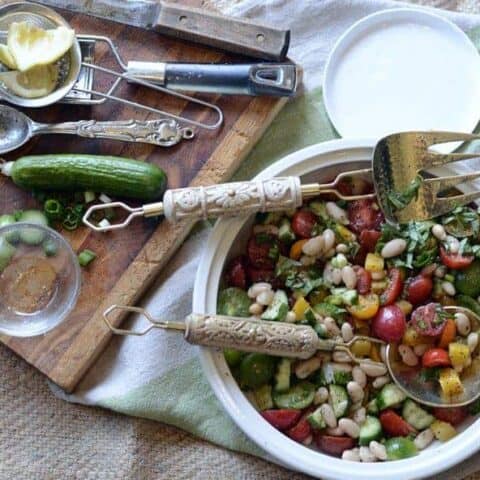 italian sunshine salad
Ingredients
4 green onions with tops, sliced thinly
2 cups heirloom cherry tomatoes, sliced lengthwise in halves
2 containers Dole Sunshine Peach Fruit Cups, drained
1 cup English cucumbers, sliced in thin half moon pieces
1 (14.5) can cannellini beans, rinsed and drained
1 tsp. dried Italian seasoning mixture
½ small lemon, juice and zest
¾ tsp. sea salt
¾ tsp. coarse ground pepper
4 Tbl. Extra virgin olive oil
¼ cup fresh basil, chopped and packed
Instructions
Put the onions, tomatoes, peaches, cucumbers cannellini beans and seasoning mixture in a mixing bowl. Toss and blend.
In a small bowl, mix together the lemon juice/zest, salt, pepper and olive oil. Drizzle on the salad. Toss and blend. Mix in the fresh basil (a couple of tosses together).
Refrigerate about 30 minutes before serving.
Notes
Dole Sunshine has fruit cups in other fruits. You could substitute pears, mandarin oranges, mixed fruit or whatever you prefer!