You might find it different to have the orange rinds cooked in the pork, but bear with me. If you have an adventurous palate, you might find these cooked (and seasoned orange rinds) quite tasty. It's not unusual to cook with lemon rinds and then actually eat them, but if you don't have a taste for the orange rinds, then certainly pluck them out. This coconut ginger orange pork is perfect for a dinner entree with some sides. Or if you want to make it easy, serve on rice or pasta or with Asian noodles!
Now using this pre-packaged soup base with other ingredients like coconut milk and fresh ginger really results in a creamy and rich thick broth for your pork. It doesn't take many ingredients to create something pretty awesome. And, the slow cooker makes it so simple even for a weeknight. Just throw everything in and hours later you've got a great dinner ready.
Freezing any leftovers makes for new meals down the road. You can use this pork for tacos, nachos, wraps, sliders, sandwiches and more. So not to worry about having too much. It's perfect for other meals. If you've not cooked with a lot of orange(s) then you might want to also look at this chicken and orange sriracha recipe! xoxo ~ally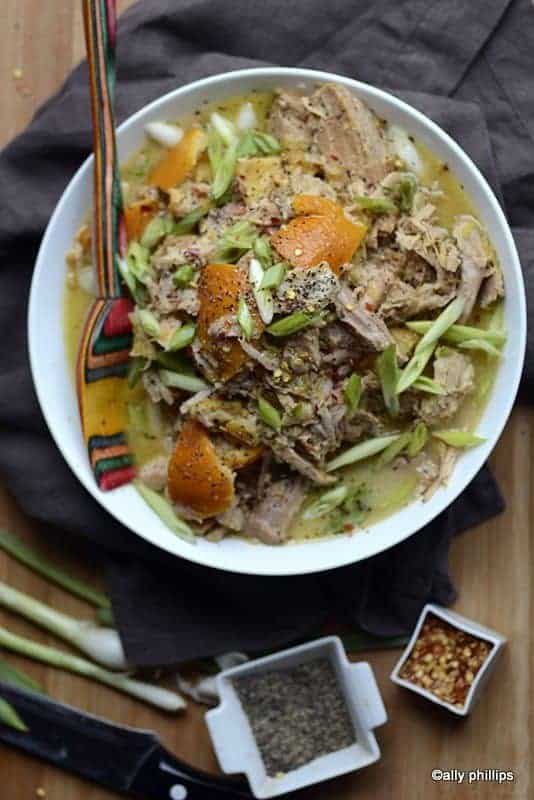 coconut ginger orange pork
Ingredients
3 Tbl. oil
1 3-3 ½ lb. pork loin, cut into quarters
2 cups chicken broth
2 oranges, seedless, wash rinds well, cut into quarters
1 Tbl. ginger, freshly zested
1 tsp. sea salt
1 tsp. coarse ground pepper
1 (2.1 oz.) box coconut ginger soup base, use both inner envelopes, A Taste of Thai brand
1/2 cup coconut milk, unsweetened
3 green onions, thinly sliced for garnish
1/4 tsp. red chili flakes
Instructions
Put the oil in the slow cooker. Add the pork pieces and chicken broth. Give each orange quarter a squeeze (you don't have to wring out all the juice), then toss in the slow cooker. Add the ginger, salt, pepper and soup base. Blend.
Turn slow cooker to High for 5 hours. Shred meat when done then blend in the coconut milk. Garnish with green onions and red chili flakes.
Notes
It's not necessary to break apart the pork, but if you're around while the slow cooker is working, break apart the pork chunks every couple of hours.
What you want to achieve is a shredded like pork.
I serve with the orange rinds. They look beautiful in the pork. Some might want to eat. Others can just pick them out.
https://allyskitchen.com/coconut-ginger-orange-pork/
©ally's kitchen intellectual property