Hometown Blueberry Banana Pie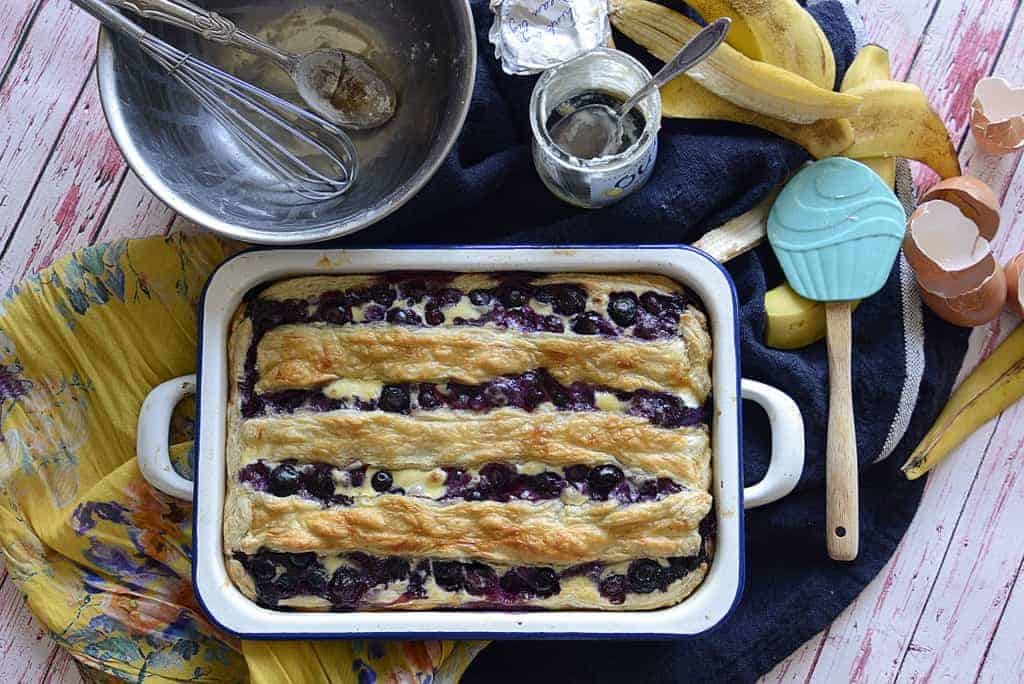 Pull up at seat at your favorite small hometown diner! Only it's your own kitchen! Order this hometown blueberry banana pie and you'll get rave reviews!
Blueberry pie
There's just something in the summer about a cold pie that's so appealing. This Blueberry healthy banana bread is ALL y 'all! It is a mix of a crumbly graham cracker crust, sliced bananas, blueberry compote, cream cheese, and freshly whipped cream.
Blueberry pie recipe
What isn't there to love about it?! I highly recommend making this healthier banana walnut bundt cake the day it is going to be served, so the crust is crumbly and the bananas are still a little strong! There is just something that equals perfection about the combination of blueberries and bananas.
Banana and blueberry bread
In a small saucepan over medium-low heat, heat up the blueberry preserves, stirring continuously with a wooden spoon. Heat until the berries begin to break down and thinner, pourable consistency forms in the sauce. To the saucepan, add the fresh blueberries. Stir for 30 seconds overheat, then set aside to cool. Using a single layer of banana slices, line the bottom of the crust. Team it up with New York Strip Hot Smoked Paprika Red Wine Stew and relish your dish.
Banana pie filling recipes
Preheat the oven to 350°C. Using vegetable oil to gently spray a 9-inch pie dish. Mix the crushed crackers of graham, sugar, and salt together until mixed. Stir in the melted butter until it is combined properly. Pour the dish into the pie. To uniformly press it into the tub, use a metal measuring cup with straight sides. For 8 minutes, bake.
Blueberry pie filling
Beat the cream cheese at medium speed until light and fluffy in the bowl of an electric mixer fitted with a paddle attachment. Slowly apply 1/3 of a cup of sugar at a time. Until paired, blend. Top is up with cast iron skillet new york strip steak and grace your taste buds.
Banana pie with pudding
Combine the cold heavy cream, butter, and vanilla extract in the bowl of an electric blender fitted with a whisk attachment. Whisk together until soft peaks form when the whisk attachment is raised out of the bowl at high speed.
On top of the cooled Banana Almond Pie Pan Cake spread the whipped cream. Leave the crust around a 1/2 inch rim, so the pie filling can appear. Garnish with slices of banana & freshly grated lemon zest. For 30 minutes, return to the refrigerator and serve immediately.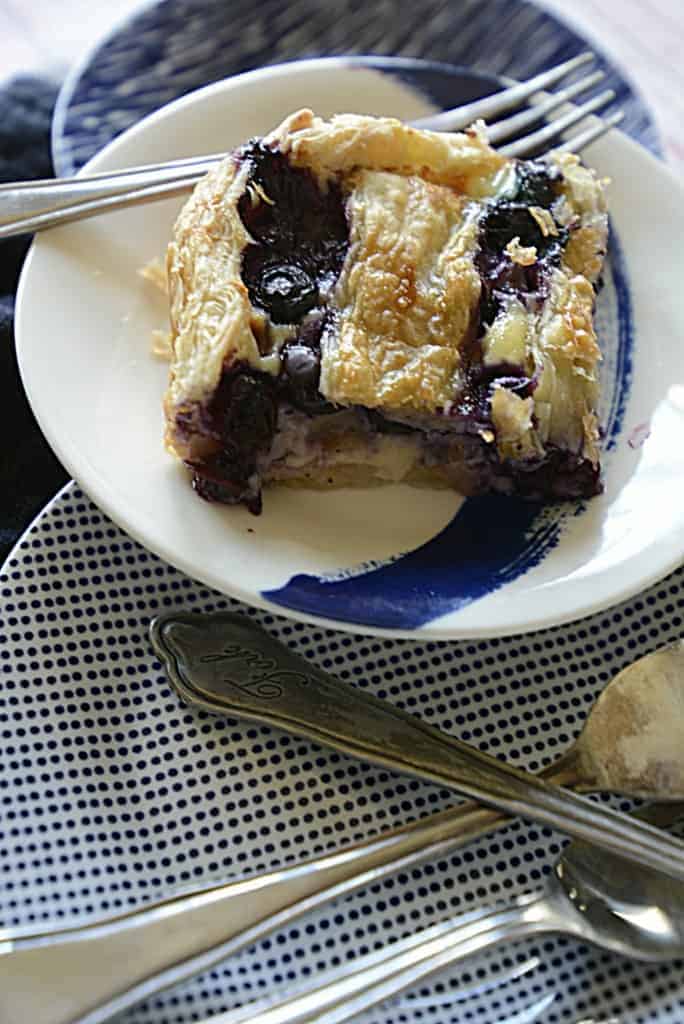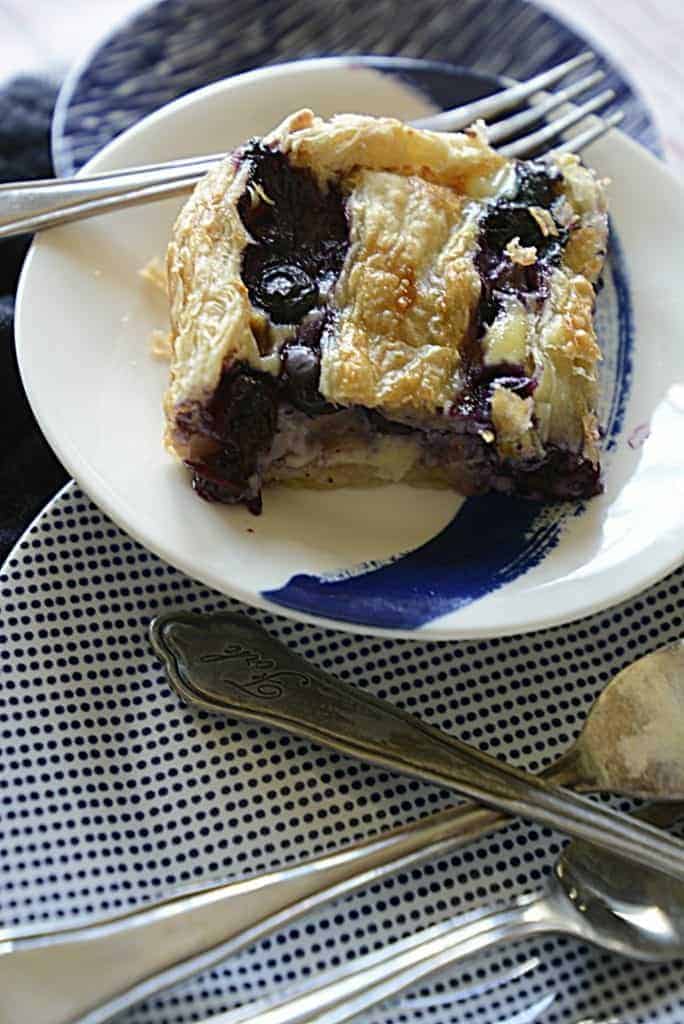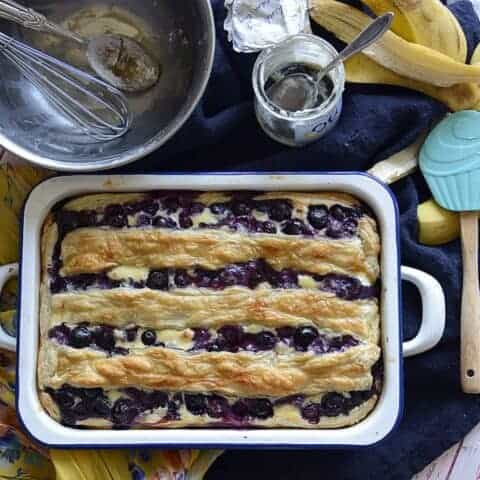 Hometown Blueberry Banana Pie
Pull up at seat at your favorite small hometown diner! Only it's your own kitchen! Order this hometown blueberry banana pie and you'll get rave reviews!
Ingredients
Preheat oven to 375
CUSTARD:
3 organic eggs divided
½ cup sweetened condensed milk
1 container 5-6 oz. lemon yogurt
1 ½ Tbl. non-GMO cornstarch
Pinch Salt
PASTRY & FRUIT:
3 3 x 9" pieces puff pastry, room temperature, each cut into 1 ½" x 9" strips
3 bananas medium slice, sliced on an angle
2 cups fresh blueberries
Instructions
In a medium mixing bowl, whisk together well two eggs and the yolk of the third egg (reserve the egg white), sweetened condensed milk, yogurt, cornstarch and salt. Set aside.

Coat the baking dish with cooking spray. Take two 1 ½" x 9" strips on place along the long side of the baking dish. Stretch a little on to the shorter side.

Cut a third strip of dough in half (1 ½" x 4 ½"). Attach it to the ends of the pan. You are creating a perimeter dough. There will be no dough on the bottom of the pan.

Pour the custard mix into the pan. Add the bananas. Add the blueberries. Place the three remaining strips of dough on top the mixture and pinch into the existing dough around the pan.

Use a pastry brush to coat the strips and around the pan dough with egg white wash.

Bake about 30 to 32 minutes in a preheated 350 oven.

Remove and let it rest. Serve or refrigerate.