Hometown blueberry banana pie! It's gonna be a hit at your house regardless of whether it's for dessert or a breakfast pastry! I promise!
And, another promise to you about this recipe, it is so stinkin' easy! You're probably going to consider yourself a pseudo 'pastry chef' after you make it. Now, I'm no pastry chef by any stretch of the imagination. I mean I call myself a 'rogue' baker! However, I do like something sweet every now and then.
What Kind of Sweets Appeal to Me
I like sweets that are not too sweet sweets. Sweets or desserts that appeal to me have a little dough and some crunch. Another think I like about a sweet is that the fruit, custard or filling is the star. And, that's what so great about this blueberry banana pie. You get a hint of sweet with the naturalness of the blueberries and bananas. Another thing about this pie is that you're using puff pastry. An amazing invention of the 20th century! OMG! I love this stuff for both sweet and savory recipes.
Looking for another simple puff pastry recipe? Then check out my cherry hand pies! xox ~ally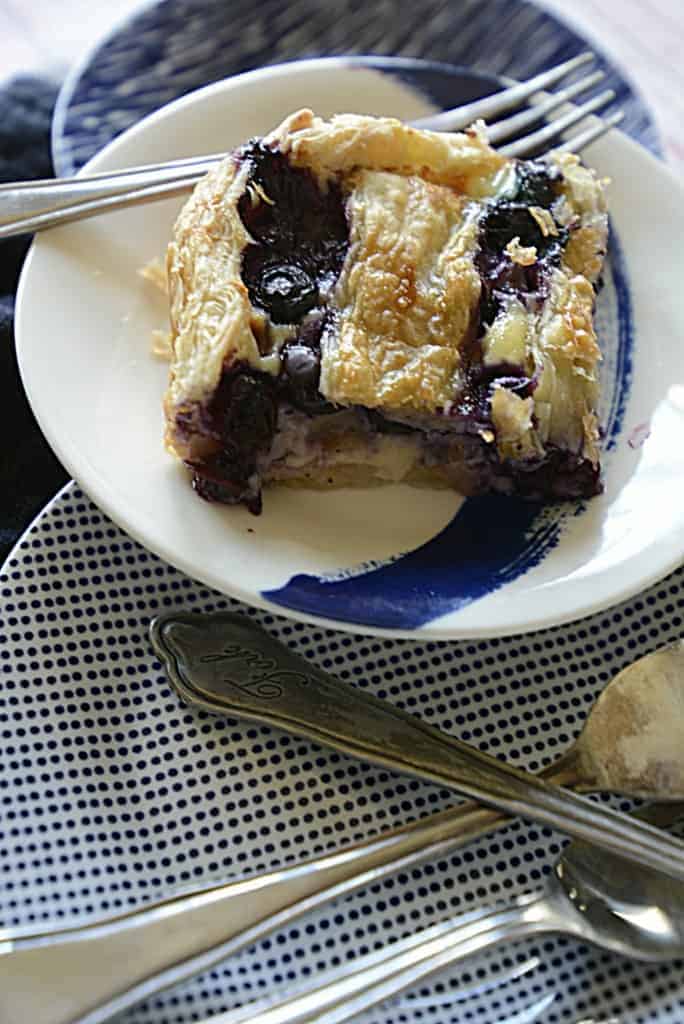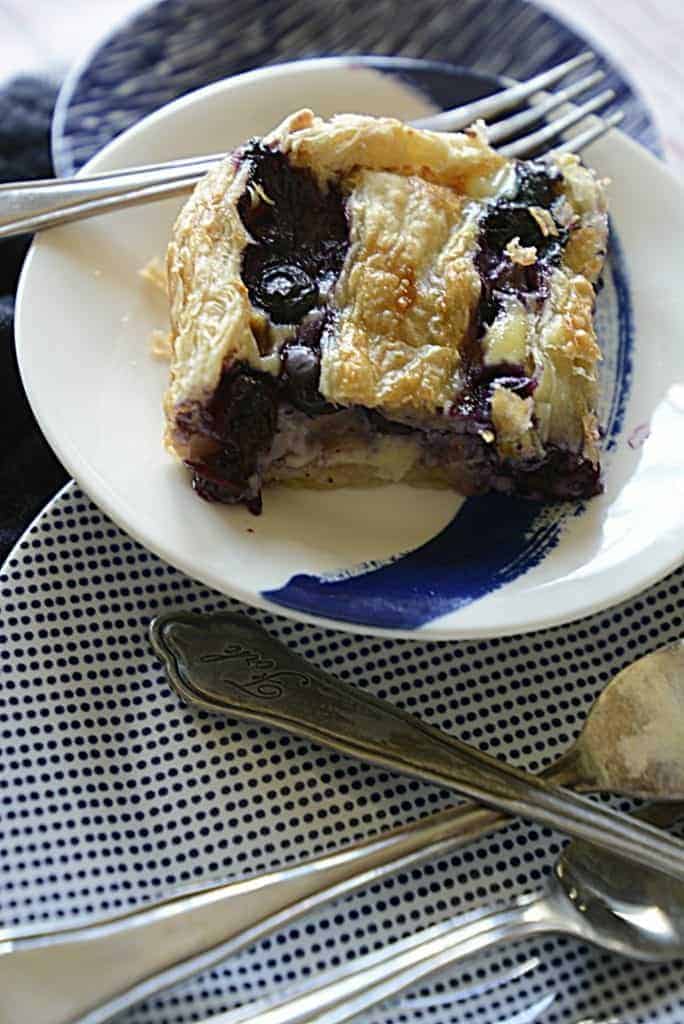 hometown blueberry banana pie
Ingredients
Preheat oven to 375
CUSTARD:
3 organic eggs divided
½ cup sweetened condensed milk
1 container 5-6 oz. lemon yogurt
1 ½ Tbl. non-GMO cornstarch
Pinch Salt
PASTRY & FRUIT:
3 3 x 9" pieces puff pastry, room temperature, each cut into 1 ½" x 9" strips
3 bananas medium slice, sliced on an angle
2 cups fresh blueberries
Instructions
In a medium mixing bowl, whisk together well two eggs and the yolk of the third egg (reserve the egg white), sweetened condensed milk, yogurt, cornstarch and salt. Set aside.
Coat the baking dish with cooking spray. Take two 1 ½" x 9" strips on place along the long side of the baking dish. Stretch a little on to the shorter side.
Cut a third strip of dough in half (1 ½" x 4 ½"). Attach it to the ends of the pan. You are creating a perimeter dough. There will be no dough on the bottom of the pan.
Pour the custard mix into the pan. Add the bananas. Add the blueberries. Place the three remaining strips of dough on top the mixture and pinch into the existing dough around the pan.
Use a pastry brush to coat the strips and around the pan dough with egg white wash.
Bake about 30 to 32 minutes in a preheated 350 oven.
Remove and let it rest. Serve or refrigerate.
https://allyskitchen.com/hometown-blueberry-banana-pie/
©ally's kitchen intellectual property