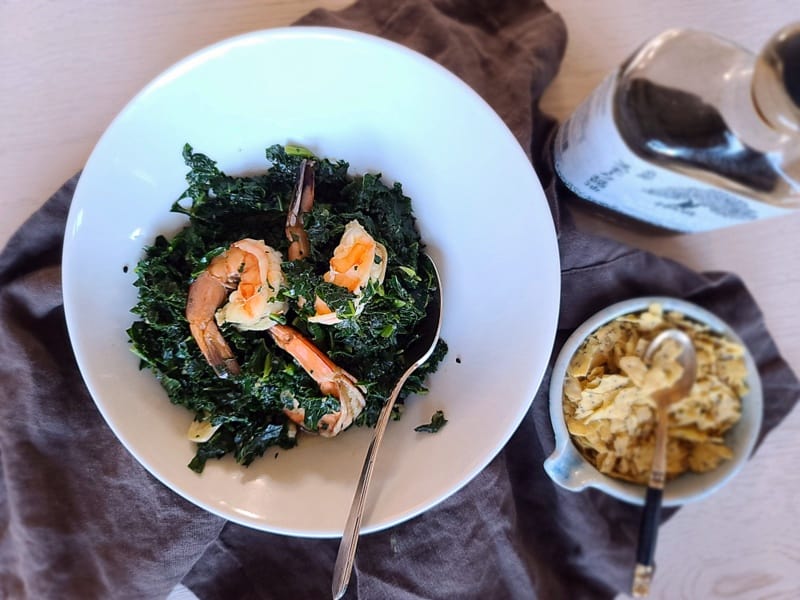 Choked full of nutrient dense kale, this best kale soup is truly THE best. To add something to it, there's delicious shrimp! Taste the fresh!
Easy Kale Soup
OK, everyone needs an easy kale soup. And, believe me, this one is super easy!
A note about this soup. It's all about the kale and shrimp, so there's not a lot of broth. You just want that kale and shrimp to steep in the nutrients of the bone broth and shrimp broth.
Soup with Kale
We're going to use some delicious bone broth as well as simmering in about a cup of water the shrimp shells and tails.
That's the big reason I want you to purchase shrimp that you have to peel. You'll get so much flavoring from those shells and tails.
And, look for the 'deveined' shrimp. The shells and tails are so simple to pull off. I promise!
Kale Soup with Beans
Most all of us love kale with beans, and this kale with shrimp is a new twist.
I'm using some Asian inspired ingredients like toasted sesame oil, fish sauce and smoked shoyzu soy sauce.
If you're looking for kale with beans, then by all means, try this recipe! Artisan Beef Kale Bean Soup!
Kale Soup with Sausage
Probably my most popular kale soup with sausage is this Andouille Sausage Kale recipe. It's simple to make. Packs a kick with the andouille sausage. And, is rustic and hearty. Have lots of hot crusty baguette to sop in the broth!
Kale Soup Recipes
Kale soup recipes are best when you have a rich stock to cook in.
And, the best way to achieve that? Well, simmer those shrimp tails and shells.
Then you're going to use one of THE best bone broths out there. Kettle and Fire. You can Google and read about it yourself. It's packed with nutrients, gelatin and collagen.
I keep it in my pantry all the time. From just sipping on it daily to using in recipes, it's a staple. Just like salt and pepper for me.
With my discount code ALLYSKITCHEN at checkout, you'll get 20% off our order (one-time orders/does not apply to subscription plans). Here's the link! Kettle and Fire
Be sure to use your discount code. Delivered right to your home! And, a tip. I'd buy a couple of boxes. They do run out!
Sausage and Kale Soup
While sausage seems to go naturally with kale, sometimes you might want to vegetarian it and have with corn. I love this Tuscan kale with corn. It's a hearty side dish and perfect with anything from pot roast to grilled chicken.
Kale and Shrimp Soup
Hope you try this kale and shrimp soup. It's pretty darn simple to prepare. And, with the addition of the bone broth, shrimp broth, nutritional yeast, it's a power nutrient packed meal!
And, if you haven't tried the smoked shoyzu sauce, take a peek. Yes, a little pricey, but it lasts forrrrever. It has so many applications!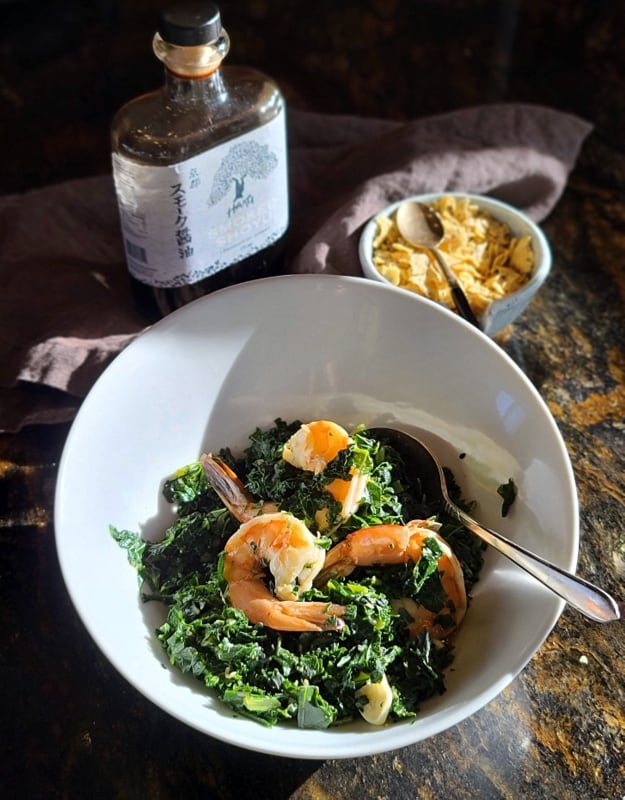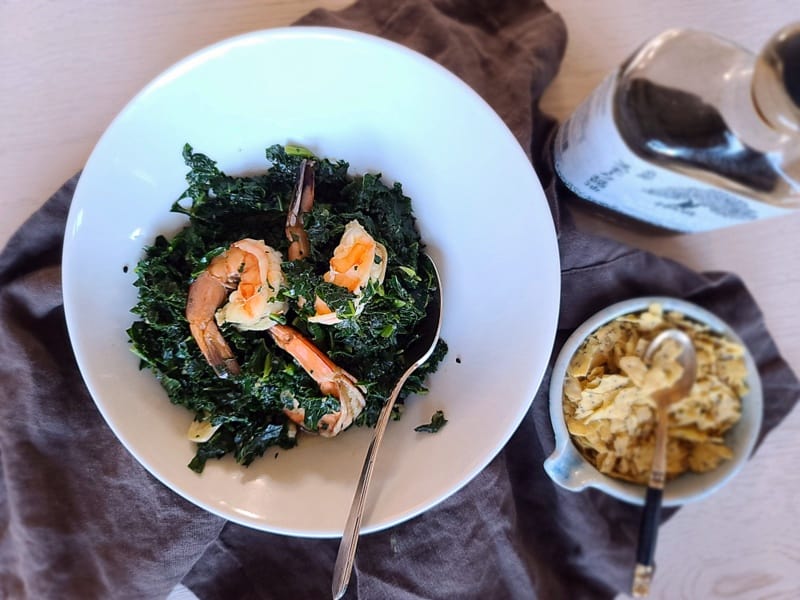 The Best Kale Soup
Yield:
About 4-6 servings
Ingredients
1 lb. shrimp, large, shell/tail on, deveined, peel shrimp, remove tails, reserve peels/tails to simmer in water
4 Tbl. toasted sesame oil
5 garlic cloves, peeled and thinly sliced
16 oz. bag chopped kale, chop into more fine texture
1 cup Kettle & Fire chicken stock + 1 cup water
2 tsp. nutritional yeast
1 tsp. sea salt
1 tsp. coarse ground pepper
1 Tbl. fish sauce
4 Tbl. Shoyzu smoked soy sauce
Instructions
In a small sauce pan, put the shrimp shells/tails in one cup of water. Turn blaze to medium. Cover and let this simmer about 7 minutes. Turn off heat. Remove shells and tails and discard. Reserve liquid.
In a large 10-12" deep skillet over medium heat, put the sesame oil and garlic. Sauté a couple of minutes until the fragrances open. Add the kale.
Add the nutritional yeast, salt, pepper, and fish sauce to the chicken stock/water and shrimp water. Blend then pour over the kale. Use tongs to blend and mix. Cover and cook about 8-10 minutes on medium low.
Add the shrimp. Toss and blend into the wilted/cooked kale. Cover and let the shrimp cook about 5-7 minutes or until beautifully pink.
Add the soy sauce. Serve immediately.
Notes
For flair, you can leave some of the tails on the shrimp as you see that I did in these photos!