Greek Chicken Fennel Onions and Olives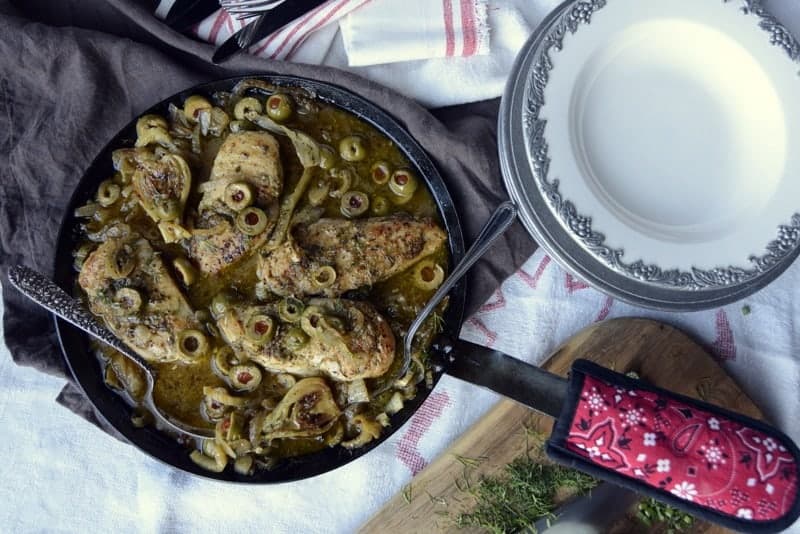 Bedazzle your table and your guests with this greek chicken recipe that's so simple to make in one skillet! Plus, there's a secret nutritional boost!
Chicken and chickpea recipe
If you've ever tried to hit the table for Passover dinner, then you haven't been at my house when my mother thought she was putting the Haggadahs on the linen closet's top shelf, but they just haven't. And we thought we had both red horseradish and white horseradish, but we didn't, and Dad really likes red horseradish. We cooked potato fennel onion tart and it turned out to be delicious.
Moroccan chicken recipe
Also, a thick sauce with onions, lemon, and olives keeps the meat moist and adds good savory, sweet, tart, and salty notes. It keeps it lively with a bit of hot sauce. So, yes, a dish that can hang out and still be delicious for a little while. And it's just fine to be served hot, yes, but also sweet. You can also try out making greek isles grilled chicken if you feel it a difficult one.
Chicken fennel
You could serve this one-skillet greek pork chops right from the pan, or shift the cooked chicken to a large plate for a moment, transfer the onions and olives and all of the wonderful sauce to a shallow serving platter, and then put the chicken back on top. Serve with a huge bowl of mashed potatoes, or even polenta, maybe. Many other starches, from fregola to couscous, will also be ideal on occasions other than Passover.
Easy chicken fennel dinner recipes
Passover arrives in the spring, but in the evenings there is always always a bit of a chill in the air as families and friends gather for Seder dinners in their homes. At this time of year, a richly flavored and warming meal is still quite welcome most of the time, and Jewish culture kind of leans very heavily into warm and hearty food, so everything just feels right anyway.
Chicken yummy recipe
As well as Middle Eastern cuisine, Moroccan food has always fascinated me due to its exotic use of spices, dried and pickled fruits such as Preserved Moroccan Lemons. In this typical Moroccan tagine that's braised, you can pair your preserved lemons with olives.
Morrocan chicken recipe
A tagine is traditionally a rich lamb, chicken, or fish stew, and usually includes vegetables or fruit along with farm table greek vegetable soup. A tagine is a unique type of cookware made of ceramic or clay that is common in Morocco. For both cooking and serving, the bottom is a large, circular shallow bowl, while the top of the tagine is distinctly formed into a rounded dome or cone. If you do not have a tagine, like my trusty Le Creuset, a Dutch oven would do.
Fennel and chicken recipes
I am shopping for my own refrigerator and freezer for this greek chicken recipe! Especially for a foodie like me who creates recipes and has food blogs. Yes, I'm cooking virtually every single day, so I have a fully stocked pantry, overflowing freezer, doubles and triples of spices and spice mixtures, and a refrigerator that's stocked to the brim.
Fennel chicken on a skillet
As you can imagine, it's easy for things to get pushed to the back of a shelf as new products are brought in. That means I have to check expiration dates carefully, and, I'm telling you, it really bugs me that I'm not more vigilant about rotating in and out products according to usage dates! But, I mean, I'm not gonna be hard on myself, and that's what I'm getting to with this recipe for one-skillet greek chicken fennel onions and olives!
Quick and delicious chicken
In my refrigerator vegetable drawer, I had two bulbs of fennel that just had to be used lest I would be tossing them out in another 36 to 48 hours. Rather than do that, I mean they were organic and pricey, I decided to create this recipe. And, yes, in my freezer were the chicken breasts that needed to be used and a big ol' sweet onion in my pantry basket that had already sprouted a big green stem on top, so it was time to use all of these things.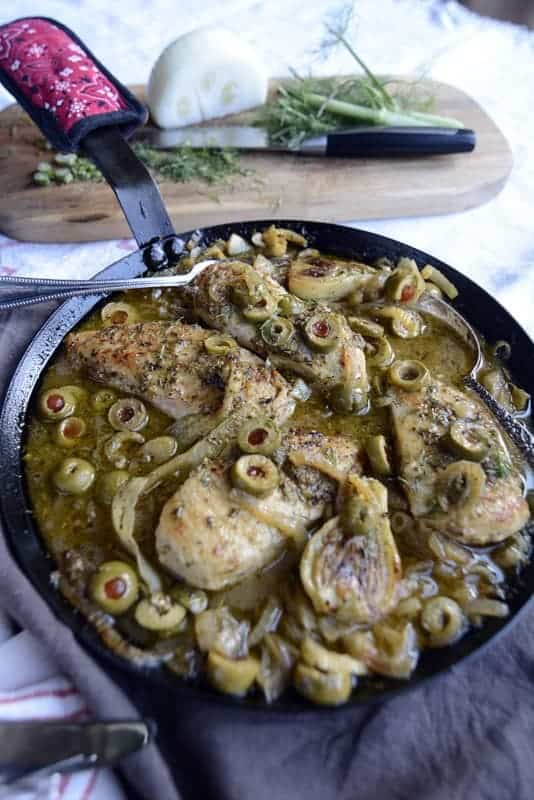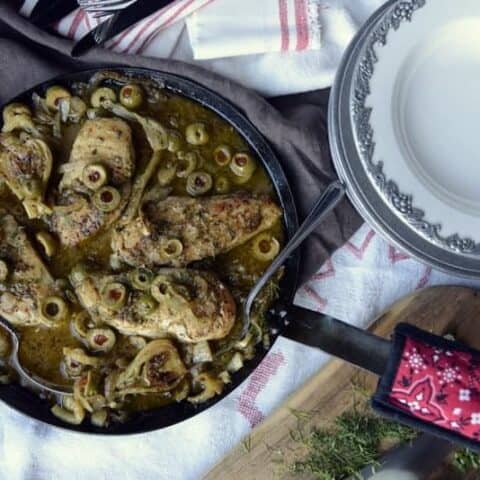 One Skillet Greek Chicken Fennel Onions and Olives
Bedazzle your table and your guests with this greek chicken recipe that's so simple to make in one skillet! Plus, there's a secret nutritional boost!
Ingredients
Preheat oven to 375
1 cup pineapple juice
1 cup chicken stock
¼ cup lemon juice
1 Tbl. Greek seasoning mixture
1 Tbl. Braggs Nutritional Yeast
1 tsp. sea salt
1 tsp. pepper
¼ cup extra virgin olive oil + 3 Tbl., divided
4 chicken breasts, skinless, boneless, about 2 to 2 1/2 pounds
4 garlic cloves, sliced thinly
2 cups onions, sliced thinly in half moon shapes or French cut
2 bulbs fennel, thinly sliced, some of green leaves, chopped, and some of the chopped frowns reserved for garnish
1 cup olives, sliced with pimentos
Instructions
In a large glass measuring cup, put the pineapple juice, chicken stock, lemon juice, Greek seasoning, yeast, salt and pepper. Whisk together well. Set aside.

Put a large (12") cast iron skillet on a medium high blaze. Let it get hot. Add one-fourth cup of olive oil. Brown the chicken on both sides, about 2-3 minutes each side. Using tongs, remove the chicken to a plate. Reduce heat to medium.

Add the garlic, onions, and fennel. Sauté for about five minutes. Spread out this mixture in the skillet.

Put the chicken breasts on top. Add the olives on top/all around. Stir the liquid mixture juice/seasoning mixture well combining everything and pour onto the chicken/olive/onion/fennel.

Cover with doubled foil and a lid. Cook in a preheated 375 oven for 30 minutes. Remove lid and foil. Drizzle the remaining three tablespoons of olive oil on the chicken.

Turn oven to broil for about 4-5 minutes to brown chicken.