I am shopping my own refrigerator and freezer for this greek chicken recipe! Especially for a foodie like me who create recipes and have food blogs. Yes, I'm cooking virtually every single day, so I have a full stocked pantry, overflowing freezer, doubles and triples of spices and spice mixtures, and refrigerator that's stocked to the brim. As you can imagine, it's easy for things to get pushed to the back of a shelf as new products are brought in. That means I have to check expiration dates carefully, and, I'm telling you, it really bugs me that I'm not more vigilant about rotating in and out products according to usage dates! But, I mean, I'm not gonna be hard on myself, and that's what I'm getting to with this recipe for one skillet greek chicken fennel onions and olives!
In my refrigerator vegetable drawer, I had two bulbs of fennel that just had to be used lest I would be tossing them out in another 36 to 48 hours. Rather than do that, I mean they were organic and pricey, I decided to create this recipe. And, yes, in my freezer were the chicken breasts that needed to be used and a big ol' sweet onion in my pantry basket that had already sprouted a big green stem on top, so it was time to use all of these things.
Probably one thing that never goes unused in my refrigerator are olives. I'm always eating and incorporating olives into so many things from salads to entrees to charcuterie boards and more. So, I guy these olives at Costco and get the big boy jars because I absolutely know they will not get anywhere near an expiration date! This recipe is so simple to make. I roughly timed myself in getting it ready to put in the oven for the baking time, and it was about 17 minutes. It doesn't take long at all. As you can imagine, the flavors are explosive. And, if you're not using fennel often, hopefully, this recipe will turn you on to this beautiful vegetable.
The Kitchn describes fennel in this simple way:
Fennel is a bulbous vegetable with a tall, wispy, fronded top that looks rather like dill. The fronds can be used in salads, but the main attraction of fennel is the bulb itself. It's very firm and crunchy, and it tastes a bit like licorice and anise. It has a fresh, bright taste and it's one of our favorite vegetables for salads and slaws. It can also be grilled or braised until tender.
The bulb is made of overlapping layers of vegetable, almost like a cabbage — but very firm and hard. To be used in salads, fennel should be sliced very thin, and it's easiest to do this with a mandoline.
Fennel also has some pretty impressive healthy benefits including helping reduce flatulence, boosting immunity and helping your eyes! So grab some fennel next time your at your grocer or the farmers market, it's peak season is mid-Fall through Spring, but you'll be able to find it year round in most grocery stores.
Now something that I love love is this carbon steel skillet that you see that I've used. It's just so very versatile! I can fry/stem up to a dozen eggs in it at one time. It's perfect for thin crispy cornbread. And, it's one of our favorite camping skillets because it works very well over a live fire.
Another product I think you'll enjoy having in your pantry is Braggs Premium Nutritional Yeast. There are numerous benefits of nutritional yeast, and Thrive Cuisine gives us 15 pointers! I use it with soooooooooo many recipes! You can order it on Amazon. And, here's what Bon Appetit has to say about this product.
Check out this yummy recipe for Greek Isle Chicken!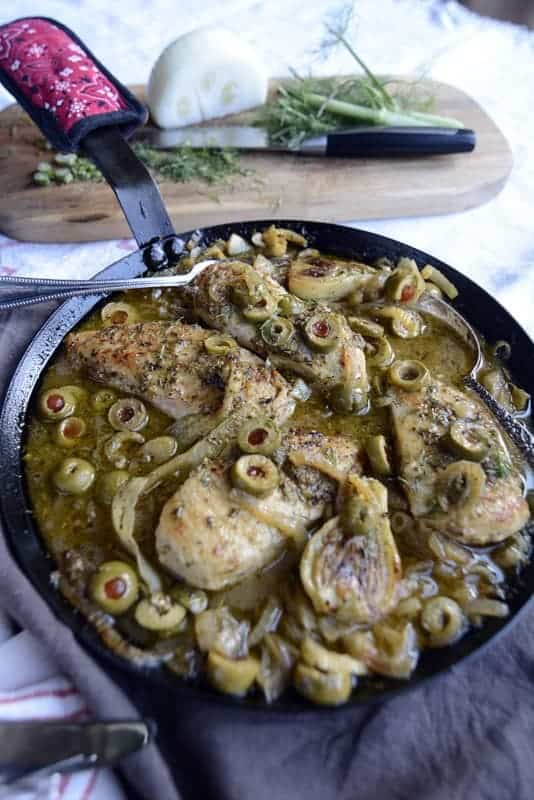 one skillet greek chicken fennel onions and olives
Ingredients
Preheat oven to 375
1 cup pineapple juice
1 cup chicken stock
¼ cup lemon juice
1 Tbl. Greek seasoning mixture
1 Tbl. Braggs Nutritional Yeast
1 tsp. sea salt
1 tsp. pepper
¼ cup extra virgin olive oil + 3 Tbl., divided
4 chicken breasts, skinless, boneless, about 2 to 2 1/2 pounds
4 garlic cloves, sliced thinly
2 cups onions, sliced thinly in half moon shapes or French cut
2 bulbs fennel, thinly sliced, some of green leaves, chopped, and some of the chopped frowns reserved for garnish
1 cup olives, sliced with pimentos
Instructions
In a large glass measuring cup, put the pineapple juice, chicken stock, lemon juice, Greek seasoning, yeast, salt and pepper. Whisk together well. Set aside.
Put a large (12") cast iron skillet on a medium high blaze. Let it get hot. Add one-fourth cup of olive oil. Brown the chicken on both sides, about 2-3 minutes each side. Using tongs, remove the chicken to a plate. Reduce heat to medium.
Add the garlic, onions, and fennel. Sauté for about five minutes. Spread out this mixture in the skillet.
Put the chicken breasts on top. Add the olives on top/all around. Stir the liquid mixture juice/seasoning mixture well combining everything and pour onto the chicken/olive/onion/fennel.
Cover with doubled foil and a lid. Cook in a preheated 375 oven for 30 minutes. Remove lid and foil. Drizzle the remaining three tablespoons of olive oil on the chicken.
Turn oven to broil for about 4-5 minutes to brown chicken.
https://allyskitchen.com/greek-chicken-fennel-onions-and-olives/
©ally's kitchen intellectual property