fried chicken livers appetizer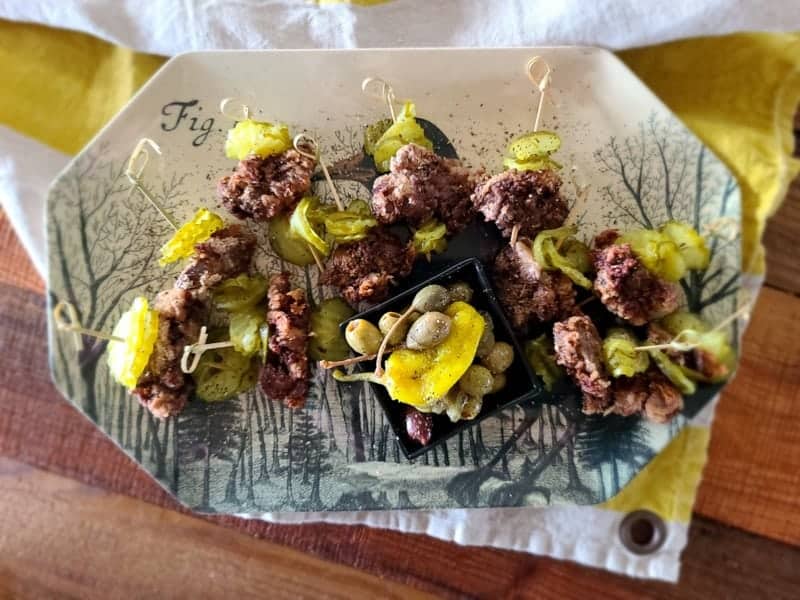 Fried chicken livers appetizer is the next trend in entertaining! Healthy and delicious! Skewered with pickles, olives makes them sparkle!
Great Appetizers
One of THE best great appetizers I've ever made? Well, unequivocally, these fried chicken livers appetizer!
Chicken Livers Recipe
Unless you really love chicken livers, you may rarely search Google for a chicken livers recipe. However, if you're a chicken livers lover like me, then finding new creative ways to eat chicken livers is always a treat!
Best Fried Chicken Liver Recipe
Without a doubt, the best fried chicken liver recipe, well, is what it says, FRIED! I'm not much of a fan of liver pate or chicken livers prepared any other way than fried.
Best Party Appetizers
And, if you're looking for the best party appetizers that will make your guests say 'WOW', then you'll want to make this recipe. Believe it or not, you may find chicken liver lovers come out of the closet!
Chicken Liver Appetizers
What makes chicken liver appetizers so delicious? Well, first of all, frying something just adds another dimension of texture and flavor to the ingredient be it meat, vegetable or fruit. And, these chicken livers are perfect for putting on individual skewers and adorning them with things like olives, pickles, pepperoncini, cherry tomatoes, mozzarella balls and more.
How to Fry Chicken Livers
You might as how do I fry chicken livers. Well, about the same way your fry fish, shrimp, or chicken. You batter the livers after they've been rinsed, cleaned and patted dry. Then you get your oil hot. Put them in, don't crowd the livers, and you fry on each side about four to five minutes depending upon the size of the liver. Smaller livers fry faster of course.
Another thing about frying chicken livers is the popping. Here's the skinny on that.
Livers have liquid in them. And, it's almost impossible to keep them from popping while frying. You can use a frying screen. That helps from getting splattered with a rogue pop. And, having a flour battering can help with excessive popping. It seems that the flour absorbs some of the liquid.
How Long to Fry Chicken Livers
And, that's the essence of how long to fry chicken livers. It all depends upon the size of the liver. You'll want to fry the livers for at least five minutes, smaller livers. You can use a food thermometer to check the internal temperature of the largest livers in your batch, and that should be above 70 degrees Celsius or about 158 Fahrenheit. Another gauge for frying chicken livers is to cook them until they are no longer bloody in the core. I know that's pretty descriptive, but that's food science.
Appetizers Easy to Make
Here are a few more easy to make appetizers!
10 Quick and Easy Last Minute Appetizers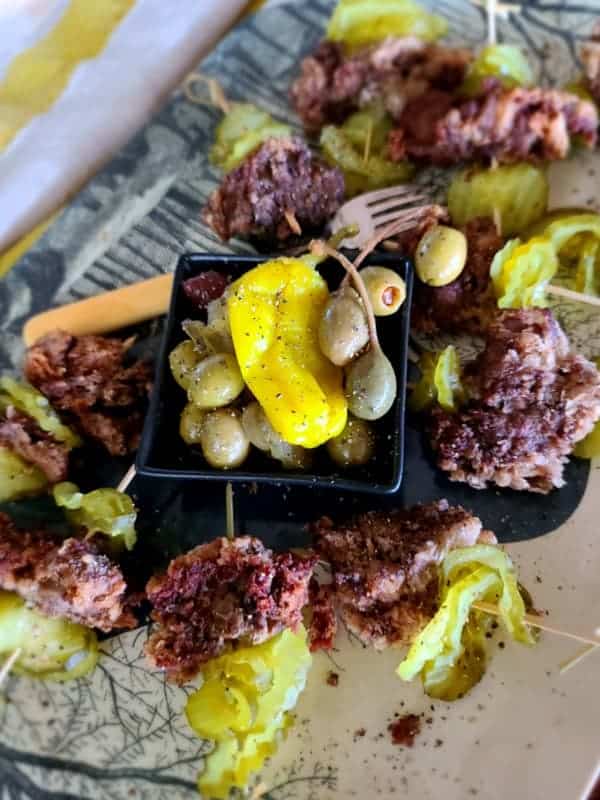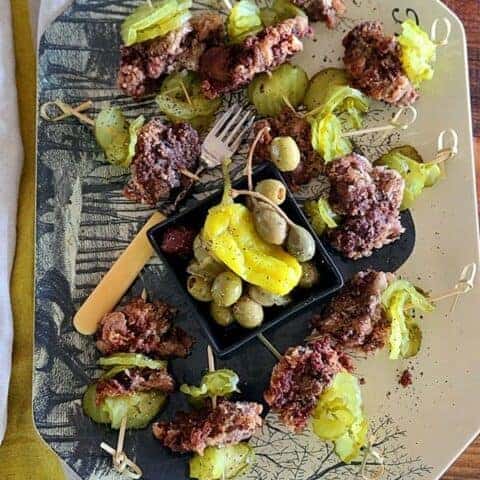 fried chicken livers appetizer
Yield: About 12 to 15 livers

Fried chicken livers appetizer is the next trend in entertaining! Healthy and delicious! Skewered with pickles, olives makes them sparkle!
Ingredients
1 lb. chicken livers, drained, rinsed, patted dry with paper towels
1 1/2 cups flour, all purpose
1 tsp. salt
1 tsp. pepper
1 tsp. red chili flakes
2 cups dill pickles, drained
1 cup avocado oil
Sea salt flakes
Cocktail skewer sticks
Instructions
Prepare the chicken livers. Drain. Rinse well. Pat dry with paper towels. See notes below for less popping while frying.
Put the flour in a large bowl. Add the salt, pepper, chili flakes and blend. Put a few livers in at a time and coat with the flour, then gently shake off excess. Place on a parchment paper covered cookie sheet with spacing between each liver.
Put the oil in a large cast iron skillet (10-12" diameter). Put the oil in on medium high heat. Let it get hot.
Put a few livers in at a time and fry on each side (depending upon the size of the liver) for about three minutes or until the internal temperature is about 160 degrees (largest liver).
Use a slotted spoon to remove to a plate with a paper towel.
When the livers have cooled somewhat begin to skewer. Put on a few pickles, then the liver, then more pickles. You can fold over the pickles so they'll skewer more easily.
Sprinkle with coarse finishing sea salt flakes and fresh cracked pepper.
Serve immediately.
Notes
1. Bacon drippings can also be used for frying the livers.

2. You could also do a combination of avocado oil and bacon drippings.

3. I've never used coconut oil, but you could certainly try it!

4. To help with the frying of the livers and less popping:

*Use a Splatter Screen on top

*Start with medium, not high, heat. Then as the livers have fried and are less likely to pop, increase heat to get more crispy.

*Soak the livers in milk for about an hour prior to cooking. It helps with reducing 'metallic' or sometimes 'bitter' taste.

*Before cooking, poke the livers with a fork.

*Cooking the livers in a Dutch Oven, deeper pot, helps with popping.