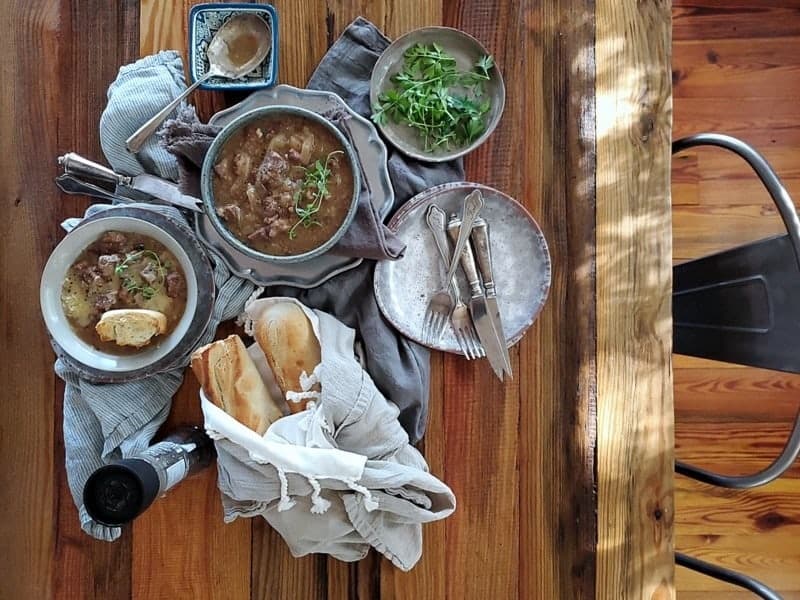 French Onion Soup Recipe
If you like beef stew and French onion soup, then you're gonna LOVE this french onion beef stew! It's a match made in culinary heaven. Perfect EZ gourmet!
French onion soup is a classic dish. And, do you know that it has a curious history. That's what's so cool about food and certain dishes. They just don't 'appear' without some background and reason for appearing. And, those that are timeless lasting centuries, well, you know they are classics. There's a connection between this classic dish and my french onion beef stew! So while this is not actually a french onion soup recipe, it's a way to get that flavorful french onion soup taste but with chunks of tender beef.
Best French Onion Soup
The best French onion soup has a curious history. Like eating pizza at 2 a.m. for a hangover, french onion soup is considered a kind of hangover cure. But how was French onion soup 'invented' if that's the right word. So, here's one version of it from Vice.
Onion soup has been in France's culinary repertoire for so long that it's nearly impossible to know how it was first invented. While some attribute the recipe to King Louis XV who, returning from a hunt, saw his cupboards were bare except for onions, butter, and Champagne (serious First World problems), others claim Louis got the idea from Stanislas Leszczynski, duke of Lorraine and father of the Queen Consort of France. According to this version, Stanislas first tasted onion soup at an inn in the Champagne region. He found it so delicious that, according to Alexandre Dumas' Grand dictionnaire de cuisine, he asked to see how it was made. While "the smell of the onion […] brought great tears to his eyes," he managed to copy down the whole recipe.
My thinking is that if the best French onion soup is perfect for a hangover and King Louis XV, then it's even more perfect with beef in it. And, to get that tender beef stew in just a little time of cooking, we need a pressure cooker. Pull out the multi-cooker
Pressure Cooker Beef Stew
My pressure cooker beef stew will tenderize the meat in no time at all. Actually, as a young girl I was frightfully scared of pressure cookers. Mom used them frequently, but her pressure cooker was the old fashioned kind. She'd lock on the top, the teeth looked like the jaws of death, and when the pressure cooker let off the steam, it was a horrific cacophony of screeches and screams. When I got my multi-cooker that had a pressure cooker setting for meat, well, I'll admit I was hanging on to childhood anxieties.
Using a more tender cut of beef also helps this beef stew tenderize in no time at all. You want the chunks to be juicy and fork tender.
Beef Stew with French Onion Soup
So, while this beef stew with French onion soup doesn't have the history behind it, it's duly inspired by the tantalizing flavors of the soup. You've not only got some of the components of the soup, you've got chunks of tasty tender beef. And, using a few shortcuts never hurts when cooking, especially when you're super busy and want to get a meal on the table! Here's a bonus with this dish. If there's a lot of broth/gravy left, refrigerate and then make some beef vegetable soup. Just add some vegetable or beef stock to the gravy and your veggies, and you've got yet another delicious meal!
Beef Stews
Check out some of my other beef stews! These are NOT difficult beef stew recipes! Promise xoxo ~ally
Tomato Garlic Bone Marrow Beef Stew
Jeffersonian Inspired Chunky Vegetable Beef Stew
New York Strip Pomegranate Beef Stew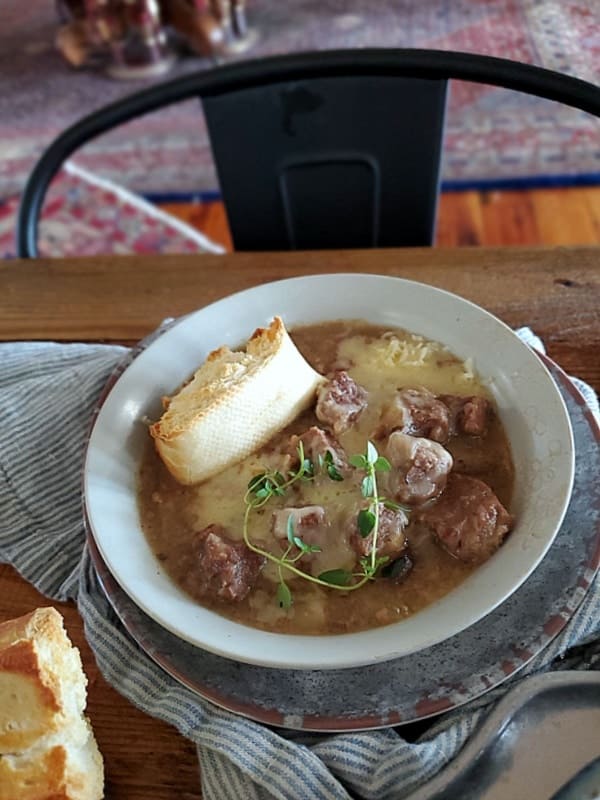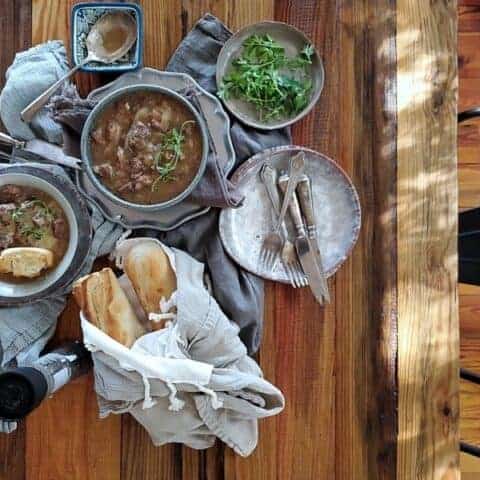 french onion beef stew
If you like beef stew and French onion soup, then you're gonna LOVE this french onion beef stew! It's a match made in culinary heaven. Perfect EZ gourmet!
Ingredients
2 Tbl. Olive oil
1 Tbl. Garlic, finely minced
2 to 2 ½ lbs. beef, cut in about 2" chunks, prefer to use ribeye or NY strip cut
1/3 cup flour, all purpose
1 tsp. sea salt
1 package (8 oz.) mushroom simmer sauce + 1 cup water, Seeds of Change
1 can (18.5 oz.) French Onion soup, see options below
4 cups onions, thinly sliced, French cut (half moons)
1 cup cheese, shredded, gruyere, fontina, swiss
Instructions
Put the olive oil and garlic in the cooker.
Combine the flour and salt in a large mixing bowl. Add the beef chunks. Dump in the cooker.
Combine the mushroom sauce, soup and water in a large measuring cup and blend. Pour over the meat.
Add the onions on top.
Cook on [Meat] for 1.5 hours (pressure cooker).
When serving, top with shredded cheese and microwave about 30 seconds until the cheese is melted.
Notes
French Onion Soup Options: