If you're like me, you're always looking for new ways to create your chicken dishes. In fact, chicken recipes seem to be one of the most searched recipes on the Internet! In 2014 Country Living ranked it as #2~the #1 searched recipe was banana bread!
Howwwwever, Google searches showed that the clucker, yes, the bird, as in chicken was #1! Know what else people love to search for on Google~breakfast foods~things like  pancakes, waffles, French toast. Hands down though looking at other rankings of the most searched recipes, chicken is clearly the hot potato!
So, in 2016, I pledge to do more chicken. Now, I've always loved chicken, but I'm going to get super creative with using the bird in unique ways. So be sure you're signed up to get my recipes here at Ally's Kitchen because you don't want to miss a single one!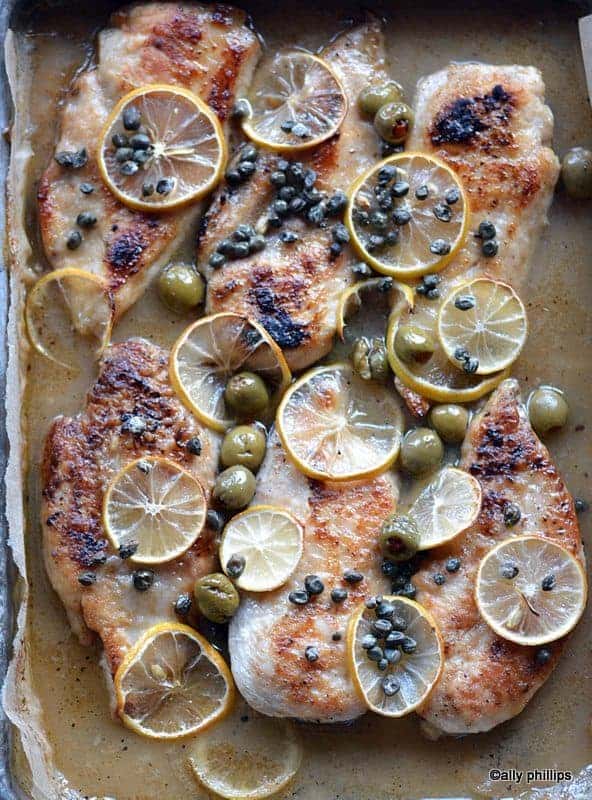 wine sauce lemon chicken capers & olives
Ingredients
Serve: 8
Preheat oven to 375
3 lb. chicken breasts & thighs, thin cut breasts, boneless and skinless, pat out thighs to make thinner
1 tsp. sea salt
3 Tbl. Butter, salted & melted
1/3 cup flour + 3 Tbl., divided
1/3 cup canola oil
3 heaping Tbl. Capers, drained
¾ to 1 cup small green olives, with pimento & drained
2 large lemons + ½ lemon, thinly slice two lemons
1 cup white wine (chardonnay or pino grigio)
2 ½ cup chicken broth
Instructions
Put the chicken on a large cookie sheet lined with parchment paper. Sprinkle the salt over both sides. Drizzle on the butter. Turn the chicken and coat both sides.
Dust both sides of the chicken with one-third cup of flour.
In a large (10-12") cast iron skillet over high heat, put the oil. Let it get hot. Put several pieces of the chicken in and brown on both sides. (Regulate heat between high and medium high.) Use tongs to turn the chicken.
When browned, place on the second cookie sheet with clean parchment paper. Repeat until all chicken is browned. Scatter the thin slices of lemons, capers and olives on the chicken.
Turn heat to medium high. Whisk together the three tablespoons of flour with the wine making a cloudy mixture. Pour into the hot skillet and deglaze scraping all the good stuff that's left in the skillet.
Add the chicken broth and whisk into a thickened broth mixture. Squeeze in the lemon juice from ½ lemon.
Pour onto the chicken. Bake in a preheated 375 oven for 20-22 minutes. Remove and ready to serve.
Notes
Have two cookie sheets lined with parchment paper. You'll need tongs and a whisk.
https://allyskitchen.com/wine-sauce-lemon-chicken-capers-olives/
©ally's kitchen intellectual property