Easy Peanut Butter Pie Crust Cookies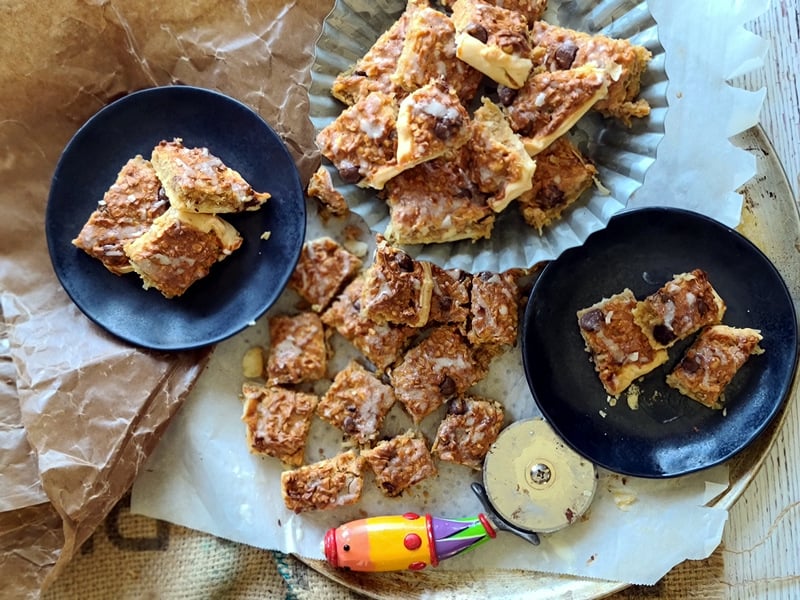 Easy Peanut Butter Pie Crust Cookies come with a rich history. This recipe is a variation of the original which kept secret for centuries.
Pie Crust Cookies Recipe
The first time I heard about pie crust cookies was from my three sons' Spanish teacher, Miss Briggs, in high school. After she retired and moved away, years later on Facebook she contacted me about some recipes that she had of her mother's. She asked if I wanted the recipe cards. Of course, I was thrilled. YES! Vintage recipes are full of history. And, this recipe has an intriguing story.
This recipe for peanut butter pie crust cookies is a variation of Miss Briggs' mother's recipe. I'm sure she'd approve!
Ideas for Pie Crust
There are so many things that you can do with a pie crust, whether made from scratch or refrigerated pre-made. The options are abundant. In fact if you want more ideas, then here's a round-up of recipe ideas using refrigerated roll-out pie crusts!
Simple Peanut Butter Cookies
I love peanut butter. And, cookies are the best with peanut butter.
Probably my MOST SIMPLE peanut butter cookies recipe is made with three ingredients. Yes, only three. Don't believe me? Well, make them and you'll see!
Easy Peanut Butter Cookies Recipe
This recipe is yet another easy one. The refrigerated pie crust gives you that dougheeeee crust that's got a little crunch.
Then you have a baked topping of all those things that just make you happy, chocolate, coconut, peanut butter, butter!
Best Peanut Butter Cookies
No doubt in my mind that this is one of the best peanut butter cookies out there. And, with the addition of the salty chopped peanuts, you've got some serious crunch going on.
Pie Crust Cookies with Chocolate
You do have some options with this recipe. If you want to omit say the coconut, go ahead. All should work well. If you want to omit the chocolate chips, no problem. Or if you want to swap chocolate chips for toffee chips, no problem.
Old Fashioned Pie Crust Cookies
The very original pie crust cookie recipe that was literally secret for decades is now yours.
I get a warm feeling in my tummy everytime I take a bite of these vintage pie crust cookies. There's a reason for that feeling! Cookies with a history.
How Long to Bake Pie Crust Cookies
It doesn't take long for these cookies to bake. I like to have the crust a light golden brown. Don't overbake because the crust will crumble and fall off the cookies.
These cookies keep well, lightly covered, for two or three days. I don't cover them air tight because I don't want the crust to get too soft.
Pie Crust Desserts
Pie crust desserts are not just pies. So many things you can do with a pie crust whether you make from scratch or use a refrigerated crust.
Be sure to score the pie crust with the mixture topping before baking. This forms a template of sorts and makes for cleaner cuts of individual cookies.
And, know that because we're dealing with a round pie crust, we're going to have some funky cookie shapes with some of the cookies!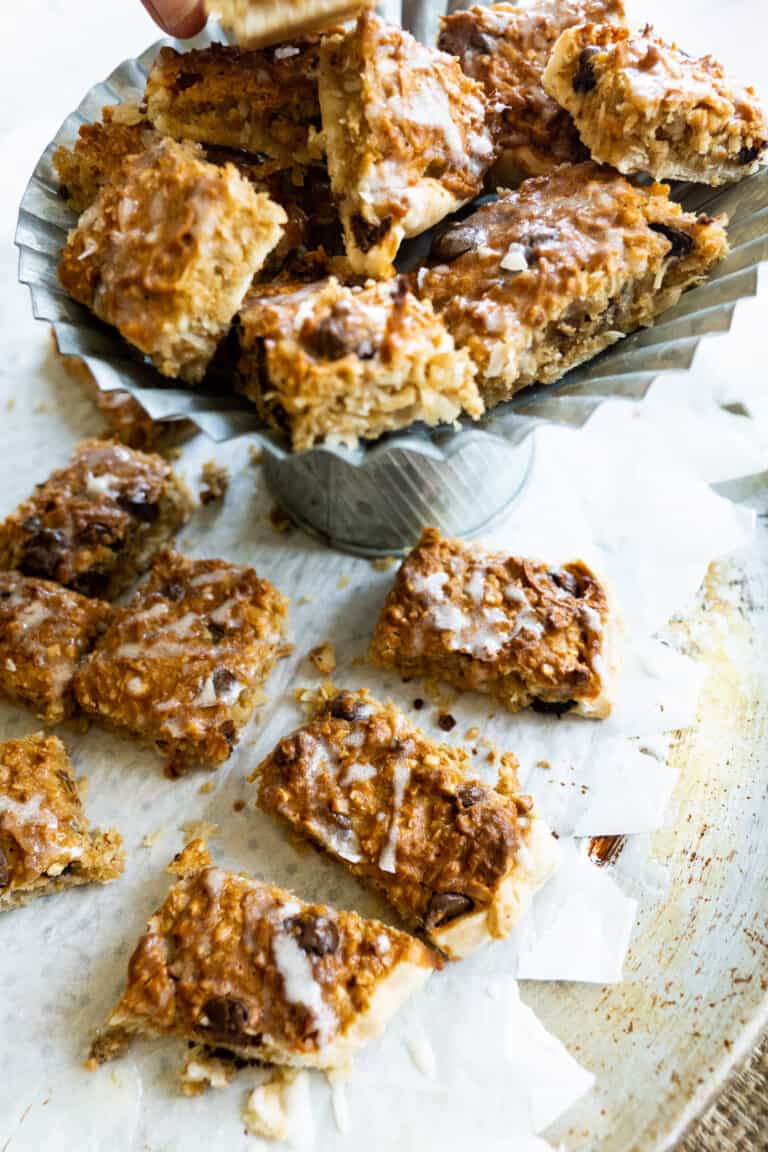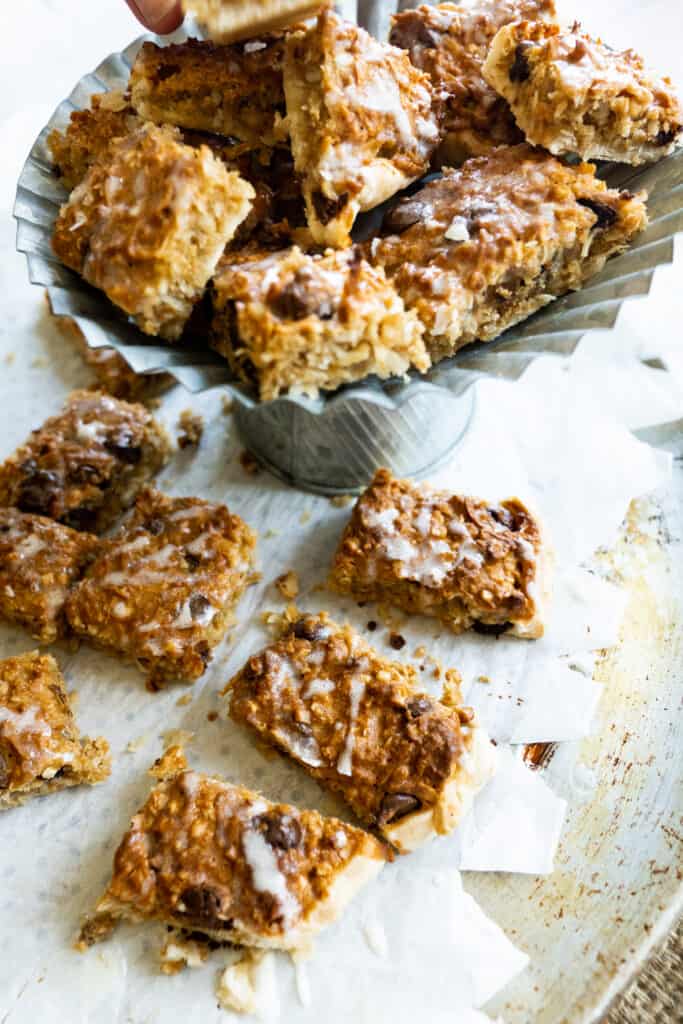 Easy Peanut Butter Pie Crust Cookies
Yield:
Make about 24 cookies, different sizes
Ingredients
Preheat oven to 350
1 refrigerated rolled pie crust, room temperature, roll out on a parchment-paper lined cookie sheet
4 Tbl. Butter, salted, melted, divided
2 eggs, beaten
¼ cup brown sugar, packed
1 cup peanut butter, smooth or crunchy
½ cup coconut, sweetened
¾ cup chocolate chips, mini or chopped larger chocolate chips
1 cup salted peanuts, chopped
DRIZZLE:
1 to 1 ½ cups powdered sugar
1 medium lemon, juice
Instructions
Roll out the almost room temperature pie crust. Place on a parchment paper covered cookie sheet.
Combine in a medium sized mixing bowl the two tablespoons of melted butter, eggs and brown sugar. Blend well.

2. Add the peanut butter and coconut and blend. Then add the chocolate chips and salted peanuts and blend. The mixture will be getting really thick.

3. Spread this mixture on top the pie crust leaving about 1/4" around the perimeter. Pinch around the perimeter with the pie crust.

4. Take a pizza cutter and carefully cut into about 2" strips then criss cross making smaller pieces. The centermost of the pie crust will be square pieces (about 2"x 2").

5. There will be small pieces from the circular shape of the pie crust. Do no separate the pieces.

6. Bake in a preheated 350 oven about 17-19 minutes. Remove, let cool about 2-3 minutes. Then run the pizza cutter through the cuts (template) one more time actually cutting the cookies into servings.

7. DRIZZLE: Combine the remaining two tablespoons melted butter, powdered sugar and lemon in a bowl and blend together well. Drizzle on the cookies.