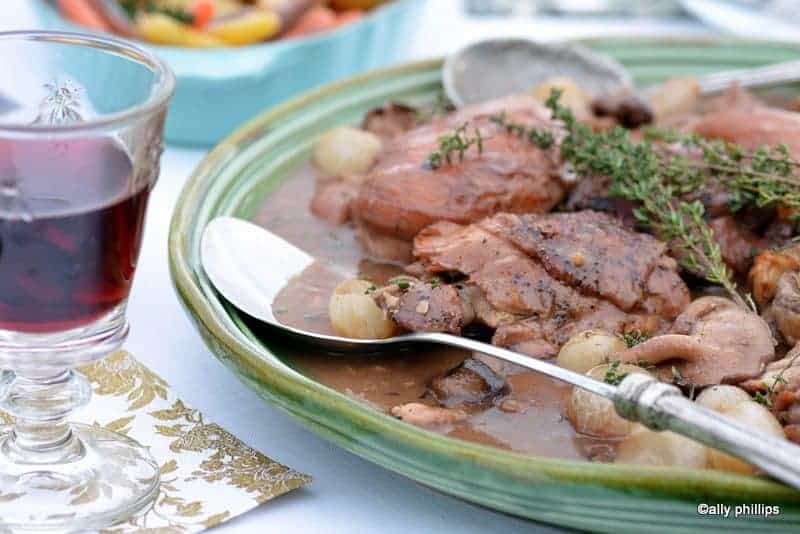 Traditional coq au vin chicken from my French girlfriend. Born and raised in Brittany, she's shared her mom's treasured recipe with me!
Coq au Vin Recipes
My husband's from western North Carolina. The place where Holly Farms, the chicken company started, and that baby bird company grew into what is now Tyson.
Chicken Coq au Vin
He's eaten a lot of chicken in his decades of life. And, that chicken's been prepared in a variety of ways. When he had this coq qu vin, he said unequivocally that it was THE BEST chicken he'd ever had!
I do know it can be a tad bit complicated with this recipe, so if you want something on more of the comfort food level for chicken with a great gravy sauce, then try this chicken pot pie, my version!
Coq au Vin
I must agree. This recipe, from my dear French girlfriend, Marie-Christine, is her mother's who still lives on the family farm in Brittany France.
Traditional Coq au Vin Recipe
She graciously shared it with me when I told her I was doing a piece for IHA Inspired Home on 'French Countryside Living and Eating'.
Coq au Vin Oven
Not only did she share this treasured family recipe, but she confirmed what I'd researched about the French and their love affair with food. Check out the post at IHA's website!
Coq au Vin Recipe Easy
The next morning, Ben's fishin' buddy, Dale, stopped by early. The boys were going out to catch something fresh for dinner. Now when someone comes through my kitchen door, they're gonna get eats. Instead of serving Dale early morning food, I warmed up a bowl of the coq au vin for him.
Easy Coq au Vin
Now Dale's a good ol' country boy who speaks with a slow mountain twang and a drawl 'cause he's from the hills of NC, too. After a couple of bites, Dale said seriously and in his methodical manner, "I ain't never tasted annneeeethang quite like this, Big Al (that's what he calls me).
Chicken with Red Wine
Dang, it's good.' I smiled and said, 'Well, Daaaaeeeellll (three syllables for 'Dale') it's got cognac and burgundy wine in it. Without losing a beat, Dale quipped, 'Waaeeelll, now that would be some mighty fine drunken cheeekin!'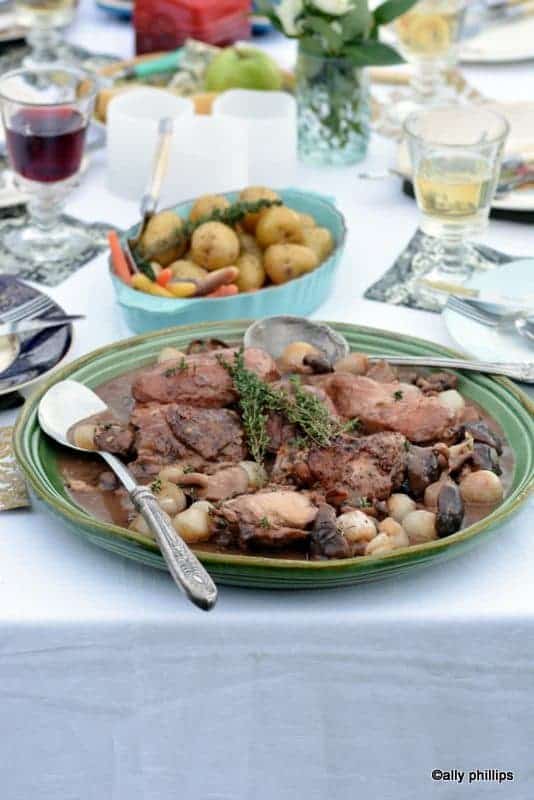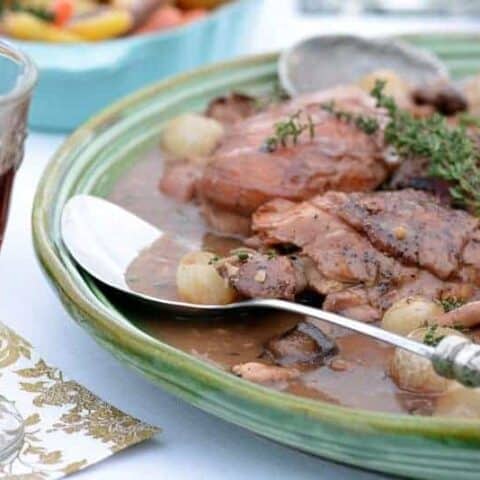 coq au vin
Ingredients
Preheat oven to 325
3 lbs. chicken, your choice as to pieces, bone-in, skin on best (I used thighs and breasts.)
4 slices thick cut hardwood smoked bacon, fried, drippings reserved, bacon crumbled and set aside for garnish
3 Tbl. Butter, salted
1 sweet onion, medium, diced
2 Tbl. Garlic, sliced thinly
1 ½ tsp. sea salt
1 tsp. coarse ground pepper
1/3 cup cognac
¼ cup all-purpose flour
½ bottle burgundy wine
2 cups chicken broth
3 cups mushrooms, preferably shitake, crimini, oyster, chanterelle, however, you can use regular mushrooms (do not slice if small)
2 cups pearl onions
1 Tbl. Fresh thyme leaves + Fresh thyme sprigs
Instructions
In a large heavy Dutch oven pot over medium heat, blend together the bacon drippings and butter. Add the onions and garlic and sauté about 2-3 minutes. Using a slotted spoon, remove the onions and garlic to a bowl.
Turn heat to high. Salt and pepper both sides of the chicken. Put in the pot and brown on both sides. (This could take several minutes.) Deglaze the pot with the cognac scraping all the good sticky tasty stuff from the sides and bottom. Reduce heat to medium high. Stack and push the chicken to one side of the pot (or take several pieces out temporarily), add the flour and whisk and cook about a minute. Add back the sautéed garlic/onions.
Add the wine and chicken broth and gently blend into the liquid/gravy. Spread out the chicken in the pot.
Cover the pot. Put in a preheated 325 oven for 40 minutes. Remove and add the mushrooms, onions and sprinkle on the thyme. Cover and return to the oven for another 20 to 30 minutes.
Garnish the serving plate with sprigs of fresh thyme and bacon crumbles.
Side note: Marie-Christine says to serve with either boiled potatoes as her mother does or French fries. She prefers boiled potatoes!
Notes
Have plenty of good crusty hot bread for sopping up the wonderful gravy!

When making this dish, you can leave in a warm oven for about 30 minutes prior to serving.

It's important to use a digital meat thermometer to check the internal temp of the meat. Chicken should be 165 degrees F. With different sizes of meat, you never know, so safe to check internal temps.