Greek Yogurt Cucumber Dip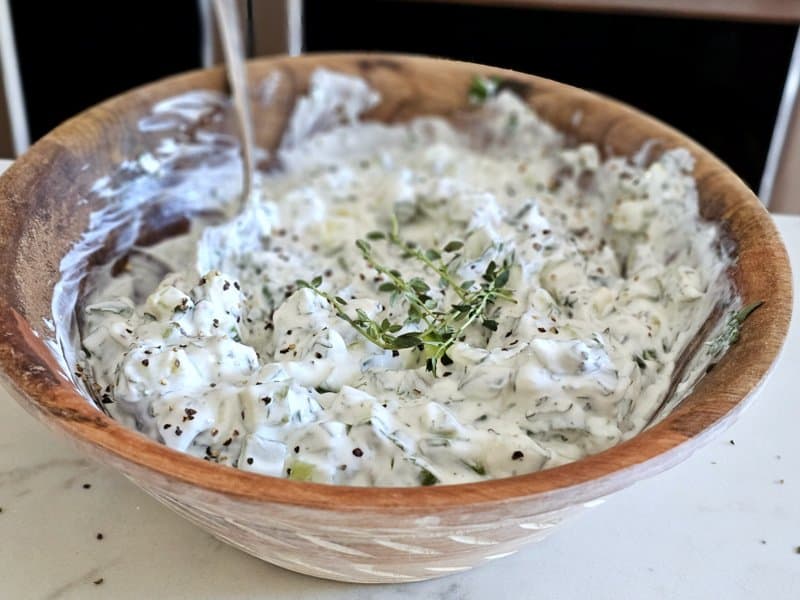 This easy Greek yogurt cucumber dip is perfect for everything from sandwiches to dipping. Rich, creamy, cool, and tangy, this delicious dip will be your new favorite on just about everything! 
If you've been following my blog for any amount of time, you know I love making dishes that are both healthy and delicious. This cucumber yogurt dip, also known as tzatziki in Mediterranean cuisine, offers several health benefits due to its nutritious ingredients. This recipe was inspired by my
Greek yogurt red potato salad
. I loved the sort of tzatziki flavor that the yogurt imparted, so I decided to take the further and make this alternate take on tzatziki sauce. This stuff is delicious, and it pairs very well with this
tomato onion salad
.
Why You'll Love This Greek Yogurt Cucumber Dip
It's low in calories, making it a healthier option for snacking and dipping compared to other dips an sauces.
Cucumbers have a high water content which helps you stay hydrated.
Cucumbers are a good source of vitamins and minerals, particularly vitamin K, vitamin C, and potassium.
Ingredients
This easy, delicious dip only takes a handful of ingredients to make! The best part is that you might just have all of these in your kitchen right now. Check the recipe card at the end of the post
Plain Greek yogurt
Small diced cocktail or small cucumbers, skin on
Fresh lemon juice
Himalayan salt
Coarse ground pepper
Red chili flakes
Substitutions and Variations
English cucumbers work in place of cocktail cucumbers
If you don't have freshly squeezed lemon juice, you can use RealLemon juice.
Regular table salt works if you don't have Himalayan salt
For a mild version of this dip, leave out the red chili flakes
How to Make Greek Yogurt Cucumber Dip
If you love easy, then you'll really love this recipe! It only takes one step to make this super tasty dip! 1: Mix all the ingredients until thoroughly combined. Enjoy!
Hint: 
Pickling cucumbers will NOT work. They're too seedy and watery. If you think this cucumber dip looks good, then you'll love this
chunky lime avocado dip
.
Storage
Refrigerator: 
Store this dip for up to 3 days in an air-tight container.
Freezer: 
Don't freeze this dip! It will get super watery when you defrost it.
Make Ahead: 
This Greek yogurt cucumber dip is actually better the next day, so feel free to make it ahead of time.
What to Serve with Cucumber Dip
This delicious Greek yogurt dip is delicious when served on top of chicken, beef, pork, and lamb sandwiches (think gyros). It's also a great dipping sauce for almost any of your favorite dippable items like:
Potato chips
Pita chips
Vegetable sticks
Vegetables
Sandwiches
Tips
Dice your cucumbers into small pieces for easy eating and dipping.
Be sure to use cockatiel or small cucumbers. Lage cucumbers will make your dip watery.
It's imperative that you use Greek yogurt, not just plain yogurt for this recipe. It gives it its delicious thickness and creaminess.
FAQ
If you have questions about this Greek yogurt cucumber dip, then read on. This FAQ answers some commonly asked questions about this dip.
Is cucumber dip the same as tzatziki sauce? 
This cucumber dip is similar to tzatziki sauce, but it's not quite the same. The cucumber is diced, not grated, and there's no olive oil in it.
Is Greek yogurt cucumber dip healthy? 
Yes! This cucumber dip is so healthy! It gets its creaminess from Greek yogurt, a healthy protein source, and the cucumbers themselves are full of vitamins and minerals.
Why can't I freeze this cucumber dip? 
This dip gets very water if you freeze it and defrost it. The sauce will break, and the cucumbers will release a ton of water, making a very unappetizing mess.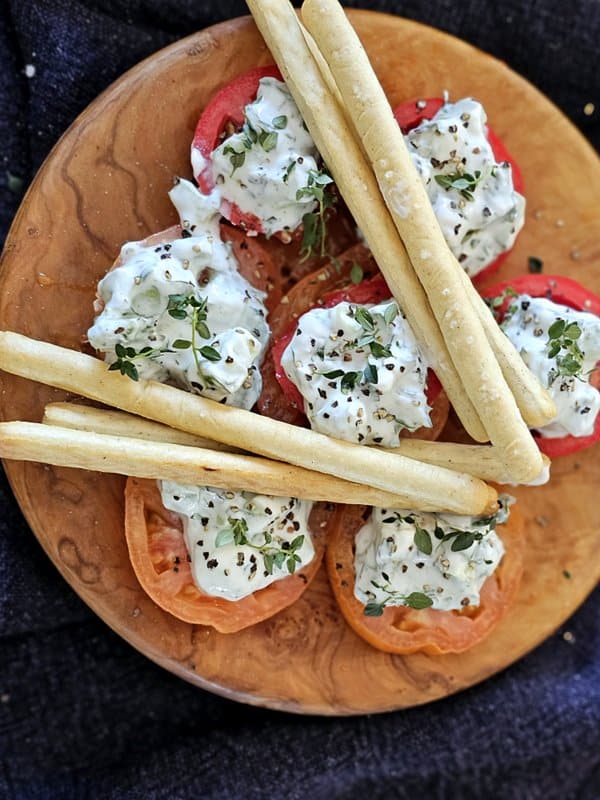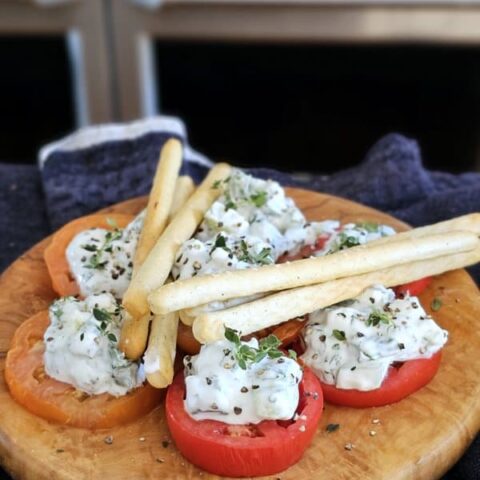 Easy Yogurt Cucumber Dip
Ingredients
3 cups Greek yogurt, plain
4-5 cups of small diced cocktail or small cucumbers, skin on, (not pickling cucumbers), can use English cucumber, wash and clean cukes well
1 to 1 1/2 large lemons, juice only
Himalayan Salt and Coarse Ground Pepper, to taste
Extra Virgin Olive Oil, optional, drizzle when serving
Red Chili Flakes, optional
Instructions
Mix everything together in a bowl. Presto! You're ready to eat! Bon Appetit!
Refrigerate if not using.