You may be wondering why I called this a 'flop' cake. Well, it's because when I cook I'm usually doing two or three recipes simultaneously~~my nature is to multi-task, and that's what happens in the kitchen! From photographing, writing down recipes as I'm creating, washing pots, skillets, dishes to having to team up two recipes in the hot oven~~usually, it's not problem. However, in this case, as this sweet cowboy cake was giddy upping in the oven and puffing up ever so tenderly, yes, I opened the oven door, put in a tray above them on the rack, and then shut that oven door just a tad big too hard! And, this is what happens, the cake flops!
Not to fret though, the taste and looks, I think, are not compromise. In fact, I'd think that if a real cowboy was making this out on the open firepit, it might have done the same thing. Besides who really cares~~the looks of this cake pale in comparison to its tender airy texture and its chocolate moist flavor. Scooped out with a big ol' spoon, put in the bowl with some ice cream and a drizzle more of the chocolate ganache, and you'll be crooning over your own campfire when you chow down on it!
And, here's one more thing about making cakes. You decide what you want to bake it in; while this recipe can be for a bundt pan, as you can see I used a ceramic skillet. And there was enough batter left over to make a small bread pan of it. That's what being bohemian in the kitchen's all about. Put your unique twist, spin and personality into what you create~~it's good for the soul and spirit!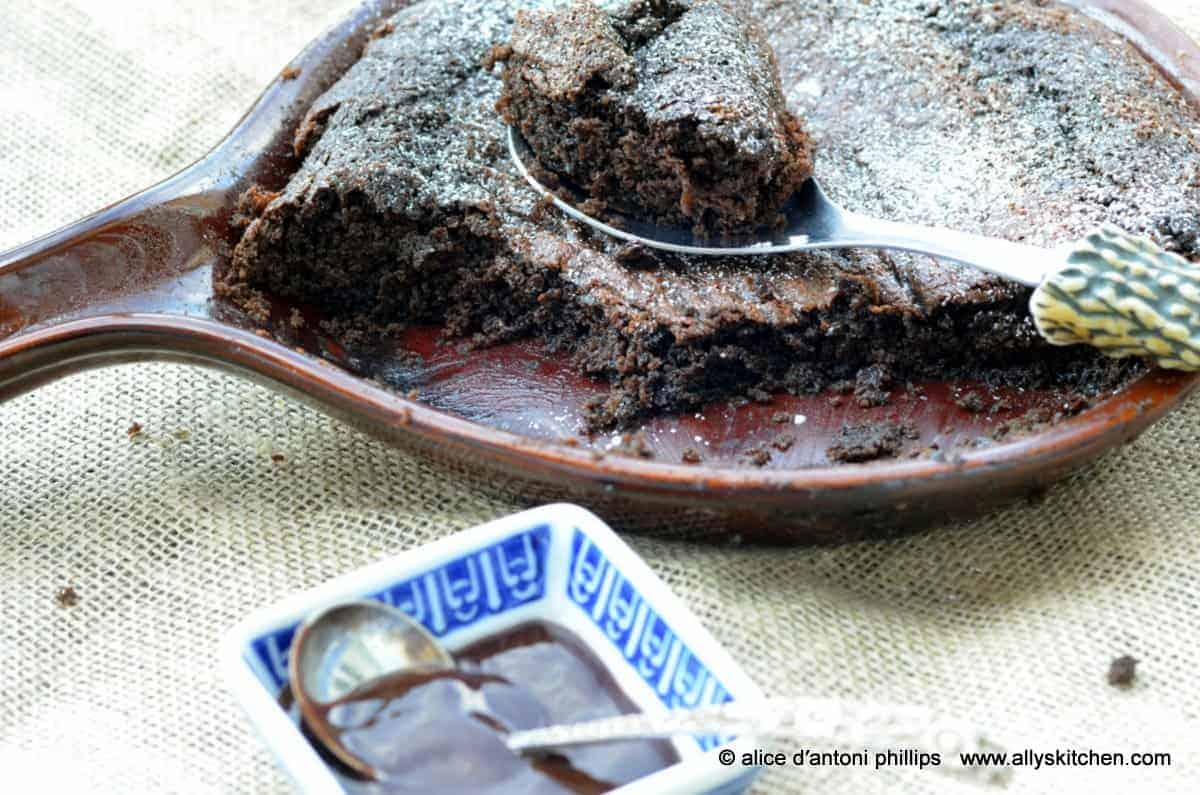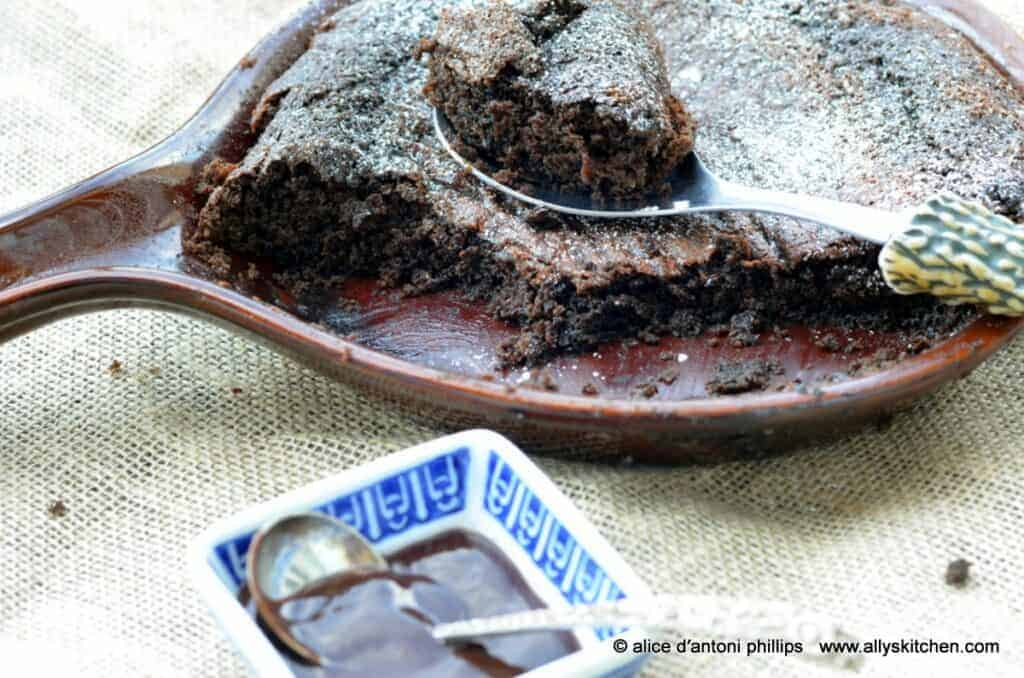 chocolate cowboy flop cake
Ingredients
Preheat oven to 350
GANACHE:
1 ½ cups chocolate chunks and/or pieces
¼ cup half and half (or heavy cream)
½ tsp. butter
CAKE:
12 ounces butter (room temperature)
1 cup sugar
1 Tbl. Vanilla
4 eggs (beaten)
1 cup buttermilk
1 ¼ cups all-purpose flour
½ cup unsweetened cacao
2 tsp. baking powder
1 tsp. baking soda
½ tsp. sea salt
3 tsp. instant espresso (or instant coffee)
1/3 cup chocolate ganache (see recipe below)
Powdered sugar for dusting
Instructions
GANACHE: Combine the chocolate pieces and cream into a mixing bowl. Cover with a doubled paper towel or plate, and microwave on high for 90 seconds. Remove and blend well into a thick sauce. Add the butter, blend and set aside.
CAKE: In a large mixing bowl, cream together the butter and sugar with a mixer whipping until fluffy. Add the vanilla and eggs and blend together well. Slowly add in the buttermilk and blend together well with the mixer.
In another mixing bowl, combine the flour, cacao, baking powder, baking soda, salt, espresso and toss and blend together.
Combine half of the dry ingredients with the wet and blend well. Add the remaining dry to the wet and blend well. Add 1/3 cup of the ganache into the batter and blend.
Pour into a greased bundt pan (or baking dish(es) of your choice). Bake in a preheated 350 oven until a toothpick is almost clean. Remove and let the cake cool on a rack for about 20-30 minutes.
Dust with powdered sugar. Use the remaining chocolate ganache when serving!
Notes
This is a cake you don't slice. You scoop! Make sure you have a big spoon! xo
https://allyskitchen.com/chocolate-cowboy-flop-cake/
©ally's kitchen intellectual property