Aussie Grassfed Beef & Mushroom Cowhand Stew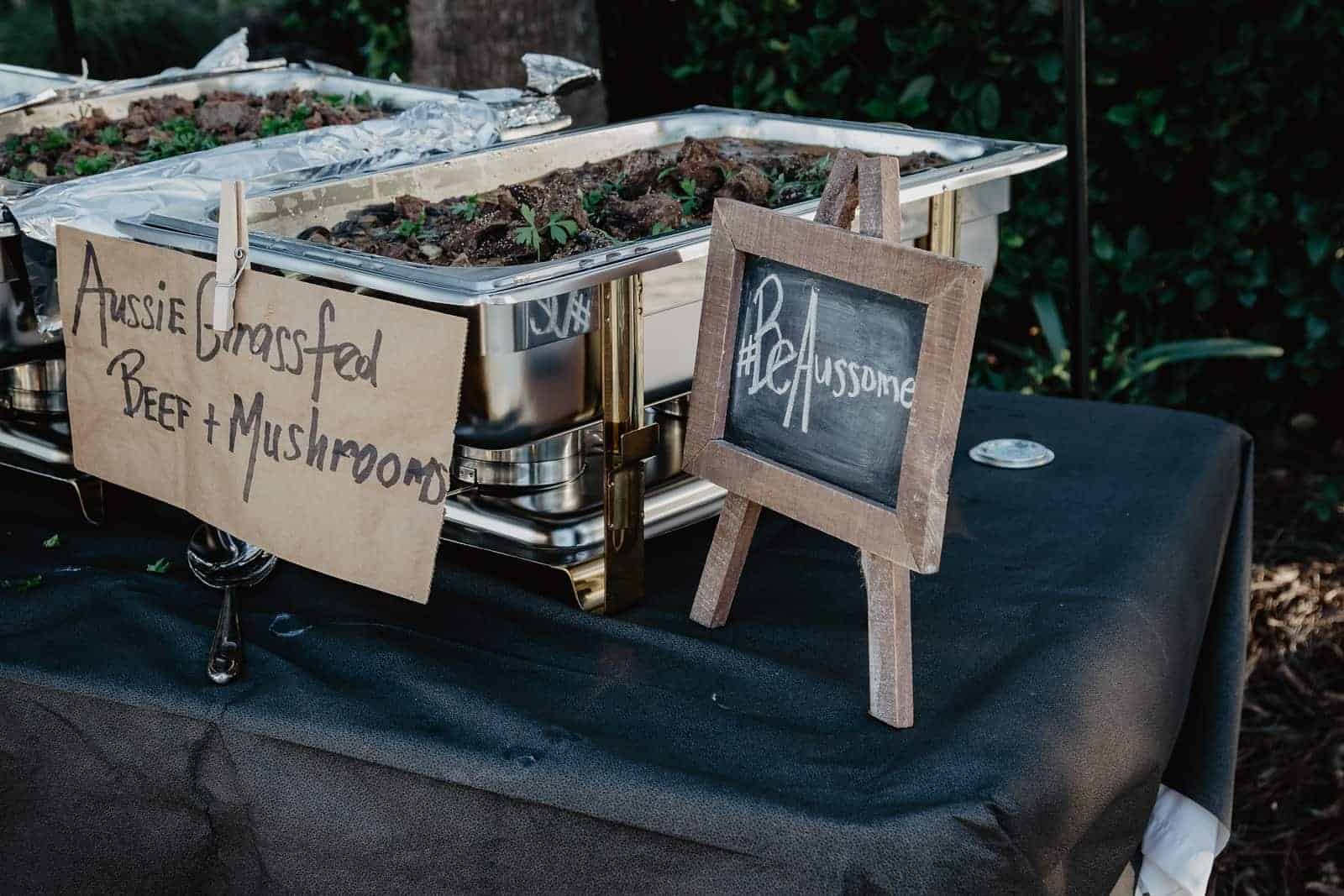 This aussie grassfed beef & mushroom cowhand stew is beyond easy. Feeds a crowd easily! And, wait til you taste the leftovers!
Aussie Grassfed Beef & Mushroom Cowhand Stew
I am a brand ambassador for True Aussie Beef & Lamb. (Yes, I'm very lucky to be working with a great company!) And, I'm compensated for creating recipes, including this one, aussie grassfed beef & mushroom cowhand stew, and for them using their product(s). I don't partner with any brand unless I truly believe in and support their product(s). And, most importantly, would feed these products to my family and friends! All these opinions and the creation of this recipe are credited to me.
How to Make Beef Stew?
Beef stew is a very healthy dish. It is precious for those who adhere to the principles of proper nutrition or are on a diet. Regardless of the recipe chosen, cooking will be simple, and even beginner housewives can do it. As a result, you will get an easily digestible dish that will saturate the body with necessary trace elements and will not harm the figure.
Beef and Mushroom Stew
Now, this Aussie grassfed beef & mushroom cowhand stew is beyond easy and this recipe is for a crowd! Of course, it can be factored for fewer people, but if you have a lot of folks to feed, then this is the pot of love for you! I made it two days in advance of the party just to let it 'sit' and have those flavors become even more rich and deep.
Best Oven Beef Stew Recipe
Homemade beef stew with gravy in the oven. This is a simple beef stew that is finished in the oven. If you get a lean piece of beef with a bone, cook the bone with the stew, as it adds a lot of flavour. The dish is delicious in a clay pot. Live each day to the fullest, create memories that make your world sparkle, give to others through delicious food and happiness!! xoxo ~ally
Best Ingredients for Beef Stew
Beef is delicious and nutritious meat. This is a real storehouse of protein, B vitamins and minerals. To make it soft and juicy, you need to stew it for a long time. Times may vary depending on the quality of the meat. Therefore, in the cooking process, determine its readiness and softness yourself.
And, here are a few more recipes that might appeal to you to serve at a weekend brunch!
Beer Drenched Cowhand Roast Beef
Aussie Grassfed Beef Asian Bowl
Aussie Grassfed Beef Harissa Meatball Fruit Kabob
Aussie Grassfed Beef Ribeye Steak Easy Oven Meal
Aussie Chunky Lamb Stew
Oh, yeah, good stuff! xoxo ~ally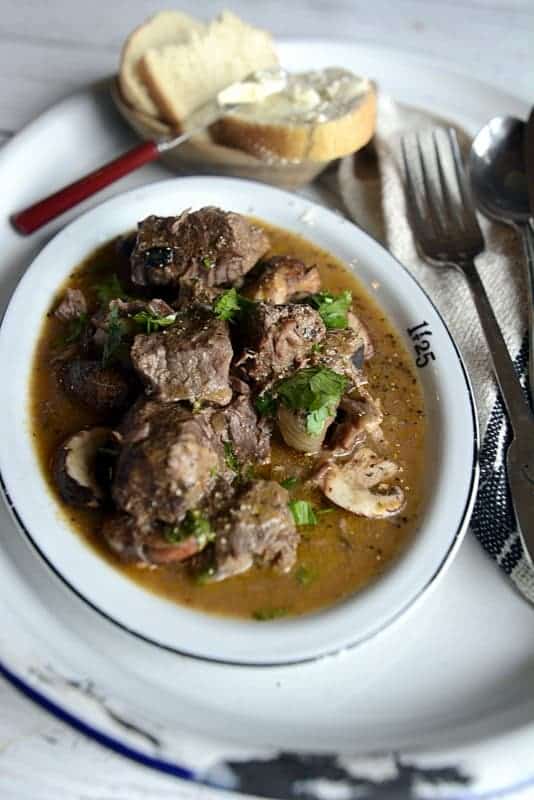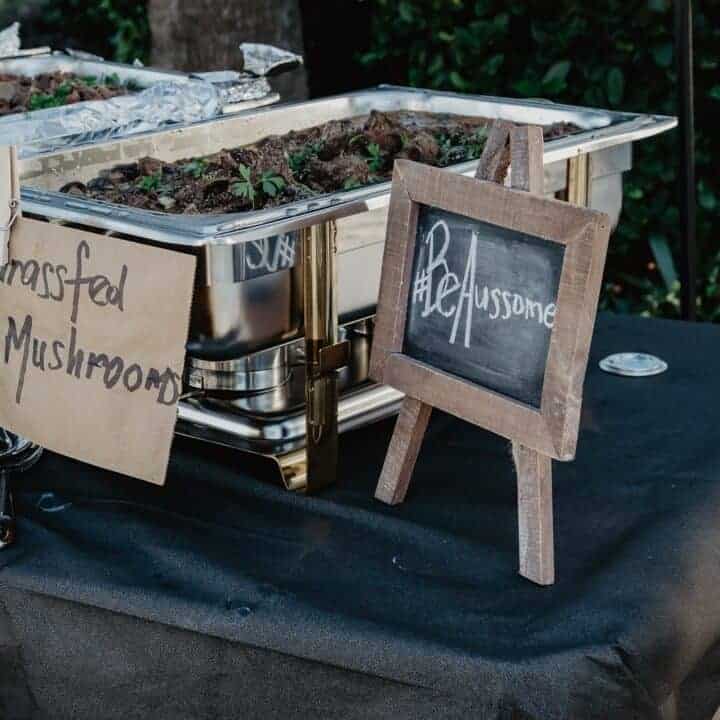 Aussie Grassfed Beef & Mushroom Cowhand Stew
This aussie grassfed beef & mushroom cowhand stew is beyond easy and this recipe is for a crowd!
Ingredients
Preheat oven to 400
¼ cup garlic granules
3 Tbl. sea salt
2 Tbl. coarse ground pepper
3 Tbl. Bragg Organic 24 Herbs & Spices
3 Tbl. Bragg Premium Nutritional Yeast Seasoning
3 Tbl. Harissa, dry mixture
15 lbs. Aussie grassfed New York Strip, cut into large bite size chunks
3 cups sweet onions, large dice
3 (12 oz.) boxes [organic mushroom soup|https://www.pacificfoods.com/organic-cream-of-mushroom-condensed-soup}
32 oz. baby bella mushrooms, sliced
2 cups Fresh flat parsley, loosely packed and roughly chopped
Instructions
Mix together the garlic, salt, pepper, herbs & spices, yeast seasoning and harissa. Add the beef to a very large stock pot. Sprinkle on the seasoning mixture. Toss and blend into the beef chunks.
Add the sweet onions. Cover the beef with water, about three inches above the beef. Double foil and put over the pot. Cover with the lid.
Put in the preheated 400 degree oven for 4 ½ hours. After about two hours, check to see if more water is needed. (Gently lift foil and peel back somewhat to see level in the pot.).
Cook another hour then remove the lid and peel back the foil about halfway and add the mushroom soup. Blend somewhat or as best you can. (Add more water if needed. The beef chunks should be covered about two inches with liquid.) Replace foil/lid and return to the oven and cook another 1 ½ hours.
Remove from the oven. Remove lid and foil. Add mushrooms and blend. Recover with foil and lid and let the beef rest about an hour. The mushrooms will tenderize in the hot gravy broth. Add in 1 ½ cups of fresh parsley, blend then garnish on top with the remaining parsley.